Have Phone, Will Travel: The Impact of Mobile Technology on Tourism
By Frank Vertolli Co-Founder, Net Conversion | January 12, 2020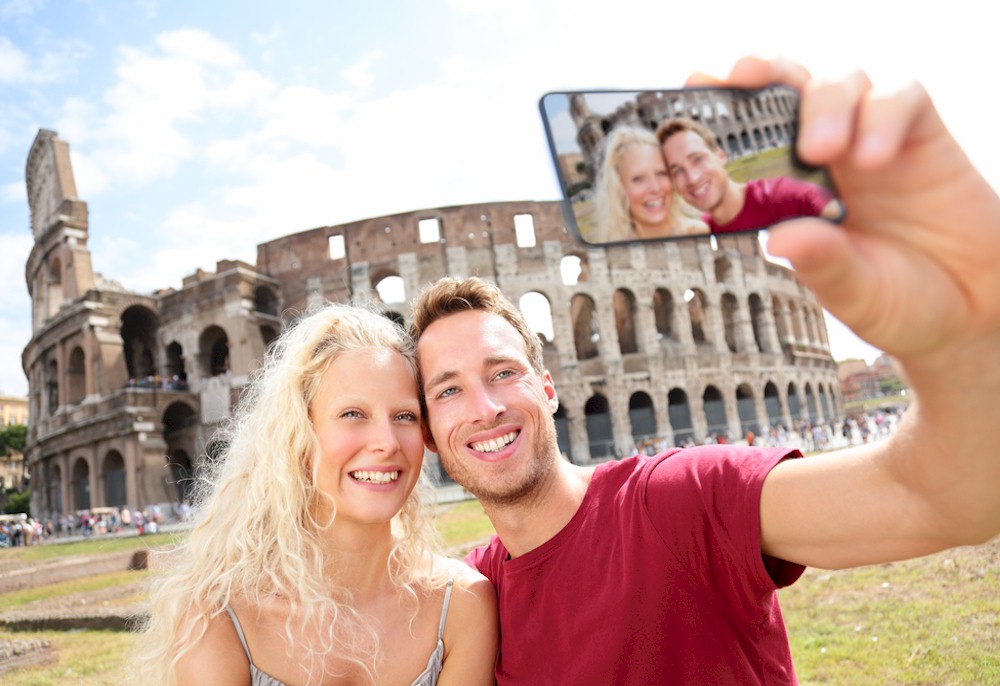 Today's travelers are empowered by a dizzying array of mobile technology. Mobile devices, led by smartphones, have fully integrated themselves into our everyday lives. This usage extends to all facets of today's travel experience, which not only ensures the best possible guest experience, but also promotes brand favorability, greater usage and loyalty, and the opportunity for increased profits.
Apple iOS and Google's Android share nearly 90% of the US smartphone operating system market and continue to drive and enable hardware and software innovation.  Between faster connectivity, such as the next generation of 5G technology, high quality cameras, greater storage capacity and advanced Bluetooth capabilities, the ever-evolving mobile tech innovations add to the users' desire to take advantage of their smartphone in all facets of their lives – especially during travel.
According to recent eMarketer data, over 70% of the US population or 230+ million people are now smartphone users.   Currently in the US, 7 out of 10 people use smartphones for their shopping, entertainment, browsing and searches. As technologies and innovations continue to lower the average cost of a smartphone, this number will continue to rise on a global scale. According to recent Statista data, over 2.9 billion global users surfed the net from their mobile device in 2018 (this number is expected to reach 3.8 billion by 2021). 
For those individuals in the travel industry, look no further than your local airport, city streets, or around your property to see the vast reach of mobile technology on a daily basis. By developing an environment of continuous testing and innovative mobile technologies, the travel and tourism industries can focus on creating an enhanced guest experience, prioritizing specific needs and desires to ensure the travelers experience exceeds expectations.
The Power of Social Media
Pre-visit, during-visit, post-visit and everything in between – social media has the power and reach to bring your travel offerings into the palm of the traveler's hands. Thanks to the unlimited access to information, travelers are able to connect in real time to all of their travel experience providers, as well as their followers on social media.  Social media platforms help travel suppliers and service providers establish relationships with potential travelers long before they arrive to their destination. With over 1 billion users on Instagram, over 330 million daily Twitter users, and over 2.41 billion users on Facebook, it's easy to see why businesses and advertisers are flocking in droves to leverage the global reach of social media.  
While the sheer volume of users and platforms can seem daunting, there is nearly always a few platforms that stand out as a priority for any property, destination or travel brand.  Seek to better understand which specific platforms best connect with your specific guests.   
A recent survey conducted by the Harvey Poll found that 78% of millennials would choose to spend money on a desirable experience or event over buying something desirable. The survey also showed that 60% of millennials had shared their events and experiences on social media in the previous year (compared to just 34% of the 45 to 54 age bracket). 
The power of social media cannot be underestimated. Outside of engaging in the actual experience, your website is the most important consumer touch point. Social media serves as a virtual bridge between your potential customer and your website. Social media platforms, such as Instagram and Facebook, provide a virtual space for influencers, family, and friends to share their recent travel experiences. When leveraged, these vastly large online communities can help to bring more travelers to your business (both virtually and physically). 
Pre-visit Benefits of Mobile Technology
Businesses within travel and tourism need to ask themselves "Am I leveraging the power and reach of mobile technology to reach potential travelers?" 
Planning - Smartphones have made it possible for travelers to research and plan their dream vacation with a few simple taps of their screen. From researching hotels and finding the best area attractions to making dinner reservations and booking transportation, smartphones allow the traveler to start engaging with suppliers and service providers long before they arrive to their destination. 
Review Sites - In order to stay relevant with potential travelers, you need to make sure you appear in search engines results, such as Google. Online review sites, like TripAdvisor, provide travelers with a platform to research traveler reviews and travel options for popular destinations around the world. According to TripAdvisor, their online community currently averages 390 million monthly visitors, amassing over 435 million reviews, providing travelers with information pertaining to over 7 million global accommodations, restaurants and attractions. The popularity of review sites extends the tourism reach long before the traveler arrives on site, allowing them to plan ahead for their adventures.
Online Travel Agencies (OTAs) - According to data collected by the STR Consumer Travel Insight Report, 86% of travelers booked their travel accommodations using OTAs. OTAs, such as Expedia and Priceline, place potential travelers in touch with hotel accommodations, travel arrangements (such as rental cars or airfare), and reviews. Additionally, OTAs allow travelers to view and compare rates, reviews, and amenities for all of their potential travel options in one convenient place. 
Mobile Video - Businesses within the travel and tourism industry can also leverage the power of mobile technology incorporating videos into their marketing plans to entice and attract potential travelers to their hotel, local attractions, restaurants or shops. In fact, you can't underestimate the power of viral video. Video traffic is expected to drive an impressive 82% of the global internet by 2021. Employing video marketing into your promotion strategy will help drive engagement, create conversations, and generate a buzz for potential travelers. These platforms provide a direct line to potential travelers and their network of followers.
During Travel Mobile Technology Capabilities 
When it comes to mobile capabilities, once a traveler arrives to their travel destination, the sky's the limit. From hotel apps that allow you to check in and connect to concierge services to transportation apps, maps, and itinerary planning, travelers with smartphone capabilities are taking their travel experiences to the next level. 
Map Service - Map services, such as Google Maps, provide access to local maps, showcasing all area accommodations, locations, and restaurants (complete with average reviews). 
Itinerary Planning - With a smartphone, travelers can plan their itinerary thanks to the help of review sites, such as TripAdvisor or Vacatia. Thanks to mobile technology, travelers can instantly research dining options on restaurant apps, such as OpenTable or Yelp. Not only do these apps allow travelers review testimonials from previous patrons, but they also allow them to review the menu and make a reservation. 
Transportation – With a few taps of their smartphone screen, the latest innovations in mobile tech have opened a wide world of transportation options for travelers. In lieu of waiting for a cab, travelers can opt for alternate transportation providers, such as Uber or Lyft. These ride sharing apps allow the traveler to select their car and driver based on their reviews and their overall score rating. For travelers seeking an authentic local experience, smartphone technology also allows them to connect to local transit apps, accessing real time bus and train schedules. Travelers can even rent and pay for bikes or scooters directly from their smartphone (such as Lime or Bird).
Social Sharing - User-generated content not only impacts the planning stage of a trip, but also the trip itself, as mobile technology allows travelers to share their experiences in real time as they travel. Recent data from Business Wire shows that despite expressing a desire to unplug while they travel, 60% of travelers, and 97% of Millennial travelers share their travel photos with their social media followers while they travel. Additionally, a recent Harvey Poll survey found that 69% of millennials said they experienced fear of missing out (FOMO) by seeing photos and posts of what their friends had been experiencing. 
With real-time images shared during events, travelers will often be inspired to attend an event or attraction they hadn't planned before their trip. To guarantee your company is part of the possible trip narrative, encourage travelers to share their images with incentives. These promotions don't have to be expensive or difficult to implement. For example, your brand can promote the use of a specific hashtag for sharing on social media platforms, offering a discount for those who share images of their travel adventures.
Post-visit Mobile Technology Capabilities
Just as mobile technology has influenced the landscape of both the pre-travel and during-travel experiences, it continues to shape the post-visit travel experience. Once a traveler returns home, they will continue to share their memories, experiences, and reviews. 
Continued Sharing - From photos and videos to reviews and other social media posts, travelers love to post about their experiences, and service providers can leverage this to their advantage. While they average traveler may not spend very long traveling, they do spend a lot of time thinking about or planning their next trip. In fact, travelers gain inspiration weeks or months before they begin to plan their trip. According to a recent survey from Adweek, 52% of Facebook users  dream about vacation when on the channel, even when they aren't planning an upcoming trip. 
Connect with Previous Travelers - A positive travel review is worth its weight in gold! In fact, according to recent data provided by Search Engine Watch, improving online reviews: +0.1 stars can boost conversion 25%. Consider connecting with past travelers and inspire them to share their images to social media with email or social media outreach campaigns to inspire newcomers. Encourage recent guests to leave you a review, by offering additional rewards points or a free upgrade during their next visit. 
Apps or Websites?
According to Google, 61% of users are unlikely to return to a mobile site if they experienced trouble during navigation. Additionally, 40% of these users will visit a competitor's site instead."
A smartphone user generally has high expectations with extremely low patience levels, hotels and area attractions need to ensure their mobile sites are well-equipped to provide travelers with relevant information with minimal navigation and concise content. Whether you opt for a mobile friendly website or a sleek app, they key is to make sure its user friendly and informative.
The modern traveler literally wants information at their fingertips. From dreaming, planning and booking to experiencing and sharing, smartphones are transforming the way we experience travel and how the hotel and tourism engage with their customers. To reap the benefits of mobile technology's growing reach, you must invest in a mobile friendly website or application (App). In particular, hotels need to ensure their websites are mobile friendly (i.e. responsive and easy to navigate). 
Closing
As is the case with many other technologies, mobile capabilities are not without their own challenges. In particular, a key challenge within the travel and tourism industry is competing with all the options available for smartphone users. Not only are companies vying for user attention in their specific markets, such as other hotel apps, but they are also competing with every other app out there. 
While it's daunting to try to outdo Starbucks or transportation mega apps, such as Uber, these tools can provide inspiration and serve as a guide for how to make travel experiences better. The key to success in today's digital age lies in leveraging mobile technology to your company's advantage while maintaining a focus on the very thing that has always been the driving factor within the travel and tourism industry - the traveler.
From pre-trip dreaming and planning, through the booking and onsite travel experience, to the post-trip journey home and sharing, mobile technology plays a pivotal role in modern tourism. Travel suppliers and service providers can leverage these mobile technologies to build brand awareness, enhance engagement, and add value for users. It's a win-win for everyone involved, especially the traveler.
HotelExecutive retains the copyright to the articles published in the Hotel Business Review. Articles cannot be republished without prior written consent by HotelExecutive.