Community Partnerships, Public Health, and Hotel Spas: How Alliances Can Support the Bottom Line
By Laura Krohn Director Spa & Wellness, La Cantera Resort & Spa | July 12, 2020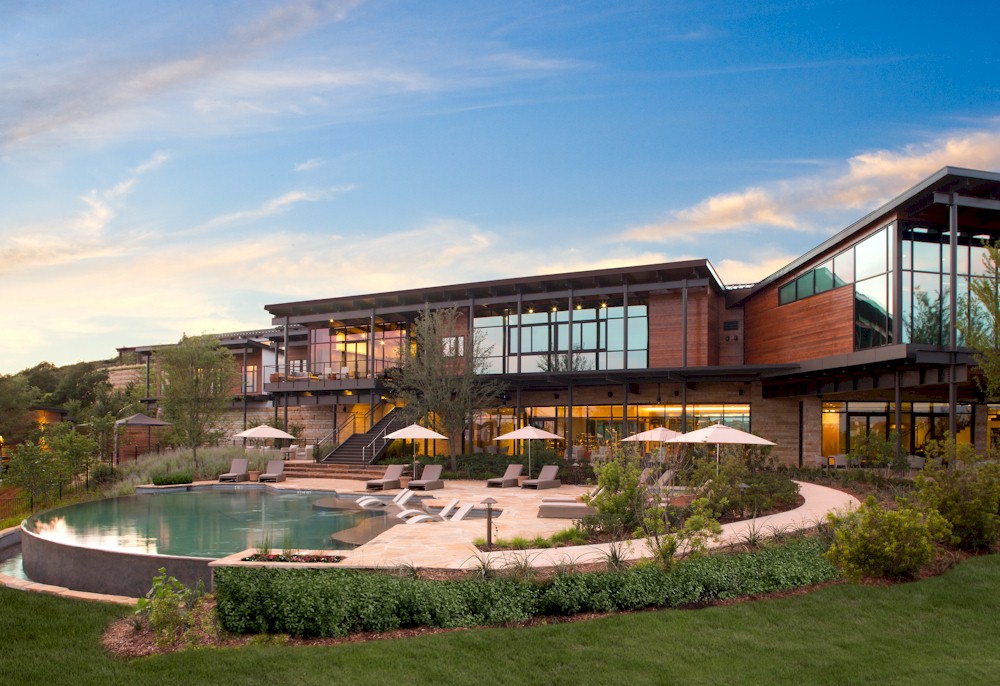 The research and science of Public Health as a component of community well-being can be traced back through history. In the "The Future of Public Health", a National Institute of Health's (NIH) publication, two factors were noted to have emerged as primary influencers.
First is the expansion of knowledge through science regarding sources and ways of controlling disease; second, acceptance of the possibility that disease control can occur, and that the community has a responsibility to support that end.
Even before the eighteenth century, there were appointed public authorities who were designated to enforce, report, and record deaths from plague and manage isolation and quarantine measures. What has evolved in Public Health within the past 20 years are foundational recommendations for optimum health outcomes and disease prevention.
In 1992 the USDA introduced the first "Food Guide Pyramid" or "Eating Right Pyramid" and that was replaced with the "MyPlate" in 2011. As an example of the role Public Health research plays, this one developed initiative impacted education, commerce, governmental assistance programs, and community organizing.
It has influenced Food & Beverage across the hospitality industry when considering the rise in wellness based 'healthy bites' or 'healthy cooking' classes at a property level. Maybe not overtly, but the implanted message of healthier options on menus may be linked to the expanded public awareness campaigns that were generated from this one USDA Initiative.
There was broad and prolonged focus for many years, across multiple communication platforms, such as, radio, TV commercials, and community billboards, coupled with county public health department grants to develop outreach programs to diverse communities. All to influence the publics' health outcomes in a positive direction.
Aerial view of the La Cantera Resort & Spa, San Antonio, TX
What are Determinants of Health and Why Should Your Hotel and Spa Care?
When 6 out of 10 open hotel rooms were emptied as of June 3, 2020, according to an online review of AHLA's "COVID-19 Impact Report" , every department had to undertake a deep analysis of what it would require to differentiate in this new reality. The hotel spa is uniquely positioned to tap into the growing awareness of how personal health impacts work, family, and community.
Because the spa is already associated with wellness by the typical traveler, creating programming driven by the core determinants of health – nutrition, lifestyle, environment, and genetics – your hotel spa can leverage a global crisis for the greater good of guests and the community at large by building partnerships with local education institutions, county Public Health departments, and experts in the community.
The spa industry has primarily linked programming and menu offerings around lifestyle and nutrition. These two determinants are in the hands of the individual, and are referred to as modifiable factors. They drive the fundamentals selection of spa offerings in all sectors, regardless of whether it is a hotel, resort, day spa, destination, retreat, or sole proprietor. The beauty of lifestyle and nutrition as a core component of the spas service menu is that they lend to a wide range of modalities that can integrated into multiple programming initiatives, both in spa and across property.
Hotels spas, depending on urban, destination, or resort, pull the guest capture from property occupancy, and ideally from local clientele. In considering ways to rise above the spa competition in a strong locally driven guest mix facility, or predominantly destination, creating partnerships with expert specialists in the health services arena around wellness workshops and one-day retreats is a vehicle that can bridge traditional spa services with a deeper education component, building upon itself over time.
Mindfulness practices, for instance, blend well with therapeutic coaching for emotional well-being and behavioral health wellness. Tapping into an academic institution in your region that has a Public Health department can aid in building trust and credibility for your spa as the "go to" for health and healing services.
Not Just for Stress, Relaxation or Beauty
Annually, at the Global Wellness Summit research is released on trends and outcomes across the worlds wellness sectors. Last year showed a continuation of the rise in wellness tourism and the overall wellness economy representing $4.5 trillion dollars (2018) globally. The Global Wellness Economy Report goes on to state that this growth of 6.4% annually from 2015-2017 was "nearly twice as fast as global economic growth (3.6% annually, based on IMF data)." The sectors included in this report are:
Personal Care, Beauty and Anti-Aging ($1,083 billion)
Healthy Eating, Nutrition and Weight Loss ($702 billion)
Wellness Tourism ($639 billion)
Fitness and Mind-Body ($595 billion)
Preventative and Personalized Medicine and Public Health ($575 billion)
Traditional and Complimentary Medicine ($134 billion)
Wellness Lifestyle Real Estate ($134 billion)
Spa Economy ($119 billion)
Thermal/Mineral Springs ($56 billion)
Workplace Wellness ($48 billion)
Speaking to only the Nutrition and Lifestyle sectors principally dominating hotel spa and wellness programming has made strong business sense, as it generally dominates the wellness revenue capture across the economic landscape. Although hotels and hotel spas do not want to lose emphasis in these tried and true sectors, there is ample evidence to invite the exploration of how to incorporate Preventative and Personalized Medicine and Public Health ($575 billion, 2018) partnerships to open an untapped well, both domestically and internationally. Again, looking at determinants of health influenced by biology, behavior, sociocultural, economic, and ecological, the 30,000-foot view begins to broaden the horizon of options.
An announcement was released March 16, 2020, launching a partnership between the academic institution, Harvard T.H. Chan School of Public Health and Thrive Global, a behavior change technology company founded by Arianna Huffington to help people adopt healthier habits to reduce stress and improve health and performance. This is a relevant and interesting example of a larger collaboration that is aimed at immediate outcomes for the front-line health workers fighting the tidal wave of COVID-19.
Here is an interesting opportunity for a hotel spa to integrate the message and resources available through this joint venture in creating, for example, an Emotional Fitness Workshop that invites a local Public Health school professor or dean to property for a community Forum. The marketing team reaches out to their local, state, and national contacts to promote, and the property creates a Give Back campaign in the outlets toward a local health worker supporting agency. This is one example of how to take a broader initiative and scale it to leverage the crisis for the greater good in the properties back yard.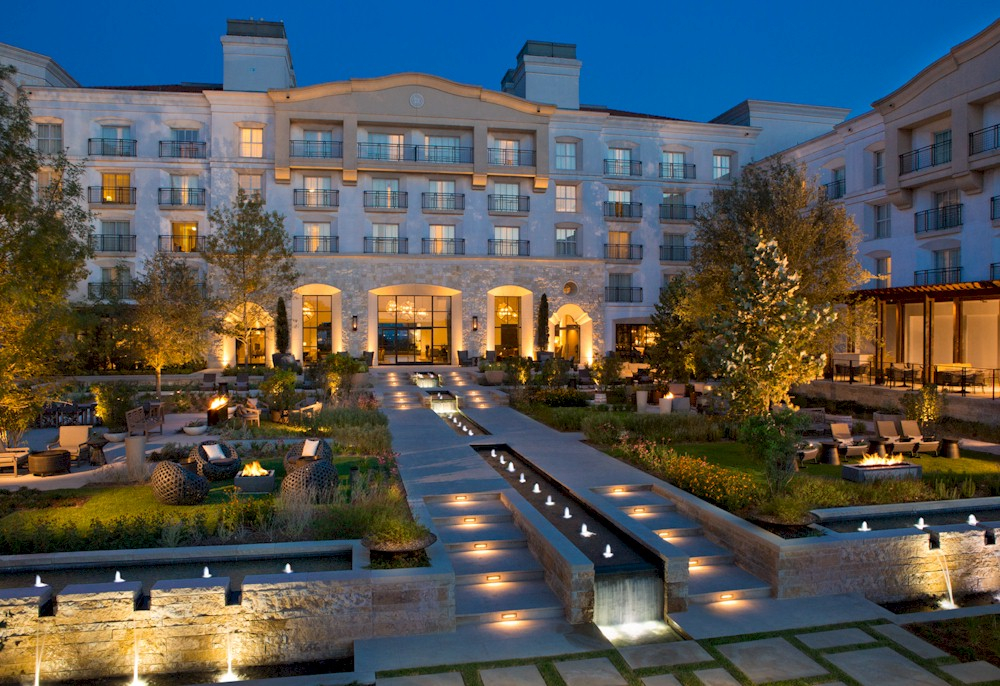 Plaza San Saba – the resort courtyard.
Where Are all the Experts?
Coalition building is steeped in generational grass-roots advocacy and is a core component of Public Health education programs. This is the Health Sciences name for networking! Networking is a fundamental of the hospitality industry collaborative process, and the same principles apply in creating alliances with health care, alternative care, Public Health, and with the expanding niches of wellness experts. Attending talks at local academic institutions, conferences, medical facilities, and neighborhood clinics invites opportunity to network with other leaders, experts, and the community at large.
The road to business bridge building is foundationally built on one-to-one interactions with those sharing a common interest or history. Not only are relationships forged in these settings, but ideas are spawned not typically generated sitting around a table of executive leaders at property level. It is imperative that the hotel spa leaders, along with executive leaders, especially if the Director of Spa is not on the EC committee (which they should be), get out into the community of Public Health to forge new partnerships. Additionally, doing the due diligence of seeking out names of key leaders in your community Public Health and Health Care institutions is viable and recommended.
Today leaders can easily Google search and find countless examples of companies, academic institutions, non-profit and for-profit organizations that are actively partnering with the hospitality industry at a brand or property levels. Often you will see a celebrity endorsement or collaboration, like with Cornell School of Medicine and Dr. Weill, or at locations like the renowned Esalen Institute in Big Sur, California, which is one of the U.S. founding wellness centers dating back to 1962. It is claimed to be the "birthplace of the human potential movement".
Esalen offers year-round ongoing retreats, weekends, and study courses, bringing one of the largest platforms for international niche expertise to elevate the conversations that range from mind, body, spirit, community, heart-focused topics – Ecology/Permaculture, Gender/Leadership, Life Purpose, Neurolinguistics, wilderness, political change – as a selection. Here is an ideal place to start to grow an understanding of the larger wellness economy, and have this great database of experts at the seekers fingertips. Although for the classic hotel property offering a spa experience, these loftier topics may seem far away from your guest interest. But the questions need to be asked, and here are a few to start with:

Does your wellness programming engage in community partnering from a health outcome perspective?
Are you including your internal spa and wellness department experts in the annual strategic planning?
What can you do differently to open dialog with the Public Health and Health Care community in your region?
This article started with a reference to the novel coronavirus (COVID-19) because it is a real-time wake up call for the world population regarding health and well-being. How a hotel spa leader or the property General Manager perceives this moment will determine the willingness to think bolder, think outside the hospitality bubble, and/or think holistically in re-framing how to begin to recapture revenue lost by the devastating effects this pandemic has unleashed on the economy and global citizen.
Entering the restructuring and difficult task of rebuilding a stable hotel environment that supports its associates, its guests, and the bottom line will require more than most leader's lifetime. Partnering with community resources to bring the Health Promotion and Disease Prevention model of Public Health to the hotel's guests programming, as well as for the well-being of associates, presents a courageous new frontier waiting to be explored.
HotelExecutive retains the copyright to the articles published in the Hotel Business Review. Articles cannot be republished without prior written consent by HotelExecutive.