How Hilton Continued Innovating During COVID-19 by Partnering with Customers
By Frank Passanante Senior VP, Hilton Worldwide Sales, Americas, Hilton | September 06, 2020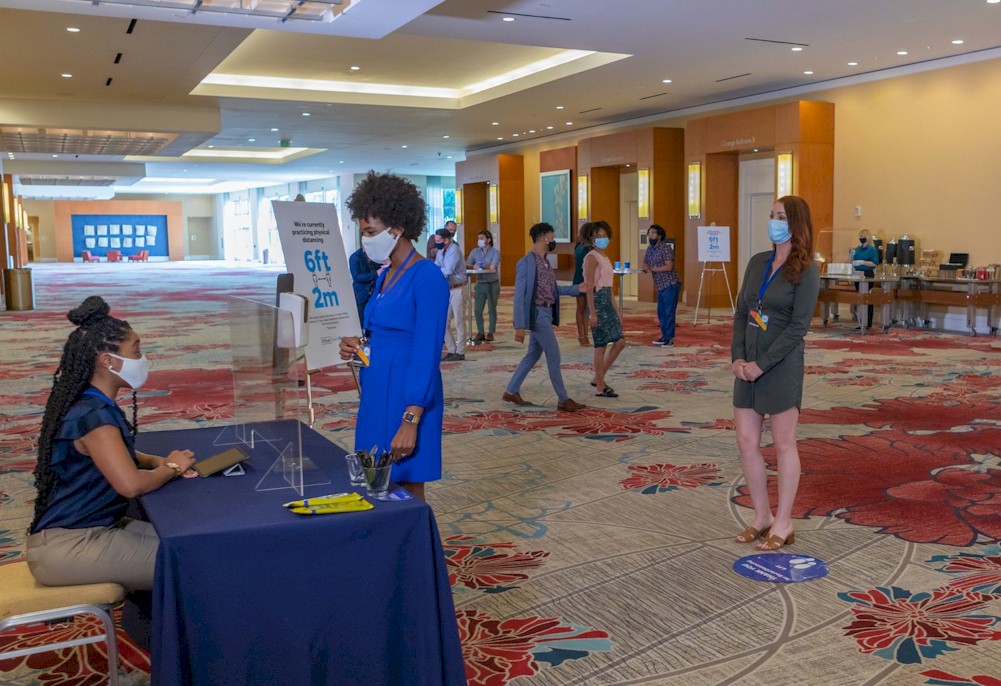 Travel is an unstoppable force, and meetings and events create meaningful human connections. Again and again, history has shown both statements to be true – we've seen recessions slow business and storms devastate communities, but we always rebuild, we always recover and we always innovate.
What we all are experiencing in 2020 – whether as a global hospitality company, as hotel owners or as event planners – has no script or roadmap. At Hilton, it has been unlike anything we'd seen in our 100+ years of business.
Through our toughest days, though, what keeps me and the team going is our collective purpose. In the words of our founder Conrad Hilton, our vision is "to fill the earth with the light and warmth of hospitality." The world needs hospitality and human connection now more than ever. The trick is to quickly evolve within all of the new constraints – and then keep listening and innovating.
Listen Loudly
Looking back, between March and April, U.S. customer and hotel needs changed suddenly and dramatically. Since then, our customers have been faced with the tremendous burden of event disruption and no clear view of the future. Our hotels have needed to drive revenue while much of the world was locked down. Both groups continue to turn to us for answers.
As a team that has always valued our customers above all else, we knew what to prioritize: We needed to "listen loudly" and frequently – and never stop. We quickly increased direct communication with our customers globally through our already-established customer advisory forums. We began meeting more frequently with an even more diverse spectrum of customer segments to ensure we captured perspectives from all areas and regions of the business.
In our early conversations, as well as discussions with owners and trusted partners, we unraveled four common points of confusion and frustration: First, customers were looking for clear, easy-to-digest details around hotel cleanliness policies and procedures. Second, they were asking for flexibility in their contract negotiations, room rates and cancellation policies. Third, they needed a trusted partner to help think through near-term solutions for all aspects of the event journey. And lastly, after every call it became unmistakably clear that each customer segment – from entertainment to association sales – was looking to Hilton for leadership, guidance and counsel. They wanted us to rewrite the script – even if just for the short term – and to give them an advance copy. And so we did (and realized it would be the first of many drafts!).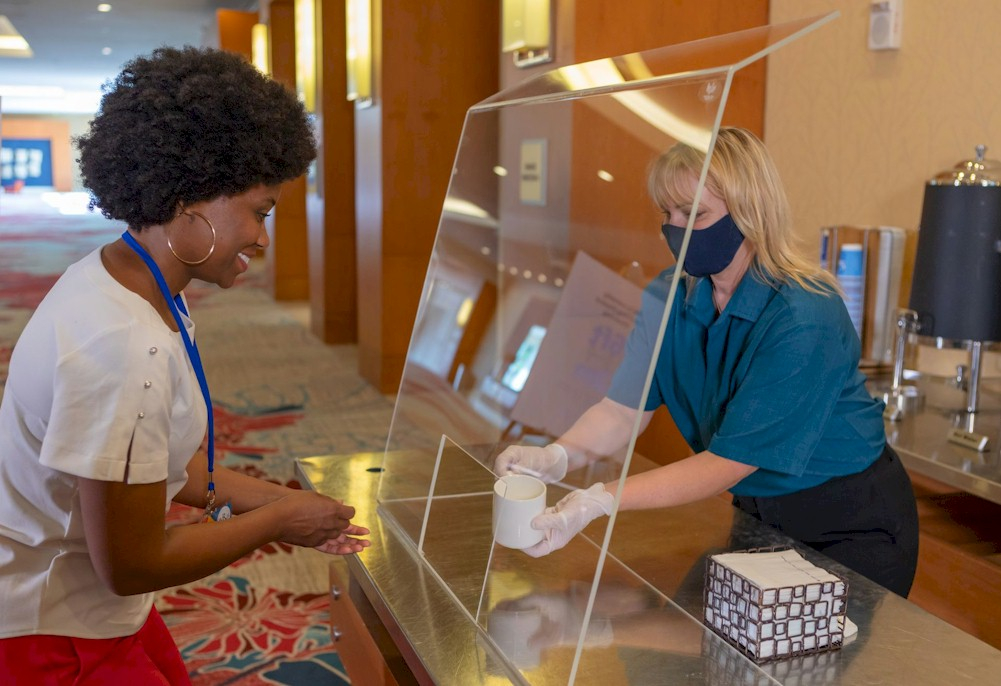 Answer Transient Customer Needs, Immediately and Strategically
Flexibility
As mentioned, flexibility was (and continues to be) top-of-mind for customers. By reviewing our policies and loyalty benefits through that lens, we saw we could make some quick changes. We wanted our customers and guests to know early on that we would partner with them through this challenging time.
In early March, we made adjustments to our modification and cancellation policies for transient reservations. This optimized flexibility, given that travel remained restricted in many parts of the world but had begun to resume in others.
We also announced a number of updates to our Hilton Honors benefits since members were not able to travel as often. This included extending members' 2019 and 2020 member tier status, rolling over nights earned in 2020 to count towards 2021-2023 tier status, pausing the expiration of Points scheduled for 2020 and extending the expiration date of Weekend Night Rewards.
Cleanliness
In addition to flexibility, cleanliness was and remains to be top-of-mind for customers ready to travel – or who need to travel, such as essential frontline workers. In fact, when asked, customers said that three out of the top four actions a hotel could take to make guests feel safer focused on additional cleaning. This is why in June we rolled out Hilton CleanStay, our industry-leading program designed to deliver elevated standards of cleanliness throughout the entirety of their stay. Through this program, we implemented a number of operational changes to help ensure each guest's stay is a safe and positive experience. While we continue to update and evolve this program, some on-property experience changes include:
Online Resources: Even before departure, we direct our guests and customers to visit Hilton.com/cleanstay, as well as the property website, to learn more about our cleanliness program and what to expect during their stay.
The Lobby Experience: Guests who prefer a contactless arrival experience can download the free Hilton Honors mobile app. Guests who book direct through the app, on Hilton.com, or through a preferred travel advisor can check in, choose their room, check out and even unlock their guest room door with Hilton Digital Key where available. If they prefer a traditional check-in, physical distancing measures are in place directing them how to move through the in-person check-in and check-out process in a safe way.
Face Coverings: In the U.S., in an effort to protect everyone who visits as well as works in our hotels, both team members and guests are now required to wear face coverings while in indoor public areas of our hotels.
The Guest Room Differences: The traveler's first point of contact with the guest room is the Hilton CleanStay Room Seal, placed on the door to indicate it's been thoroughly cleaned. The room, as communicated through in-room signage, also receives extra disinfection of the most frequently touched guest room areas.
Housekeeping Service Options: The frequency of housekeeping services is now based upon guest preference, recognizing that some may not want staff entering their room.
Reimagined Public Spaces: The frequency with which we clean the public areas has increased and physical set-ups may have changed. For instance, fitness centers may be closed multiple times a day for cleaning. Equipment also has been properly adjusted and positioned to enable physical distancing, and the number of guests in the fitness center at any one time may be limited.
Food and Beverage Offerings: During breakfast, restaurants offer a range of options, including grab & go, pre-plated covered items, à la carte and assisted service. When ordering room service, where provided, guests can experience contactless delivery.
Coat Check/Luggage/Bell Service: Where valet parking services are suspended, self-parking is now available. Luggage and doorman services also vary by property, so we're encouraging guests to check availability with the local hotel team; carts will be available for self-service and will be sanitized after each use. Attended coat check service may be available based on the hotel. Otherwise, self-serve coat check will be available with sanitized coat hangers.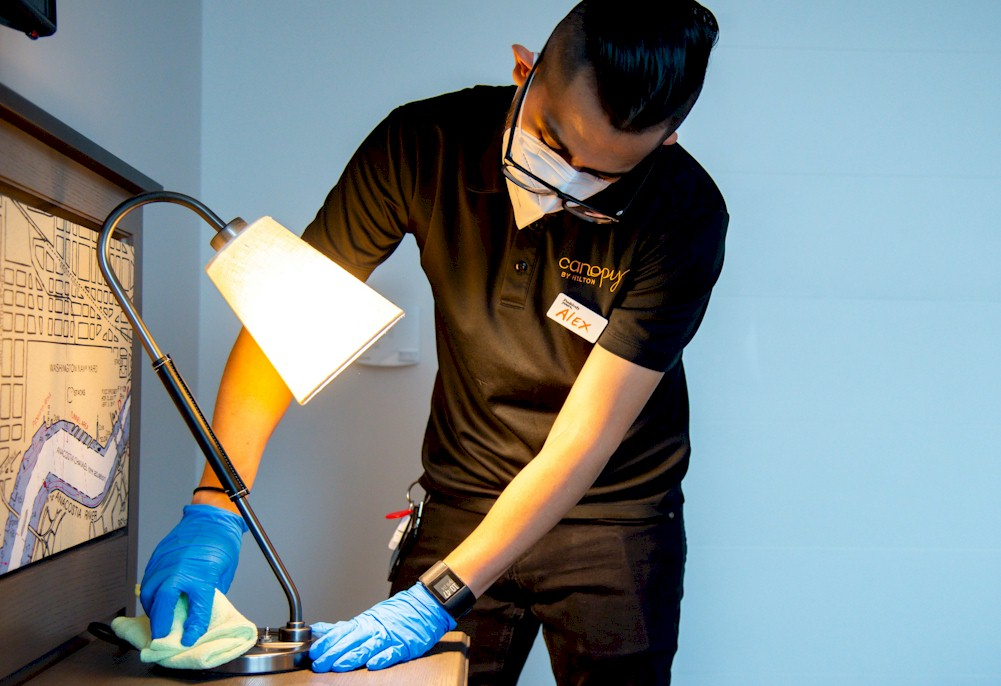 Plan for the Future - with and for Event Planners
Once we addressed the transient guest stay, we shifted our focus to groups, meetings and events. Up until this point, our event planner customers continued to be in a tough position. They were mostly postponing their events, as opposed to canceling. They were trying to remain optimistic but were hitting roadblocks and needed a clear path forward.
Through our customer advisory forums, we knew they were looking for innovative solutions for the entire event experience, including flexibility in planning, physical distancing protocols and transparency in cleanliness policies. They needed to feel at ease to book or reschedule future events – and they also needed to trust that their attendees would feel safe and secure during the event.
In direct response to these needs, in mid-July we introduced a global cleanliness and client service program specific to meetings and events called Hilton EventReady with CleanStay. The program provides solutions for all four of our customers' key concerns:
1. The Need for Clear and Concise Cleanliness Protocols
EventReady expands on the elevated sanitation standards of Hilton CleanStay, addressing each and every touch point of the meeting experience. As part of the program, we now incorporate the Hilton CleanStay Room Seal on the meeting room doors – in addition to the guest rooms – to indicate that the room has been cleaned to standards. The seal is paired with the EventReady Room Checklist, which helps guide the room inspection 30 minutes prior to the start of the meeting.
2. The Desire for Book-to-Billing Flexibility
Our event planner partners were looking for flexible solutions, from booking to billing. Our teams developed new flexible contracting options for both large and small groups and continue to work hand-in-hand with customers to align on objectives and tailor solutions to each specific client and situation.
To give customers even more peace of mind and help them feel confident about booking their future events, we also introduced the global EventReady Flexible Offer, which applies to new bookings now through December 31, 2020 for meetings or events taking place now through?May 31, 2021.
3. The Request for Safe and Socially Responsible Solutions
We partnered with customers and our internal teams on solutions that achieve event objectives while also addressing health and environmental concerns. This includes working hand-in-hand with our operations team to build out of creative, physically-distant event sets. Additionally, our Food & Beverage team offers unique solutions to areas like buffets as well as sit-down services. Finally, we continue to collaborate with our Corporate Responsibility team to share with customers environmental impact solutions measured by LightStay, our award-winning corporate responsibility measurement platform.
4. The Need for Leadership
Our customers were looking to us as a trusted authority in meetings and events to cut through the clutter and provide direction. While the entire Hilton EventReady program addresses that need, the most tangible example is our proprietary, 250-page EventReady Playbook that was introduced globally this August. The EventReady Playbook is written in straight-forward planner language, digging into both micro and macro details around the entire event experience – from pre-event attendee communications, to hybrid meeting solutions, health and wellness considerations and creative networking ideas.
While our event planner customers, who are used to building contingency plans for contingency plans, are still dealing with massive uncertainty, Hilton EventReady with CleanStay creates a foundation to keep building on as we reimagine, together, the future of meetings and events.
Create the Future, Together
This pandemic continues to teach all of us important lessons – about our shared resilience and ingenuity but also about our dedication to our communities, company and each other. In the past several months, we as a company and a sales organization, in partnership with our customers and owners, have taken bold steps, leading the recovery efforts for both our business and the industry – and we will continue to do so. Though the world has changed dramatically, one thing remains constant: our commitment to hospitality. Our doors are open. Our masks are on. And when the time is right, we look forward to connecting again.
HotelExecutive retains the copyright to the articles published in the Hotel Business Review. Articles cannot be republished without prior written consent by HotelExecutive.