Six Areas of Change We Are Seeing in Hotel Design
By Matt Kavanagh Senior Project Manager, JN+A | November 01, 2020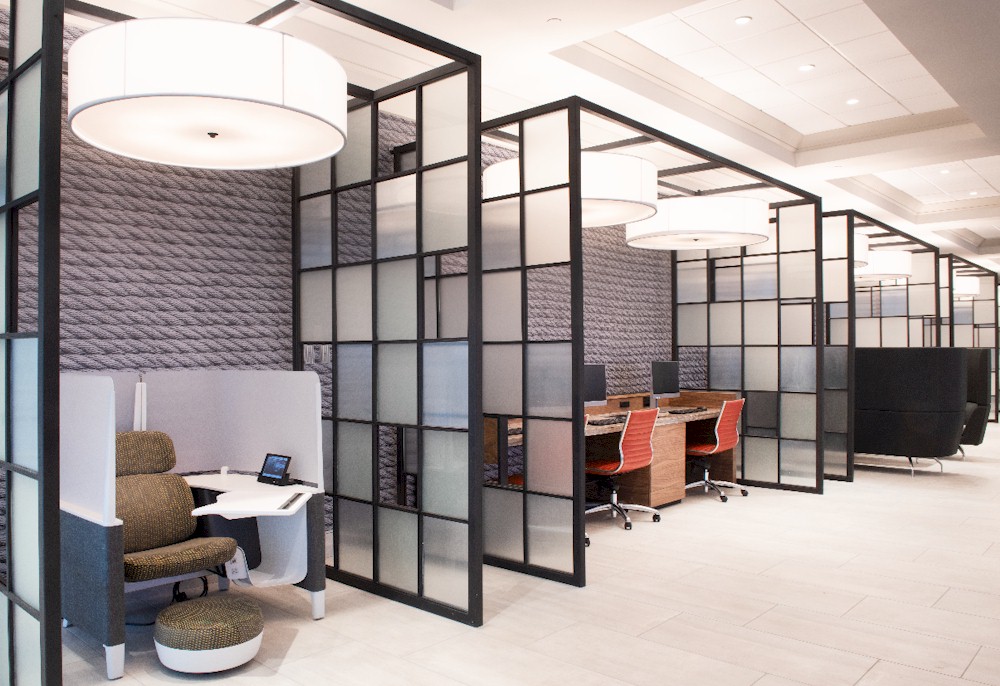 Things are always changing. Some design trends are so subtle that we barely notice them until months and years later. Other changes are more obvious and we are conscious of the movements as they happen right in front of us. Then, there is the case of the Covid-19 influence to hospitality design.
It was not too long ago that brands were focusing on how to break down the literal and figural walls of their hotels to make their public spaces feel more inviting and appealing to guests. They wanted to encourage hotel patrons to leave the comforts of their guestrooms in exchange for enticing experiences in their social-focused lobbies and lounges. Owners were looking for ways to increase the amount of seating available in restaurants, bars, and lounges while also exploring new ways to appeal to more guests.
Meeting space was maxed-out in order to provide more rentable function space to help diversify the revenue sources for the hotels. The pandemic has caused brands, owners, and designers to rethink their design strategies on the fly, refocus on how to successfully adapt in the coming months, all while planning for what post-Covid guests will be looking for in a hotel.
1. The Lobby
Recent hospitality design trends moved away from traditional lobbies with defined spaces to warmer, open-concept spaces that felt more like lounges. The barriers between ancillary spaces like coffee houses and business centers were blurred so that guests could relax and consider ordering a beverage from the bar while enjoying a light snack from the market. Happy hours were often facilitated by hotels to help business travelers feel less isolated and stimulate conversation. By drawing guests out of their rooms, hotels were more likely to capture increased revenues while guests would have a more enjoyable hotel experience. The challenge moving forward for Brands will be to balance the necessary social distancing that will remain for years to come, while still encouraging guests to leave their rooms.
Hotel operators and staff will need to exercise ingenuity in order to enable the lobby to remain the center of activity while making guests feel comfortable and safe. The front desk often provides the first impression of a guest's experience at a hotel. Whether the staff strategically places elements situated throughout the lobby to ensure social distancing or the staff simply wears a handsome, hotel-issued face mask, it is important that these efforts translate that they are well thought out and uniform.
Check-in can include small surprises, such as a small container of hand sanitizer or a face mask with a clever picture or phrase. A list of steps the hotel has taken to ensure that the guest's health and wellbeing can be provided to provide peace of mind. It will be incredibly important that the staff's confidence emanates and provides guests a feeling that everything is under control, the hotel is clean, and that the hotel is there to help them with anything that they may need during their stay.
Physically, guests need to be provided with enough space to feel at ease, but not so much that they feel isolated. Hotel operators will need to balance guests' proximity to each other while providing as much seating as possible. Furniture layouts need to be simplified to offer more two-top tables and single chairs, as opposed to shared couches and communal tables. Individual pods may become more popular, as well as enclosed work stations that can be sanitized after each use.
Wherever possible, automated door sensors could be installed to reduce the amount of contact guests have with the door handles as well as installing touchless faucets, soap dispensers, and hand dryers in public restrooms. Accommodations need to be made for quick and easy public space cleaning by hotel staff to ensure and maintain guest trust. Guests should be informed about the steps the hotel is taking to address any concerns.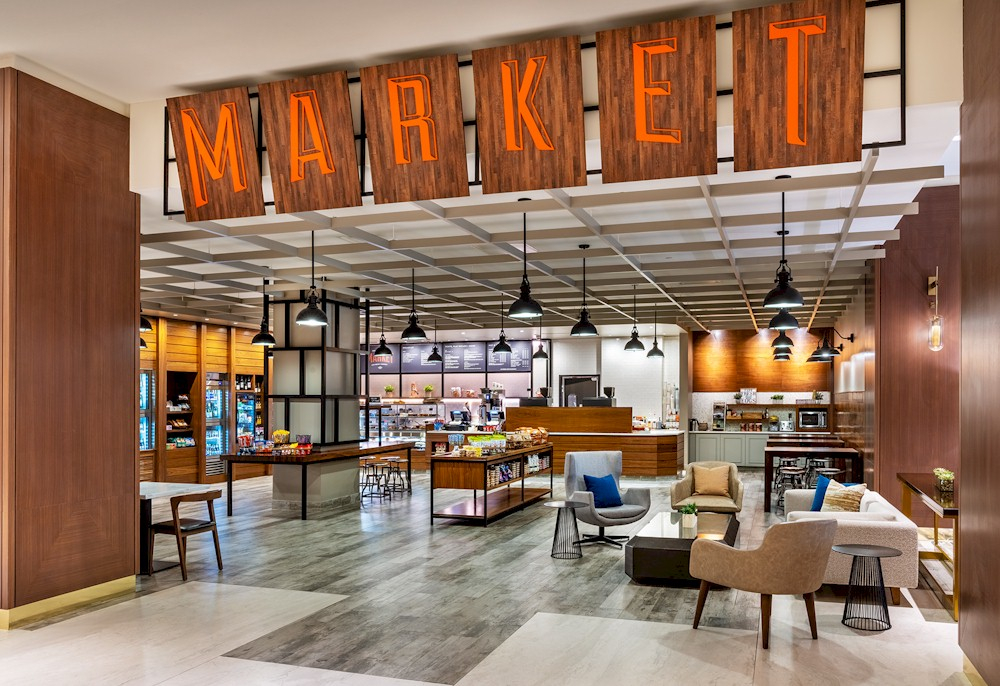 The Market at the Hyatt Regency Jacksonville Riverfront in Florida shows how an invigorated market adjacent to the front desk can help supplement the new F&B model.

2. Food & Beverage
No aspect of the hotel experience has been more effected than the food and beverage component. Hospitality design trends had continued to open up the public spaces while increasing the food and beverage offerings with the intention of generating additional revenue streams. Bars were becoming trendier focal points with beverage-forward hotels serving craft beer and providing free drink coupons to guests upon checking in. Grab-and-Go markets were becoming a constant F&B option – especially in airport hotels – to cater to the needs of the on-the-run guests. Even free in-room coffee offerings were replaced with gourmet coffee kiosks and free-standing coffee houses.
Covid-19 has changed the thinking about how hotels operate their F&B. Ken Kistler, CEO and President of McFarland Kistler & Associates – a food service facilities analysis, design and operations firm located in Pittsburgh, PA - explained that, "Right now, guests are arriving later and leaving earlier. Due to lower occupancy rates, two and three-meal restaurants are offering reduced menus to balance out their reduction in staffing. Buffets have mostly shut down, either been closed off from the rest of the restaurant or simply curtained off – depending on their size. Some restaurant seating has been moved outside. 'Traditional' room service has been discontinued in many locations." Due to these changes, many aspects of F&B service need to be rethought and reimagined.
Thankfully, there are many creative ways that hotels can adapt their F&B in order to move forward. "Instead of standard, minimal spaces adjacent to front desks," Kistler explained. "Markets can be located front and center to the front desk, which could now function as a hub, and be fully stocked with such items as sandwiches and pre-made salads directly from the kitchen. This would allow the kitchen staff to keep moving rather than waiting for orders in the restaurant. Room Service orders could also be made at the front desk and the staff could begin the assembly of the order almost immediately to cut down on the wait time and work better with the new staffing model."
In select service hotels, Kistler sees the restaurant operations moving away from the typical models. "Guests would place their orders at a window or with a tablet, which would then be received in the kitchen. When the orders are ready, the guests' number or name would be announced or texted to them, or the hotel could even have a runner who would be able to deliver the food to the guests, who would be sitting at their socially-distanced tables."
Meanwhile, restaurant occupancies that were about 15 SF/patron could balloon up to as much as 30 or 45 feet per square foot without creative thinking. "Hotel owners, who were already hesitant about dedicating additional space to their restaurants, could consider using banquettes with higher backs instead of loose seating. Existing back-to-back two and four-person booths could be fitted with glass or resins to gain an acceptable height of 54" while still allowing for light and views to pass through and avoid creating more walls."
Kistler further stated that, "hotel restaurants will have difficulty surviving without their bars. Alcohol sales provide approximately 45-50% net profit on sales, which are necessary to balance out the food sales, which only have about 10-15% profit. Right now, bars are moving to outdoor seating; however as the weather gets colder, this will be harder to sustain in northern-colder climates, while southern climate hotels may be able to maintain this setup.
A long-term solution would be to consider utilizing plastic or glass partitions for a mix of one and two seats at the bar. Emphasis would need to be placed on solving such challenges in order to maintain design elegance. Overall, these design solutions will allow retrofits of existing spaces in order to begin realizing lost revenues while mitigating the potential costs of other design alternatives which could result in reduced seating.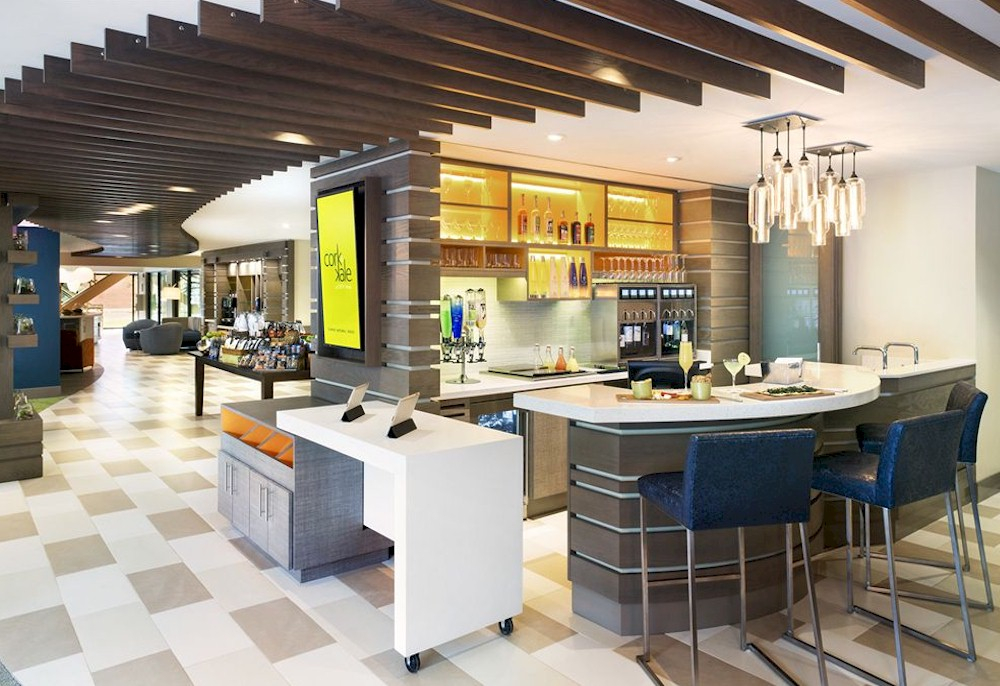 EVEN Hotel Norwalk's Cork and Kale restaurant utilizes a tablet ordering system with separate pick-up area that could provide an Covid-appropriate operations model for hotel restaurants.

3. Technology
As with so many other design aspects, technology seems to have no limits, especially as we reimagine what the post-Covid lobby will compromise. Thanks to smartphones, guests have the ability to remotely check in and skip lines, eliminating some concerns about queuing at front desks and restaurants as well as placing orders at locations such as kiosks and coffee bars. Business centers have already become obsolete outside of occasional printing.
Additional focus will need to be placed on the guest-interfacing applications. While strides have been made in the last 3-5 years, these platforms need to become a dependable part of the daily operations. Guests want to use them in lieu of direct communication with hotel staff, for everything from room service, requesting more towels, or even to receive local recommendations. Along the same lines, hotel WiFi capability will continue to be paramount.
4. Pools
How hotels handle swimming pools will need to be reconsidered. The CDC has noted that there is no evidence that the virus spreads through water. Further, proper operation of pools and disinfection of the water (with chlorine or bromine) could de-activate the virus. As salt water pools are chlorinated pools, major renovations to existing swimming pools plumbing systems are most likely not necessary. Pool deck furniture layouts, however, will need to be adjusted in order to provide the necessary 6' minimum social distancing. Large gatherings at pools will have to be curtailed for the near future, so hotels may consider offering reservations for guests to use their facilities.
Outdoor pool adjustments may be easier to incorporate than indoor swimming pools as additional ventilation system adjustments may become necessary. Overall, swimming pools are more about checking a box for family leisure travel than they are about increasing occupancies. Considering the low return on investment that swimming pools provide, significant rework of swimming pools – especially indoor pools – seems unlikely. For pools that provide food or alcohol service, it will be important to take the steps necessary for the pool to be functional again to realize the lost revenue.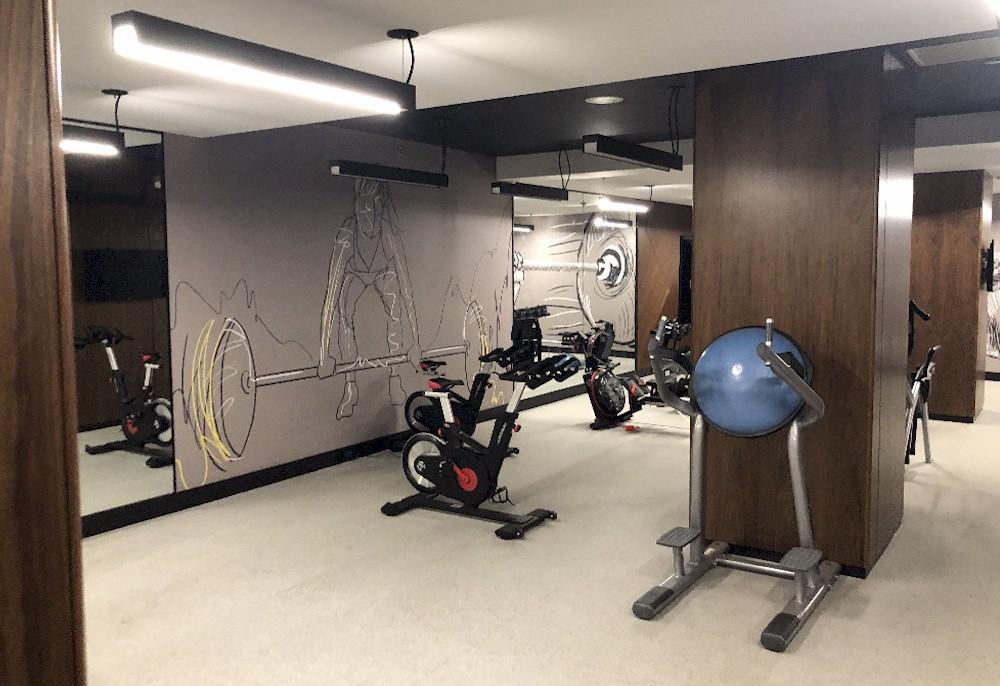 Martinique New York on Broadway, Curio Collection by Hilton, demonstrates how a well-designed fitness space with less equipment can feel comfortable and luxurious.

5. Fitness Centers
Another area to be reexamined is fitness rooms. Hotels have been increasing the size of their fitness rooms for the past decade in reaction to the wellness movement. Unfortunately, the entire concept of working out at the hotel gym may forever be turned upside down. As the virus that spreads, COVID-19 transmits mainly through respiratory droplets, the requirement to wear masks while working out and general lack of confidence in making athletic spaces safe may make fitness rooms harder for hotels to salvage. Guests and employees may be more at risk in fitness areas given the added exertion is more likely to spread the virus even with a mask on, which will most likely cause a reduction in demand and use.
Much like swimming pools, the amount of people allowed in the fitness spaces have been reduced to a percentage of the previous occupancy. As the restrictions recede, more guests can be allowed back and the fitness rooms can be adjusted accordingly. Encouraging guests to call ahead can ensure that they receive the personal attention they deserve as well as avoiding any conflicts of having to ask guests to return at a later time.
A significant investment of time and effort must be dedicated to disinfecting and sanitizing after each guest's work out. To reduce the amount of time spent cleaning, a reduction in equipment may become necessary while also providing an easier avenue to provide social distance between equipment pieces. While larger existing fitness rooms will be easier to adapt for Covid-19 restrictions, it seems unlikely that guests will see fitness rooms full of guests and crammed with as much equipment as possible for the foreseeable future.
6. Indoor Air Quality
Hotels also have the ability to rethinking how their building systems address the needs of guests in the new Covid-19 world. One straightforward way to improve air quality is to increase the amount of filtration at the HVAC systems. The EPA rates filters with a system using Minimum Efficiently Reporting Values (or the more familiar "MERV"). With a scale of 1 to 20, most commercial buildings and hotels typically use MERV-8 filters, which remove approximately 30 to 35 percent of dust, bacteria, dirt, and mold – just to name a few things floating in the air.
For comparison, hospitals often use thicker air filters with a MERV rating of between 16 and 20 (or HEPA filters). By replacing the typical MERV-8 filters for a similarly-sized MERV-13 filter, approximately 80 to 85 percent of particulates would be removed from the air, which is usually a simple switch out for existing hotels, without overall system changes. (New-build hotels or equipment replacement retrofits can consider increased air filtration during design.) While there is a cost associated with the more efficient filters, addressing air quality with improved filtration is the most common way to improve overall building health.
Toby Hunt, a mechanical engineer and principal at Salas O'Brien, explained that there are options to help combat the spread of airborne pathogens that are often utilized in health care design for hotel owners to consider. "The installation of ultraviolet (UV-C) light fixtures in strategic locations can help deactivate the COVID-19 virus with particular wavelengths and intensities, although this can be costly. A less expensive alternative to UV lighting is bipolar ionization, which has become very popular as of late."
Bipolar ionization can be integrated into both new and existing HVAC system and uses charged oxygen atoms to help "de-active harmful substances like airborne mold, bacteria, allergens, and viruses. The charged oxygen atoms also attach to expelled breadth droplets and dust particles that can transport viruses, and enlarge them so that they are more easily caught in filters, causing continuous disinfection. " While there is no direct return on investment with either the installation of UV lighting or bipolar ionization systems, taking efforts such as these to improve the air quality in hotels with the guests' health in mind can encourage more hotel patronage, particularly when considered against hotels that choose not to address their air quality.
Another suggestion by Hunt to address the spread of Covid-19 was to control the amount of humidity in the hotel. "Viruses and bacteria typically propagate when humidity is low, while mold grows when humidity is high." By keeping the amount of humidity in the air to between 40 and 60 percent, "the air droplets grow fast, fall to the ground earlier, and can be inhaled by less people, meaning that the viruses cannot spread as easily in humid conditions. " A similar idea would be to increase the amount of outside air introduced into the building. Hunt explained that "this would help dilute the amount of contaminants into the hotel's air, assuming the outside air was already cleaner than inside the building. The countering effect on the mechanical system that would need to be balanced on this is that the additional outdoor air would need to be conditioned which would in effect increase the load on the building, affecting the energy use."
Another innovation to consider would be the use of "separate air purification devices" to help improve indoor air quality (often used for L.E.E.D. points). While there is a cost directly associated with the introduction of these technologies into the mechanical systems, there could be a direct benefit as a sanitized, disinfected air supply could help make large indoor spaces – such as meeting rooms and function spaces – become more attractive for group meetings and gatherings.
Additionally, improved indoor air quality may help increase the occupancy of meeting rooms going forward, when there very likely could be a shortage of rentable spaces for large gatherings. Increasing the number of air changes per hour could also help, but additional dehumidification may be required. Overall, there appears to be no shortage of options to help improve the air quality in hotels.
Looking ahead, we know that the hospitality industry is going to look different that it did 12 months ago. The days of hotel lobbies full of mask-less people, restaurants with as many covers as possible, and packed fitness rooms are probably a thing of the past. Hotels that are able to best adapt to these new conditions will be best situated to survive in the present and thrive in the future.
Once the virus is under control and restrictions are relaxed, it will be up to the hospitality industry as a whole to cultivate a feeling of safety, cleanliness, and comfort that provides guests with the necessary confidence to start traveling again. Hotel Brands, owners, and operators will need to embrace the new normal while taking advantage of a sea of opportunity that will present itself through imaginative rethinking of the public spaces, amenities, and offerings as well as innovations in digital platforms and building systems.
Toby Hunt, of Salas O'Brien and Ken Kistler, of McFarland Kistler & Associates contributed to this article.
HotelExecutive retains the copyright to the articles published in the Hotel Business Review. Articles cannot be republished without prior written consent by HotelExecutive.