Post-Pandemic Social Media Makeover for the Hotel Industry
By Carrie Trimble Associate Professor of Marketing, Millikin University | February 07, 2021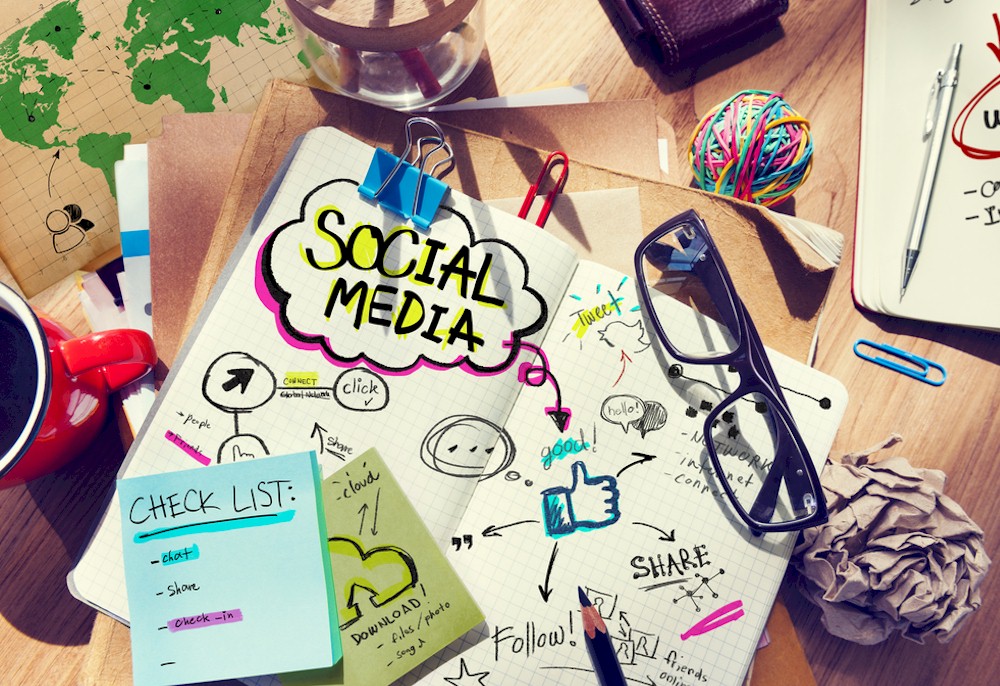 This article was co-authored by Mark Munoz, Professor, Millikin University
Even as welcome news of the first coronavirus vaccines (Gallagher, 2020 ) was rolling out in the week ending in December 12, the news for the travel industry remained grim. Hotel occupancy in the U.S. was down over 37% from the comparable week in 2019 (STR, 2020 ).
While that occupancy rate is a modest recovery from the low of 22% at the end of March and beginning of April, a second wave of the global COVID-19 pandemic had government officials encouraging consumers to stay home and avoid social gatherings for the December holidays (CDC, 2020 ).
The continued low occupancy rate has led to a drop in average daily rate (31.7% down from the comparable week in 2019) and a 57.3% drop in the revenue per available room (STR, 2020 ). European hotels are facing similar drops in occupancy and revenue (Fitch Wire, 2020 ). Neither U.S. nor European hotels are expected to recover to 2019 levels until 2023 (Fitch Wire, 2020; Krishnan, Mann, Seitzman & Wittkamp, 2020 ).
With an estimated loss in the industry of over $40B since the start of the pandemic (Dun & Bradstreet, 2020), the global hotel industry could be facing serious operational challenges in the coming years. Many hotels would love to revert to normal, except that operations were never that "normal" since the rise of Airbnb and the sharing economy years in the years leading to the pandemic.
As the hotel industry strives to recover from COVID-related losses, they must face the on-going trends that were disrupting the industry before the pandemic hit. These disruptive trends include the emergence of virtual communities, Airbnb and the sharing economy, younger generations with different standards for lodging and accommodations, and independent travelers looking for distinct and personalized experiences (Weisskopf & Masset, 2020 ).
There is a growing trend towards experiential travel such as yoga retreats, glamorous camping, and music-driven activities such as having a DJ in the lobby and on-site concerts (Hollander, 2020 ). Those four trends have their own specific origins but are inter-related as Gens Y and Z shun group travel and look for independent and personalized travel experiences through sharing economy brands like Uber and Airbnb. Then, they review those experiences on social media.
Hotels are already attempting to increase their appeal to younger customers such as Gens Y and Z who have been generating significant sales (Dun & Bradstreet, 2020). This often means incorporating new technology like apps, chatbots, and artificial intelligence, focusing on activities and experiences, and making strides in environmentally-conscious business practices. It additionally means adjusting social media practices as the younger of those two generations, Gen Z (born between mid-1990s and 2000) have different tech and social media preferences and usage differ from past generations (Hollander, 2020 ).
For example, 18–29-year-olds are much more likely (67%) to be active users of Instagram than 50–64-year-olds (23%) (Pew Research Center, 2019 ). While most hotels are using social media such as Facebook, Instagram and Twitter to interact with customers, some use emerging platforms such as Tiktok videos and Instagram stories to try to expand their audience reach (Hollander, 2020 ).
The use of social media and user-generated content to reach potential travelers is a practice where Airbnb already excels. Data collected through Talkwalker (talkwalker.com) shows that Airbnb has more social media engagement and potential reach than the biggest hotel brands. (For this comparative analysis, Marriott International was chosen because as the largest global hotel brand, it should have the largest social media presence.
Searches for other large hotel brands like Hilton and Accor showed less presence than Marriott. See Table 1 for social media presence comparisons.) Specifically, during the seven-day period between December 14, 2020 and December 20, 2020, there were considerably more social media mentions of Airbnb than Marriott. Airbnb mentions peak at 1600 while Marriott's highest is 313 mentions. Additionally, Airbnb had a potential reach of 3.8 trillion viewers while Marriott's potential reach was 525.9 billion viewers.

Airbnb heavily relies on user-generated content (UGC) (Shrivastava, n.d. ). With permission of its users, Airbnb regrams user-generated photos and videos. Some years, that user-generated content is over three-fourths of all of Airbnb's posts, and that approach creates up to 80% of Airbnb's social media engagement. User-generated content has also led to growth of Airbnb's virtual community of followers by over 10% and likely makes the brand seem more reliable as many travelers trust UGC more content created by brands. As Gen Z spends one-third of its media time with UGC on YouTube, Instagram, Snapchat, and TikTok, a UGC-heavy social media strategy is a great way to reach 18-to 29-year-olds. 

The obvious drawback of relying on user-generated content for social engagement and reach is the lack of control the brand has over the quality, tone, and message of that content. At the time the above data was pulled from Talkwalker, the Airbnb-related tweet with the most engagement was a message posted by a user who said he'd been accused of stealing a laptop from an accommodation. The tweet with next best engagement was from a French user who posted a very unflattering, but realistic) picture of the toilet in his accommodation. The word clouds below demonstrates that the themes of Airbnb-related posts lack the consistency or focus of a brand-generated campaign.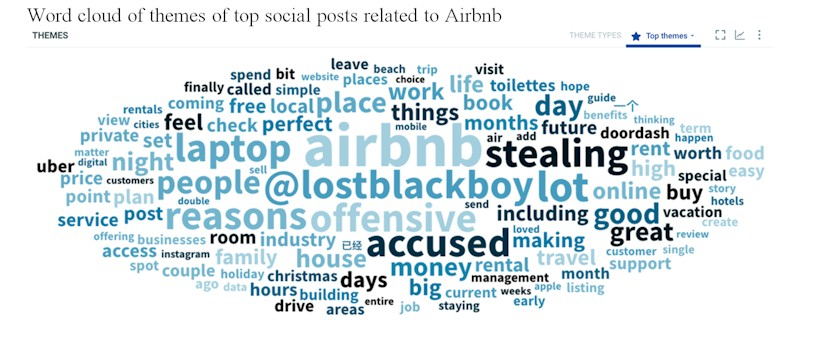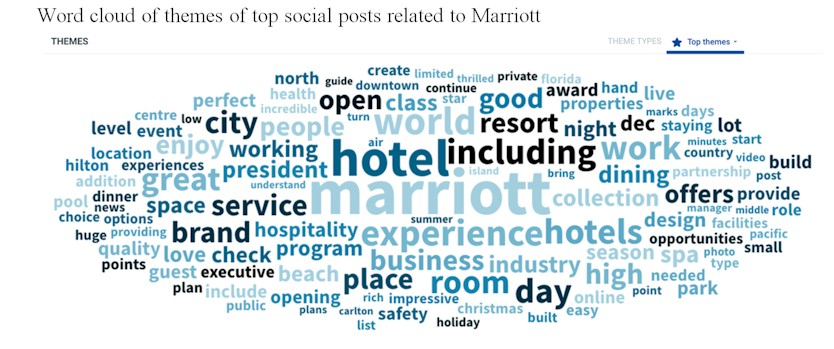 Additionally, the general response to the laptop and toilet tweets were negative sentiment toward Airbnb. In fact, while Airbnb's social reach and engagement outpaced Marriott's for the time period measured, the sentiment towards Airbnb-related posts was noticeably more negative than the sentiment toward Marriott-related posts. Additionally, the Airbnb-related posts elicited less positive sentiment than the Marriott-related posts. Data pulled from Talkwalker shows that sentiment towards Airbnb-related posts is significantly more volatile than that towards Marriott-related posts.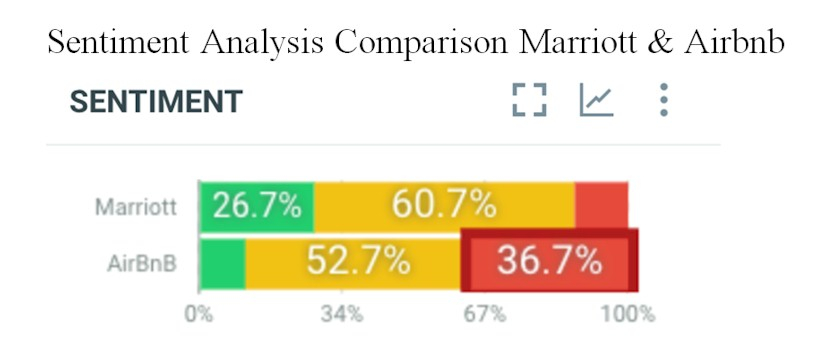 What does all of this mean in the post-pandemic future for hotels? As business travel will return unevenly (Krishnan et al., 2020 ), hotels need to try and regain some of the leisure travelers that the sharing economy has drawn to brands like Airbnb and Uber. Turning away from business travel that has often represented as much as 70% of hotel bookings for major hotel brands like Marriott and Hilton (Wallin, 2020 ) may have been inconceivable prior to the pandemic, but many industries have replaced business travel for internal meetings with technology like video conferencing and have no plans to re-introduce what now seems like nonessential travel (Krishnan et al., 2020 ). Short business trips possible by car are likely the first to return while conferences and large trade shows are likely last. 
For leisure travelers, the pattern of return will be similar to business travel (Krishnan, 2020 ). Short trips by car and close-to-home trips are likely to be the first leisure travelers will undertake. As governmental restrictions have made travelers leery of long-term travel planning and cancelation fees, the booking windows will likely be shorter than before the pandemic. Additionally, as much of leisure travel is coordinated with business travel by extending a stay immediately before or after business is concluded or bringing a friend or family member along, the return of this combination travel or "bleisure" travel will be dependent on the overall changes to corporate travel (Wallin, 2020 ).
Whether communicating with corporations or independent travelers to encourage post-pandemic travel, social media may be an effective tool for hotel brands. User-generated content (UGC) for early adopters-those who start traveling before majority do-can help both corporate travel planners and independent travelers trust that accommodations are clean and safe. As mentioned previously, UGC is seen as more trustworthy than brand-generated content, so it's critical that travelers hear from their peers frequently and repeatedly. Building virtual communities and a strong social media strategy may help mitigate some of the uncertainty in travelers' minds, but before hotel brands can implement such a strategy, they'll need to reconcile some of the current social media challenges.
Unhospitable Environment
The current business environment has caused considerable discomfort and brought significant "pain points" to the hotel industry. This scenario makes it essential for hotel executives to carefully assess their market and plan for adjustments.
Need for different social media strategies for B2B than B2C
In the case of corporate business travel, someone other than the traveler often reserves the rooms and books the flights. Traditionally, this has meant having an internal sales staff to establish contacts and contracts with corporation. Those corporate contacts often saw consistent quality in hotels as a major benefit for their corporate travels.
However, leisure travelers, and especially those in Gens Y and Z, are often looking for personalized and unique experiences, and they often want it with as little interpersonal contact as possible. Researching through social media, booking through an app, and contactless check-in are major benefits for new generations and many leisure travelers.
With two different travel segments looking for different benefits, hotel brands need to be able to tailor their social media strategies to meet the needs of each segment. One, consistent, global message is insufficient when a benefit to one traveler is considered a weakness to a traveler from the other segment.
The most trusted social media is the social media you least control
Airbnb has found great success by encouraging UGC, but that success comes with the price of volatile sentiment and a lack of control. Word of mouth communication through the Internet or e-WOM is a growingly important factor in the gathering of information and decision to purchase for all travelers (Liu & Park, 2015 ). Gens Y and Z look for authenticity in themselves, their expressions, and their activities (Francis and Hoefel, 2018 ). That means authentic word of mouth through social media content is critical to attracting their attention and gaining their trust. But giving up control is often antithetical to corporate hotel brands.
Consumers want control, too
During the pandemic, one of the appeals of road trips and renting accommodations with kitchens is the perception of control. Travelers feel like they can leave or avoid unsafe locations while commanding their own transportation, and preparing their own meals eliminates the exposure to other travelers and restaurant staff. Even before the pandemic, independent travelers were starting to focus on experiences and customization. Providing travelers the control they want comes at a material cost to hotel brands.
These are just some of the shifts that have started to define the contemporary hotel industry market. The creation of operational models that are in tune with this new reality is critical for future success.
Strategic Social Media Makeover
Given the mentioned landscape and challenges, hotel brands that are willing to face the unhospitable environment can optimize their social media performance by focusing on the following:
Encourage UGC for creative and unified message
Potential travelers are interested in hearing the views of those who have already traveled to a destination to help them make a travel decision (Mustak, Jaakkola & Halinen, 2013 ). Hotels need to come up with a holistic and impactful social media theme that is attuned to their brand and linked to their overall marketing agenda and incorporates user-generated content. All UGC is not created equal, but hotel brands can inspire the creation and posting of UGC that meets the brand's objective through careful encouragement and curation.
Contests with clearly defined criteria are a great way to encourage UGC. Additionally, offering loyalty program benefits to users to post brand-appropriate content is a great way to thank the content creators and encourage repeat visits. Sharing UGC as part of the overall brand's social media strategy helps hotels capture consumer voices and refine marketing strategies (Mowat, 2010).
Operational synergy
Expand social media to be a function not just of the marketing department but the entire organization. It needs to be a concerted effort where synergies can be built-even if it means letting go of some of the control. Encourage staff on the ground with guests to suggest and create content. The types of visuals used impact the extent of engagement provided by the customer (Hutchinson, 2016 ). The point-of-view from housekeeping and activities personnel can lead to authentic posts that resonate with newer generations and break free from the clutter of staged beauty shots.
Personalized, technological support
Hotels need to make sure they have the technological talent and resources to conduct effective and sustainable social media campaigns, build and maintain apps, and curate and respond to postings on review sites. With the hotel industry's strong customer-orientation, online visibility is a factor for success (Popescu, Iancu, Vasile & Popescu, 2013 ), and that makes having a strong social media presence critical.
Additional technological support is needed for apps that facilitate travel planning and booking as they help remove friction from all stages of travel planning and consumption. While that technology provides an obvious benefit to travelers, it also generates user data that can help hotel brands understand their customers and gain a competitive advantage (Sorescu, 2017 ). In the travel industry, social media websites such as WikiTravel and TripAdvisor provides a venue for the posting of pictures and videos as well as the offering of comments and reviews (Xiang and Gretzel, 2010 ), and hotel brands can strengthen their social media presence and perceptions of authenticity by responding to traveler comments (Dun & Bradstreet, 2020).
It would be impossible to change the market forces that are negatively impacting the hotel industry, such as the ripple effects of the pandemic and the emergence of the sharing economy. It is unlikely that consumer behavior, attitudes and expectations of past years will remain unchanged. The hotel industry needs to reconfigure their business models, especially in the area of social media management.
In many cases, a dramatic and strategic makeover is necessary in order to simultaneously address the needs of multiple market segments, meaningfully engage with post-pandemic early adopters, and craftily interact with consumers with volatile sentiments.
Additional References:

Dun and Bradstreet Report 2020
Mowat, B. 2010. Social media: Is it a friend, or foe? Canadian Travel Press 42 (26):8–22.
HotelExecutive retains the copyright to the articles published in the Hotel Business Review. Articles cannot be republished without prior written consent by HotelExecutive.