The Journey from Wellness to Well-Being
By Rachel Hodgdon President & CEO, International WELL Building Institute (IWBI) | April 04, 2021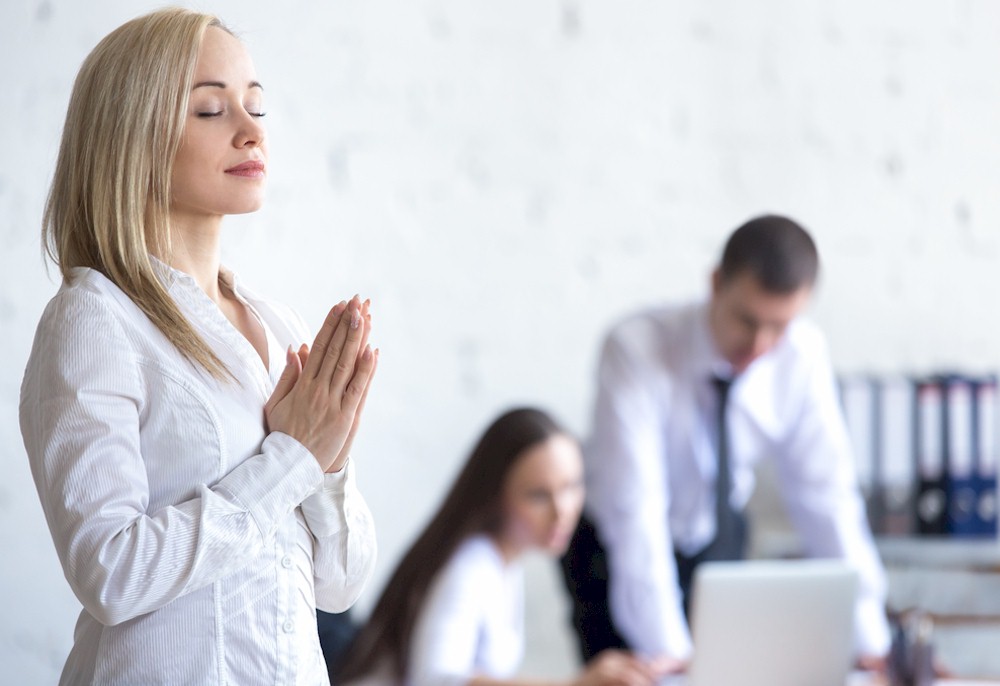 When I first joined the International Well Building Institute (IWBI), I spent the better part of three years living out my weekdays at various hotels in New York City while commuting back to D.C. on the weekend. At a guess, I'd say I stayed at more than 20 hotels in my first year before finding a hotel I liked enough to make it my NYC home-away-from-home.
Working for IWBI sometimes feels like I know too much when it comes to the health attributes of spaces. Does this make me the nightmare hotel guest? Well, maybe. But it's not because I'm a stickler for high-thread-count bed linen, complimentary designer amenities or Michelin-starred room service.
I have a lot of questions. Are there hardwood floors or carpeting? Are the cleaning protocols green? Are rooms separately ventilated? What about acoustics? Are the windows operable? Can I have filtered water rather than bottled?
Changing the Conversation
I finally found a hotel that ticked all my boxes, one that offered healthier cleaning practices, better indoor air quality, hardwood floors, quiet rooms and blackout shades. I had been staying there every week for over a year before I made an interesting discovery.
One of the bellmen, whom I had come to know quite well, asked me what I did for a living. It's not always easy to summarize the work we do at IWBI, so I opened by saying: "Have you heard of LEED?" His response surprised me. "Of course," he said. "This hotel is LEED certified."
I was dumbfounded. For all of the research I had done before shortlisting this hotel, I had never seen any reference to this significant accreditation. Later, I asked the head of guest services why they didn't display the LEED plaque or make a big thing of it to guests.
His answer was insightful. He told me that the last thing guests want to hear when they book a getaway is that they're going to be guilted out of clean sheets, fresh towels or great water pressure.
Reflecting on it, I could see the logic of his argument. Although making the green choice need not mean going without, that's definitely what many consumers think. This tension – the assumption that doing the right thing necessarily involves sacrifice – is a fundamental problem with the way climate solutions have been presented and understood.
The message simply isn't landing, largely because it emphasizes what we give up, rather than what we gain.
Addressing the Real Issues
It's a view that's been compounded by "greenwashing". Organizations have adopted light-green hospitality practices ostensibly to save precious planetary resources, although cynics observe that they typically align with operational savings for the hotel. They also point out that all the unchanged sheets and unwashed towels are sacrifices made by guests and not by hotels taking credit for them.
Some brands have, of course, made carefully considered commitments to addressing the deeper environmental footprint of the hospitality industry, though these seldom make it into their marketing copy.
As a result of a program launched in 2019, MGM Resorts International won a national EPA award for its game-changing pledge to reduce food waste and conserve natural resources, while Hyatt has sensitively incorporated LEED certification into its proposition. I've also been deeply impressed by the engagement of many boutique hotels – especially outside the U.S. – with projects that promote eco-tourism: specializing in local food, partnering with local businesses and running deep energy efficiency and water conservation programs, for example.
The success of initiatives like these proves that there are plenty of opportunities for hotels to act at the intersection of what's good for business and what's in the best interest of people and planet.
Many of the same practices that deliver environmental benefits also deliver human benefits, in addition to savings to the bottom line. Refocusing and rebranding efforts like enhanced ventilation, healthier materials, and improved cleaning protocols resonate deeply with guests, especially as we navigate the pandemic and beyond.
Wellness Versus Well-Being
Prior to COVID-19, many hotels promoted Instagram-ready wellness perks; today, implementing genuine measures that positively impact well-being and demonstrate a deeper commitment to health are on trend.
The pandemic has pivoted many hotels from a wellness-light focus to a full commitment to well-being for both guests and staff. It signposts ways in which prioritizing well-being can elevate a hotel's brand, create a premium pricing opportunity, increase occupancy rates and, most importantly, make people feel safer.
When I went back to my former hotel-home for a visit recently, I was thrilled to see that they were still doing the right things for the right reasons: pulling out all the stops to get their staff vaccinated; supplying quality PPE to staff members; and making hand sanitizer available at every point of interaction. Extensive COVID-19 safety practices were in place. Guests were invited to make solo reservations for the gym (which was aired out and sanitized between each session), elevators were limited to single parties, plexiglass barriers were installed at the front desk and safe distancing was routinely practiced.
Making the Invisible Visible
Doing the right thing isn't enough, though. It's essential that hotels not only adhere to meticulous operational protocols but also make guests fully aware of it. All the behind-the-scenes investments that prioritize safety need to be visible. Last year, IWBI launched a program designed to do just that. Our WELL Health-Safety Rating (HSR) gives hotels and resorts the ability to show guests just how seriously they're taking our health and well-being.
The WELL Health-Safety Rating was developed in response to market demand and informed by IWBI's Task Force on COVID-19, which included nearly 600 public health experts, virologists, government officials, academics, business leaders, architects, designers, building scientists and real estate professionals. We stood up two special advisories as an extension of the taskforce – one for Sports and Entertainment Venues and the other for Hotels and Resorts – because these were amongst the hardest hit sectors; brands were actively reaching out to us for evidence-based practices that would give them a roadmap for prioritizing improvements. Because many hotels had entirely shut down their operations they were squarely focused on what they needed to do to get back to business.
The WELL Health-Safety Seal that accompanies the rating is more than a recognition of achievement, it acts as a shorthand – on the door, website and in marketing and communications materials – that stands for an organization's deep commitment to customers' and employees' health and well-being.
Prioritizing Human Health
It's important to recognize that both front- and back-of-house practices deserve the same level of attention. Guests matter but so do the staff who serve them. In these times hotel workers put their lives on their line every time they show up for their shifts.
It's so critical to support those staff members by providing not just adequate but excellent masks and other PPE, increasing ventilation, filtration or purification throughout the property, as well as establishing and enforcing other protocols, like physical distancing and hand washing. Of equal importance, though, is reducing barriers for staff to be vaccinated. That means allowing workers to take time off work to attend appointments, as well as making sure any vaccine costs don't create additional obstacles.
Training has never been more vital. A level of re-onboarding is urgently required for hotels and resorts as they're getting back to business. We can't assume that everyone knows how to fit and wear a mask or that everyone has the same level of education on the need for physical distancing. In the U.S., where mask wearing has been politicized, employers are a key link in driving education and culture.
We've created a COVID-19 training that's free for all to access and is the kind of evidence-based education that employers need to proactively ensure employees receive. This may require offering training and support in different languages.
The new playbook must go further than codifying expected behaviors in policy. Perhaps most importantly, hotels need to ensure they develop a culture that encourages people to stay home when they're sick. Creating a supportive environment that doesn't penalize employees for putting the health and safety of colleagues and guests first is one of the most significant changes hotels – indeed, every employer – can make.
Creating Better, Safer Spaces for Good
We're still learning about COVID-19; we're adapting and adopting practices to provide the most comprehensive response possible. It makes sense to upgrade our cleaning routines – even though transmission of COVID-19 via contact with surfaces is unproven. Getting back to business is fundamentally about rebuilding confidence. So if it helps make guests feel safer, then it's absolutely worth doing.
What we do know is that air quality is one of the most important factors in preventing transmission, not just of COVID-19 but all airborne viruses.
A lot of hotels aren't set up to have separately ventilated rooms or to have operable windows. One of the features within the WELL Health-Safety Rating asks that owners and operators understand their HVAC system and are able to maximize its potential when the risk of transmission is high. Other interim solutions can come into play to be used in lieu of more permanent solutions – employing stand-alone purifiers with HEPA filtration, for example.
It took a long time for public health bodies like the WHO, CDC and NIH to communicate the most important COVID-19 interventions – improving air quality, wearing masks, physical distancing, reducing density and isolating at the onset of symptoms. While we're all looking forward to resuming some level of normality in the coming months, this new stage will likely include many of these pandemic-related precautions. The same strategies that protect us from this virus will also protect us from the common cold or the seasonal flu.
Which makes improvements that genuinely enhance well-being – rather than those that pander to vague notions of wellness – worthwhile now and in the future for the hotels that embrace them. Having blackout shades and lighting that promote healthier sleep cycles or enhanced filtration systems that improve air quality and impact everything from virus transmission to cognition and problem-solving, have the potential to deliver significant returns, if they are tied to effective marketing and messaging.
Recovering Slowly But Surely
The COVID-19 pandemic has highlighted the critical role that our buildings play in supporting people's health, safety and well-being. Buildings are, and have always been, our first line of defense for improving the state of our health and it's crucial that we shift our approach to acknowledge this reality.
In the short term, adopting measures designed to protect guests and staff from harm offers organizations a viable path for transitioning out of emergency-response mode. Longer term, these same improvements could provide a way for hotels and resorts to differentiate their proposition by putting human health and well-being at the very heart of their operations.
HotelExecutive retains the copyright to the articles published in the Hotel Business Review. Articles cannot be republished without prior written consent by HotelExecutive.