Pragmatic Sustainability and Our Pathway to the Future
By Sara Southam Property & Owner Relations Manager, Run Concierge, The Westin Verasa Napa | May 16, 2021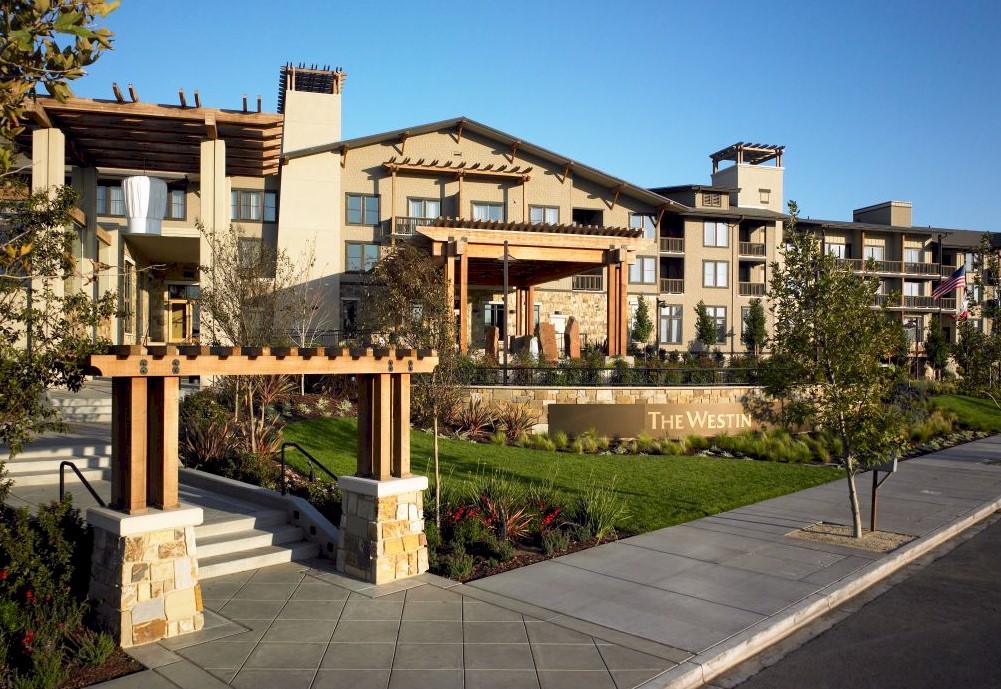 Sustainability conjures up a lot of different images for different people. It gets washed with our lenses and biases. In Merriam-Webster's dictionary, sustainable is defined as:
1: "capable of being sustained". 2a: "of, relating to, or being a method of harvesting or using a resource so that the resource is not depleted or permanently damaged"; and "2b: of or relating to a lifestyle involving the use of sustainable methods". Synonyms include words such as defendable, defensible, justifiable, maintainable, supportable, and tenable.
Let us take a moment to take the polarization out of this word and look at its foundational attributes. I make the radical case here that sustainability is an issue for all humans on the planet if we want life to sustain for our generation and those that follow. "Radical" comes from the word radish and ties back to the idea of addressing a problem at its root. We are experiencing a time that warrants a call to action for conservation. Conserve what we have, and quite possibly undo the damage that our environment has sustained since the advent of the industrial revolution. Eric McLamb writes in his article, "The Ecological Impacts of the Industrial Revolution :
"Certainly, the seeds of progress – and the ramifications of that progress – were planted then. It is with the very same mechanisms and effects that brought about both the progress and the indelibly connected results of that progress to our ecology – the good, the bad, and the ugly – over the last 250 years, we are entering a new era of sustainability. That is the next revolution."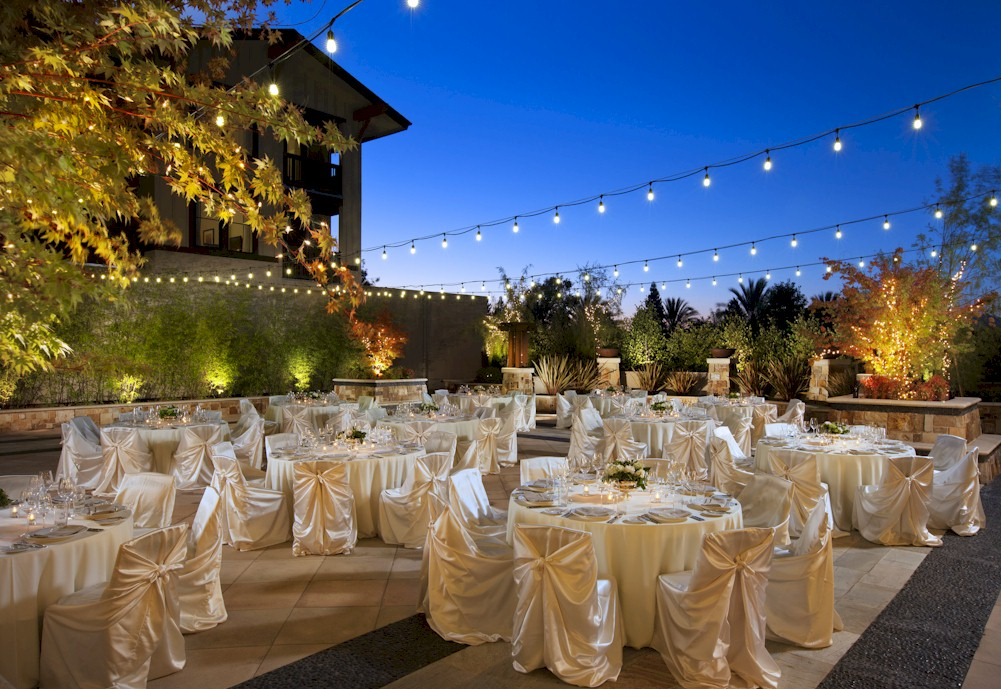 Napa's dusky sky allows for twinkling lights and connection in the Solera Courtyard
The definition reads a lot like taking steps so that we can continue living on the planet. I suggest we do so with a modern twist and an eye toward the future, both short-term and long-term. We have more significant ways of thinking and communicating that have not been available in times past. The UN has listed its 17 Sustainable Development Goals.
"The Sustainable Development Goals are a call for action by all countries – poor, rich, and middle-income – to promote prosperity while protecting the planet. They recognize that ending poverty must go hand-in-hand with strategies that build economic growth and address a range of social needs, including education, health, social protection, and job opportunities, while tackling climate change and environmental protection. More important than ever, the goals provide a critical framework for COVID-19 recovery."
Another way to view our environment and resources is through a finite paradigm. The earth is the macro-representation of a budget. I find it curious that as businesspeople considering our resources frequently, we take the vantage point that the planet provides infinitely and does not have a cap.
While that may seem the case, there are stress points put on the planet that will come out later as a backlash to humanity's short-sidedness or unwillingness to change course. We have one planet. It is finite. While rich in resources, it has a bottom line, just like the profit and loss statement at the end of the month. We need to start viewing our planet as our ultimate profit and loss statement. We can begin to make decisions brimming with range and foresight to meet our long-term goals.
While many of us restrict ourselves to looking at life through the lens of quarters and their respective performance, we always have the choice to look further into the future. Why do we base the health of humanity upon a period that is three months long? A mere season. The other irony here is that we live on average 78.7 years, so our impact is much more pronounced.
As responsible operators, the decisions we make matter. Do we recycle the batteries? Do we take the time to call the recycling company for our electronic waste? Do we pay to have our old T8 lightbulbs recycled as we transition to greater energy-efficient bulbs? How is our supply chain sourced? Are we using resources to support sustainable purchasing and companies that report on ethical and equitable labor? I know that Avendra has done tremendous work within its supply chain offerings to make these items available to its clients. Scalability is key. We have an enormous industry with huge potential if we can leverage it properly.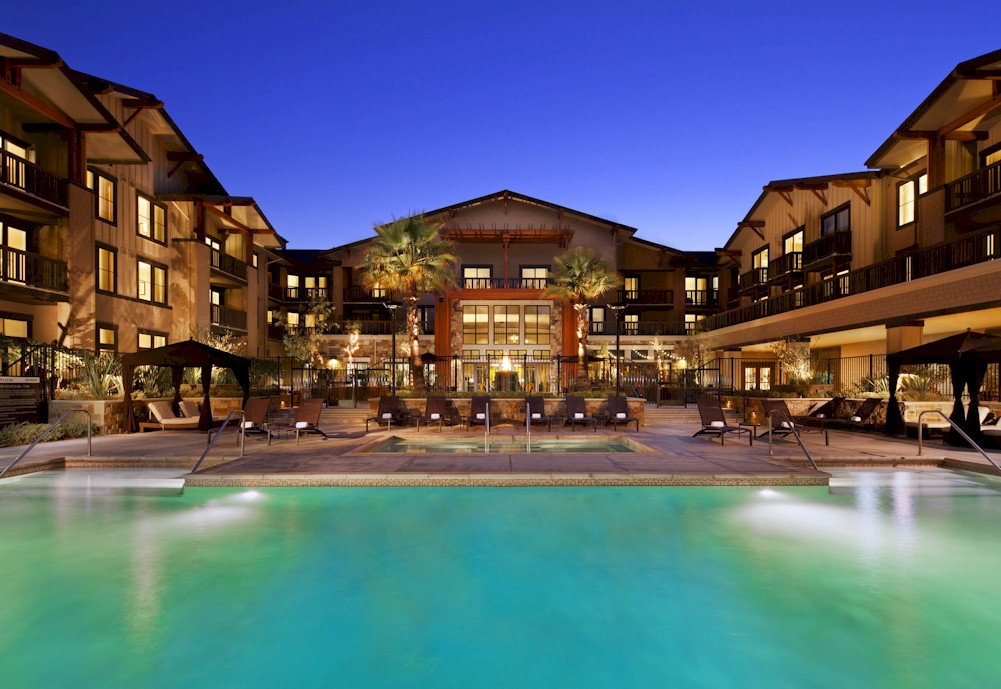 The Westin's pool courtyard envelops the guest; uniting the urban and the wild along the back river trail
We have sat with restauranteurs across the country. I remember vividly during our discussion on composting and recycling how they shared that these were not programs offered in their communities. One thing we can do at the community level is ask our city council members to provide these services and get them on the ballot. If you are in an agriculture community as we are in Napa, CA, perhaps there are benefits to other industries that operate in your community.
In our community, we have three programs: Recycling, composting, and garbage. The community incentivizes you to recycle by making mixed stream recycling free, compost in the middle of the expense milieu, and trash the most expensive. It is simple, but it incentivizes taking the time to sort your garbage. The compost produced in Napa is later used to fertilize our beautiful vineyards across the valley.
Ultimately, we need to create a mindset shift that does not divorce profitable business from sustainability. The two can co-exist and often do if we can get past the initial investment. Do we buy the chairs with a five-year warranty or the one-year warranty? What will last longer? How can we avoid putting everything in a landfill?
We've come to a place where sustainability can sometimes be too big or too far beyond our day-to-day experience. The idea of cleaning up the pacific garbage patch inspires us and, in the same breath, hinders our ability to move forward because of the task's enormity. It is easy to sever ourselves from the responsibility of sustainability. It is too big for one person. Does your community support recycling? Does the initial investment cost too much? What do we do with all of the single-use plastics that COVID-19 requires? Bitcoin mining operations deplete LEED energy savings. How and where do we start to chew on something bigger than we are? How do you eat a cow? One bite at a time, and preferably with a lot of other people and partnerships.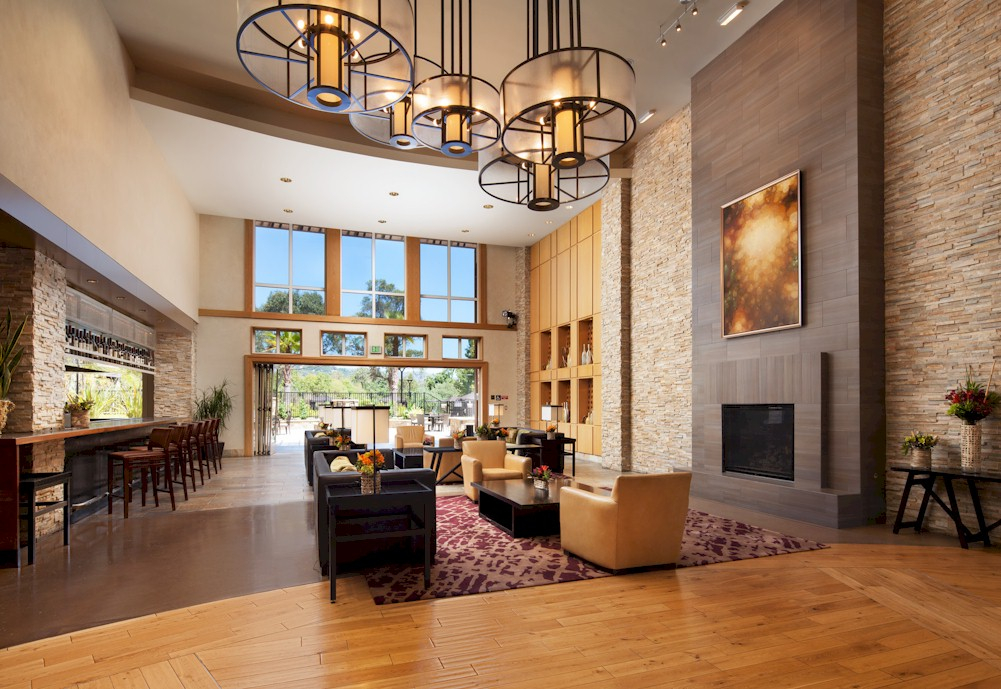 The Westin Verasa Napa's expansive lobby
We want to encourage you to start from an unlikely space to address this sustainability question. Let's all take a big step back before we begin to scale. Sometimes that is the easiest way to interpret the context differently. What are you doing at home? Do you pack your children's lunches with Ziplock baggies? Over time, think of how that fills up a landfill. Do you have a reusable water bottle, or do you purchase single-use plastics? When you are buying your clothes, do you purchase organic and sustainable materials?
Lauren Singer has managed to sink two years' worth of trash into a small cup. While I am not advocating that we can take such a radical position yet, we may bring parts of these into our lives. When we see sustainability working in home life, we may begin to see where it can be integrated into the business sector.
We've done several things at The Westin Verasa Napa to keep sustainability aligned with our financial goals. As mentioned, we monitor our refuse, recycling, and composting. We reduced what goes in the compactor and instead have downsized our compactor and invested in a food dehydrating machine. This machine takes the compost down to ten percent of its original weight. From there, we save on composting. In the future, we intend to use the material to grow our container garden in a parking lot across the street.
We have used falconry and owls to mitigate our pigeon problem.
We have had bee removal companies come to the property to preserve hives that have swarmed the building.
We wait until after the flowers bloom to cut down our weedy vacant lot next door.
We are currently researching the cost of having goats or sheep come to "mow" down the weeds.
Our food and beverage partner uses vendors that produce healthy, sustainable, and high-quality food.
All our take-out containers are compostable. We no longer use plastic straws and have opted for compostable paper straws instead.
We have found that a 20 percent vinegar solution is just as effective as traditional weed killers.
We have partnered with our energy company on several energy programs for lightbulbs and variable speed pumps.
Our shower heads are 1.5 gallons per minute, saving both water and money.
When we purchase something, we go to great lengths to ensure its longevity, not simply for cost but with sustainability in mind too.
We have participated in Clean the World, a recycling program for soaps and small amenity bottles.
We are excited to join Marriott in moving toward a more extensive residential option that will consume less plastic.
We use compost tea as a fertilizer application on our grounds.
Our pest control favors green chemicals.
We have an aggressive legionella testing program that we stick to routinely.
We take excellent care of our equipment and take all systems' energy readings each day to monitor for performance.
We are honored to say that we joined the California Green Business Network, which is no small task.
With COVID-19 as a threat, we installed oxidizers in each of our guestrooms and have put needlepoint bi-polar ionization in our meeting spaces to protect the air that people are breathing. We paired these with MERV-13 filtration to increase our impact.
I know that we still have more to traverse along our journey, but we've come a long way!
HotelExecutive retains the copyright to the articles published in the Hotel Business Review. Articles cannot be republished without prior written consent by HotelExecutive.