How Linen and Laundry Choices Influence Hotel Sustainability
By Joseph Ricci President & CEO, TRSA | May 23, 2021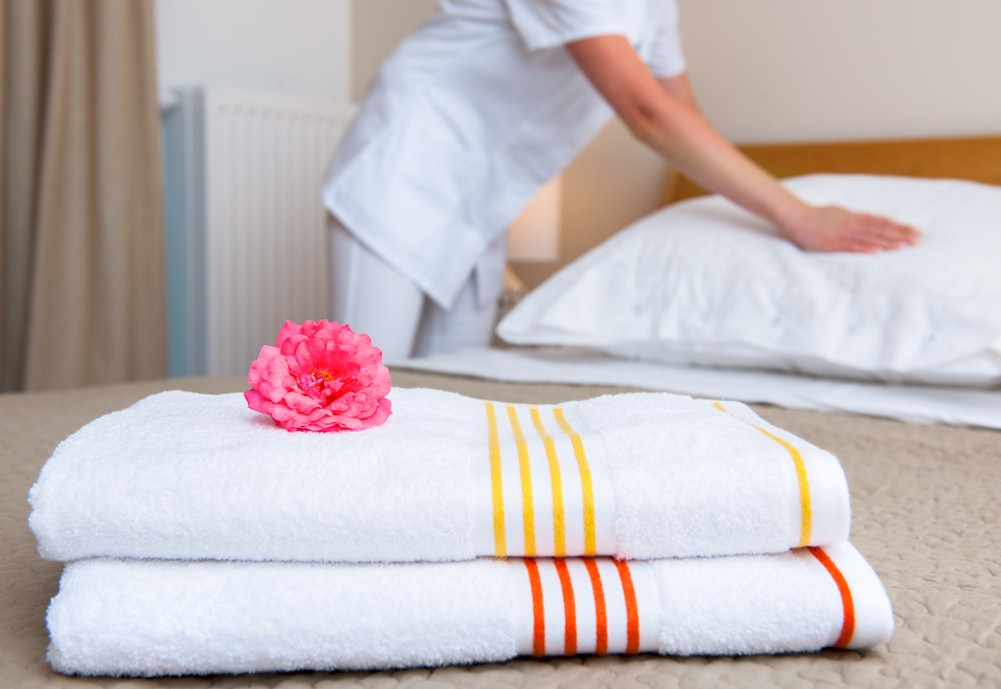 "Green" and "environmentally friendly" and are often considered synonymous. Applied to business operations, they describe practices that take less of a toll on the planet than equivalent approaches.
These include deploying technologies that use less water and energy, so when natural resources become scarce and expensive, these techniques are better positioned to carry on. Such perseverance meets demands from buyers who demand greener practices, which is becoming more critical to economic viability and longevity as environmental conscientiousness grows.
Now in its 10th year of certifying outsourced laundries Clean Green for their conservation practices, TRSA draws more of a distinction between the two terms. Applied to a linen, uniform and facility services operation, a hotel, or any business entity, should focus on "sustainability" that hinges on factors beyond environmental friendliness-including supply chain and social and economic resources. Still, in laundry operations, it's becoming clearer that sustainability combined with conservation practices are essential to achieving economic gains.
So a hotel that outsources linen laundry can count on the increased efficiencies from mass production among its contributions to saving the planet and controlling its costs.
Generally, the greater the capacity of a washer, dryer, or ironer, the less resources required per sheet, towel or other laundered textile. Contrast this with replacing aging equipment in a hotel's on-premises laundry (OPL), which is not likely to increase capacity, although some additional efficiency will be achieved at the same capacity thanks to updated electronic and mechanical technology that makes better use of water and energy.
Economics drive sustainability. Hospitality is a hotel's core competence; laundry is a linen service's primary function. Hotel owners invest capital to attract as many guests as possible; linen services do so to maximize laundry pounds processed. The latter investment translates to significantly reducing environmental impacts as well as providing other green benefits to customers.
TRSA member Crown Linen, LLC, Miami, cites industrywide statistics in positioning its services as improving hotel sustainability. A large central commercial hospitality laundry service processing 1 million pounds per week can easily justify investing in tunnel washer and water recycling technology; a typical hotel on-premises laundry (OPLs) uses smaller washers. A tunnel/recycling system requires about 0.5 gallons of water per pound; smaller washers, up to 4. Thus, if 100 small hotels that wash 10,000 pounds per week closed their OPLs, as much as 3.5 million gallons could be saved each week. In addition, this proportionately lessens the impact from the hydraulic loading of that amount on public wastewater facilities.
Crown notes that OPLs typically do not measure fuel consumption because they either operate on a central steam system or natural gas supply not separately metered for the laundry. Estimates indicate OPL gas consumption is in the 4 to 5 BTU (therms) per 100 weight range. Outsourced laundries can achieve less than 2, thanks to their more energy-efficient equipment, energy recovery systems and need to heat less water. Electricity use is less, too. A conventional wash aisle (separate washer-extractors) uses 15 KWh per 100 weight; a tunnel system uses half that amount.
Extending linen life (saving resources needed to manufacture new linen) is another means for hotels to conserve in linen operations and represents a high priority for outsourced laundries. They are typically more effective in this respect because of more efficient machines, more powerful and non-toxic detergent, as well as careful handling practices. Equipment use is optimized to prevent mishaps such as over-drying.
Granted, the larger the OPL, the more likely it will achieve economies of large scale and deploy such practices. The same can be said for hotels dedicated to optimizing sets of linen "per available room" (PAR levels). As reported in TRSA's Lodging Linen Loss Reduction Guide and Benchmarking Study, a typical bath towel is rated for 70 washings at 4 PAR compared with 47 for 3 PAR. Linen needs to rest for its fibers to return to a normal (closed) position. When it's washed, these open and need time to get back to their normal position. Rest extends linen life and makes it softer.
The guide points to the value of outsourcing to prolonging linen life by involving linen service personnel in "walking the property" with hotel managers to identify instances of misuse and abuse. Linen services managers consult in prompting such managers to calculate discard rates and serving ratios, take physical inventories, spot-check deliveries and monitor rewash and rejects.
Steve Miller, Victor Kramer Co., Seaside Heights, N.J., TRSA linen loss guide author, highlights a variety of practices that prevent textiles from falling short of their expected useful lives:
Quality Control. Room attendants should, but rarely, limit what's in discard bags to torn or ripped items. These often include clean items that fell on the floor or heavily soiled ones that need just to be rewashed. Attendants need to be trained in using washcloths and hand towels as rags or exposing linen to cleaning chemicals during the process of cleaning a room. They need to be more aware of how they step on linen thrown on the floor or push it out of the way with their feet.
High Linen Awareness. Does hotel staff understand linen's true value? It needs to be continually brought to their minds through training and retraining. Even for obvious discards, they should never throw any linen in the trash.
Enhanced Security. Too many guests who pay $200 or $300 a night for their rooms feel they are paying enough to justify stealing a washcloth. But guests aren't the only thieves; sometimes it's outright, gross theft by burglars or employees. Inventory needs to be locked and limited, accessible only to the most trustworthy employees. Soiled linen kept on loading docks is vulnerable; clean linen behind unlocked doors is even more so. Visit a local flea market or car wash to see what linen has made its way there.
Linen conservation programs (avoiding daily changes unless guests request them) deserve much credit for extending linen life. With COVID-19 prompting more guests to avoid contact with housekeepers, this trend may accelerate. But they're not likely to perceive such practices as "green." TRSA consumer research found that eight in 10 believe the real reason hotels are pressuring guests to reuse their linens and towels is to save money. Almost six in 10 said they'd rather not be pressured this way, preferring laundering in a more environmentally friendly manner.
Regardless of what motivates green programs, they are likely to gain momentum. When savings from instituting a green program were estimated for a high-profile luxury brand several years ago, the chain's management's reaction was, "Absolutely not. Given what we charge a guest for a room, we're not going to do it. It's just not what we do for our guests." Today, that chain has relented, Miller observes. Green programs are recognized as their standard and their hotels are proud to promote their programs.
Recent research on textiles (including restaurant napkins and tablecloths) highlights two other factors that affect hotels' sustainability: their substitution of reusable textiles for disposable equivalent products, and consideration of the life cycle environmental impacts of any product used, "cradle to grave."
An evaluation of previously performed studies that investigated the environmental performance of textile table linen compared with disposables concluded that the reusable products have less such impact. Klorofyll Miljökonsult, Malmo, Sweden, reached this conclusion from information gathered from general public sources and direct contact with representatives from the two alternatives, with an emphasis on four countries: Belgium, Sweden, United Kingdom and United States.
This included life cycle analyses (LCAs): evaluations of the environmental impacts of a product from extraction of its raw material through manufacturing and processing, transportation, use and retail, and waste disposal. For reusable textiles on a per-use basis, the in-use stage, driven by laundry, contributes most to global warming. But that contribution pales in comparison with disposable equivalents' contribution in the other stages.
Observing five LCAs of textiles and reusable equivalents conducted in 10 years (2004-2014), Klorofyll found the climate impact from textile washing is greatly affected by the amount and type of energy used in the washing/drying process and the number of uses prior to disposal. Newer studies radically altered the comparison between textile and disposable restaurant and hotel material. Updated data on energy and water in laundering decreased the climate impact from the use of textiles by around 40 percent, making textiles preferable to disposables by far.
These findings on textiles highlight the value of LCAs in pinpointing what makes any product you use environmentally friendly and thereby "greens" your business. Any stage can be exemplary in natural resources conservation and have a greater impact than other stages.
How do your choices of furniture, fixtures and equipment compare with competitive offerings in light of how efficiently they are manufactured? How much food and beverage are locally sourced, diminishing environmental impact from transporting these to you? Perhaps more important, what's the impact of your use of various products? Crown Linen promotes outsourced laundering among 25 key eco-friendly hotel practices including the idea that gas-powered vehicles can gradually be switched to alternative fuel, hybrid or electric models. LCAs prompt us to recognize what we currently use drives our environmental friendliness but may be most beneficial by prompting us to consider alternatives for improvement in our future choices of products and services.
HotelExecutive retains the copyright to the articles published in the Hotel Business Review. Articles cannot be republished without prior written consent by HotelExecutive.