Hotel Management Green Laundry Trends
By Steve Bowie General Manager On-Premises Laundry, Alliance Laundry Systems | May 23, 2021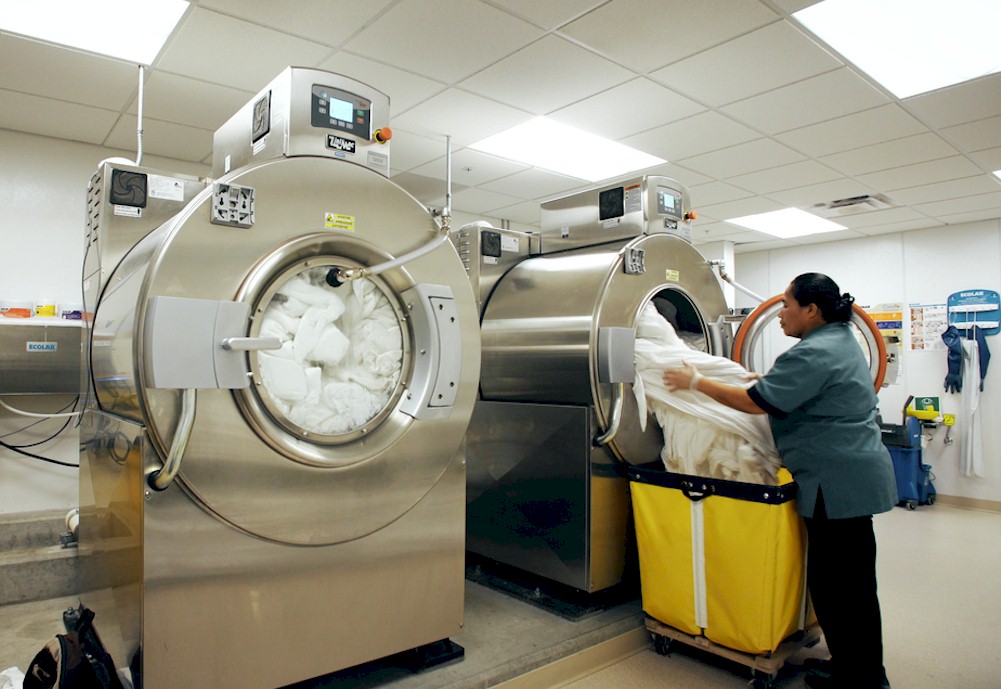 For the last 10 years plus, the term "green" has been the rally cry of a variety of industries. In hospitality, however, green has been more than that; it's been a driving force both in the back of the house and in guest-facing marketing.
While the last year has shifted the focus of many in the hotel business, green remains an attractive area of emphasis, particularly with the efficiency and cost savings it brings to properties. Green technologies can also complement the story hotels are now putting front and center with guests/prospective guests – hygiene and superior sanitization. Steps taken to ensure the highest level of quality and the extra checks provided by laundry management systems are worthy of marketing to guests, just as you would green technologies.
Starting Out with the Proper Mindset
There's no sugar coating it, occupancy rates are still lagging and the industry, as a whole, is down. So, the thought about replacing laundry equipment isn't high on most lists for general managers. Against the current backdrop, management may decide good is good enough and select a lower-priced machine.
The problem is that lower-priced washer-extractors and tumble dryers often cost operations more over their lifespan due to their inefficiency. Think about in simple terms – if your washer-extractor uses 10 more gallons of water per cycle than a higher priced model and runs eight cycles per day, 365 days a year for 20 years, those numbers add up quickly and surpass that initial "high" upfront price.
Additionally, it's important to understand that, while it might not be glamourous, the back of the house is a great area to focus on taking a green approach. Obviously, the example above shows the savings.
Washer-Extractor Focus
The old saying "if it isn't broke, don't fix it" doesn't really apply in the laundry. There may be some life left in that old washer-extractor but squeezing a few more years out of the machine may be costly…just consider the example above for evidence of that fact.
High G-Force extraction continues to be a green trend for properties looking to reduce processing costs. G-Forces of 350 or higher are recommended for excellent removal of moisture and return on investment, because of the direct impact the water-extraction has on reduced drying time and reduced utility consumption. Dry cycles can be reduced by as much as 14 minutes versus low-speed extraction models, netting up to $3,000 in annual savings.
Since the drying side of the laundry is the most likely spot for bottlenecks to occur, removing more water on the wash side, besides being more efficient than removing it on the dry side, helps improve laundry throughput. The high G-Force focus could be more than just an efficient green trend as the hospitality industry identifies what processes look like in a post-COVID-19 world. Most properties had adopted the green trend of linen re-use programs, where guests were encouraged to re-use towels and bed linens were changed on select days on multi-day guest stays.
As properties continue to place an emphasis on conserving water with low-flow showerheads and similar initiatives, great strides can be made in the laundry as well and drives off the idea of water-saving properties of showers. Leveraging spray rinse technology versus bath rinses can save gallons fo water with each cycle. Spray rinse cycles use roughly 39 percent less water than conventional bath-style rinses, which can net savings of more than $2,000 annually. This green technology brings additional quality advantages by removing more residual chemistry, which means a higher level of clean and quality feel for guests. It also helps extend linen life.
Leveraging Technology
While green endeavors have a public-facing marketing component, their greatest value comes in the efficiency and cost savings they can bring to a property. Laundry management systems are quickly becoming a popular green trend, driving that efficiency benefit, but also may be leveraged in the post-COVID-19 world.
Laundry management systems are the eyes and ears of the laundry manager, providing data on operations. Through networking and cloud-based reporting, managers can keep tabs on all facets of the operation and identify process breakdowns and monitor the operation's efficiency. Before laundry management systems, most on-premises laundries lacked a true measure of their operating costs and efficiency – success was based solely on processing all the loads for the day. This technology changes all that and helps management get a better read on costs, deliver consistent quality and set key performance indicators to monitor and measure against other properties (in the case of an ownership group with multiple properties).
Like other green trends, this one has a marketing component for chains and properties to leverage. The tremendous access to data that many such systems allow acts as not just a quality check, but a hygiene check. Some robust systems enable managers to verify that the proper cycles were utilized and run to completion, and that chemicals were properly added and in the right dosage. Properties seeking to create peace of mind for guests that linens have been effectively sanitized may leverage the system's verification capabilities in marketing materials to guests.
Drying Green
Tumble dryers can deliver many years of service to laundry operations, which, again, can lead managers to adopt an "if it isn't broke, don't fix it" view. This can be quite costly to properties in several ways. First, tumble dryer efficiency has improved significantly, which means operations running old tumblers are likely paying more in utilities than they need to and suffering with bottlenecks.
Leveraging technology to go green on this side will bring more than just speed and efficiency. Over-drying of loads is a frequent problem for on-premises laundries. In addition to wasting utilities, continuing to dry a load after it is already dry, degrades linens, which causes their useful life to be cut short. It also wastes labor. Over-dry prevention systems can help eliminate that scenario and save up to $883 per year in utilities per tumbler. This figure is based on a 75-pound tumbler over-drying by just eight minutes per load.
The efficiency story even extends beyond just the "green" angle. Over-drying can be costly in terms of labor inefficiency – tumblers that continue to turn after the load is dry, waste labor an impact throughput. In a study UniMac conducted, we determined many operations are over-drying by an average of eight minutes. Just that small amount of over-drying can cost an operation up to $4,866 annually. Leveraging over-dry technology can help eliminate that wasted labor and improve throughput.
Not all moisture sensing technologies are created equal. It's important to select tumble dryers with large sensing areas for more accurate readings. Larger sensing areas combined with technology that reads the dryness level many times per second drive greater accuracy by eliminating the risk of the dryer sensing the moisture of just one spot in the load. Step drying is another green feature that can produce efficiency rewards. With step drying, the tumble dryer uses high heat until the load is half dry, then lowers the temperature until the specific dryness level is reached for a more efficient drying process.
While not a green technology or trend, staying up to date on maintenance will help ensure equipment continues to deliver the level of efficiency you paid for. Make sure staff empties lint compartment and cleans screens regularly. You'll also want to ensure exterior venting is kept clear. A lack of make-up air can quickly reduce the efficiency of tumble dryers.
Final Thoughts
There's no doubt that adopting a green approach at hotels makes sense, particularly in the laundry room. It is here that the savings can really add up. Green can bring utility savings and efficiencies. As a bonus, productivity and labor savings add to the savings by reducing operational costs in the laundry.
Laundry management systems and the "safety check" data they can provide on cycles, temperatures and chemical dosing may win more of the spotlight. Even with that development, hotels can benefit greatly from the savings that come from laundry equipment with green features. However, laundry management systems are a central component to ensure the laundry maintains high levels of efficiency and management knows the true cost of operating the laundry.
The important thing to remember is the difference between price versus cost. Price is what you pay up front, cost is what you pay over the life of the equipment. Remember, the seemingly inexpensive pieces of laundry equipment can end up costing your property far more over their lifespan in inefficiencies and shortening of linen life.
When equipment fails and properties are faced with having to replace on the spot, it's easy to adopt the "good is good enough" approach. However, a decision made in the heat of the moment, without consideration of what advanced features can deliver in efficiency, can impact costs for many years to come.
HotelExecutive retains the copyright to the articles published in the Hotel Business Review. Articles cannot be republished without prior written consent by HotelExecutive.