Don't Touch That Button Just Yet! Do Not Rush Triggering Discounts!
Post-Pandemic Revenue Strategies
By Gabor Forgacs Associate Professor Emeritus, School of Hospitality & Tourism Management, University of Guelph | June 13, 2021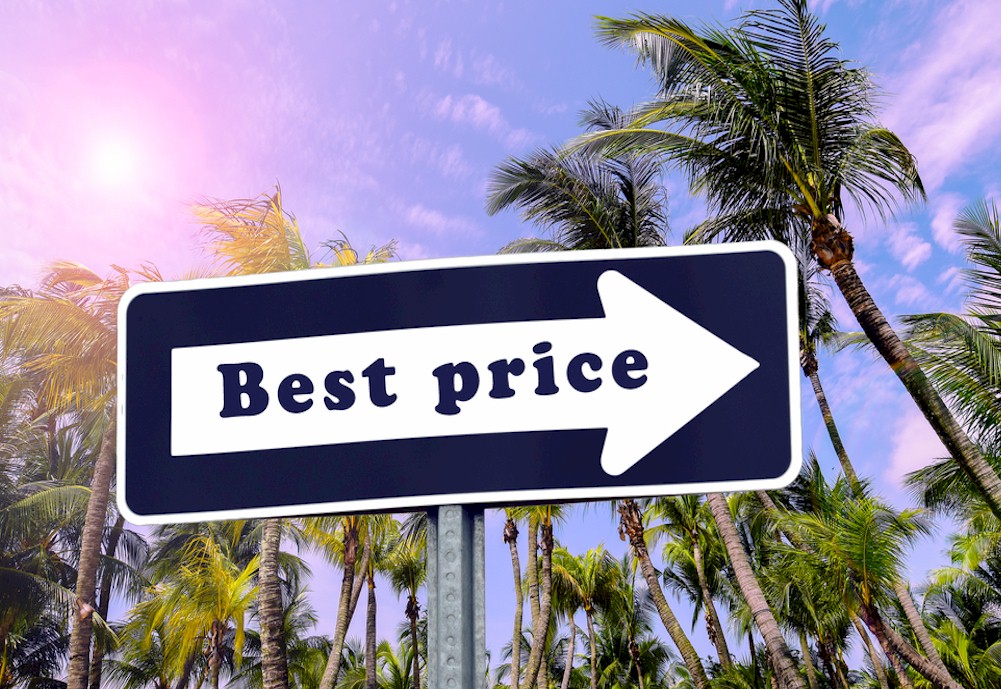 Imagine you are navigating a cruise ship on the ocean towards a destination when suddenly a big storm develops. You suddenly find yourself in gale force winds, facing 30-foot swells. You feel compelled that you must do something! What would you think about handing out free upgrades to passengers? Happy hours all day long at the bar? Repainting the top deck plus new uniforms for the crew? Seriously?!
It is a safe guess that you realize that larger forces are in play and even all the measures above would prove unsuitable to combat mother nature. The reason your boat is in trouble is the force of the storm. Once you can navigate through the calamity and the storm passes, you will negotiate the calm waters safely.
The global pandemic has hit the travel industry with a force unseen in our lifetime. How can we navigate successfully through it? How can we strategize when hotel revenue dried up to a trickle?
Revenue professionals came a long way since the burgeoning discipline of revenue management got gradually recognized and accepted into the mainstream of hospitality management. The initial designation of "yield management" grew out of the airline industry in the eighties and got adapted by more and more businesses that shared some common fundamentals: if cost containment was proven as a non-viable option for increasing profitability (due to an overly high proportion of fix costs); if the value proposition of the given business was intangible, plus perishable (i.e. impossible keeping unsold units inventory); and if the flow of revenue was a subject of seasonal fluctuations, the only ticket to successfully manage a business for profits became the strategic optimization of revenue.  
Everybody in charge of managing commercial lodging operations is being tested these days. It is the cruellest experience of feeling helpless when the bottom of the market falls off and the demand disappears. However, before we get into specifics let us state one fundamental truth: if our total lack of occupancy is not caused by rates, adjusting our room rates won't fix anything. There are larger market forces at play.
What can even 80% discounts do for our hotels when only a few planes are landing, no cars pull into our lot and most people are required to isolate where they are? If our problems are caused by the tempest on the open sea, we can't expect free margueritas to make them disappear. It is definitely not our fault that a virus pandemic broke out and people had to stop traveling.
Can revenue professionals wave a magic wand and generate demand for hotels out of nothing? Of course not. What revenue people understand pretty well is this: when the whole economy is severely impacted and traveling as an activity is strongly discouraged in order to slow down and bring a health hazard under control, we need to wait until it is safe to get on the road again. There is probably nothing wrong with our hotels' value proposition. Travelers are concerned about safety and contagion, not room rates, wifi speed or the thread count of our cotton towels. The problems we face are not rate originated so we cannot expect manipulating rates would fix it. I would not start touching rates even with the proverbial ten-foot pole.
We learned to live in an era of data-driven decisions. As the global pandemic unfolded, we needed to figure it out what the data told?
The accommodation industry demonstrated impressive improvements in gathering massive amount of data about guests' booking patterns, including lead time and distribution channel choices. Data on price resistance, total spend per stay and even unstructured data from social media sites helped us to improve revenue optimization.
Revenue professionals learned to harness the power of big data as most touchpoints of customer interactions became gradually digitized over the years. Potential guests leave data footprints at every step on their decision journey. Revenue managers learned to connect these dots and target, plus retarget customers during their various stages in the purchase funnel, even when they were multi-device users like most of us, getting ideas and inspiration through a multitude of social media platforms. Actual trip planning may get started a on a smartphone, the selection of options can frequently get explored on a tablet, and the booking made on a laptop of the same customer.
We arrived at a stage where we know way more about our customers than ever before. We have customer relationship tools that help us build profiles including booking preferences, spending patterns, propensity of bargain hunting and all relevant behavioral attributes. We gradually became astute users of wonderful digital toolkits and refined our customer segmentation. We developed multiple comp sets on occasion to measure and benchmark against. We can ask our guests to opt in for location-based targeting while on our properties and can ping them digital coupons, upsell or invite them to attend flash sales, happy hours and pop-up shops to increase sales.
All these wonderful technological advancements started to look more and more promising when abruptly, the music stopped. The bottom of the market fell out. Demand plummeted, crashed through the basement floor and hotels lost occupancy, lost revenue, lost everything. Travel restrictions, lockdowns, shelter-in-place regulations, and other new measures chocked off the lifeline of a significant number of hotels. Partial and full closures were put in place, some of them temporary, some of them permanent. Once an owner burned through enough cash, there were no other options.
What are revenue professionals to do when demand eventually returns? Are there secret sauce solutions? Magic bullets?
Let me offer an analogy. Imagine an orchestra performing the finest classical music. Then suddenly all the concert dates get canceled. All the concert halls are shut down. There is no audience any longer to perform to. This pretty similar to what happened to hotels and the whole travel industry. The music abruptly stopped.
What can we hope for after we re-tune our pianos and buy new flutes, dress in new tuxedos? Who would we perform our most wonderful renditions of best classical concertos? To put it simply: it never hurts to update, refresh and clean up but let's not pretend that this would be the solution. The music lover audience is actually eager to return. They may be willing and able to buy concert tickets again, provided the reason why the whole season got canceled won't be in the way any longer. It is as straight forward as a risk and reward calculation: would we want to risk our health and potentially our life for a concert?
The data we have at this stage of the pandemic is not sufficient yet to start forecasting with any meaningful granularity. There are signs that indicate the thinking about pent-up demand and revenge travel intentions might have some validity. Private vacation property rental bookings are encouragingly strong. Increased awareness for health and wellbeing, sanitization standards and cleanliness are real. Airline business practices were watched closely by hoteliers over the decades and followed frequently. It is too soon to tell if the latest protocols and policy updates of the airlines are to be copied and implemented at this time by the hotel industry.
What about trends and directions that are difficult to glean from the available data? Once the global pandemic is declared over and it is considered safe to travel again, it is safe to predict the demand will manifest itself. Will it be the same as it was before? Nothing will ever be the same as before. Changes will be evident both on the supply and on the demand side of the commercial accommodation industry.
Supply-side changes which are mostly the results of closures and conversions may require hoteliers to redefine their comp sets with the most current data set available. If the changes indicate a reduction in room inventory, or if our market position got tweaked because a previous competitor got rebranded, or ceased operations, we need to reflect those changes in our revenue strategy going forward. Room inventories are impacted all over the land as the pandemic caused liquidity and even solvency challenges that proved too much to handle for many owners and operators. Some markets got hit harder than others.
Demand-side changes can be more subtle, and they can take a bit more time to play out. Listening to our clientele is crucially important. That is how one keeps a finger on the pulse of the market. Social media presence and engagement can help us becoming part of conversations at the trip-planning stage. There is a potential danger there: an analysis of social media chat and review site postings is especially useful, but please do not expect it to answer questions that were never explicitly asked.
An example: frequency of mention of certain words is relatively easy to quantify, however this may not necessarily mean that a ranking order can be drawn for decision drivers based on these. Another frequent myth: should market noise and customers' level of awareness be interpreted as product knowledge? Probably not, especially when we map out the customer journey through the decision funnel that ends up with booking hotel accommodation. True product knowledge is the result of experiencing it and does not come from watching videos or reading the opinion of others.
Let me share an example for data driven process and the importance of experience coupled with asking the right questions for learning the real decision influencers. These are the keys to successful revenue strategy. A true story: years ago, some smart upscale hotel brands started to target a promising segment of female business travelers. Surveying them yielded a treasure trove of valuable insights. One of the lifestyle questions asked about the importance of staying fit on the road. Most responders claimed that fitness and exercise were important to them.
However, answering another question revealed that most respondents did never use the fitness room of hotels. These seemingly contradictory findings made it important to dig deeper and investigate more pointedly. The real question was: if fitness and exercise were deemed important during business trips why not use the gym of your hotel? It turned out most female business hotel guests hated the "gym scene". They did not appreciate it to be looked at or approached by other users of the fitness facilities while working out.
A solution was quickly found. Fitness equipment was offered for in-room use at a fee on request. The targeted guests loved it. A stationary bike or a step master machine rolled into the room was easily executable. Results: extra revenue generated, guest loyalty increased, brand advocates gained. This example demonstrates how independent facts (survey data) and their interpretation led to revenue success and increased guest satisfaction.
There are some interesting dynamics evolving on the demand side as well regarding the changes in how office work is done. We have seen the hotelification of offices, especially in digital tech-companies where catering and recreational space were introduced inside the workplace. Companies that felt the need to look appealing to millennial employees started to offer catered meals, foosball and ping-pong tables, even napping pods. The hours of work blurred outside the 9-5 portion of the day.
However, things turned on a dime as the global pandemic spread and social distancing plus new hygiene regulations required remote work. More and more companies had adopted a work-from-home (WFH) solution. Many employers contributed to the costs of setting up properly furnished home offices. Leased office floors stood empty and many still do in urban metropolitan centers.
This shift towards a less location-specific work triggered a set of real estate consequences: downtown locations are becoming less coveted for rent and purchase, suburban homes suddenly had an allure for offering larger space, healthier environment and a lot less commute for those who transitioned to WFH. Downtown hospitality establishments will see the future impact both on their revenue and on their valuation as the dust settles.
In conclusion: don't touch that button yet! There is no need to rush triggering discounts.
It is a challenging time to develop revenue strategy for hotels with so many moving parts still in motion. The fundamental truth of the hotel business however never changed: our success depends on delivering satisfactory value propositions that meet or exceed our customers needs. The task is to figure it out how those needs, wants and preferences evolved during the rapid changes of the recent years. We did not have a rate problem start with.
The focus of revenue professionals got shifted decades ago from cost-based pricing to demand-based pricing tactics, coupled with product availability strategies that evolved from the traditional "first-come first-served" approach to applying data driven customer segmentation. We identified ways of selling more astutely by targeting the most valuable customers in times of demand.
Room rate management is just too important to be used as a first response to dramatic changes in market demand. We have worked too hard to earn market acceptance for our intangible value proposition at a given price point. We sell experience based and time sensitive products: room nights that our customers need when away from home. Rate adjustments should be the last measures in our arsenal of tools and should be used with great caution. We might have to carry out product tweaks, need to offer value, and address the evolved decision influencers of guests. We can work with rates as well but not before we have figured out the real drivers of changes in the market.
HotelExecutive retains the copyright to the articles published in the Hotel Business Review. Articles cannot be republished without prior written consent by HotelExecutive.