Leveraging the Customer Lifecycle for On-site and Post-departure Marketing (Part 2)
By Robert King General Manager, Travel & Hospitality, ClickSquared | May 2011
As a follow-up to my last article, "The Lifecycle of Guest Relationships" this is the promised sequel. Part one of the article focused on the key stages of the customer lifecycle that occur before your customer arrives on your property and the communications opportunities that they present. (If you missed it, Click Here ). Today, I'll focus on the communication opportunities that exist once a guest has arrived at your property and even after they've gone home. Developing a marketing program that addresses guest needs while on-site as well as post-departure enables you to engender deeper engagement, and ultimately, increase return visits.
In part one of this series, I discussed the fact that relevance begins with a keen understanding of the travel and hospitality guest lifecycle. To refresh your memory, a basic model is presented below in Figure A.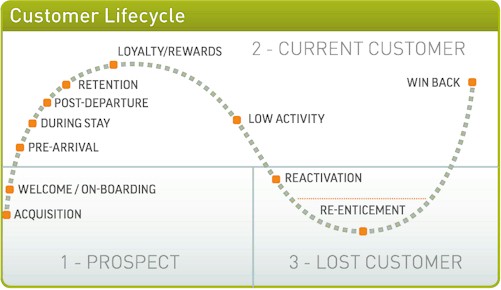 Figure A
Handle Your Guests with Care
Hope you're enjoying your stay. While marketers routinely focus on pre-arrival and post-departure communications, there is a huge opportunity to capture guests' attention on-site, while they're starting to decompress and shift their focus to their vacation (or work) plans.