The Concierge Gave Me the Finger and I Loved it
By Roberta Nedry President & Founder, Hospitality Excellence, Inc. | March 03, 2013
What to my wondering eyes should appear, but a giant imbedded computer screen across which the concierge and I could peer. During these times of so many technology innovations, some of which can be confusing, detached and frustrating in hospitality environments, I was astounded by a whole new look and feel at the InterContinental Miami concierge desk. A smooth, uncluttered, streamlined desk with a gigantic computer screen imbedded into the table stood before me. Chef Concierge Eduardo Rosello, stepped around to my side of the desk, and stood next to me. That's when he brought out his finger…and touched the sleek desk and computer screen. He swirled his finger around a few places and absolutely delighted me with what he could do. It was personal, exciting, even intimate yet also professional and interactive. It was a completely new experience for getting information and resources from the concierge and added a whole new level of engagement for both guest and employee.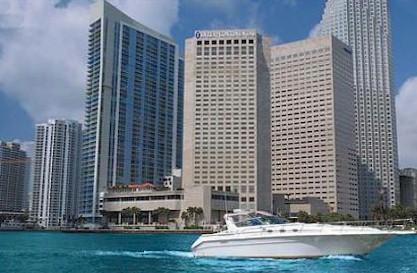 Experience unparalleled luxury at the downtown InterContinental Miami
Gone is the desk with papers, pencils and maps and with it a cluttered look. The new desk features interactive touch screens and complements the exhilarating, stylish and energetic feel of the lobby and the unique flair for which Miami is known.
These screens offer information about the city, sporting events, weather, cultural events and airport information. They enable the guest and the Concierge to both navigate through information and be "in the know" while interacting with one another. Then, if anything else is needed after this interacting phase with the guest, the concierge can provide additional information in the form of brochures, literature, booklets, promotions and discounts which remain out of site but within easy access for the guest.
When asked why they installed this new feature and what led to it, Chef Concierge Rosello explained, "The InterContinental Miami is a landmark. Miami is a trendy city and we wanted to be on the cutting edge of technology. These screens were designed specifically for this hotel to add innovative flair to the traditional role of the concierge".
With guest techno-savvy higher than ever and all the iPhones, iPads, iPods and androids that guests arrive with, the concierge needs to constantly be one step ahead so they can continue to be the strong resource guests expect but also evolve with changing needs and interests to keep guests excited and engaged . Maintaining that personal touch and experience that only the concierge can deliver yet also provide value in new and innovative ways are why this profession continues to be in demand and a key to guest loyalty.