Disaster Recovery - When Guests Have Big Problems
By Jonathan Barsky Partner, Market Metrix | September 2013
We are not talking about hurricanes, tornadoes or other natural disasters. We're talking about problems that occur a lot more frequently and can become even more costly. We're talking about guest problems. It happens all the time: a guest approaches the desk, upset and yelling about a problem. Guest problems, especially those that are not handled well, are among the most harmful things that can happen to the bottom line. Dealing with upset guests is one of the most disagreeable tasks for any hospitality professional, and potentially very harmful to the bottom line. But with the right systems in place, and the right staff training, the impact of guest problems can be minimized, and even become a source of loyalty when leveraged into opportunities.
Why Are Problems a Problem?
When problems go unresolved, guest loyalty, referrals and a hotel's reputation take a big hit. That means the hotel loses the guest's future business and the recommendations they would make to others. Worse, a dissatisfied guest may become a detractor and post a negative review. Obviously, avoiding problems in the first place is the goal, but if a problem occurs, resolving the issue before the guest leaves can significantly reduce the destructive impact. This is shown in the chart below. Guest loyalty plummets almost 30 points when there's a problem. But nearly half of that loss can be recovered if the problem is resolved. The outcome gets even worse if the problem goes unresolved.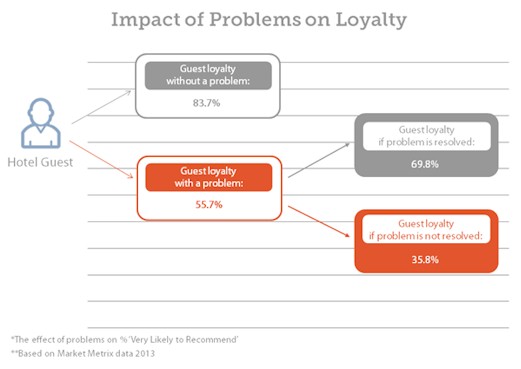 The Worst Problems
Problems cost money, but some problems cost a LOT of money. Not because they occur frequently, but because they have a much bigger impact on guest loyalty. Specifically, that means when guests experience a problem, fewer of them come back and fewer of them pass along referrals to others. That means less revenue.