A History of the Concierge Profession
By Michael Romei Chef Concierge, The Waldorf Towers | December 2013
That unflappable, multi-tasking concierge in your hotel lobby, who grants guests' wishes like a genie, can actually boast of belonging to one of the world's oldest professions. And the history of the concierge reads like the history of civilization itself; beginning as a helper along ancient trade routes, to the keeper of the candles in grand European castles, to the modern-day concierge with a smart phone full of contacts around the globe. And through the centuries, the goal has always been the same: To assist and comfort travelers and lodgers.
The shimmering sands of ancient North Africa might be an unlikely birthplace of the concierge profession, but according to legend that is still handed down today (or "according to historians") that is exactly where the profession took root.
As caravans snaked along the old Silk Road hauling goods and people, they traveled distances of 4600 miles on complex trade routes across deserts and mountains from Rome to China. Cities along the way were few and far between. It often took months to reach a destination. It was imperative that the animals be cared for properly as they were the means of transportation, and so a career was born in which a person tended to the animals on the long journey. Historians believe that a derivative of the word "concierge" was used to describe this person.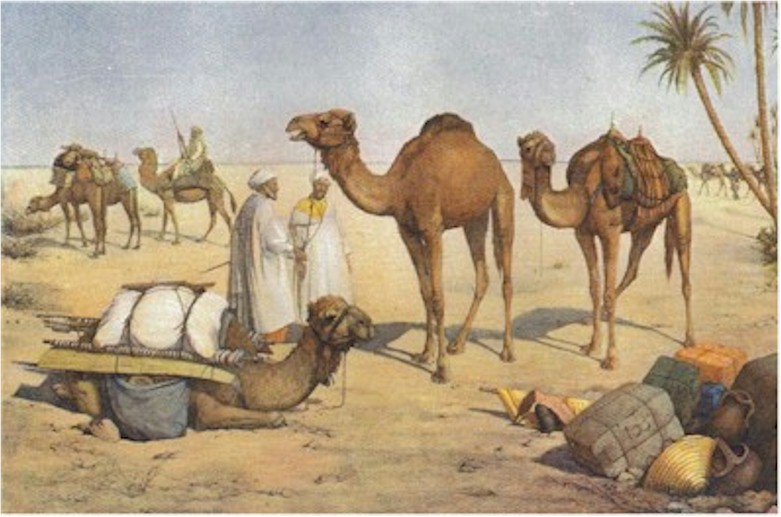 Small way stations called caravanserais sprung up along the various routes and were used as rest stops. Since these caravans traveled great distances through unpopulated, barren areas, the ancient "concierge" began to emerge as someone who was now assisting weary travelers at the caravanserais. He would provide directions to the next way station, the best route to take, the condition of the route, and all of the details that the traveler would need. He would tell stories of the people and their various journeys, connecting them with one another. And he would also point the way to others, just like himself, who would be waiting in the far unknown to also aide and assist.
As roads were built instead of pathways, this "concierge" person became a focal point and a person who was well-known among ancient travelers. He was, in effect, the "go to" person, just as his hotel concierge descendents are a thousand years later.