Utilizing a Drone to Capture the Essence of Your Property
By Jennifer Dunphy Vice President of Sales & Marketing, Vayu Media | June 21, 2015
As marketing professionals in a technology savvy digital era, there is only one thing that is constant…and that is change. As always, there is a new era in marketing for us to embrace, and it is likely one of the most advanced forms of marketing that we will see over the next couple of years. It's a bird, it's a plane, no… no… it's a drone.
As in a programed flying robot armed with a camera that is able to capture priceless aerial footage once only a helicopter could capture. Better yet, a drone is even able to capture footage that is otherwise impossible to record, even with a helicopter. Oh, and did I mention that it only costs a fraction of the price of private aviation? A drone is an airborne robot that doesn't require a pilot or passengers aboard to function and navigate the skies. It's what the Federal Aviation Administration (FAA) calls an "unmanned aircraft system " because a remote pilot (who's on the ground, on a boat, in another airborne vehicle, etc.) controls where it goes and what it does.
Once the stuff only imaginable in science fiction drones are now an important part of our reality. The advent of drones and the use of drones for marketing makes the once-prohibitively expensive task of aerial videography a much more feasible solution for countless different business sectors and industries. Drones have the unique ability to fly lower than a manned aircraft and higher than cranes are able to reach. Drone marketing offers a hot new arsenal of opportunities that travel marketers should be looking at seriously.
Drone marketing offers that over the top WOW factor for marketers. And since this form of marketing is rather new, underexplored by the masses, fairly inexpensive, it is the perfect time to jump into the game and become an industry pioneer. Reap the benefits of being an early adopter and don't miss the opportunity and wait for your grandmother to get hip to drone marketing before you decide to take advantage of all that it has to offer. This technology will revolutionize the way business owners are able to market their businesses and according to a recent ResearchMoz study, the unmanned aerial systems (UAS) market was valued to US$609 million in 2014 and is further anticipated to reach US$4.8 billion by 2021, globally.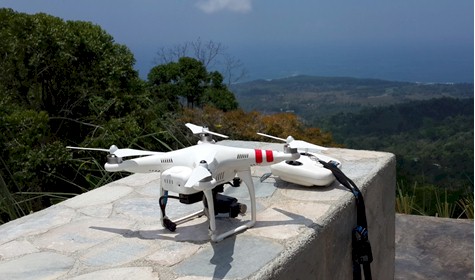 Drone used to capture aerial ocean view, rain forest, and hotel
property of Vista Celestial in Southern Costa Rica
Who is Using This Technology?