Construction Pricing: Negotiated Design Assist Versus Competitive Hard Bid
By Michael Raine Business Development/Project Executive, HITT | May 24, 2020
This article was co-authored by Peter Lanfranchi, Senior Vice President, HITT Contracting Inc.
Once the decision is taken to invest in a renovation, the lament of all owner/operators and hotel managers is how best to minimize the effect on the bottom line. Financials during renovation are affected by two main issues.  The first is the cost of construction. The second is lost revenue as a result of guest rooms being unavailable.  In turn, owners must maximize the revenue maintained by those rooms that are available during construction.  To do that, guest impact during construction must be minimized. Taking the decision to negotiate with a General Contractor and bring the contractor on board to assist with project development (Design Assist) can have an extraordinarily positive financial effect on both the cost of construction, guest room down time and guest satisfaction during renovation.
Defining the Impact of Guest Room Down Time
Hotel News Now did a study in 2016 that defined the effectiveness of Hotel Renovations on the bottom line. They "used data for an actual focused-service hotel with roughly 3,000 square feet of meeting and event space and between 150 and 200 guestrooms. The hotel is in an urban area, is affiliated with a national franchise and is well-established in its market. The property underwent a $9-million property wide renovation between November 2014 and April 2015. The following tables show the hotel's performance metrics before, during and after the renovation."
For this discussion the focus will be on RevPAR as opposed to ASI since the defining characteristic of RevPAR is the amount of revenue generated by a hotel in relation to the number of rooms that are available.  A dramatic increase in RevPAR after renovation, once all rooms are available will have the same dramatic effect on the financial performance for the hotel.  According to Hotel News Now, (see chart below), Prior to the renovation, the hotel's average rate index was inching upward. It plateaued in 2014.The hotel's RevPAR Index reached its lowest point in 2015-the year the renovation took place-which was expected due to some guests choosing to temporarily avoid the hotel and rooms being out of order. In the year following the renovation, RevPAR jumped to levels above the range recorded since 2011.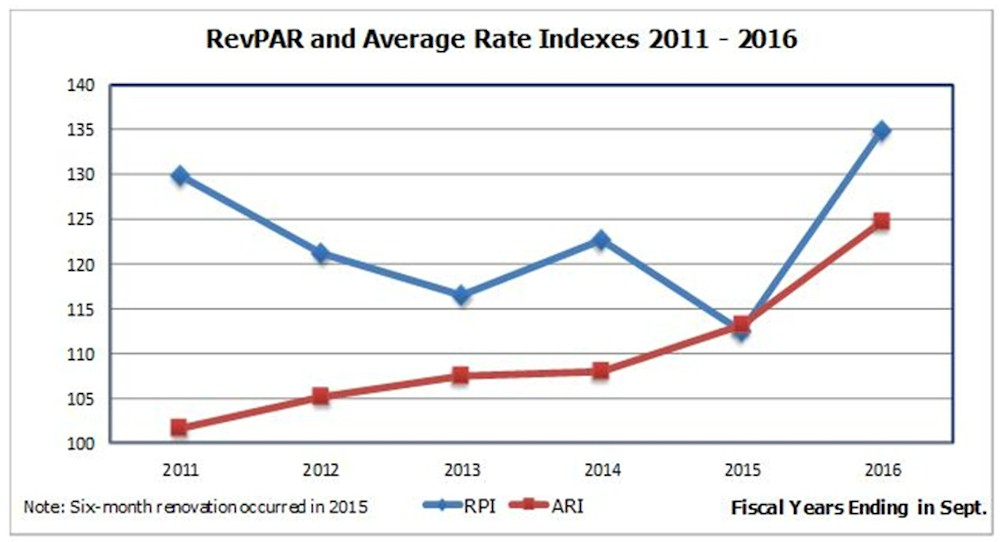 All owner/operators know some pain must be endured during renovations and more importantly managed and kept to a minimum.  RevPAR as shown above will hit its low during renovation.  Therefore, Owner/Operators must therefore find a way to minimize guestroom downtime.