Taking Off: Luxury Airport Hotels Trending, Reaching New Heights
By David Ashen Principal & Founder, dash design | May 17, 2020
Picture this: swimming alongside lush rainforest-style gardens, unwinding in the spa with an hour-long massage and indulging in a reflexology treatment. Follow it up by taking in a blockbuster movie, working out on state-of-the-art gym equipment and dining on world-class cuisine. Then imagine ending the day with a stroll through a Zen-inducing butterfly garden. Ahhh… sounds luxurious, doesn't it?
Twenty-plus years ago, if someone would have told me that I could do all of these things, while being mere steps from an airport terminal, I would have thought they were crazy. Yet that's exactly what happened when I visited Terminal 3 at Singapore's Changi Airport, and stayed overnight at the Crowne Plaza Changi Airport, back in the late 1990s.
It wasn't just the amenities that were sublime; the rooms were top-notch, with ultramodern technology to make conducting business between flights a breeze, stylish decor that created a sense of place and comfortable linens that meant I could shake off the jet lag in no time. It's no wonder Crowne Plaza Changi Airport was named best airport hotel by SkyTrax's World Airport Awards for several years in a row.
A True Departure
The Crowne Plaza Changi Airport, at least back then, was the exception, not the rule. The truth is, airport hotels were once a limited service offering, seen as a commodity for the traveler who would simply sleep for a few hours and then fly out of town. Therefore, there were few food options, little to no retail and no need to create an experience worth talking about after you rolled your luggage out the door.
Former Vice President Joe Biden once famously said in a speech, "If I took you and blindfolded you and took you to LaGuardia Airport in New York, you'd think 'I must be in some third-world country.'" While that statement feels harsh, there was some truth. Most airports were places to simply fly in and out of and the surrounding hotels that predominated the landscape were clusters of pared down, three-star category chain hotels such as Hampton Inn, Residence Inn and a Courtyard Marriott, with aesthetics and amenities beyond consideration.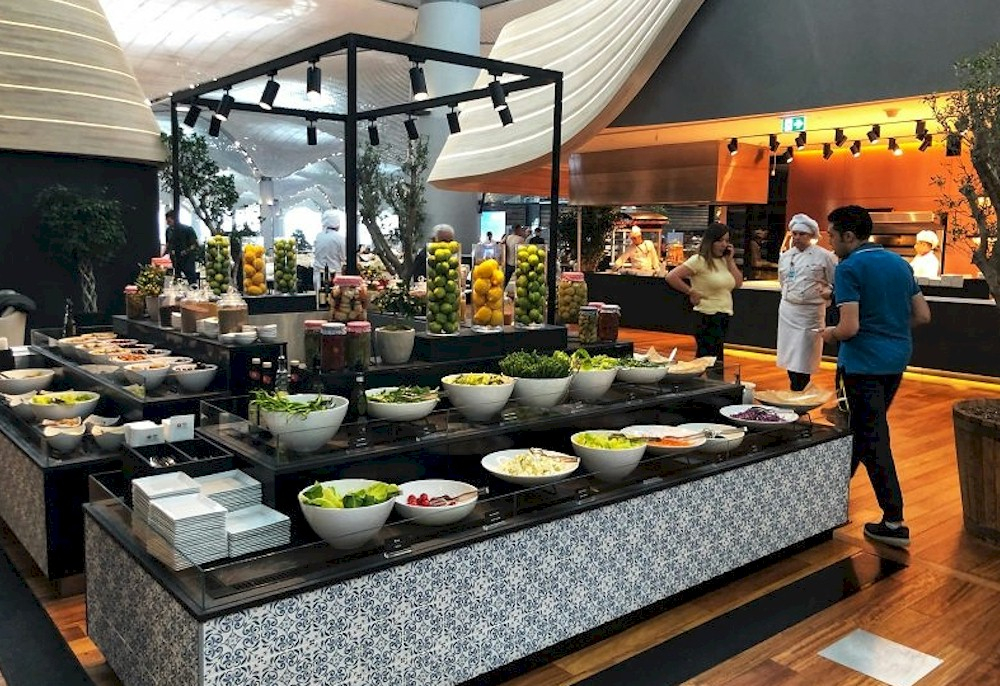 Turkish Airlines' lounge in Istanbul
Going Places
One thing is clear: it's not your mother's – or Biden's – airport hotel anymore. So, how did we arrive here? A few factors led to this dramatic shift, starting with upgrades to airport public spaces and a serious investment in retail and restaurant offerings within.
Lounges have gotten a dramatic makeover, as well. Innovators like Virgin Airlines were among the first to redefine the lounge experience and many have followed suit since. One of my favorites is Turkish Airlines' lounge in Istanbul, which was expanded to two floors with various cozy places to decompress in, along with freshly baked bread, a kebab stand and a huge island full of olives to enjoy. I also love Delta's lounges, which have become more high-end, and The Centurion ® Lounge from American Express, which is so sought-after I couldn't get in on my last trip to Dallas. No wonder people are arriving to the airport a few hours earlier.
Also taking it to the next level is Australian airline Qantas' stylish lounge at London's Heathrow airport. The lavish bi-level lounge, connected by a staircase, boasts velvet, marble and gold finishes, runway views, charging stations, a superb buffet and food and beverage offerings to delight even the most discerning foodie.
As airports and lounges became more destination-like, there have been parallel upgrades to airport hotels. Suddenly, there is a connotation, a bias even, around properties that are underwhelming and pedestrian. Travelers want to stay, play and spend.
Destination Wow
Travelers' appetites for cool, hip hotels have also increased worldwide. Hotel developers and operators have realized just because someone is a captive audience doesn't mean they want a mediocre experience. Take, for instance, the experience a friend of mine had. She had a layover, while heading from New York to Milan and stayed overnight at the Moxy Milan Malpensa Airport. While she's not ordinarily a Moxy customer – she's more of a traditionalist – she greatly enjoyed the good food and playful, design-forward experience and would head back again.
Another reason hotel developers and owners are kicking up the wow factor boils down to something simple: guest have more choices than ever before. In the New York metropolitan area, for instance, travelers can decide not only which hotel to stay in between flights, but also which airport to fly in and out of, whether it's John F. Kennedy International Airport (JFK) in New York, LaGuardia or one of the smaller regional airports with wider-reaching flight options, including international destinations.
Decisions are being made based on convenience, pricing and the overall experience, down to the hotel options. It's why I've opted to fly from JFK, appreciating the on-site, lifestyle luxury TWA Hotel, with towers on both sides of the terminal, and all it has to offer. In fact, I look forward to enjoying a cocktail at The Sunken Lounge, to taking in the floor-to-ceiling views of planes taxiing in and relaxing at the rooftop infinity pool before turning in to one of its ultra-quiet rooms with lush pillows and linens.
For those who are looking for more excitement, there's the world's biggest gym – a vast 10,000-square-foot fitness center – museum exhibits, a photo room with a booth to capture memories and a Twister Room, which features a wall-to-wall version of the classic 1960s game. The only thing it lacks is a closet, which is replaced by hooks on the wall since most of the guests simply need a place to hang up clothing for the following day.
While there's still a need for variety, since some travelers still seek out the wallet-friendly $100 to $125 per night rooms, more choices allow for varied experiences, from limited service to lifestyle to five-star, all-out luxury and the options are more exciting than ever before.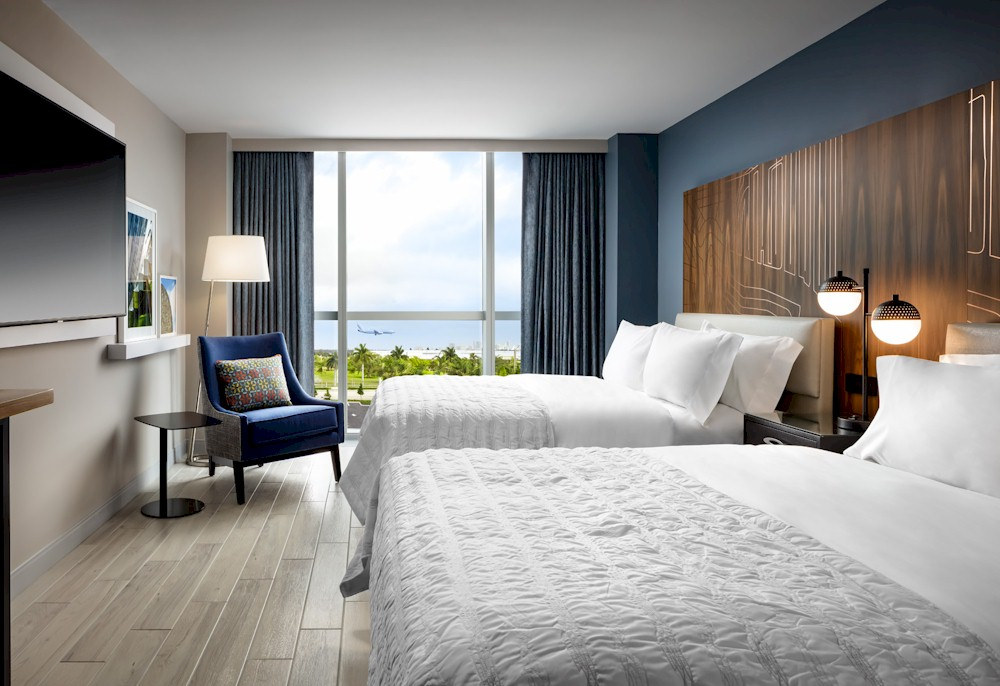 Rooms at the Le Meridien Dania Beach at Fort Lauderdale Airport with Latin American influences including the incorporation of blues, exterior columns, interior grids and detailing in millwork.
Reaching New Heights
New airport hotels are opening constantly and elevating the experience for travelers. Among them is a hotel my firm served as interior designer and brand consultant for, the newly converted and reimagined Le Meridien Dania Beach at Fort Lauderdale Airport.
Part of Marriott International, Inc., and in conjunction with national real estate developer Charles S. Cohen, Le Meridien Hotels & Resorts combines Le Meridien's French heritage with the essence of the Cote d'Azur and delivers it right in South Florida. The 12-story hotel features 245 guest rooms and suites that marry a French flair and maritime spirit with tropical vibe that is pure Dania Beach. Keeping its location in mind, the exterior and interior reveal references to the sky and sea. A design highlight is the grand oculus in the lobby, which pays homage to the glamorous era of air travel and allows guests to stargaze and view planes overhead.
Inside the guestrooms, custom-made wood veneer headboards showcase a map of the city and photos from local photographer Elizabeth Gill Lui show off the beauty and architecture of Fort Lauderdale. Two divine restaurants, ample state-of-the-art meeting space, a signature Club Lounge with views of Fort Lauderdale-Hollywood International Airport, a large fitness center and yoga room, a stunning zero-entry pool with cabanas, and an outdoor terrace with bar, ensure the airport hotel is an indulgent guest experience that garners rave reviews. The mission is to provide the convenience of being near that next flight, but the luxurious atmosphere of being a world-class destination unto itself.
Le Meridien Dania Beach at Fort Lauderdale Airport is certainly not the only airport hotels come about in recent years. Others that today's traveler intentionally seeks out include The Westin Detroit Metropolitan Airport, along with the Kimpton Overland Hotel and Atlanta Airport Marriott, both located at the Hartsfield-Jackson Atlanta International Airport.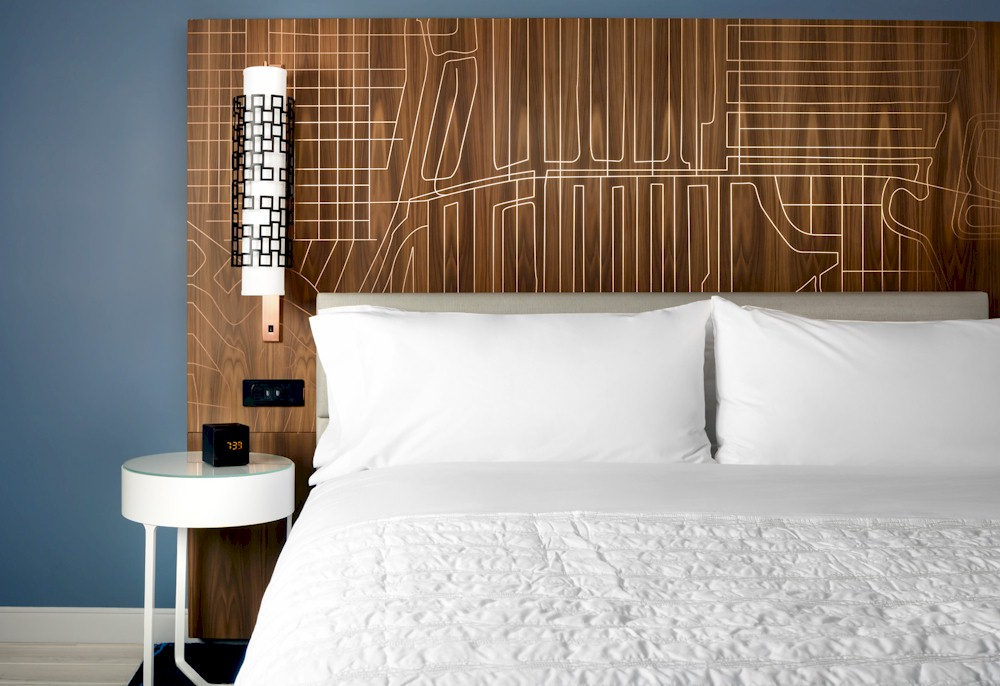 Close up of custom-made headboard showcasing a map of the city
Then there's soon-to-be-upgraded airport hotel our firm is working on, the Sheraton at Bradley International Airport in Hartford, CT. It's the only local hotel that connects directly to the terminal, with no need to leave the airport at all. Our new design of the hotel is re-thinking this concept, positioning the Sheraton as a destination hotel both for travelers and for locals and local companies. The bar will be in a two-story daylit space just off the airport corridor that faces the runway, creating a sexy place in the evening to entice travelers for their last cocktail before they go to the gate, as well as a lounge for a great coffee (Starbucks) during the day.
The new conference center will have state-of-the-art technology, lots of natural light, and a number of flex spaces that can accommodate small and large meetings. With many large national and international companies nearby, the convenience can't be beat. Colleagues can fly in, grab a studio or conference room, have a meeting, enjoy a great meal and fly out again.
Where We'll Land Next
With the increase in luxury airport hotels, it's clear the bar has been raised. What's next? We could see regional airports, such as the aforementioned Bradley International, Westchester Airport in West Harrison, NY and Stewart International Airport in Newburgh, NY, creating more sophisticated hotel options in an effort to capture market share. After all, many travelers are looking to these airports as a way to reduce stress and enjoy the convenience of navigating a smaller airport.
While these regionals may not offer full blown luxury hotels like the one I visited some 20 years ago in Singapore, they will likely shift to become more destination-like, including upgrading public spaces and amenities and offering more localized food, beverage and retail options, whether it's coffee from a nearby roasting company or a restaurant from a noted regional "celebrity restaurateur", as done in Detroit.
If big brands are going four-star instead of limited, this leaves options open for independent hotels to move in or for an uber-luxury category to unfold. Either way, the tipping point is upon us and an airport hotel is no longer a place to stick a head in a bed, but rather a convenient collective, an engaging destination where a hotel, retail, food and beverage and social space are layered together, conveniently near an airport. With more changes ahead, it's fun to image what might take off, particularly when it seems like the sky is the limit.
HotelExecutive retains the copyright to the articles published in the Hotel Business Review. Articles cannot be republished without prior written consent by HotelExecutive.