The New Economy: Invigorated Meeting Incentives
By Chaunsea Keller Executive Vice President, EproDirect | July 19, 2020
My favorite comic strip growing up was Family Circus. The older I get, the more I appreciate the "real-life" scenarios in my professional and personal life that are often portrayed in this hypothetic family. In thinking about 2020, this comic came to my mind: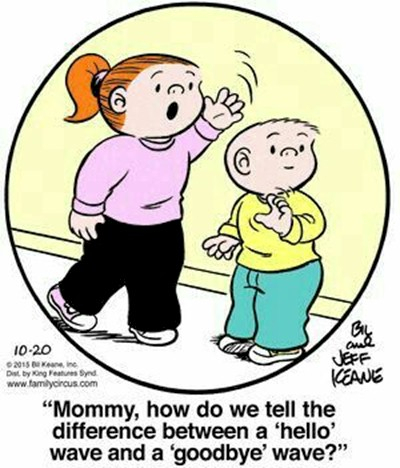 She is correct – how CAN we tell the difference of a hello wave and goodbye wave? I personally know that in the beginning of 2020, I was adamantly waving my arms to welcome 2020 – revved up and excited to see what the future would hold. Business and the economy were booming, and for the most part, we were all moving along at a successful pace. Would this be the year that we as an industry topped record-breaking sales from the year before? By Mid-March, I was adamantly waving my arms in the same way to tell all of the bad in 2020 to stop! I guess the economy and the world got the hello and goodbye waves mixed up!
With my job, I have the privilege to work on marketing programs with all types of hospitality suppliers (all within in the group/meeting segment). Whereas the majority of my days are spent working with hotels, I also work with airlines, A/V companies, conference centers, CVBs/DMOs, and many others. In the beginning of 2020, it was certainly a supplier's "seller" market. Here are some of the most popular offers we saw in the beginning of 2020:
"Pick Your Perks" – in this offer, the hotels were giving around 3-5 concessions, and based upon the amount of money that the total program cost, the planners were given a sliding scale to be able to pick between 1 and 5 of the perks. Some of the perks included free WIFI, room upgrades, room amenities, airport transfers, complimentary AP/PM break, etc.
"Rebate to the Master" – in this offer, the hotels were giving back anywhere from 1 – 5% to the master account, again, based on a sliding scale of the total spend.
Increased Commission – this specifically was an offer geared toward the 3rd-Party, Commissionable Planners. We saw commissionable rates anywhere from 10 – 12%, depending on the hotel.
Reduced Resort Fee
Double Loyalty Program Points
No offer – just content. We saw many instances that hospitality suppliers were just delivering content and messaging, with no offer. Some of the content were chef's recipes, area information, and general updates.
Whereas all of these offers are great, you can see here by the offers that it was a seller's market – really no "giving away the farm" just to get the planner's business. This is just another indicator that business (group and otherwise) was really booming.
Every once in a while, we might have seen an offer that included allowable attrition to increase by 10%, but that was rare. We never saw any special promotion or offer that allowed non-penalty cancellation for the meeting/group block…. Until March 2020.
There is no need to remind everyone what happened in March 2020. We all know what happened, we all lived through it, and it will be an amazing story to tell our children and grandchildren; but, it was BAD.
However, like everything in life when you get knocked down, you always have a chance to make and tell and incredible rebound story. That is exactly where the industry is now. We have an opportunity to come back and be better than ever and that opportunity is so exciting!
Here is a meeting planner pulse-check that we are seeing and trending. The first is that our deliverability has NOT dropped at all, which means planners still have their jobs. We saw in 2001 and in 2008/2009 that the planners were the first to lose their jobs in the recession/hard times. That is not the case at all this time. For the most part, planners are not being let go or furloughed, and in fact, there are numerous companies that are hiring planners because of the new regulations on travel. They have titles and positions that were never available before.
For example, Meeting Protocol Safety Officers, Virtual Meeting Planner, Technology Planner. Not only are planners canceling/postponing their meetings, they are also learning new technology and quickly learning about how to hold/execute a virtual or hybrid meeting. Meeting Planners are more valuable to a company now more than ever.
The second trend we are seeing is higher than ever open-rates from planners. In the past, emails to planners through our company average 37.5%, but over the last 2 months, we have seen them almost at 40%. I believe there are 2 reasons for this. Understandably, marketing went pretty dark. There were way less emails to read and go through, so people that marketed during this time (and still now) have a huge advantage. Planners have less to read and more time to read them.
The second is that meeting planners are still booking! Even though majority of them are not booking for meetings to be held in the first part of Q3 2020 right now, they are booking for the remainder of Q3 & all of Q4 2020, and into 2021! The meeting industry didn't just expire, it just shifted.
In addition to the emails on the rise to help show the tide is turning, this directory was created for hotels (and other suppliers) to post if they are open/closed and who to submit an RFP to. It is averaging over 6,000 views per day from planners, so they are out there and they are looking!
In regards to when the meetings will back, there is a great poll that i-Meet puts out – this one are the results from planners through July 12, 2020. It is called the Planner Confidence Index.
There are over 2500 planners that responded. The highlighted results are: 76% of planners currently have events booked and contracted in 2020 and/or 2021. 30% of respondents anticipate they will resume F2F events before the end of the year.
62% of respondents anticipate they will resume F2F events sometime in 2021.
There certainly are new incentives that we are seeing to planners. Many of which the industry has never seen. Some of which we are seeing include:
50% or greater on allowable attrition
Flexible cancellation and/or no cancellation penalties
"Transportation Amenities" – there is an anticipation that meeting attendees will be driving instead of flying. In keeping this in mind, hotels are addressing ample parking, shuttle service, and even offering free car washes in the parking lots for meeting attendees.
Extending the book-by date. In the past, there was a pretty small booking window. We have seen most of the booking windows be extended further out.
Special Offers that were offered in 2020 being extended to 2021 & 2022. This is unique because normally the hotel only offers special offers in the year for the year to help fill in need dates, but we are seeing these offers being extended.
Virtual. We have seen suppliers show virtual site tours, virtual team building and virtual yoga offered to meeting planners.
No Resort Fees
Triple or up to five times the loyalty points
No offer, just safety/cleanliness/social distancing protocol updates. The hotels like to share detailed information on how they are addressing each issue.
In fact, meeting planners are expecting to hear about these new protocols. Check out this survey (also from i-Meet). Planners have shifted from needing special offers (offers are always appreciated), to needing to know about your plans of safety and cleanliness. This chart is as of June 28, 2020: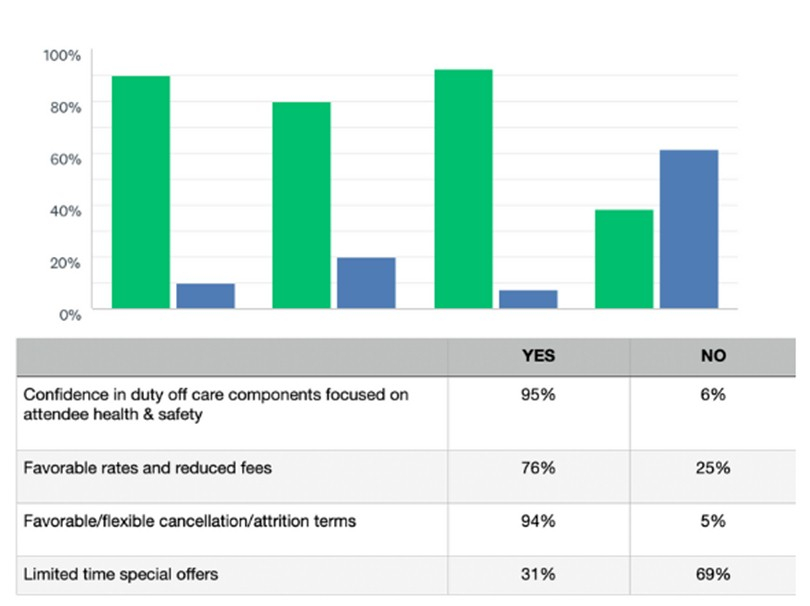 No matter what your messaging is to meeting planners, the biggest mistake right now would be to not communicate with them.
In doing a search for synonyms of wave, there are so many words that are applicable to where we are now as an industry. I can put all of my favorite synonyms to wave all in one sentence:
By waving goodbye to the first half of 2020, we are beckoning the past to be gone, indicating that there is a surge of business coming back, a swelling of the economy, and a positive ripple-effect in the meetings and group business.
Yes, meetings and travel as a whole industry were on a brief pause, but it is certainly coming back! Get ready to vivaciously wave to ALL of the new business you have coming in and welcome to the New 2020!
HotelExecutive retains the copyright to the articles published in the Hotel Business Review. Articles cannot be republished without prior written consent by HotelExecutive.