The New Economy: Invigorated Meeting Incentives
By Chaunsea Keller Executive Vice President, EproDirect | July 19, 2020
My favorite comic strip growing up was Family Circus. The older I get, the more I appreciate the "real-life" scenarios in my professional and personal life that are often portrayed in this hypothetic family. In thinking about 2020, this comic came to my mind: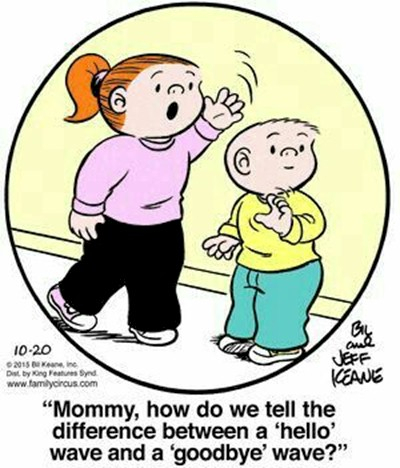 She is correct – how CAN we tell the difference of a hello wave and goodbye wave? I personally know that in the beginning of 2020, I was adamantly waving my arms to welcome 2020 – revved up and excited to see what the future would hold. Business and the economy were booming, and for the most part, we were all moving along at a successful pace. Would this be the year that we as an industry topped record-breaking sales from the year before? By Mid-March, I was adamantly waving my arms in the same way to tell all of the bad in 2020 to stop! I guess the economy and the world got the hello and goodbye waves mixed up!
With my job, I have the privilege to work on marketing programs with all types of hospitality suppliers (all within in the group/meeting segment). Whereas the majority of my days are spent working with hotels, I also work with airlines, A/V companies, conference centers, CVBs/DMOs, and many others. In the beginning of 2020, it was certainly a supplier's "seller" market. Here are some of the most popular offers we saw in the beginning of 2020:
"Pick Your Perks" – in this offer, the hotels were giving around 3-5 concessions, and based upon the amount of money that the total program cost, the planners were given a sliding scale to be able to pick between 1 and 5 of the perks. Some of the perks included free WIFI, room upgrades, room amenities, airport transfers, complimentary AP/PM break, etc.
"Rebate to the Master" – in this offer, the hotels were giving back anywhere from 1 – 5% to the master account, again, based on a sliding scale of the total spend.
Increased Commission – this specifically was an offer geared toward the 3rd-Party, Commissionable Planners. We saw commissionable rates anywhere from 10 – 12%, depending on the hotel.
Reduced Resort Fee
Double Loyalty Program Points
No offer – just content. We saw many instances that hospitality suppliers were just delivering content and messaging, with no offer. Some of the content were chef's recipes, area information, and general updates.
Whereas all of these offers are great, you can see here by the offers that it was a seller's market – really no "giving away the farm" just to get the planner's business. This is just another indicator that business (group and otherwise) was really booming.
Every once in a while, we might have seen an offer that included allowable attrition to increase by 10%, but that was rare. We never saw any special promotion or offer that allowed non-penalty cancellation for the meeting/group block…. Until March 2020.