Using Lighting to Improve the Customer Experience
By Olivier Perrigueur VP/GM Commercial Architectural Business, Lutron Electronics | October 04, 2020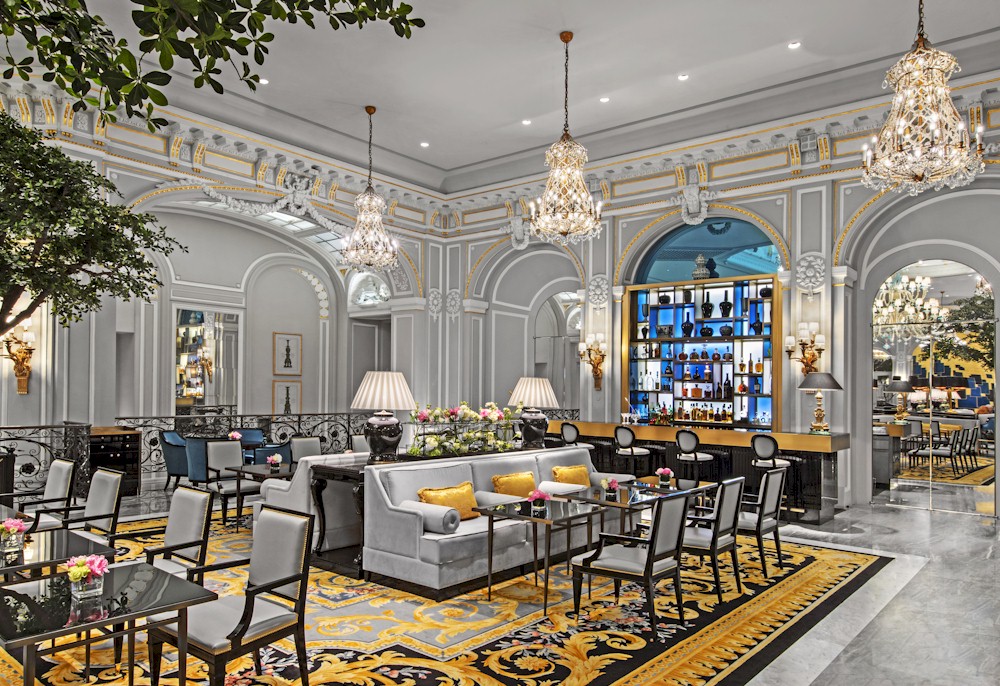 We are all looking forward to a time when our attention isn't so focused on the "new normal," but as hotel owners and executives plan their path forward, it will certainly include changes in response to the COVID pandemic, and strategies for providing weary guests with a safe, healthy, relaxing respite.
Insider.com suggests that travel is likely to trend more toward the romantic and the luxurious, as guests embrace properties that can offer a welcome get away personalized to their tastes, even if it is a socially distanced, less community-oriented experience.
Technologies like smart lighting and shade controls play an increasingly important role in your property's ability to attract new guests and retain loyal guests. This is not only a nod to the recent habit of being apart while being together, it is part of a macro trend that blurs the lines between home, work, and leisure. Travelers seek the reassurances of comfortable, clean, secure spaces with the added luxuries they count on from their favorite retreats.
Lighting and shading can be differentiators throughout your hotel, and critical amenities in guestrooms, public areas, and restaurants, setting your property apart as guests decide where to spend their money. The right lighting can create a welcoming first impression, leave a wonderful lasting impression, elevate the overall guest experience, and cultivate customers for life. Travelers have so many lodging options – lighting control can set just the right tone at the right time, in every space.
Flexible solutions are available to suit your property needs – complete, integrated systems for new properties and major renovations, or retrofit solutions that can be added over time. The right system can take the guesswork out of seamless lighting that benefits your bottom line.
We'll walk through the typical guest experience to demonstrate how lighting can add value, provide reassurance and enhance feelings of security while protecting your operating budget.
The Guestroom Experience is Critical to Customer Loyalty and Repeat Business
The global architecture, design, and consulting firm, Gensler, recently published an article in which they summarized the essence of the critical guestroom experience in a post-COVID world. "It is a fact," states the article, "that within a modern and competitive environment, in order to achieve high levels of guest satisfaction, you need to focus on each guest's personal needs and requirements. By offering personalized services and facilities within a modern and user-friendly technological room environment, your customers will feel completely satisfied while you will manage to win their trust."
A guestroom lighting solution that accommodates the trend toward personalized settings and controls can help achieve this goal. Today's systems can prepare for greeting guests before they even arrive. Upon check-in, for example, guestroom controls can automatically adjust room temperature, lighting, and even shades to a preset welcome scene; it can even revert to settings that have been saved based on the guests' demonstrated preferences.
To provide a positive guest experience, occupancy sensors can detect guest presence and ensure visitors never have to enter a dark room, automatically adjusting room lights and temperature settings to make them comfortable. Fodors.com notes that a desire for enhanced cleanliness can also mean eliminating some familiar extras like decorative pillows, robes, extra hangers, and guidebooks. Personalized lighting control can offer a little luxury without adding to the cleaning routine.
Vacancy sensors will detect when a guest leaves the room or checks out, automating temperature setbacks and turning off lights, or alerting the maintenance staff that the room can be cleaned. Attentive, timely service will be even more important as guests remain focused on a clean, sterile space.
Convenient bedside controls provide a simple, one-touch "all off" so a tired guest never has to get up out of bed to turn off the entry light, and smart temperature controls offer a consistently comfortable room environment.
Beyond comfort, integrated guestroom controls add efficiency, save energy, and take the burden off busy front desk and cleaning staff. Occupancy sensors contribute to a more touchless environment, providing one less surface that has to be cleaned. A wide variety of control options help provide guests with varying levels of personal control, from bedside keypads that make it easy to turn lights on and off without having to get out of bed, or dim lights and close draperies from the comfort of the bedside or desk chair.
At the Hotel Xcaret Mexico, co-owner David Quintana uses lighting control that is as dynamic as his property. Fully integrated into the resort's property management system, it is capable of monitoring devices including lighting, temperature and shade controls, providing data on room use and trends, and is still user-friendly for guests and staff.
Every aspect of the room aesthetic matters, and for Quintana the look of room controls was an important part of the overall guest experience. The keypads in his property were customized with icons that make control easy for international guests. They are engraved with a shade icon, a shower spray for the bathroom light, and to mimic the resort's signature seashell bedside lamps, a custom seashell icon.
The Xcaret's motto is "everything flows," and Quintana observes that the lighting control is part of this guiding philosophy. "Everything flows mean we are going to make things as easy as we can for the guest," he says.
They are also aware of how critical it is to take care of the environment. Their guestroom lighting uses a web-based, front-end dashboard that allows them to monitor all the system devices, receive alarms, system status, trend updates, and historical data and has contributed to helping the Xcaret become the first hotel in Latin America to receive a design certification from EarthCheck, a leading scientific benchmarking, certification and advisory group for travel and tourism.
Not only do guests benefit from personalized controls, an integrated guest management system can improve access for hotel staff without inconveniencing guests, streamline workflow, enhance cleaning processes, and simplify hotel operations – all of which reduces costs and improves your bottom line. Ultimately, better guestroom control can result in fewer complaints, reduced downtime for each room, and create greater efficiencies that translate to higher profits.
The Transformative Power of Light for Lobbies and Public Areas
A first impression can never be repeated. Especially as your guests start to travel again, they should immediately feel transported as soon as they walk through the front doors, arriving into a place where comfort and cleanliness are the highest priorities. Dynamic, fluid lighting scenes create a vibrant environment, and keep things lively over the course of the day, but don't require your busy staff to remember to activate the "twilight" scene when their attention needs to be with your guests. Your lighting and shade solution can automatically adjust to create the right light at the right time with no outside intervention. Touchless controls automatically deliver the right environment and also ensure one less area susceptible to potential contaminants.
Lights shift unobtrusively to meets guest expectations. Morning light is bright and cheery. Shades are set to invite the sun in, lighting over the coffee area clearly directs guests to that all-important first jolt of caffeine, and people feel ready for whatever awaits them during the day.
Over the course of the day, shades slowly adjust to minimize glare and heat. Preset timeclock-directed scenes or automatic tunable white lighting may adjust through warm morning light, midday blue light, and back to a soft, warm glow as evening arrives. As people check in and out over the course of the day, the ambiance provides a break from the outside world.
The Cantina los Faroles bar and restaurant at the Hotel Xcaret in the Mexican Riviera Maya
Nighttime can offer an entirely different vibe, tailored to your brand or guest profile. Dim and sultry if guests are arriving for dinner or drinks. Quiet and subdued if they're generally checking in and heading to their rooms at the end of a busy day. With the right system and advanced LED lighting technologies, full spectrum control can help you emphasize your logo or brand colors, and lighting can be programmed easily for special events and seasonal celebrations, then seamlessly return to standard programming according to a pre-determined sequence of operations.
At the VP Plaza Espana in Madrid, for example, there are more than 50 different settings that adjust automatically, or that personnel and staff can control with an iPad which is very easy for anyone to use.
Integration is also an important aspect of the lighting control system in this sustainability-focused, five-star hotel. Lighting and automated shading control is integrated with other hotel systems, such as the audio and visual systems used in the large partitionable meeting space and the DMX-controlled dynamic façade.
"Seamless integration between different property technologies and all the system touch points were an important piece in providing the state-of-the-art experience by the owners, architects, and guests," said Alberto Poza from Global TV, a Madrid-based Hotel Technology Integrator (HTI) for the project.
Next Stop, a Well-Earned Break at the Restaurant or Bar
Perhaps nowhere is the right light more important than in your restaurant, lounge area or bar. At any time of the day you want to encourage guests to linger, order an appetizer, have another cup of coffee, or meet business guests for a long, relaxing dinner that erases the stress of the day. Lighting can create a feeling of privacy and tranquility, preserving the comfortable dining vibe even when tables are farther apart, and customer-to-guest interaction is more distanced.
As in the lobby, the guest experience largely depends on making sure patrons feel relaxed, the music is right, the seating is comfortable, and the food meets all their expectations. Lighting can be the maestro in the background bringing it all together unobtrusively and with no extra work for hosts, waitstaff, or bartenders.
The new V DTLA Restaurant in Los Angeles offers a "fast-fine" experience of food in a setting that restaurant innovator Ben Calleja designed with layers of light to recreate a feeling of home for his guests. "I design lighting in layers starting with the floor, moving to the furniture, tables, and flat surfaces, and ultimately to the walls, hallways and corridors," said Calleja.
"With a flexible, integrated system, I can carefully consider every detail of the light settings, plan for seasonal changes, and make sure the adjustments happen inconspicuously over the course of the day. I can make any changes based on guest and staff feedback, and no one else ever needs to touch the lighting," Calleja emphasizes.
What is notable about the V DTLA, is that it is in Los Angeles and Mr. Calleja is in Sweden, but he still has total control of the lighting whenever and wherever he needs it. The lighting system he uses incorporates lots of color, allows him to be granular down to control of a single fixture to create his desired effect.
Color can be a difference maker, especially in your lounge or bar area. Bright light in the afternoon is the perfect atmosphere for a client meeting, or to prepare for a day of sightseeing. Attract guests to dinner or appetizers with warm, relaxing light and then encourage them to stay for a nightcap as lights change to more exotic, tranquil hues. In these high traffic, public areas the lighting can speak volumes and drive revenue at any time of day.
Back of House Areas... Invisible to Guests But Essential to a Profitable Property
Simple, scalable lighting control solutions offer the ideal energy-saving system for your back of house areas. In restrooms, storage areas, hallways, and receiving docks, occupancy and daylight sensors can contribute to essential energy and cost reductions, while ensuring that lighting is sufficient for the safety and security of your guests and staff.
A better guest experience leads to a better bottom line.
Travelers recognize every detail matters as they evaluate the way they will spend their travel dollars. Whether they are focused on safety, comfort, efficiency, luxury, or all of the above, the right lighting and control solution simplifies property management while enhancing the overall guest experience, cultivating loyalty, and managing property costs. From luxury five-star retreats to downtown boutique hotels, and iconic international destinations, lighting is an amenity that makes a difference for every guest and every hotel owner.
HotelExecutive retains the copyright to the articles published in the Hotel Business Review. Articles cannot be republished without prior written consent by HotelExecutive.