Hotel Revenue Management Evolution Post Covid-19
By Ermin Jusufovic Corporate Director of Revenue Strategy, Valor Hospitality Partners | October 10, 2021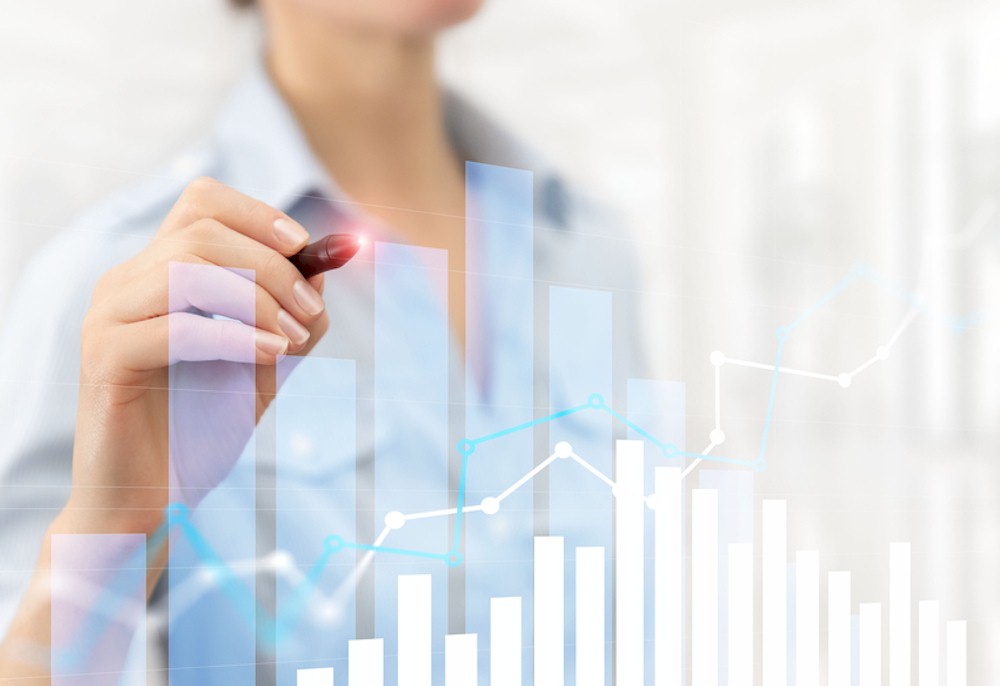 The pandemic taught us that the role of a revenue manager is more important than ever. Successful organizations repositioned their revenue teams away from the system manager roles, toward taking a more holistic approach to commercial decision making. Breaking down silos at the hotel level between Revenue Management, Sales and Marketing has enabled the teams to have a targeted and systematic approach and this needs to continue as the recovery is under way.
Leisure travel led the recovery this summer, with U.S. weekend occupancy in over the 70% mark on average. In fact, weekend occupancy has already reached full recovery. Compared to 2019, total occupancy index was well above the 88 mark, but as we got into September the index started to decline.
In a normal year, group and business travel would take over in September, as leisure travel starts to slow down. According to STR, year to date through June group demand represented only 15% of total occuancy, half of what it was 2 years ago. The Delta variant surge further disrupted timelines for full-time return to the office, which has a major impact on overall business travel segment. Apple, Coca-Cola, Microsoft, and Google all recently announced delays in their return to office plans.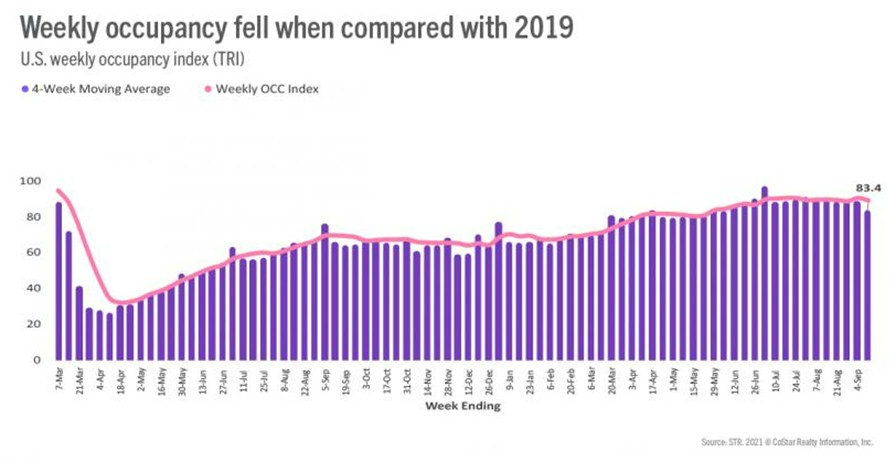 We saw similar performance from an ADR perspective. At Hotel Data Conference hosted by STR, held in August this year, Hannah Smith a Senior Consultant at STR presented very telling trends. According to Smith, transient ADR has exceeded 2019 average this summer, but group ADR still has a way to go. Year to date through June, Group segment total ADR contribution is at approximately 30% of what it was in 2019.
The future is anything but certain. Restrictions, vaccine mandates and country green lists all seem to change weekly. Experts have made varying predictions typically going in various directions.
Bill Gates, co-founder of Microsoft, predicted that 50% of business travel will go away.
Lufthansa CEO Carsten Spohr on the other hand insists that business travel will return quickly.
From STR's July 2021 research among a sample of global consumers, we saw a continuation of negative sentiment toward business travel. The negativity seen earlier in the year has become somewhat worse six months later. The latest data shows that more consumers are less likely to travel for business post-pandemic (39% in July 2021 compared with 28% in February 2021 )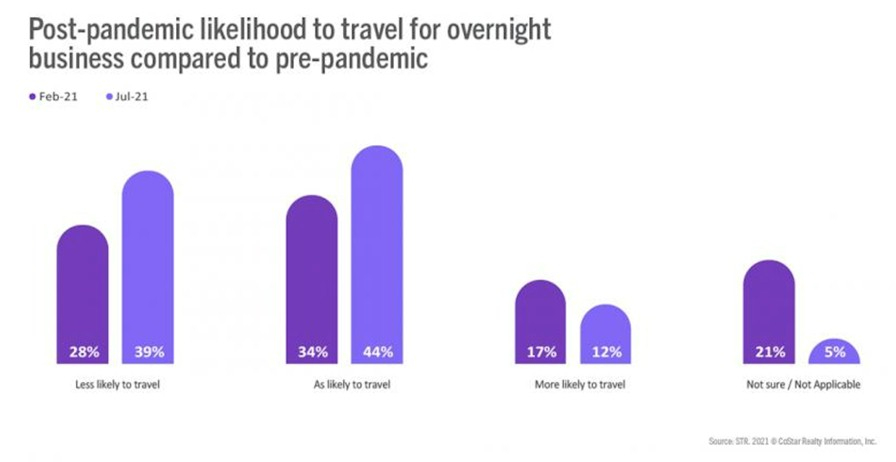 "The predicament for business travel right now is similar to a head and heart thought process. There seems to be much desire and excitement about traveling for business, but travel restrictions from governments and organizations as well as risk averse decision making will continue to constrain growth," said Robin Rossmann, STR's managing director.
Virtual meetings have been successful due to established relationships prior to pandemic onset. The further we get from our pre-pandemic connections, the less effective we will be in our communication, increasing the need for business travel.
At the Hotel Data conference, STR and Tourism Economics upgraded the U.S. hotel forecast for 2021 as a whole and lessened growth projections for 2022. Additionally, full recovery of demand remains on the same timeline for 2023, while revenue per available room (RevPAR) is projected to surpass 2019 levels in 2024.
"Rather than improved expectations for the coming months, our upward revision for 2021 more reflects the surge in demand that has already occurred as well as room rates hitting an all-time high on a nominal basis," said Amanda Hite, STR's president. "As we have maintained, there is concern once the summer officially wraps up and the industry loses what has been its primary demand source.
In normal years, summer leisure demand would be supplanted by business travel and large corporate events, but with more concern around the Delta variant as well as delays in companies returning their employees to offices, it's possible that businesses wait until early 2022 to put their people back on the road. Even though we expect some of that demand to shift into 2022, we brought our projections down in comparison with a stronger-than-expected 2021. Overall, our full recovery projections remain similar with 2023 into 2024 as the 'finish line.'
In the meantime, recovery is uneven with some leisure-driven markets ahead of where they were pre-pandemic and most of the major markets still well off the pace. Add in staffing challenges in a lot of markets and the situation is still quite difficult for a lot of the country even though there is optimism for the years ahead."
"The economic recovery has considerable momentum, underpinned by quite strong consumer demand and ongoing fiscal stimulus," said Aran Ryan, Tourism Economics director. "Though it is challenging to look through the current virus wave, we expect as public health conditions stabilize, the recovery in leisure travel demand will remain intact and the corporate travel recovery will resume its climb later this year."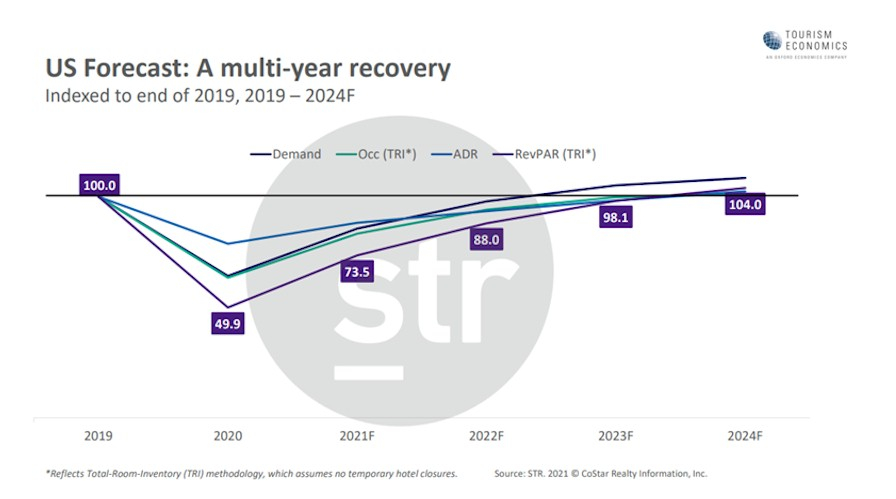 With this forecast in mind, we must understand that recovery is a long haul, and that the Revenue Management discipline will need to continue to evolve. The old adage of the right customer, at the right time, at the right price, through the right channel is more important than ever. No one can say with absolute certainty exactly how leisure, business travel and group market will develop in the long run, so what should we adjust for?
It all starts with data. Successful Revenue Leaders can no longer just look at just the local competitors and on the books data. You must expand your horizon and look at the market as a whole. Weekday and weekend competitors may be different. Include alternative accommodation providers in your outlook such as Airbnb, and vacation rentals. Look for indicators of future demand such as search volume and flight searches for your area. Expand your event search radius. Just because an event didn't bring you business in the past, it doesn't mean that you can't tweak your strategy to attract new demand. Take a deep dive into your comp set performance. What is their digital strategy? Combined, this information will give you a deeper understanding of the demand shifts in your market, allow you to set up dynamic ADR yielding strategy and win new business.
Gathering all of this data can seem like an overwhelming task. The only way to truly get this accomplished is to leverage today's technology advancements. In the past hoteliers were fairly distrustful of new technology, especially when it included automation. Cost of entry was another major barrier, but as more products hit the market, costs are getting much more manageable. Investing in technology will be the key to successful post pandemic operation.
With the pandemic upending the historic performance as a predictor of the future, understanding the demand in the market is paramount to successful operation. Without real time demand data, we don't know any precise information about potential guests, and therefore we don't really know when to raise our price or whether we should wait, missing yielding opportunities. The pandemic exposed the limits of existing revenue management systems, which heavily relied on historic data to price the hotel.
Digital Marketing teams have access to a goldmine of information, integral to understanding total demand. Information on top pages visited, keyword searches, geographic source of demand, length of stay, abandonment data, are all key to understanding how guests are booking, and what they are actually looking for at any given time. Revenue, Sales and Marketing teams have to find ways to integrate and collaborate on a much greater level. The level of collaboration varies greatly depending on the organization and traditionally these departments tend to work in silos and act as checks and balances to each other, sometimes executing opposing mix and rate strategies. The virtual, work from home environment has made it even harder to collaborate. Successful post pandemic organization will have to find a way to converge these three disciplines, to build a complete recovery strategy.
Revenue Managers need to look beyond top line rooms revenue to drive recovery. Total Revenue Management concept has been around for a while, but the pandemic truly brought this to the forefront. With the drastic drop in demand, we suddenly started to see new concepts and offers across all operating departments. Upsell and Cross selling initiatives gained major importance. Fee based add-ons were another major initiative and many brands have now or are in the process of implementing attribute based pricing. New initiatives brought in a new focus on metrics such as RevPAG (revenue per available guest), and GOPPAR (gross operating profit per available room). Total Revenue Management needs to take center stage in driving overall recovery.
Like the rest of the industry, revenue management is feeling the effect of the labor shortage. With labor contraction during the pandemic, many of our most talented operators have left the industry entirely. The great resignation wave added additional gaps in our ranks. As an industry we have to focus on developing a strong talent bench that can implement all of the new revenue management norms in the post pandemic world.
With uncertainty on the horizon, and the sheer amount of evolution in the revenue management discipline and hotel industry overall, it can be challenging to address all of the changes at once. Pace yourself. If you understand the need to adopt your approach, take it one step at a time. Look for immediate ways to increase collaboration between Revenue, Sales and Marketing teams. Meet with the team and compile a list of opportunities. Pick one area where you can make the most impact and start there. Then move on to the next item on the list and so on. Focus on employee retention and building bench strength. The management companies that accept the need for innovation, talent pool development, and cross team integration will lead the recovery in the post pandemic reality.
HotelExecutive retains the copyright to the articles published in the Hotel Business Review. Articles cannot be republished without prior written consent by HotelExecutive.