If You Build it Green, They Will Come More Eagerly
By Robert Stoney Director of Sustainability & Environmental Development, Valor Hospitality | May 2022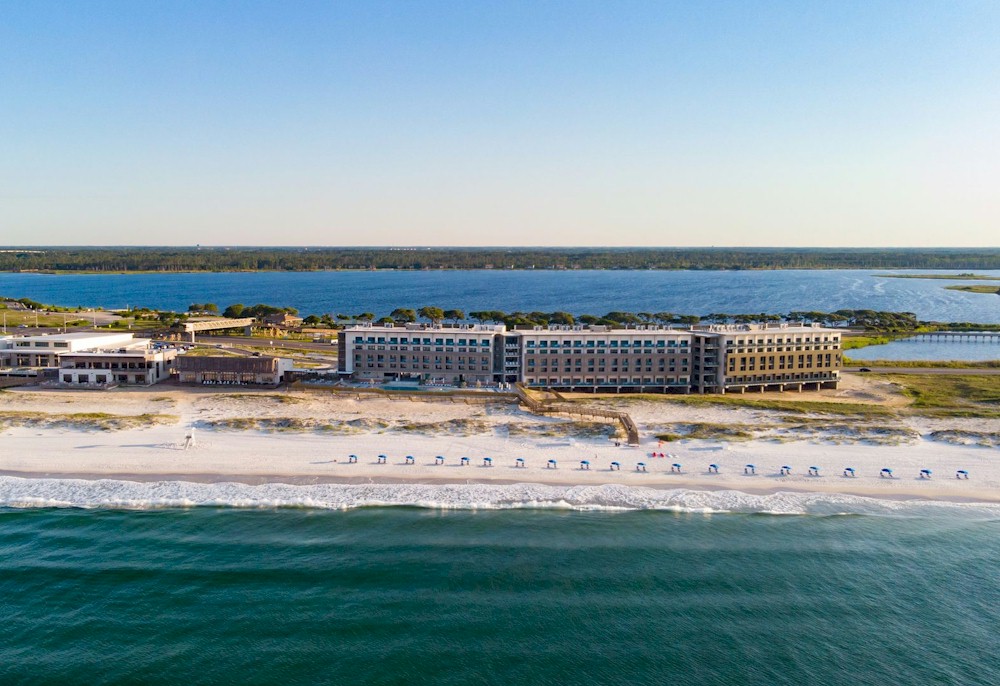 You gaze at that sparkling emerald sea. You hear the gentle sigh of the surf reaching toward your toes. Looking right and left, the broad, sugar-white beach stretches as far as you can see along the coastline between a rampart of grassy dunes and the wide open waters of the Gulf of Mexico.
You notice busy sandpipers dart & peck at the wet sand while above them glide gulls, terns and even an osprey dives for fish in the surf. Out past the sandbar a family of dolphins slowly swims by. You feel the sun on your skin and the warm sand gives a little under your feet. It's quiet; it's completely peaceful.
And calmly, a gear shifts inside you, you take a deep breath and hear yourself say, "Oh yeah, I remember this now!"
Maybe you recall it from your first vacation memories as a child. Many that come here do. For generations, families and friends from Alabama and beyond have been drawn year after year to spend a week or two at this short 32 mile stretch of Alabama's exquisite coastline from Fort Morgan in the west, through Gulf Shores, to Orange Beach in the east. As a result, it's not as quiet and unspoiled as it used to be, a victim of the eye-popping numbers of visitors it now attracts. The area has a resident year-round community of around 30,000 and yet it must accommodate and service nearly 7 million seasonal visitors a year, bringing $5.2 billion in visitor spending.
To put this in perspective, the whole of the country of Ireland has only 9 million visitors a year and roughly the same ($5.5 billion) in visitor spending. The annual tsunami of humanity to this modest stretch of coastline places an enormous and, yes, destructive pressure on its local cultural and natural heritage. A heritage that is as ecologically diverse as it is precious. Fortunately, some is protected in several key locations by state parks and wildlife refuges. One of the most important is Gulf State Park at just over 6000 acres and forms the centerpiece of this story.
An additional threat to this much-loved coastline comes from oil extraction in the Gulf of Mexico. No more distressing & costly example of this was the BP oil spill of 2010 when the Deepwater Horizon oil well exploded, killing 11 and seriously injuring 17, and for the next 87 days spilled nearly 5 million barrels of oil into the pristine waters of the Gulf. Over 1000 miles of coastline were polluted. It became the largest marine oil spill in history. In compensation, $85.5 million from BP's restoration funds was invested in Gulf State Park as the Gulf State Park Enhancement Project (GSPP ).