Keeping Hotel Guests Connected
By Marcio Avillez Vice President, Network Services, iPass | January 08, 2012
If you were to describe today's business traveler it would be difficult to pin it down to dress code, hair style or standard of hotel room. However one item that you would describe is a smartphone in every business traveler's hand…a laptop and increasingly a tablet.
Today, the average business traveler carries 2.68 mobile devices for work,(1) so keeping hotels guest connected to Wi-Fi during the stay has become even more important. It's not just guests' laptops anymore it's smartphone and tablets that are increasingly connecting to Wi-Fi networks.
Since the introduction of smartphones, and now tablets, the growth in demand for data has increased exponentially. The Organization for Economic Co-operation and Development (OECD) released a report last year that illustrated that American wireless customers roaming in other industrial nations pay up to $22 per megabyte for roaming on cellular networks, while their European counterparts paid less than $7 per megabyte. While this data roaming has caused increased bill shock for consumers, mobile operators want to change this to avoid losing customers. This has been one of the main drivers for the resurgence in Wi-Fi that has increased the number of commercial Wi-Fi hotspots worldwide to over 700,000. Hotels are the number one connection point for business travelers according to a recent report, so hotels might also want to be cautious of causing similar 'bill shock' by offering various pricing options for Wi-Fi-even if the costs are presented upfront. (For a copy of the hospitality report visit here: http://bit.ly/uRb65n)
Wi-Fi in hotels is increasingly required because guests want to be more productive and efficient while they travel and Wi-Fi provides a quick and affordable connection for people to continue their work at a time when they want to stay on top of their workload.
On average business travelers globally spent 37 percent of their network connection time during business trips at hotels and on average spent nearly 90 minutes connected each time they logged on. It's not just business hotel guests either, 94 percent of people who responded to a mobile workforce survey last August reported that they connect to Wi-Fi for work reasons – even when they are on vacation.
Limiting friction for hotel guests getting connected and ensuring that it's not just one device than can connect but multiple is paramount. Over 55 percent of business travelers connect to hotel Wi-Fi with two devices.(2) Here at iPass we have nearly 60,000 hotels that are part of the iPass Mobile Network and we've learnt a great deal from our two million users - especially the desire to connect simply regardless of how many devices they carry. And it's not just about connecting in the hotel room either. Smartphones and tablets are much faster at booting up than laptops and there will likely be a change of where people connect when they are in hotels. The lobby, restaurant, bar and gym will become relevant as more and more people connect.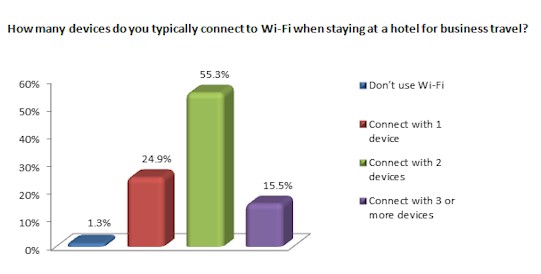 Please Login to read the full story, or you can Get Free 30-Days Hotel Business Review
The Hotel Business Review articles are free to read on a weekly basis, but you must purchase a subscription to access
our library archives. We have more than 5000 best practice articles on hotel management and operations, so our
knowledge bank is an excellent investment! Subscribe today and access the articles in our archives.