Managing Your Way to Spa Profit
By Chris Pulito Chief Operating Officer, Mirbeau Hospitality Services | July 08, 2012
The days of operating a spa purely as an amenity are long gone. Today's hotel or resort spa can, and needs to be, a valuable profit center within the entire operation. The challenge is to understand how to do it given the market, operational and other factors involved. This article zeroes in on three critical areas: staff, inventory and average service rate. Managed well in tandem with each other, they can prove to be the key to success, especially in this post-recessionary economy. For specific tools and tips, read on.
The recent recession impacted hotel operations as a whole and the spa component was no exception. But if there's an upside to the economic downturn, it's that resourceful spa managers have learned, by necessity, to be more creative in their approach to building business. As the economy improves, those lessons should not be tossed aside. Rather, the ability to draw in new customers in "down" times, combined with a spa staff committed to delivering a great guest experience, are the keys to managing your way to spa profitability.
Invest in Your Gatekeepers
Your spa desk associates are your gatekeepers. They are the first employees a potential customer encounters, whether by phone or in person. That initial interaction may be brief, but it will set the tone for the rest of the spa-goer's experience. It stands to reason that the better informed the employee behind the desk, the better he or she will represent your spa and its unique attributes to your guests.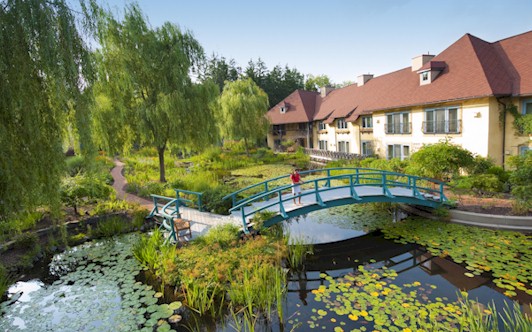 Mirbeau Inn & Spa, located in the Finger Lakes town of Skaneateles, New York
Too often, the training that is seen as an essential investment for spa therapists is considered an optional expense for other spa employees. This is a misguided approach, as the costs involved in training your gatekeepers will be more than offset by gains to your bottom line. It is well established that training fosters productivity, higher job satisfaction, and greater job commitment. Therefore, by investing in your employees, you can build a team that is invested in the success of your spa and its future. A few tips on developing an effective training program:
Please Login to read the full story, or you can Get Free 30-Days Hotel Business Review
The Hotel Business Review articles are free to read on a weekly basis, but you must purchase a subscription to access
our library archives. We have more than 5000 best practice articles on hotel management and operations, so our
knowledge bank is an excellent investment! Subscribe today and access the articles in our archives.