Hotel Group Business for 2014
An in depth analysis on more flexible pricing policies and new technologies from Great Hotels of the World and three of its member properties
By Armand Guillemot Director of MICE, Great Hotels of the World | September 01, 2013
There has been a significant shift in the meeting and events market. Many hotels are re-examining their pricing structures to institute more flexible pricing policies. Business rates are now being adjusted according to foreseeable demand as the lead time for bookings has dramatically shortened. We have noticed that the more luxury hotels are less likely to budge on pricing whereas the four star properties are more likely to be flexible with their pricing. We have also seen a shift within the booking patterns. Periods that have traditionally been slow seasons for meetings and events have become higher in demand, due to the client's are more conscious of pricing – giving organizers better value for their money when booking in these traditionally lower booking periods.
Hotel Altis is a recently renovated business and conference hotel, ideally situated in the center of Lisbon, a short walk from Avenida da Liberdade and the historical quarters. They have implemented new procedures to cope with the new trends within the market. Whereas previously last-minute business only applied to individual travelers, the hotel is experiencing this for group business too. Decisions on whether or not to conduct the event, as well as the figures concerning the number of delegates who will attend, are only made shortly before the event takes place – implicating a shorter time frame between request for proposals and in making the final decision. They have emphasized the importance of this time issue, gaining or losing out on business due to RFP response times within a matter of hours. The hotel has given a recent example of a phone call received from a DMC on a Saturday morning, requesting a dinner for 70 people for the Monday evening. They sent the proposal and received confirmation before noon.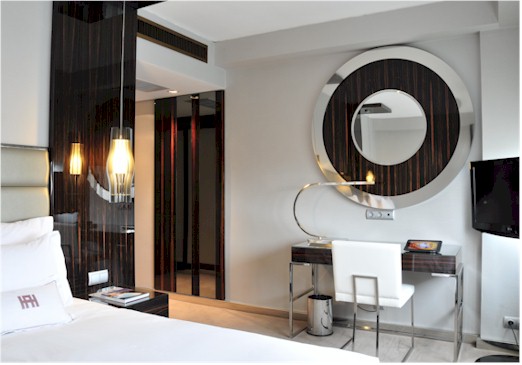 Deluxe Guest Room - Hotel Altis
Ruben Paula, General Manager of Hotel Altis, comments that this last-minute trend within business travel is occurring because companies feel that they have stronger negotiating power if they request services with a shorter notice period, because those who have availability will be more flexible with their rates as they would prefer to fill their rooms at a lower price rather than not filling them at all. As the market continues to grow, Altis Hotels believe these trends will have to change for the major destinations, as companies face problems finding suitable places to conduct their events. Their Group Coordination team, dedicated to groups and events, now has to be faster and more accurate with their answers in order to secure business. They also have had to be more flexible on rates according to availability and seasons, not only with regard to accommodation rates, but also with regard to rates for meeting rooms and F&B. To help combat this issue, Hotel Altis has created new and more flexible menus, where organizers can build menus at different prices, according to their budgets as well as upgrading guests to better meeting rooms or by way of including some value added extras, such as a complimentary cocktail or an upgraded coffee break during low season. They have also had to become more attentive to demand on peak days or during high season, ensuring that they have the right product for the right guests.
In terms of user experience, Hotel Altis has also commented on the fact that guests are looking more and more for a unique experience within their meetings or incentives. Local touches and flavors have become a must and they have experienced an increased demand for local Portuguese products as well as healthy, energizing coffee breaks. To provide a unique experience for guests and respond to this demand, the hotel has created a dedicated team for in-house groups, similar to guest services for individual travelers, to ensure that every detail for each group is taken care of.
Director of Business Development at Hotel Okura Amsterdam, Femke Groeneveld-Weller takes an alternative opinion. Hotel Okura is the most complete five-star deluxe conference hotel in the Netherlands, with a touch of Japan, close to all major cultural attractions. For Okura, discounting room rates has not been part of their sales strategy. They believe that reduced pricing will lead to devaluation in their business. They have commented though that of course their prices will fluctuate according to the needs of the market, the season and the day of the week. Due to historical knowledge gained from being in business for 41 years, business rates have been adjusted to match these demands so that they can place the right business at the right rate.