The Importance of Green Tourism; Investing In Our Future
By Sir Royston Hopkin Owner & Chairman, Spice Island Beach Resort | May 11, 2014
As a hotelier, I attend a lot of industry conferences which afford me the benefit of experiencing many other hotels throughout the Caribbean, Europe and North America. This allows me to experience hospitality from the other side, which lends insight into hotel practices that work, and even more importantly, those to avoid at my own property.
Check-in lines, for example, are something we've done away with entirely, ensuring guests are able to relax from the moment guests arrive on property. Nonetheless, I often find myself waiting in line to check-in, and recall a particular instance where the guest in front of me complained about the hotel's lax environmental policy.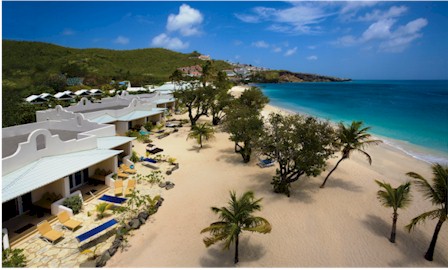 "How is my willingness to reuse a towel minimizing your impact on the environment?" repeated the now irate guest, demanding details on the hotel's water and energy policies. The visibly embarrassed front desk clerk stumbled on his words and was clearly unprepared to respond beyond vague assurances that the property was green friendly.
This was many years ago and this guest, with whom I later had an opportunity to chat up by the bar, may have been ahead of his time as most of his peers seemed content to trust the hotel's marketing without inquiring into the specifics. It was a valuable lesson that I took back home to my Green Globe Certified resort, where I had implemented one of the most comprehensive environmental programs in the Caribbean, but had done little to educate guests on what we do and why we do it.
That is why we now put much emphasis on empowering each employee as an "environmental agent" by providing them with the necessary training and education on the resort's environmental practices, policies and objectives. This way, not only are they prepared to advise our guests on the benefits of our green practices, they are also more adept at carrying out our eco-friendly initiatives.
Beyond that, the knowledge and practices our employees learn at the resort extend to our local communities throughout Grenada as they get involved in Church activities and other community groups where they are able to pass on some of the techniques we use, such as creating compost gardens at home and inspiring others to do the same. This is how movements start, and while environmental consciousness didn't begin here at Spice Island Beach Resort, it fills me with tremendous pride to have had such a profound impact within Grenada and the region as a whole.
Please Login to read the full story, or you can Get Free 30-Days Hotel Business Review
The Hotel Business Review articles are free to read on a weekly basis, but you must purchase a subscription to access
our library archives. We have more than 5000 best practice articles on hotel management and operations, so our
knowledge bank is an excellent investment! Subscribe today and access the articles in our archives.