The Evolving Role of People Space in Hotel Design
By Jack Portman Chairman & CEO, John Portman & Associates | November 18, 2018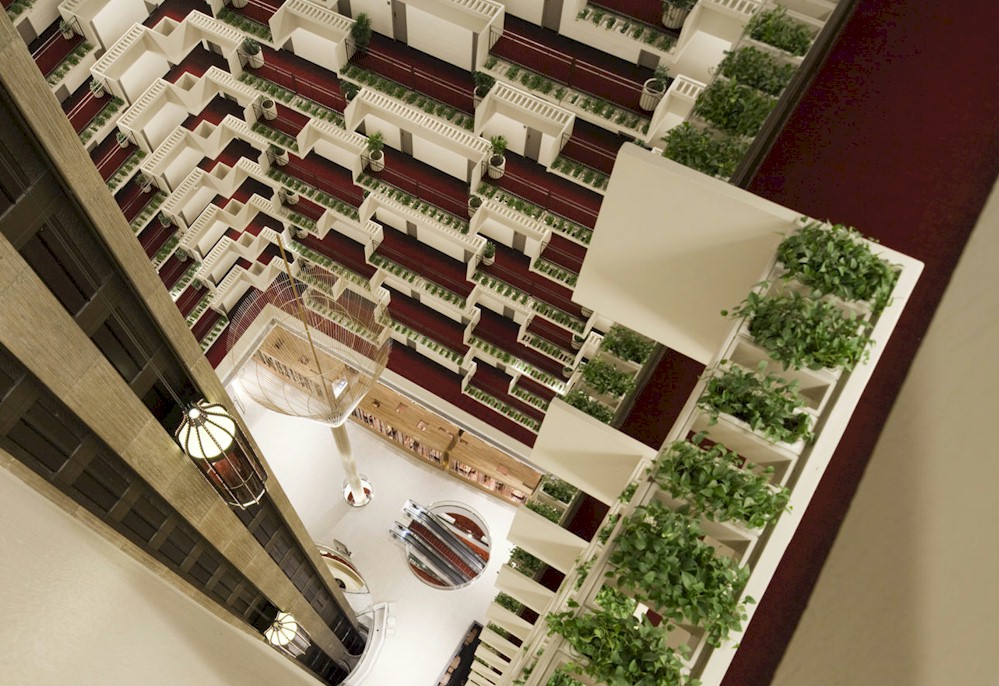 The hotel industry is continually looking for new ways to differentiate its properties. It is important the design responds to its location and its program. However, to create a hotel that truly stands out, architects must focus, not so much on the property itself, but on the experience that the space delivers. Striving to deliver an inspiring human experience led to one of the hotel industry's greatest innovations.
A typical urban hotel in the 1960s consisted of a double-loaded corridor – a dim, narrow hallway with door after identical door. The design delivered a mundane, if not dismal, guest experience – all that people expected from a hotel in those days. In designing the iconic Hyatt Regency Atlanta, John Portman exploded the diagram to create an architecture that embraced people space. The spacious, soaring atrium captivated the senses with movement, light, varying textures and sounds. The open floor space encircled by dining opportunities and featuring seating groups and a central water feature recalled the traditional piazzas of European cities. It added an entirely new, vibrant and dynamic gathering space that brought tremendous life to the heart of downtown Atlanta.
People were enthralled with the unexpected experience. When the hotel first opened, it was visited by thousands of tourists a day. Lines of people literally circled the block just waiting to get a glimpse inside. So many sightseers jammed into the elevators, the hotel had to hire attendants to control the crowds and ensure that paying guests were able to reach their rooms in a timely fashion.
The idea of exploding the interior to create people space revolutionized hotel design. The notion of challenging the norm to provide a different experience is thought-provoking. Architects are constantly testing, reinventing, and reconsidering the hotel as a building type. But for a design to truly succeed and stand the test of time, the motivation should not be the delivery of the unexpected only for the sake of being different. The design must better serve people and enhance the human experience.
Employing people-oriented design is a philosophy that works the world over. People are more alike than they are different. Human nature doesn't change based on geography. Appealing to human senses is universal. The human response to space, light, water, plants and other elements of nature is innate.
Humans interact with the world through their five senses. Appeal to the senses and you appeal to people. All people. People are unpredictable social characters – no two interactions are the same. Create a space that encourages and facilitates social interaction and it will deliver on the promise of expecting the unexpected.
Of course, some people are more reticent by nature. They prefer to hang back and observe. People have to move through a hotel, so orchestrate the spaces to allow for one guest's journey to become a performance for another guest. It is human nature to enjoy people watching. People can be counted on to amuse and entertain in unexpected ways.
It is true that warm, welcoming, living room-like spaces provide comfort and encourage social interaction, but creating opportunities for connectivity today goes beyond facilitating in-person encounters. Providing the means to connect and stay in touch digitally is an all-too-important part of a positive guest experience and is key to staff performance as well.
Staff are also people. People space evokes an affirmative human response, so it makes sense that working in people space improves morale. Designing in efficiencies to facilitate an easy workflow also leads to a happy staff. Creating an upbeat staff is a positive step toward ensuring happy customers.
The design of flexible spaces allows for more and varied functions to take place, so taking care to design flexibility into public spaces can make for an ecstatic manager/owner as the ability to easily and successfully host a variety of events increases. Over time, large public spaces lend hotels operators the flexibility to adapt to changing needs in their marketplace.
City life is enhanced by the addition of a multi-purpose indoor gathering space. Grand hotel lobbies are not just for out-of-towners. City dwellers flock to them to socialize. Families designate them as meeting places. Businesses use them to treat their team to a happy hour. Millennials are known to set up "office" anywhere there is a comfortable chair and a wi-fi connection. Sky-lit expanses are as adaptable as one's imagination allows.
While soaring public spaces have a strong emotional impact, it is important that they also acknowledge human scale. This may be accomplished by using sculpture or lighting fixtures to float over intimate seating groups. An inviting hearth and fire place creates an enticing gathering spot. Cozy alcoves accommodate relaxed conversation. It is not simply the size of the space that must be considered. Proportions are key in the creation of engaging places within the space.
In the decades since the Hyatt Regency Atlanta first opened, the atrium design has been copied in countless hotels around the world and even employed in office towers, libraries and hospitals. Grand, indoor spaces have become as much a part of the urban fabric as other popular gathering spaces such as concert halls, churches, football stadiums and movie theaters.
Contemporary interpretations of grand hotel spaces can be seen in current Portman projects. For instance, the 2015 Hartsfield-Jackson Atlanta International Airport Hotel design employs the people space philosophy in a distinctive way by taking it outdoors. The soon-to-be InterContinental hotel features an expansive courtyard at its center. In the midst of one of the world's busiest airports where fast, impersonal and no-nonsense is more the norm, an unexpected space inviting people to linger is a delightful surprise! Here, shafts of streaming sunlight, the whisper of moving water and a green tapestry of plant life humanize the built environment and inspire the human spirit-all mere steps from the terminal.
In addition to serving as a welcoming public space, the courtyard is designed to be multifunctional in order to accommodate both hotel use and public cultural events. Landscaping, hardscape elements, art and water features complement the various functions and enhance the sensory experience of the open space environment, delivering a feeling of spaciousness and refreshing the soul.
Natural light contributes greatly to the personality of the project. The varying play of light throughout the day, depending on cloud movement and the changing angle of the sun, gives life and brings character to the space. There is something restorative about being bathed in sunlight during the day and swathed in moonlight in the evening hours.
Transitioning from a bustling airport environment to the unfolding experiences of the hotel's people space entices a sense of anticipation for the sweet reward of reaching the guestroom refuge. The unexpected design promises that this is not just a trip, it is a sensory adventure.
One contemporary hotel that integrates, and is itself integrated, into people space is the JW Marriott at LA Live in California. Owners, Majestic Realty Company, benefit from a people-focused design that arises out of its unique circumstances to better its surroundings. The orchestration of space, from large to small and small to large, is a powerful tool. Inviting indoor gathering spaces are enhanced by the connectivity to outdoor people space and walkability of the public pedestrian promenades of the LA Live complex. Extensive glazing blurs the line between indoors and out while also offering prime people-watching opportunities. Inside and out, people going about their business become flashes of color in a kinetic display of activity that is both mesmerizing and energizing to all who look on.
The senses are stimulated by clean, contemporary lines rendered in luxurious fabrics and finishes to deliver a tactile experience sure to soothe a traveler's soul. These are experiential spaces designed for human enjoyment. Even the largest spaces feel right-sized and intimate due to the many comfortable conversational furniture groupings and secluded alcoves that are nestled about.