How Mobile Technology is Changing Hotel-Guest Communication and the Guest Experience
By Carlo Cisco Chief Executive Officer, Select Innovations, Inc. | January 27, 2019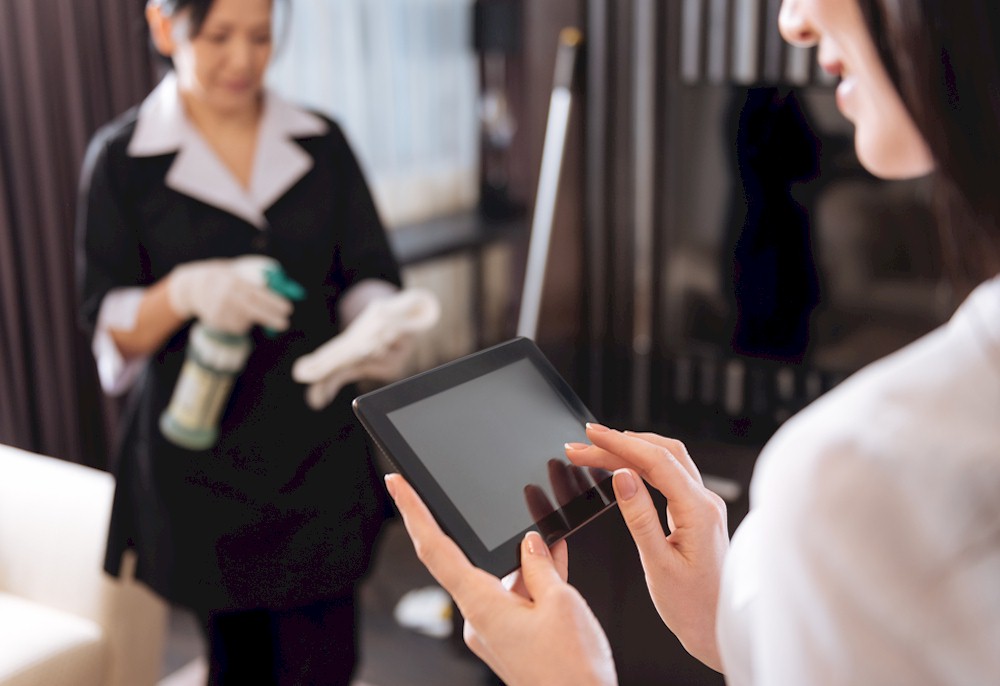 The travel industry is not averse to change. The first major technology-driven wave in the age of the internet came about with the popularization of Online Travel Agencies (OTAs). Companies such as Priceline, Booking.com, and Expedia, whose ability to allow users to search, research, filter, and seamlessly book numerous options, quickly increased in popularity, becoming the dominant method for booking travel today.
Convenience, a strong user experience, and many options made these travel portals extremely useful, driving loyalty and changing consumer behavior for good. Based on recent booking data analysis from Hitwise initially published in Skift, OTAs now represent 69.44% of total vs. 30.56% booked directly with hotels. That share will only continue to increase.
This has helped to create close to universal pricing-parity across the industry as OTAs are able to require the same prices or better than what the customers would receive booking directly with the property or brand. Despite new incentives to try to increase direct bookings, customers still prefer to use OTAs more than ever.
Now those same customers are looking for technology to improve their experience beyond research and booking. They're also looking for it to extend past the internet as we used to know it, and right to their smartphones.
This incredibly picky, savvy, and connected generation of customers expects technology to help enhance the on-site and in-hotel experience in order to make services that may have previously been inconvenient, on-demand. This is particularly the case at certain hours, like when there is less staff late at night, or while they are away from the property.
According to recent surveys conducted by Oracle Hospitality and Phocuswright and with findings published in Hotel Technology News, approximately 64% of US hotel guests think it is "very or extremely" important for hotels to invest in technology that enhances the guest experience. Additionally, the same report showed that 94% of business travelers and 80% of leisure travelers want to use their smartphones to request service and message staff. All of this highlights the importance and value to customers for real-time communication.
This shouldn't come as any sort of surprise. Hotels have been adopting mobile technologies for years as consumers continue to turn to their smartphones for more and more real life functions such as food delivery, grocery delivery, banking solutions, interpersonal interactions, news, games, and more. With this in mind, it's obvious that smartphones would become increasingly important for the travel industry and that the services enhanced are beginning to extend beyond the booking process.
Let's face it, people dramatically prefer text-based messaging to phone calls across the board. This is why we've seen a massive rise in chat-based customer service engines and even AI across various industries, even financial services. The hotel industry is a very natural progression of this demand as the service-oriented experience will naturally shift to the new way in which customers, in this case hotel guests, want to access all services.
And guests prefer this with good reason. It's not always convenient to call from the phone in your room or walk to the lobby to get service. Today's customer wants that at the touch of a button and from wherever they are. This previously unimaginable and unparalleled level of convenience spans many different forms and potential requests that are common amongst hotel guests and travelers.
For one, it can be incredibly useful to receive notifications via text or through a hotel's branded application i.e. "your room is ready", "your reservation for six for dinner tonight is confirmed", etc. This provides a simple, easy, and less intrusive ways to update customers rather than needing to call them in the room, on their cell, or worst yet, have them come back in person. It also helps avoid any potential for interruption of whatever else the guest may have going on.
Text-based communication is also powerful for answering general questions that may arise, enabling the guest to obtain information in the manner to which they are most accustomed in daily life. Answers to questions such as, "At what time is checkout?" "When does the pool area close?" "Is the on-site spa offering any specials?" among many others, are just a few taps away. Regardless of the guest's location and even whether or not they are currently at the property, they can get answers to questions that ultimately improve their experience at the property and for their vacation. A guest can be out at dinner and book a massage, breakfast tomorrow, and extend their checkout without saying a single word or setting foot on the property.
Hotel concierges have performed an invaluable function and the ability to access their knowledge and helpfulness via chat or text only enhances their function and overall benefit. Restaurant and activity recommendations, transportation and travel suggestions, facilitating bookings and confirmations, all become that much easier and, in turn, that much more valuable. The lack of face-to-face interaction also enables guests to conduct their own research and help concierges help them by making suggestions to better pinpoint the types of things in which they are most interested.
In addition to convenience, the other big benefit to mobile text and live chat communication is speed. Because the guest has a direct line to the property, they don't need to wait until they're in the room, or get stuck on hold in order to ask questions and have answered in a timely fashion. It also helps save the staff time as most conversations become more streamlined and efficient. While arguments can be made that streamlining conversations can reduce the potential for personal connections, it's clear that customers value convenience and speed over interpersonal connection in these specific cases.
But the move to mobile doesn't just benefit guests. It also undoubtedly benefits the property in many different areas. For starters, alerts and notifications can be more easily, quickly, and seamlessly delivered to a single guest, groups, or all guests. It allows the hotel to better keep track of staff and staff and guest interactions. It also has an added benefit for the hotel in providing transparency and accountability in those communications. This creates phenomenal benefits for staff training, management, and leadership - allowing management, to view, assess, and help direct conversations and interactions.
This provides phenomenal benefits for training, allowing managers to highlight conversations that could use work or conversations where the staff member truly excelled that can serve as an example for others on the team. They can continually analyze and learn from these concrete examples, diving into the nuances of precise language and wording used in the specific interactions. This is something that is simply not possible with verbal requests where the communication is subject to guest and staff member memories. This allows the team to continually learn and improve communications and judgment across common and rare guest interactions alike.
Text, live chat, and notifications are also not the only form of communication smart phones facilitate. In the social media era, properties can also engage their guests via social media, engaging with guest content and even highlighting content that presents the property in a particularly good light. While different from the other areas we've highlighted so far, social media is yet another from of mobile-facilitated community that can enhance the guest experience and deepen relationships between properties and guests.
Beyond communication, hotels with the resources to create their own applications, or at a minimum, leverage the technologies and services created by other companies, can offer a new suite of services that provide additional value to hotel guests. These include things like mobile check-in/check-out, daily weather and activity updates, daily on and off property activity and event schedules, etc. Things that may have been physical and easy to lose track of previously, can now be accessed anytime and anywhere, allowing guests to take advantage of all the property has to offer, easier than ever before. They can also help guests to keep track of loyalty points, preferred status incentives and benefits, and their ability to earn free nights (if applicable) in real-time.
Mobile applications can be quite effective at driving further loyalty and revenue for hotel brands, in addition to improving and enhancing the guest experience. Unfortunately, because of cost and customization, larger brands with more significant resources to devote to the continued improvement of their apps are somewhat favored. But, core elements of text-based communication are relatively easy for any property to adopt by leveraging various available platforms.
The time for properties to invest in mobile platforms and specifically, staff to guest communication via mobile, is yesterday. Numerous properties are continually adopting and enhancing these channels for their guests to facilitate convenience, speed, and ultimately to improve the guest experience. Doing so is pivotal. With so many hotel options available via the increasingly dominant OTAs, hotels need to invest in everything they can to stand out and become more memorable.
While a concern of potentially taking it too far may come to mind, don't fret. Guests will always have the option of doing things the old-fashioned way by making a phone call from the room or strolling into the lobby to talk to the concierge face-to-face. Mobile communication and broader services aim to provide the guest with options. Any guest that prefers them can take advantage, those that do not, still have option to do things the old way. The travel and hospitality industry is all about the customer, after all.
HotelExecutive.com retains the copyright to the articles published in the Hotel Business Review. Articles cannot be republished without prior written consent by HotelExecutive.com.