New Advancements in Hotel In-Room Technology
By Richard Walsh Founder & Chief Executive Officer, Travel Marketing Dynamics | January 12, 2020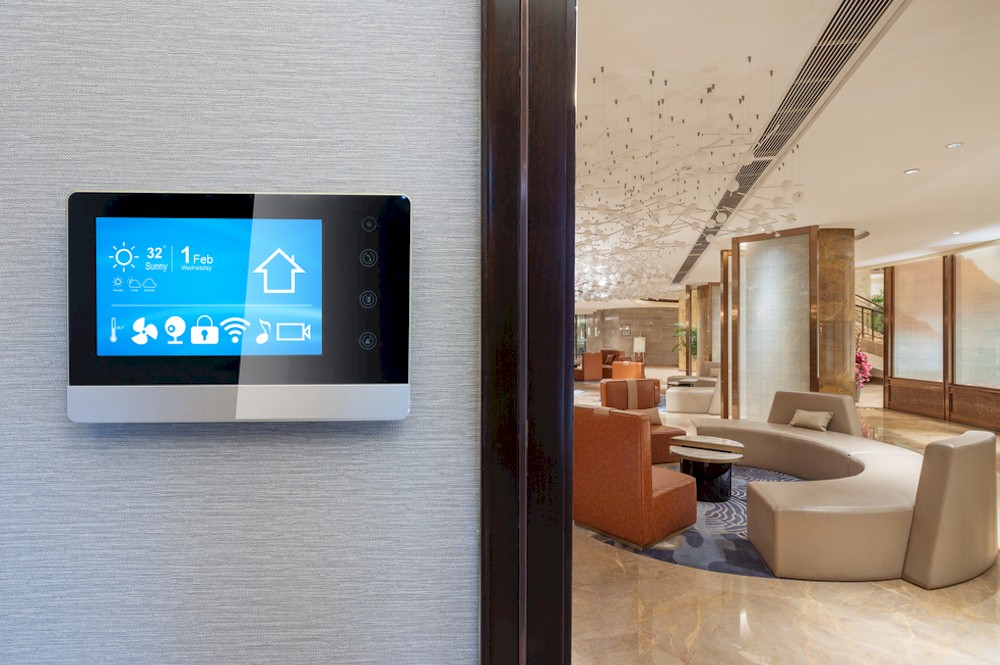 Is In-room technology services on your hotel's budget for 2020? These services have a serious impact on all hotels today and the impact will continue to grow as new in-room devices and methods are brought to market to give the hotel guest a more personalized experience through a more convenient method of guest control. Will these devices and applications help reduce per room costs and increase business along with revenue. The answer is in what devices best fit the hotel' guest profiles, location and budget.
How do the results of a guest's experience affect the hotel's business? The guest in-room experience is the foundation for the often-overstated term "Personalization". True personalization is a direct result of the quality of the in-room technology, as well as staff interaction and overall amenities. In-room personalization is all about the guest's ability to wirelessly control multiple aspects of their room, including convenient internal and external voice and text communications, preset thermostat, alarm clock, no touch remote, Bluetooth speaker connectivity, convenient AC and USB outlets, receive pre-approved text messages from the hotel and a convenient location for LED light. Plus, there is infinite value in the guest presence and usage analytics that some devices collect and provide the hotel.
There's also per room technology services that help manage the HVAC control to reduce the overall operating costs.
What technologies have the greatest benefits for both the guest and hotel? The challenge most hoteliers face is what technology investment of time and money will deliver the greatest ROI and guest benefits. Each phase of the guest process is important (1) Pre-arrival / Online search and booking (2) Arrival / Check-in & Accommodations (3) Post departure / potential loyalty & reviews. The pre-arrival process is based on property proximity to the reason for travel along with amenities, guest reviews, brand and price.
Arrival is influenced by the exterior of the building. Post departure response is a result of a request by the hotel for guest feedback to help improve the future guest's experience. The fundamental element to grow business is convenience in each of the three steps is "guest satisfaction".
When you purchase a car or something of value, do you look back on the purchase and judge its value based on the purchase process or the personal value of what you purchased? You judge and respond based on the quality of your purchase and for hotels that is the guest's experience during your stay. And, today's in-room experience needs to understand how people manage and engage in their everyday lives. Their everyday activities are all about convenience through easy to use technology, including mobile devices and AI voice controls that enable automated conveniences that they don't have to learn or manage to enjoy their time in their hotel room.
Think about what the guest may encounter upon arrival; automated check-in, automated door locks, streaming TV, remote controls, thermostats, clocks, telephones, programmed tablets and more. Many of today's travelers avoid touching in-room devices such as remotes, phones, clocks and tablets for their personal sanitary reasons or the simple fact they have their own devices for communication and entertainment.
Before adding any form of technology to improve the guest's in-room experience, it is important to evaluate and prioritize any investment based on a profile that fits the majority of guests (business or leisure), groups and meetings, average age & gender, overall property accommodations and of course competitive price and comparable services..
The bottom-line is how effective will any selected upgrades or additions to improve the in-room experience be and how they enable a competitive advantage and a reasonable ROI? Does what is added duplicate something the guest already has through their own mobile device? What are per room installation costs and can the supplier commit to cost savings on future replacements or upgrades? Clearly today's hotels need to address the technology challenges to compete effectively, build guest loyalty and enable guest technology to produce a better bottom-line.
Where is the greatest ban for the buck going to come from? It may be as simple as adding in-room thermostats or lighting controls or TV upgrades. Why not a new phone or alarm clock with USB plugs … SERIOUSLY? It may be about adding a Bluetooth device to enable the guest's control of their own music or streaming TV these will limit any direct contact with any in-room devices.
The right decisions about creating a better in-room experience are all about offering easier communications with hotel personnel for assistance and in-house services, real measurable cost reductions and finally providing a guest maximum convenience that will build and deliver guest loyalty.
Here are 10 key questions to consider when evaluating the best in-room technology solutions that fit the property:
What is the potential monetary benefit and value of adding any in-room technology?

What is the best way to measure the return on investment as a result of the added technology?

Define exactly how the added service will improve the guest experience.

Will the provider enable an in-room text period for a limited number of rooms?

What does the installation require and how long will the room be unavailable?

Does a multi-room accommodation require more than one if the solution's devices?

What current expenses will be reduced or eliminated by adding the new service?

Will the supplier provide upgrades and/or add-ons as their technologies continue to evolve?

Does the brand have a better service solution at a reasonable cost, if not why?

Is there a competitive service and why is one better than the other, based on your guest profiles and location?
It is also important, where possible to avoid multiple technology providers. This is important as technology moves forward so there is no overlap or lack of compatibility between the services. There are technology solutions that combine in-room guest services that provide the necessary benefits and conveniences?
If it is an in-room solution for HVAC, does it monitor in-room presence to control the temperature as well as provide guest analytics for in-room presence to assist housekeeping? Is there a concern about guest privacy if the in-room device provides AI voice controls or in-room presence? Does the device increase usage of the property WIFI or can a new service enable wifi just for the room when occupied? These are key questions to help determine the overall ROI.
In addition to improving guest personalization, offering competitive in-room technology will improve the opportunity to attract new group/meeting business. This is accomplished by offering the ability to target guest attendees through in-room communications or to better manage meeting attendance and changes, enable in-room podcasts relevant to the meeting, and potential use of beacons to track where the majority of the attendee guests are located. These applications and more will produce accumulative analytics that will help build a stronger meeting and conference value proposition for the hotel's marketing and sales.
The new in-room and in-house technologies that are available also open the door for the promotion and sales of in-house services such as spa time and dining reservations and discounts. If the hotel's location has a variety of attractions, events and activities the in-room device can push non-intrusive messages promoting these attractions and enabling online purchases and reservations.
As I've described, there is a lot to consider when choosing the best solution for a better guest in-room experience that will in return improve the hotel's ROI, especially as we continue to see new technology evolving that will replace or enhance existing in-room technology. Some of the newer technologies are designed more for the mid to upscale hotels while others are basic and will be expected in all hotel rooms as the average guest is relying on their mobile devices and prefer to avoid contact with current in-room hardware like remotes, tablets and phones.
Upgrades or additional in-room technology offerings is essential for all hotels and resorts, independent and brand properties. For the independent hotel, enhanced in-room technology can be a major competitive advantage over brands that focus on growing brand loyalty, not occupancy for individual properties. For the brands, after their due diligence endorsing an in-room solution enables their property to upgrade their services based on location climate, guest profiles and in-house serviced that all benefit from enhanced in-room technology and a happy guest.
To summarize, it is clear that multiple forms of in-room technology will be the hotel's competitive battleground in the coming months and years. Guest expectations have evolved with their mobile device, alternatives to the television, millennial preferences that include avoiding shared devices. The expectation for in-room technology will evolve to interconnect with the initial reservation source that provides reviews, details about proximity to corporate headquarters, attractions and events and more.
The technology will also connect the check-in process and provide guest details to assist in sales as well as housekeeping. It is important to find a reliable supplier that can provide a multi-level solution with market knowledge and flexibility for upgrades and essential enhancements.
HotelExecutive retains the copyright to the articles published in the Hotel Business Review. Articles cannot be republished without prior written consent by HotelExecutive.