Climate Change: Resiliency Practices for Hotels and their Communities
By Nancy Loman Scanlon, Ph.D. Associate Professor, Chaplin School of Hospitality & Tourism Management, FIU | May 17, 2020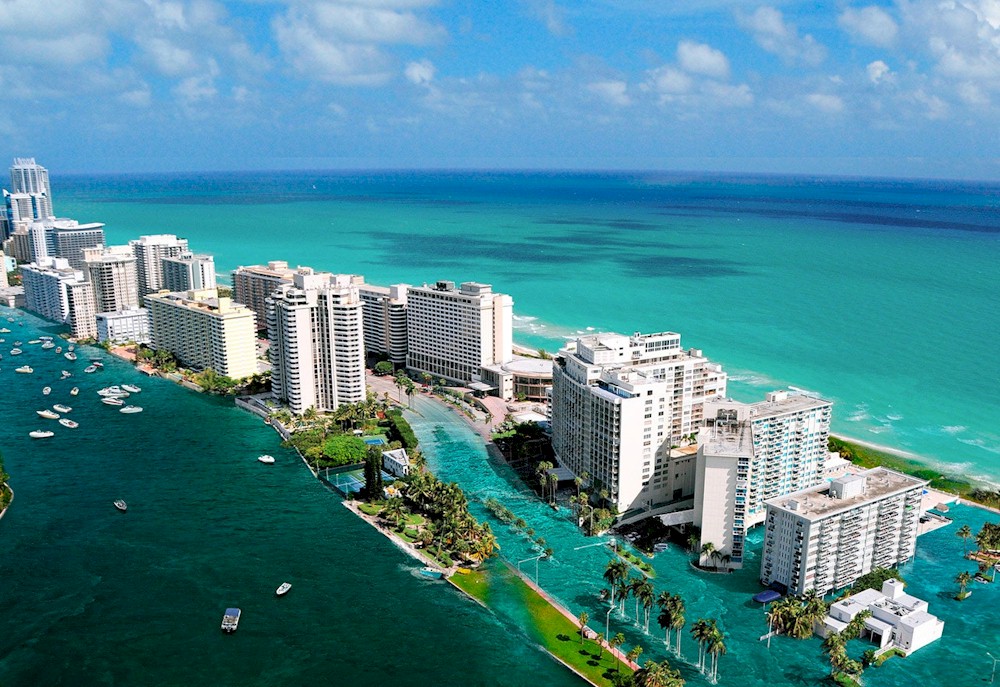 Miami and Miami Beach, Florida are a case study in resiliency and the loss of significantly measurable assets to the impacts of increasing and sustained climate heat levels, warming ocean waters and loss of fresh water sources. Taken together these climate impacts directly threaten the 18 billion dollar annual tourism industry and the quality of life for Greater Miami's 2.5 million residents.
Greater Miami hotels sold 15.6 million hotel room nights in 2018 which represents 1.5 guests per room or 23.4 million guests flushing 15.6 million toilets and running 15.6 million ten minute showers. Miami is adding 20,000 hotel and condominium rooms between 2017 and 2022. Where will the fresh water come from? The pipeline for freshwater and the acquirers beneath the City of Miami are already being drawn down due to over demand by the combined local population and 23.3 million visitors in 2018.
Resilience to Disease
Resilience has become an important part of the conversation in the hotel and tourism community for water, energy, carbon emissions related heat impacts and waste management. What was not often included in past conversations about resiliency was the impact of disease. This is not a new issue. It appeared as SARS imported from Asia to Toronto, Canada in 2003 by travelers, was identified in a hotel property and spread primarily by human contact.
Today we grapple with the pandemic impacts of COVID-19 and its spread due to human to human contact by particulates of the virus. Resiliency, going forward, now includes particular attention to indoor air quality, surface cleanliness and other materials that humans come into contact with. A major control of the virus in a building is the HVAC system. Within the HVAC system, the primary prevention technology for the spread of the virus is the air filtration system. We are most familiar with HEPA filters and their ability to capture and sequester unwanted air borne impurities.
In the next level of preventive maintenance we now need to consider the benefits of anti-bacterial properties in the form of biocides that can actively eliminate airborne bacteria and viruses. Filters and multiple self-decontamination applications, with these properties, are becoming readily available on the market in a burgeoning area of innovation.
As hotels and tourism sites reopen to the public, it is critical to be able to communicate efforts such as this in order to restore guest confidence.
Resiliency in Miami Beach offers an interesting perspective on three significant climate impact issues on hotels: sea level rise and general flooding, the waste stream and plastics and increased climate heat. The shocks and stresses of climate impacts and adaptations in this barrier island city have resulted in some forward thinking on the part of city officials to preserve, in the words of former Miami Beach City Mayor Phil Levine, "the experience of Miami Beach for as long as possible".
Resilience For Flooding & Sea Level Rise
Miami Beach is a barrier island once protected, on its west side, by mangrove tree groves that supplied resiliency to sea water surge and flooding. These groves have been largely stripped away, allowing a buildup of residential and commercial buildings on the island side facing Miami. The highest point of land on the island is actually along the ocean front where a solid line of large hotels have been built. While storm surge from the ocean is still a major concern to street level hotels and other commercial buildings, the primary concern for flooding is on lower land areas where hotels and residential areas share space.
Street flooding had become a major issue in 2015 when then City of Miami Mayor Phil Levine championed a program of installing pumping stations in vulnerable areas to help channel water from the streets back into the Biscayne Bay and Atlantic Ocean. The City then began raising roads in the most vulnerable areas, both commercial and residential. This combination of technology and municipal planning has helped to mitigate a situation which threatens both the quality of tourism activity and residential life.
Hotels in vulnerable areas are now less at risk of streets flooding into the lower building areas which, for smaller hotels, is often the lobby. The South Florida Climate Change Compact 2015 projections for sea level rise for the Miami area are 6 to 10 inches by 2030 and 14 to 26 inches by 2065.
Over the past 10 years many hotels in Miami Beach have been either completely rebuilt and/or renovated. As part of this effort hotels have identified the ever increasing flooding problems and raised the lower levels of their hotels. New build projects have placed parking garages on the lower levels with the lobby area above, essentially on what is the second or third level.
Hotels, such as the Fontainebleau Miami Beach, whose historical atrium lobby bar area is directly in the path of oncoming ocean surge water, have raised the front desks and operational lobby areas up to a first floor level looking over the bar area and out to the ocean. Meeting rooms, restaurants and other areas appear to be adjacent to the lobby but are actually on a higher level. The beach side dune area has been raised and sea walls reinforced to reduce the flow of storm surge water into the hotel pool and gardens from the beach side of the property.
Resilience For Energy
The LEED Green Building certification program has been adopted by many hotels and development projects around the US and globally as part of resiliency strategies. Silver and gold certification levels can be achieved either in new or existing buildings. LEED certified buildings significantly reduce energy and water use which also creates a healthier environment for guests and employees. Air quality is improved and carbon emissions measurably reduced. The LEED Gold certification level is expected to achieve 28% less energy, 35% less water and result in improved air quality.
Investors appreciate LEED certification as it has proven to increase the value of buildings, reduce lease turnover in commercial space and lower insurance costs.
Sourcing energy from renewable technologies such as solar and wind can be a reasonable option depending on the property location and/or the utility providers' source of energy. Solar panels on the side of buildings, windows and shutters designed for solar collection, wind turbines on property or in the community, are all viable options. Generators that are battery powered by solar energy are good emergency alternatives. New building design and construction options continue to become available at reasonable investment costs. Arguments about ROI and solar installations having too long a return time on investment is shortsighted. Buildings with solar technology installations typically have higher resale values.
Resilience For Rising Temperatures
As global and regional heat temperatures continue to rise, increased periods of high heat becomes a resiliency issue. In 2019 Florida experienced 125 days with a heat index over 90 degrees Fahrenheit. Miami, which sits at the end of the peninsula, catching benefits from being surrounded on three sides by water, had 68 days above 90 degrees Fahrenheit in 2019. Forecasts by the National Weather Service and other climate services is for the high degree number to reach 105 degrees Fahrenheit by 2050.
The strain that these temperatures put on the HVAC systems in buildings can be significant. How they affect people can be even more so. A primary attraction for visitors to the Miami area is the weather, especially in the fall, winter and spring months. Visitors intend to spend time out of doors enjoying what they expect to be reasonable, if warm, temperatures. As the heat index rises, hotels need to provide more shade cover and options for outdoor activities that do not include direct sun.
Heavy plantings of large shade trees, landscaped areas and covered patio and poolside facilities are part of shade expansion programs. Sports activities such as golf, tennis and beach activities require open areas. Lighting tennis courts and swimming pools encourages guests to participate at earlier and later times in the day. LED lighting technology with lower energy consumption, supports these options.
As heat temperatures soar the impact of direct sun on buildings needs to be considered. Solar heat absorption by buildings increases the demand for air conditioning. Using landscaping, shade trees and roof top gardens helps to lower impact and insulate the roof and sides of buildings that are directly in the suns path. Architectural and engineering designs for a building with high solar impact position the windows on the north and south sides and the walls with the least window exposure, on the east and west sides.
The value of the view however, often creates a different design need for hotel buildings. The view from a hotel room is a valuable amenity, creating higher demand and room rates. Windows absorb and radiate heat. Window and shutter technologies that help to insulate windows create resilience. Often this can be combined with solar energy collection.
Resilience for Plastic Waste Impacts
On a worldwide basis a major problem is plastic waste management, choking water-ways, sewers, endangering marine life and forming into floating masses of plastic trash. Plastics, when recycled in a plastics only system, can be collected, cleaned and resold for a wide variety of industrial uses. The alternative to plastic waste is to put single-use plastic alternatives into the supply chain.
In a campaign to get tourism businesses with a high rate of single use plastic in bottles, flatware, utensils, cups, bathroom amenities, packaging and other, the City of Miami Beach has created a benchmark program "Plastic Free Miami". The program encourages hotels and restaurants to find plastic alternatives for disposable packaging and tableware and eliminate the use of plastic bags in all areas. Plastic straws have been taken completely out of use by City regulations.
Resilience For Customer Trust and Health
The wellness concept trending throughout the hotel industry can benefit from biolithic green house designs. Resilience practices include indoor plantings, grey water systems management, the use of ventilation to augment air conditioning in areas with lower levels of humidity, in addition to radiant heating and cooling.
As the global hotel industry recovers from the impacts of COVID-19, the implementation of these technologies and design techniques will help to reinforce a level of trust with customers often focused on the health and well being of their families and employees as they make hotel reservation choices. Hotel properties that can evidence what is perceived as a 'safe' environment, should benefit from a positive customer response.
HotelExecutive retains the copyright to the articles published in the Hotel Business Review. Articles cannot be republished without prior written consent by HotelExecutive.