Strategic Renovations: Re-imagining Prestige Properties for the COVID Era
By Brent Zeigler President & Principal, Dyer Brown Architects | November 22, 2020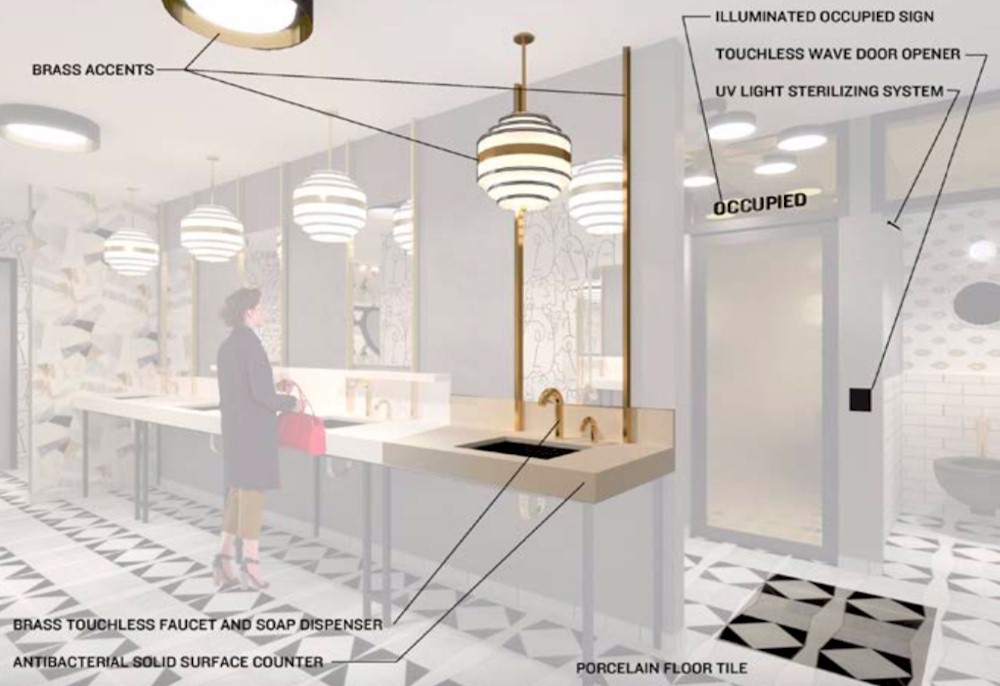 This article was co-authored by David Rader AIA, Senior Project Manager, Dyer Brown
Prior to the major events that have transpired in 2020, one of the most significant challenges facing longstanding prestige venues in destination cities had been the rise of new luxury hotel towers. These new hospitality offerings with hundreds of keys each specifically targeted these markets at competitive price points, jockeying for customer loyalty among new cohorts, especially millennials.
In order to stay competitive, owner groups have faced the challenge of navigating how to invest in upgrades and rebranding, without which they face the prospect of rising vacancy rates as glitzy competitors flood markets that were already nearly saturated.
Working with designers and other consultants these properties were, in many cases, just beginning to make considerable strategic changes to their brand identity, which would have improved their positioning in newly crowded markets – and then a once-in a century pandemic changed everything. Now that COVID-19 has impacted the hospitality sector (and nearly every aspect of the global economy) as a major disruptive force, many of those plans have been put on hold. More importantly, they will almost certainly have to change.
Last year, few luxury or business-class guests would likely have named "safety" or "cleanliness" as a primary factor in choosing where to stay, being characteristics of a hotel that, at a certain price point, were to be expected and typically assumed. But while location and amenities on offer are likely to rise in importance again at some point in the future, right now travelers at every price point don't just want to be in a safe place – they want to feel safe. The newest, hottest luxury offering is peace of mind, and the most popular hotels will be the ones offering a safe haven. Long after the pandemic has receded, this will continue to impact consumer preference.
However, this does not mean that amenities don't matter. In fact, venues in localities where state orders related to the pandemic limit capacity, owners and operators will need to investigate new strategies for creating and capturing revenue streams to remain financially stable. As long as the updated venue presents a sense of safety for the guest, increasing the range of amenities on offer represent a potential win-win. In order to successfully manage safety concerns, stay competitive, and even eke out an edge, the savvy executive is going to work with designers and consultants to find appealing ways to re-imagine the hotel experience.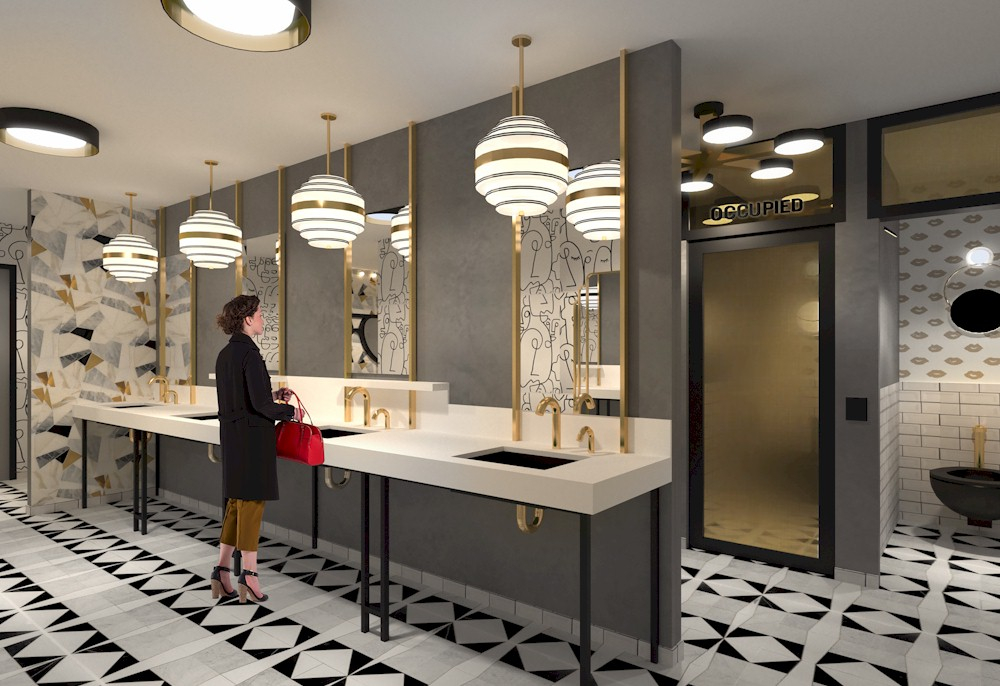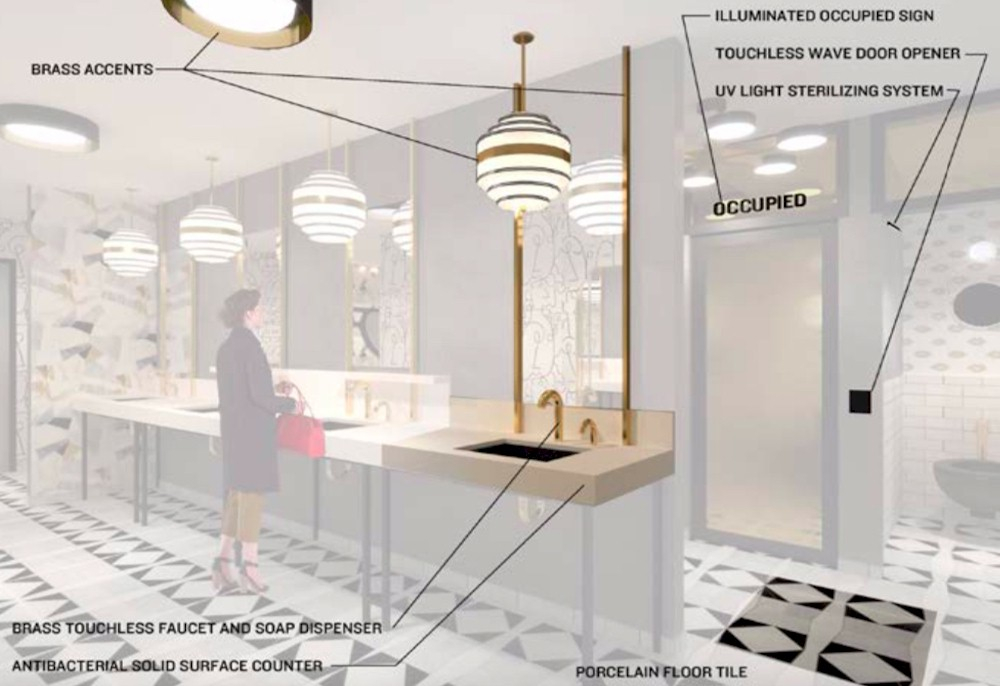 Simple, cost-effective changes to the palette of finish materials in restrooms and other public areas can produce a high-end aesthetic that stands up to frequent cleanings and supports the guest perception of cleanliness.
Strategic Enhancements
What do we mean by a "re-imagined experience? Naturally much depends upon the specific venue. Working with designers and consultants, it is possible to devise a cost-effective strategy for updating and rebranding that simultaneously addresses travelers' safety and sanitation concerns.
To start, consider the lobby. Traditionally the space inside the main entrance has been a "statement area," where design is employed to set the tone for arrivals, and as such lobbies are often expressed as gracious seating areas offering comfort and welcome. But newer hotels have started doing something different: instead of a waiting area these lobbies are more frequently organized with grouped seating and tables that are easily used as ad hoc co-working spaces.
Owners and operators of established venues should consider investigating how to adapt more traditional lobby spaces to align with this trend in order to meet the expectations of a younger cohort – assuming it would likewise align with the already familiar and beloved brand identity. This lobby "evolution" is likely to continue as both newer hotels and older ones are forced to meet the needs of guests who want to enjoy a public space but also to feel they are at a safe distance from others.
Emphasis on social distancing will also have an impact on the nature of hallways, especially on guest floors. For older hotels already in need of renovations and upgrades, upper floor corridors represent a significant challenge. Typically circulation paths are tighter, with generosity of space reserved for the guest rooms themselves. Architectural interventions to widen hallways at clusters of guestroom entry doors may sound expensive, but compared to what may have been invested in renovations for a brand spruce-up, they may be quite approachable. Done properly, the solutions could even address state regulations in ways that optimize for allowable capacity, thereby maximizing revenue.
Venues whose owners are budgeting for major upgrades should also consider the possibility of introducing a new elevator bank. By adding cars and assigning some for upward travel and the rest for downward, the adjustment to circulation patterns might make a huge difference to guest perceptions of safety – in fact, it could negate the need for widened hallways and wider circulation areas on some (or all) floors. For high-end hotels undergoing major renovations, a line item for a new elevator shaft, car and machinery – located at the end of a corridor or an L-shaped hallway to promote one-way traffic – will typically cost in the neighborhood of $250,000 - $500,000.
While not negligible, it is certainly feasible. And there are other solutions to be explored with the project team. For example, a property in a non-urban setting could potentially add an elevator on the outside of the building at the end of a guestroom corridor, thereby leaving untouched the revenue-generating floor area. In other properties, it may be advantageous to adapt existing elevator bank to be double-sided, with doors at both the front and rear.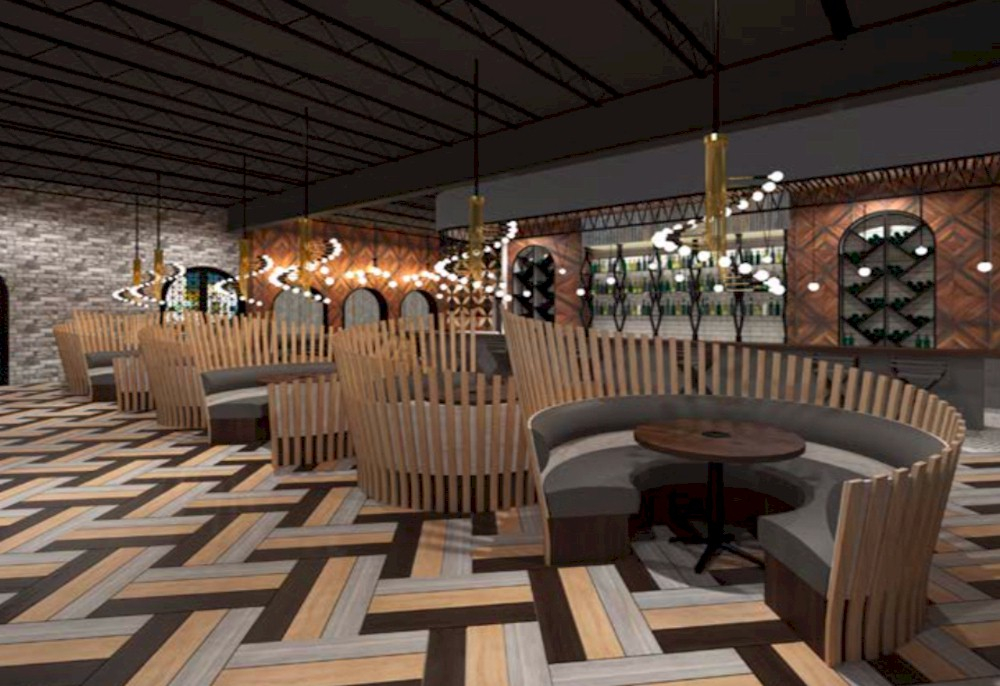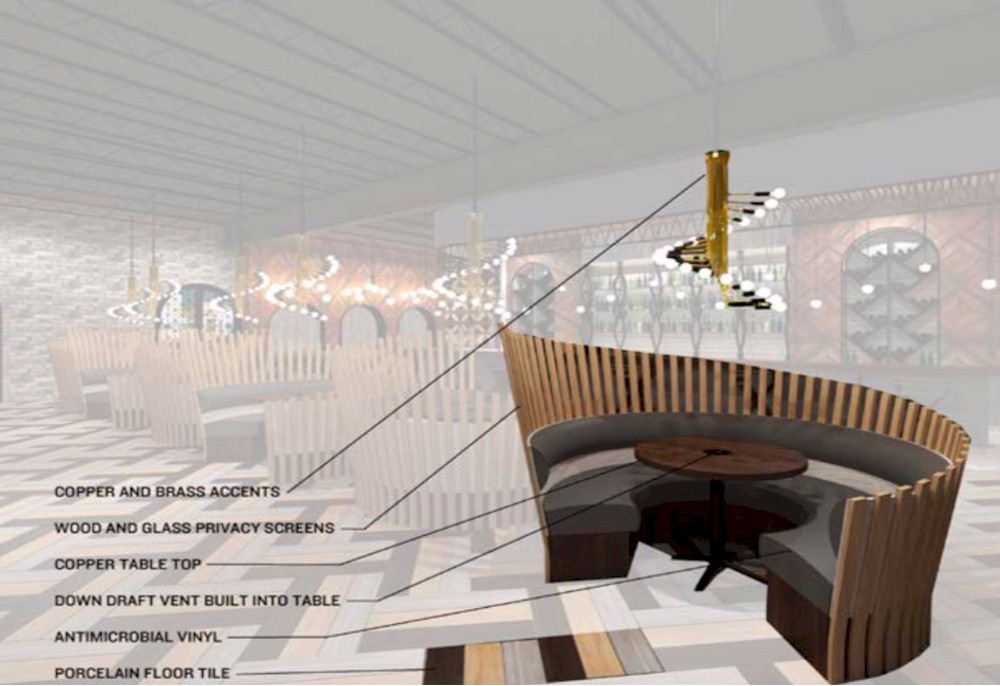 For operators continuing to offer on-site dining indoors, active downdraft ventilation integrated into tabletops pulls air and respiratory droplets down and away from fellow diners - a technology that is already widely available and used in venues serving fondue and other cook-at-table concepts.
Making it Work
Again, it is important to remember that there is no one-size-fits-all solution for every luxury property trying to compete in an evolving market. So much depends upon the specific brand, and the preferences of the customer/guest base. To better explain how the process works and what a capable team of designers and consultants can make possible, we shall examine two established luxury properties in the Boston market, and compare the approaches and results for each.
"Blending Oriental luxury with Bostonian style," the Mandarin Oriental is known for exclusive amenities, haute cuisine, and one of the city's most prized spas. The recent renovations had been focused on upgrading the furnishings and finishes throughout the property. The hotel reopened to guests in September, but work continues in order to adjust for the realities of the pandemic. There have also been adjustments made to the spa, which is critical for their brand.
Spa procedures at the Mandarin are naturally in high demand, so the renovation project included transforming the former Tea Lounge into additional treatment rooms – a strategy aimed at increasing capacity in order to stay competitive with offerings at other venues. As an added safety precaution, spa patrons are encouraged to stay in their hotel rooms until their appointment time to reduce the number of people in the waiting area.
For the second property, an established 5-star luxury hotel, design and construction work began prior to the onset of the pandemic, just as with the Mandarin. The first-floor layout was relatively social-distancing-friendly prior to the renovation, because the goal of the original update plan was to make the lobby and adjacent areas feel denser and more socially activated, to create the feel of a vibrant "scene."
On its lower floors, where this hotel offers most of its dining options, amenities and meeting rooms, one feature in particular offers a significant advantage: the grand stair. Confined spaces feel unsafe, so guests will generally avoid boarding elevators whenever possible. Dyer Brown worked with the owner group to optimize access to the grand stair, which presents opportunity for movement and egress options on these high-traffic floors, and generally offers a desirable feeling of spaciousness. The result is an iconic element that reestablishes the brand while reinforcing the desired feeling of safety.
Renovate for Revenue
Now that the perception of safety has become one of the most prized and sought-after luxuries, it's important to recognize that offering it can be quite simple and cost-effective. For example, simple changes to the palette of finish materials – replacing carpet with porcelain tile (or cork, which is naturally antimicrobial) and introducing anti-microbial metallic surfaces like brass and copper -- can result in a high-end aesthetic that is easy to clean, stands up to frequent cleanings, and supports the guest perception of cleanliness.
We also recommend exploring options for communicating to guests in ways that inform and reassure, while underscoring the brand identity. In particular, well-placed environmental graphics in elevators, hallways, and other spaces where guests may feel less secure can do much to soothe and comfort while enlisting the guest to participate in clearly communicated safety protocols. Put simply these elements tell the guest that there is a plan for their safety, and they are a part of it.
With the perception of a safe and comforting hotel established, the savvy operator can move on to address an equally important part of the renovation strategy: optimizing revenue. Thinking strategically, if we have created a safe and comfortable venue that guests enjoy and find relaxing, our goal is to offer them ways to get the services they need without ever leaving the hotel more than is necessary. This was the idea behind the Mandarin's strategy of adding space for spa services, as described above.
One strategy for retaining guest revenue on-site is to reduce the level of person-to-person interaction involved in service offerings. For room service, this could mean providing a physical buffer zone (whether in-room or in the hallway) in which the server sets the dining experience then leaves the area before the guest approaches. While the buffer zone may require some architectural intervention, the potential for revenue capture in increased guest use of room service could show a very quick return on a modest investment.
There are many ways to approach this kind of strategy, and much depends on the particular venue. But the basis for the strategy is the same across the board: guests have chosen their hotel experience, and will appreciate any offerings that allow them to stay in their safe, familiar and comfortable environment. Operators and the designers and consultants they work with should use their imaginations. What kind of entertainment options can we offer? What about shopping services? For guests who may be nervous about dining out, have we provided enough food and retail offerings on-site? Some may even consider new "high-end vending machines with fresh-food options on guest floors, so that wary travelers can avoid an unnecessary trip on the elevator.
Whatever the approach, the designers should work with the executive team to present and reinforce the brand identity – which, hopefully, the vast majority of guests will associate with safety, comfort, relaxation, and luxury – in every corner of the venue. Targeted solutions and strategies should help compete with newer hotels in the short-term, and ensure brand loyalty among key demographics in the long-term.
HotelExecutive retains the copyright to the articles published in the Hotel Business Review. Articles cannot be republished without prior written consent by HotelExecutive.