The Planogram: Why Hotel Pantries and Gift Shops Can't Succeed Without One
By Janine Roberts Director of Sales and Marketing, Tradavo | February 06, 2011
One of the biggest challenges I see in hotel pantries and gift shops is that the people who are responsible for making it succeed have little to no retail experience. They are excellent at booking rooms, meeting the needs of guests, managing teams and budgets, but when I ask them how they went about selecting the pantry assortment they offer, they quickly confess that it is arbitrary at best: a combination of brand standards, sourcing availability, and whatever they were hungry for that day as they shopped the aisles of Costco.
I use to ask to see the planogram for the store upon arriving for an evaluation and quickly discovered that no one was using them. Actually – to my surprise – very few even knew what a planogram was! That is when I realized that if managers were going to be successful at increasing revenue and profitability in their pantries and gift shops, we would have to go back to the basics of retail and treat the hotel pantry like a true retail operation – rather than a guest amenity.
A planogram is a schematic drawing of shelves and fixtures that allows retailers to make optimal use of available shelf-space in a retail store. These drawings are custom sized to the exact dimensions of the individual store and provide a number of retail benefits including assortment selection, merchandising improvements, and sustainability of those merchandising efforts by both the property and area directors.
There is no where that a planogram is more essential than in a hotel pantry or gift shop where managers are often working with limited shelving space and haphazard fixture solutions. An effectively designed planogram will utilize every inch of the available shelf space and help managers sustain correct merchandising by providing a visual illustration of where each product facing should be in the event of out of stocks. Product placement and improved sales are just two very basic reasons a retailer should be implementing planograms in their shops. Planograms provide many other positive benefits as well: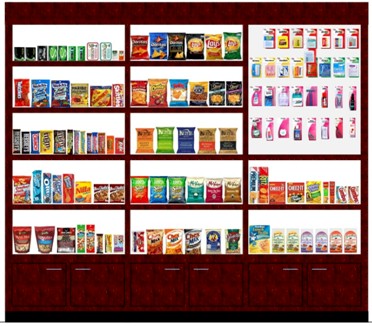 Assigned selling potential to every square foot of space. A hotel pantry or gift shop is utilizing valuable real estate in your lobby. It is important to maximize every inch of that used space to increase Sales Per Occupied Room and overall profits. Empty shelves and underutilized spaces are money left on the table! Make the most of every inch of your pantry by planning the layout of product to make use of all space available.
Be sure to use a shelf management system to best achieve this. A spring loaded, shelf organizer fits directly onto your existing shelf space and allows all products to be merchandised vertically rather than horizontally. This turns 24" of shelving space into an assortment of 12-14 candy bars as opposed to 4-5 candy bars when merchandised horizontally. It keeps products neat and organized at all times and keeps the pantry shelves looking full down to the last facing within a row.