Variations in Eco-Friendly Practices
By Lawrence Adams Principal, ForrestPerkins | December 01, 2013
As the green movement in the hotel and resort industry continues to blossom, we now find a variety of hotel types that are embracing environmental sustainability in order to reap the substantial benefits that come with it. Those benefits are sometimes summed up with the term "Triple Bottom Line" which, according to EcoGreenHotel, refers to Social Responsibility, Environmental Stewardship and Economic Prosperity; or the three Ps - People, Planet and Profits. A hotel designed and operated with sustainable environmental principles is healthy for staff, guests and the community; conserves energy, water and natural resources; and is more profitable by saving energy costs, reducing water consumption and attracting a growing segment of environmentally concerned travelers.
In Hotel Design, Planning and Development, which I coauthored with Richard Penner and Stephani Robson, we identified 35 different types and subtypes of hotels and resorts, not including hybrids and sub-subtypes, which are too numerous to count. Among the types included were downtown business and leisure hotels, airport hotels, desert resorts, multi-branded hotels, convention hotels, country inns, casino hotels and golf resorts.
In this article we will explore a variety of hotel types that have environmental responsibility as a hallmark and delve into the unique challenges and opportunities that relate to their typology in achieving their environmental goals.
Conference Center Hotels/University Hotels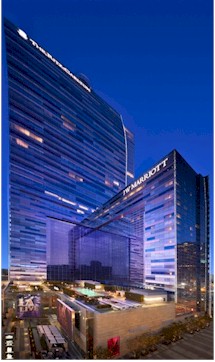 The Marriott Inn & Conference Center at the University of Maryland in College Park, Maryland became the first hotel to apply for Leadership in Energy and Environmental Design (LEED) certification from the US Green Building Council (USGBC) in 2001 and was the first to be LEED certified hotel in 2005 under the full NC 2.0 version. The hotel serves two primary markets as both a University Hotel and a Conference Center Hotel. With 40,000 square feet of meeting space the hotel is a member of the Green Meeting Industry Council and follows the US Environmental Protection Agency's Blue Green Meetings guidelines. In addition to the hotel's substantial investments in energy management systems, water conservation and a high performance building envelope; the sustainable features relating to its conference center include 100% recycled note pads, pens from recycled materials, locally grown produce, food waste composting, CO2 sensors in meeting rooms, purified water stations in break areas and offering shade grown fair trade coffee. The hotel also works closely with the University of Maryland with its robust efforts to reduce its carbon footprint through its Climate Action Plan and along with the hotel, is a member of the American College and University Presidents' Climate Commitment).
Roadside Hotels and Motels