Amenity Design - Evolution or Obsolescence
By Eric Rahe Principal, BLT Architects | August 24, 2014
Guests are back even if rate is not. New construction in select markets has returned and significant renovations are occurring across all asset types. With each new cycle there is a need to refresh current amenities and at the same time incorporate changes to make amenities relevant and appealing to your guests. One challenge for operators and designers is how to understand how recent lifestyle and demand shifts are driving change.
According to Trip Advisor's 2014 Trip Barometer report, 77 percent of guests say that amenities are important to them when booking a hotel. In contrast, in the same survey only a quarter of hoteliers surveyed believed that amenities offered have an impact on bookings. This potential misreading of demand showcases an additional challenge that hotel owners and operators face as they strive to design amenities that guests want while balancing the demands of their renovation budgets.
Hotel amenities vary widely depending on the type of property, the location, the target consumer and the return. Consequently, identifying trends across the industry can be difficult. For every owner who wants to convert guestrooms to meeting rooms, there is another who can make the business case for converting a conference room into a fitness and wellness space. Additionally, while some amenities are considered non-revenue producing but necessary to fill rooms, other hotels have crafted amenities that draw not only new guests but local residents to their property.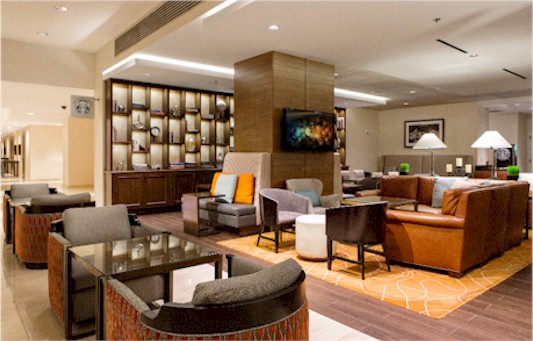 MarriottNewark Lobby Lounge
Room refreshes featuring a custom boutique interior, mixed-use reception and social lobbies, smaller flexible meeting rooms, and in urban markets, signature restaurants featuring celebrity, at least local, chefs are all trends being incorporated into the current renovation cycle. Each of these amenities alone is a subject for discussion. But this article will focus on how changing attitudes toward work and wellness are affecting hotel amenity design and, in particular, how business centers, spas, pools and fitness centers are changing and, in the case of at least one amenity, may be evolving toward obsolescence.
Business Centers