The Battle for Social Dominance
By Janet Gerhard Founder, Hospitality Gal, LLC | January 17, 2016
Over the last several years, we've all been witness to or participated in the awkward transition of building a social business. Most brands participate in all the major social sites: It's comparative to how the average traveler has memberships in multiple hotel loyalty programs. Some brands seem to favor one channel over others and their approaches differ slightly, e.g., more visual images versus more promotional. It's difficult for any brand to claim excellence in a landscape that is constantly shifting.
Who is More Effective on the Social Battlefield?
According to Seventh Art Media, five years ago the most valuable hotel Twitter account was @Cosmopolitan_lv with 9.3k followers. Today, this single operation sits at 423k followers with a mere 1.7k likes. I've updated the top 20 list with January 2016 comparisons but are the numbers any more meaningful?
Evaluating Seventh Art Media's Top 20 Hotel Twitter Accounts by Valuation from the Tnooz piece published on February 24, 2011 against today's numbers provides a glimpse into just how much the landscape has changed.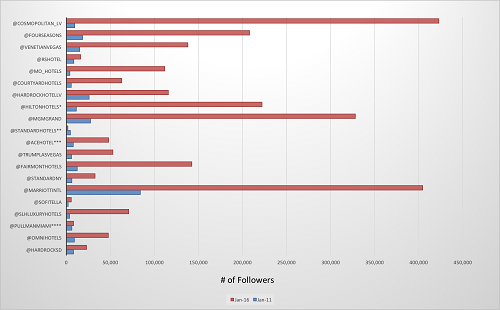 In 2011, the Twitter account for Hilton used was @HiltonOnline. Today, it has 339 followers as it was phased out to @HiltonHotels. The original @StanDarde has been replaced with @StandardHotels. @TheAceHotel swapped out to @AceHotel and the @sofitelMiami is now the @PullmanMiami.