The Rise of Hotel Opportunities in Argentina
By Arturo Garcia Rosa President & Founder, SAHIC South America and SAHIC Cuba | July 23, 2017
Co-authored by Elizabeth Karakachian, Marketing Co-ordinator, LHL Communications
Though Argentina has always sparked interest from investors around the world, some of the economic measures and political scandals related to the party that held the power for a decade (until December 2015) did not represent the best scenario for international investment. The more recent election of President Mauricio Macri, undoubtedly represents an important task of rebuilding the Argentinian economy and restoring its international credibility. Macri, already in his short stint thus far as president, has partially succeed with inroads here, and as such has been given the honor to host the World Trade Organization meeting in December 2017 along with the G20 Summit in 2018. Both events will be held in Buenos Aires.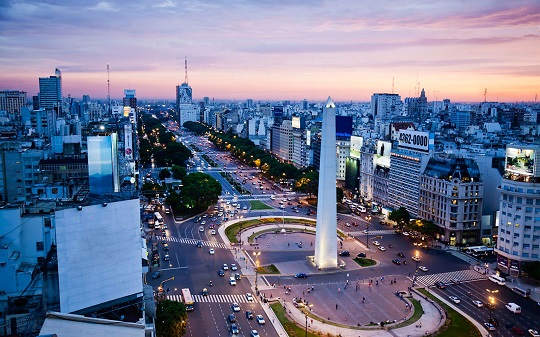 South America ranks as the fourth largest travel destination in the world according to Statista. With an increasing interest from international travelers, the countries in this continent have come a long way with regard to infrastructure, hospitality, and tourism development (among other criteria) in recent years. Most notable of the South American countries is Argentina, which currently is the most visited Spanish-speaking country in South America (World Economic Forum April 2017).
Argentina has strengthened its destination promotion presence around the world by focusing marketing campaigns to build awareness around the great landscapes and experiences that it offers to travelers. The country's national carrier, Aerolineas Argentinas, continues to expand airlift by adding inbound flights from the United States and Europe. Argentina strives to lead the South American travel industry by developing new hotels and other hospitality-related facilities.
In addition to its economic measures, which (among others) led to settle the country´s multi-billion-dollar debt and aid in the foreign exchange conflicts by favoring free trade deals with the United States, Argentina The country has also shown great effort in pursuing transparency, -- clearly showing its commitment to regaining the confidence of the international markets. Experts have now started to consider Argentina a frontier market. This title gives the country a competitive advantage with international investors as they see potential within such markets. While frontier destinations may have higher risks because they are emerging markets, the potential return on investment is also quite strong.