The Adelphi Hotel and the Social Role of Historic Buildings
By John Tess President & CEO, Heritage Consulting Group | June 14, 2020
Over the past several years, older commercial districts across the country have benefitted from a renewed importance placed by the consumer in quality places with rich character. Current market trends reflect this increased enthusiasm for flexible and charming spaces, and historic buildings and downtowns are experiencing a renaissance in reinvestment. Shifting social and demographic forces, spearheaded by a younger consumer base, have contributed to this surge in downtown revitalization.
As the consumer base places greater value in community enrichment and the authenticity of place, reinvestment in downtown historic buildings increases. Humans are social creatures by nature, and continually long for connection, whether it be in people, or even in places. In the case of historic hotels in these traditional downtowns, the opportunity presents itself to fulfill both.
As a social space, historic downtown hotels can boost their bottom line, both directly by hosting events such as weddings or parties, and indirectly through posts and reviews on social media. As the marketplace continues to favor unique and authentic experiences, the onus is on hotels to facilitate experiences which guests will not only remember fondly, but tell their friends and family about as well.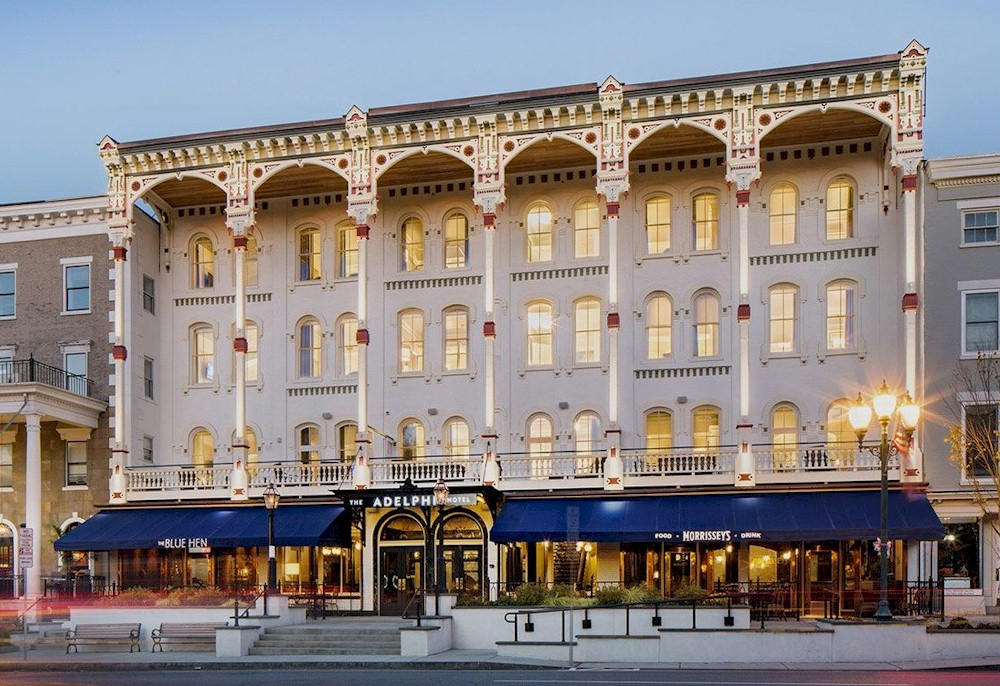 The Adelphi Hotel, Saratoga Springs, New York
From the beginning, Saratoga Springs was designed as a resort city, with the first hotels in the city servicing vacationers seeking rejuvenation in the local mineral springs. Seasonal tourism through the city grew exponentially when thoroughbred horse racing was introduced to the area in the 1860s. Broadway, the principal thoroughfare of the city, includes many of Saratoga Springs' most important public and private buildings. The commercial center of the city, Broadway's architecture has remained mostly intact, harkening back to the city's Victorian heyday.