The Adelphi Hotel and the Social Role of Historic Buildings
By John Tess President & CEO, Heritage Consulting Group | June 14, 2020
Over the past several years, older commercial districts across the country have benefitted from a renewed importance placed by the consumer in quality places with rich character. Current market trends reflect this increased enthusiasm for flexible and charming spaces, and historic buildings and downtowns are experiencing a renaissance in reinvestment. Shifting social and demographic forces, spearheaded by a younger consumer base, have contributed to this surge in downtown revitalization.
As the consumer base places greater value in community enrichment and the authenticity of place, reinvestment in downtown historic buildings increases. Humans are social creatures by nature, and continually long for connection, whether it be in people, or even in places. In the case of historic hotels in these traditional downtowns, the opportunity presents itself to fulfill both.
As a social space, historic downtown hotels can boost their bottom line, both directly by hosting events such as weddings or parties, and indirectly through posts and reviews on social media. As the marketplace continues to favor unique and authentic experiences, the onus is on hotels to facilitate experiences which guests will not only remember fondly, but tell their friends and family about as well.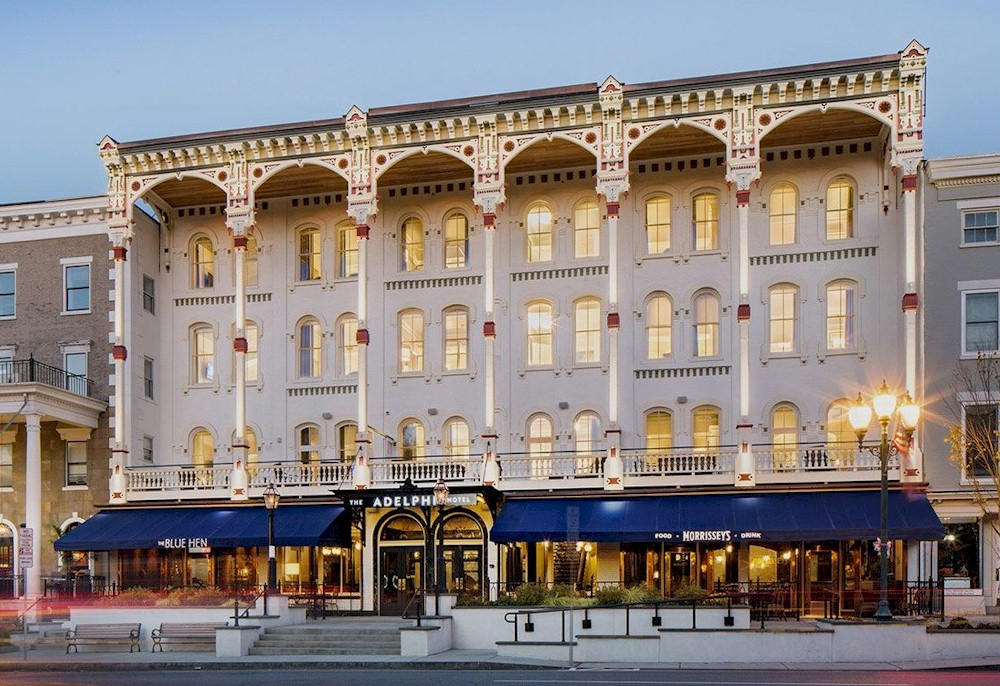 The Adelphi Hotel, Saratoga Springs, New York
From the beginning, Saratoga Springs was designed as a resort city, with the first hotels in the city servicing vacationers seeking rejuvenation in the local mineral springs. Seasonal tourism through the city grew exponentially when thoroughbred horse racing was introduced to the area in the 1860s. Broadway, the principal thoroughfare of the city, includes many of Saratoga Springs' most important public and private buildings. The commercial center of the city, Broadway's architecture has remained mostly intact, harkening back to the city's Victorian heyday.
Located on Broadway in downtown Saratoga Springs' Broadway Historic District, the Adelphi Hotel is a four-story Italianate-style 39,375 square foot hotel built in the off-season 1877. The hotel, which was a favorite destination of local horse-racing mogul John Morrissey, is one of the last surviving examples of the typical Saratoga Springs hotel from the resort town's zenith in the late-19th century. The building is known for its "Saratoga porch" of slender-columns and open-spandrels, which faces Broadway and spans from the second floor to the fourth floor, providing guests with a space to gather and socialize.
The Adelphi serviced guests year-round, as opposed to other hotels at the time, which closed during the off-season. Despite being smaller in scale and opulence compared to neighboring hotels at the time, the Adelphi Hotel was highly regarded by guests for its comfortable and excellent accommodations.
In 2012, the Adelphi Hotel was closed for rehabilitation conducted by Adelphi Hotel Partners LLC, the owner of the building. What was initially planned as an eight-month rehabilitation ended up spanning five years, with the hotel re-opening its doors in 2017. As Adelphi Hotel Partners LLC learned, rehabilitating a 140-year-old building entails more than just upgrades. Instead, the process is a top-to-bottom renovation which requires dedicated historical research and attention to detail. The resulting product is a building which provides modern comfort in a setting which is firmly rooted in its historic character.
The vision for this historic building was to create an upscale (but not ostentatious) environment which not only serves as a hotel, but as a social space. In recent years, Saratoga Springs has witnessed a substantial increase in luxury goods and services, driven by a burgeoning tourism industry. While racing season still plays a large role in the tourism traffic through town, the newly-renovated Adelphi Hotel is designed to service not only guests drawn in by the seasonal attractions, but also from motorists passing through, meetings amongst businesspeople, and even local residents in for a "staycation."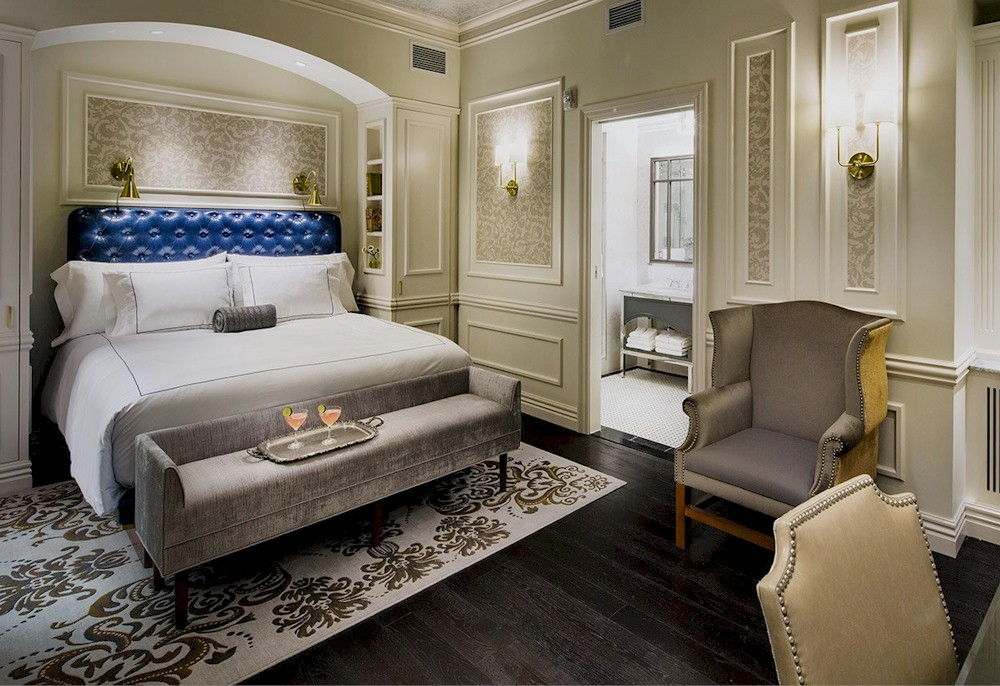 Bedroom suite at the Adelphi Hotel
While great consideration was taken towards providing comforts such as oversized tubs and heated floors, mirrors, towel racks, and toilet seats, Adelphi Hotel Partners LLC was also sought to embrace and showcase the building's historic character by placing in each room a relic from the old Adelphi Hotel, whether it be a period-specific book or some other item from the late 19th and early 20th centuries.
Traditional downtown commercial centers were places where people could meet over food, drinks, business, recreation, or shopping. In the present day, these downtowns have continued providing goods and services, but have striven to turn the mundane stopover into an extraordinary social experience. The Adelphi Hotel is no exception, providing two full-service restaurants in Salt and Char and The Blue Hen. Salt and Char, a steakhouse, occupies the ground floor of the neighboring Rip Van Dam Hotel and features year-round lunch and dinner eating on its fine, 19th century porch. The Blue Hen is located in the historic Adelphi, just behind the hotel lobby, and serves breakfast and dinner. A cocktail lounge located at street level is named Morrissey's in homage to John Morrissey, who brought Thoroughbred racing to Saratoga Springs in 1863.
In keeping with the vision of the Adelphi Hotel as a social destination, event space has been incorporated into the hotel, and can be used for a range of functions ranging from private parties to weddings. For those looking for a quieter rendezvous, there is the second floor "Library," replete with vintage books and seating of leather and velvet. The "Saratoga porch," an outdoor amenity space for the adjacent rooms, provides guests with a view of the hullabaloo of Broadway, and an opportunity to people-watch while they read or play board games.
At the lobby, one can recognize the concerted endeavor by Adelphi Hotel Partners LLC to replicate the vintage feel of the place, with all the trappings of a modern hotel. Placed in prominent positions throughout the lobby are replicas of original furniture, some of which have been updated with electric charging ports. At the small tables that dot the space, additional food and drink services are available. The mahogany staircase, a centerpiece of the original lobby, was removed, meticulously restored, and carefully reinstalled.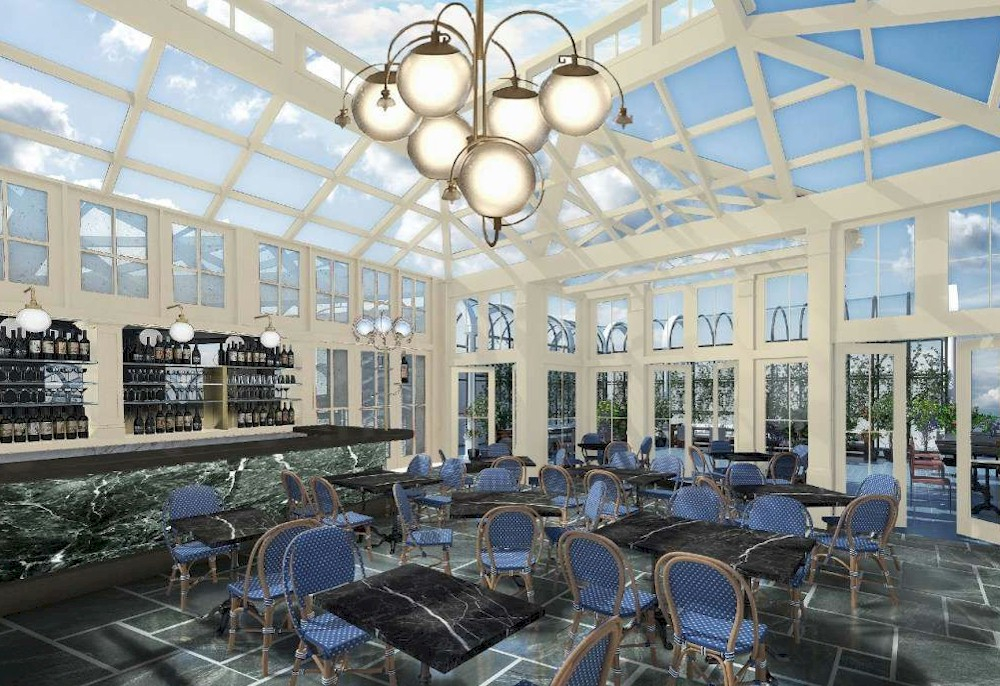 Dining at the Adelphi Hotel
Great care was taken to ensure that the Adelphi Hotel, a local landmark, continues to embody the spirit of the resort town heyday of Saratoga Springs. At the exterior, little has changed about the Adelphi Hotel, a reassurance for locals used to the presence of the longtime Saratoga Springs accoutrement. The Adelphi Hotel Partners, LLC, ever mindful of residents, also offerings a "hometown discount" for Saratogans seeking a weekend getaway.
The rehabilitation efforts have allowed the Adelphi Hotel to offer travelers a unique, luxurious experience, encased in a vintage atmosphere. The period-appropriate exterior and interior design can be appreciated by the layman and history aficionado alike, and the modern finishes and furnishings provide 21st century comforts in a 19th century building.
In the current market, driven by a population of millennials 83 million strong, there is a trend towards unique experiences and local flavors. Almost every aspect of a vacation is tailored towards connecting people to place. Historic downtown commercial districts, replete with boutique shops, restaurants, and hotels, have benefitted strongly from this trend. Hungry for collective social experiences, as opposed to individual activities, this new tourist demographic is the ideal target for cities like Saratoga Springs.
With modern technologies and conveniences installed in a 143-year-old building centrally located in downtown Saratoga Springs, the Adelphi Hotel achieves several objectives of this new target demographic: location, modernity, and authenticity. As equally important, all the work accomplished by Adelphi Hotel Partners LLC was approved by the National Park Service as meeting the Secretary of Interior's Standards for Rehabilitation. This allowed the investors to capture 20% of rehabilitation costs in the form of a federal historic tax credit which in New York State and many other states can be combined with a state historic tax credit.
Key renovation work included repainting the façade, repair and in-kind replacement of historic windows, and retention of historically appropriate entrances. Existing features including the canopy and marquee lights were repaired and restored, and new restaurant spaces were created. The prominent veranda known as the "Saratoga porch" was retained and serves as an amenity space for the adjacent rooms.
By incorporating spaces and amenities which facilitate social activity and provide unforgettable experiences, historic downtown hotels can positively impact their revenue stream through social media and word of mouth. Guests craving an authentic experience will undoubtedly pay for a room or venue in a hotel which can tastefully combine modern comforts and amenities with historic character.
The Adelphi Hotel embodies an elegant blend of historic and modern, embracing and showcasing the best of both worlds. It serves as a centerpiece of the Broadway Historic District, and as a destination which provides locals and tourists alike with more than just a bed to sleep in or a table to eat at. Rather, the Adelphi Hotel is a space which provides a unique social experience for all who enter. As the trend towards local flavors and uniqueness of place continues, we hope that more downtown hotels will follow the example set by the Adelphi Hotel.
HotelExecutive retains the copyright to the articles published in the Hotel Business Review. Articles cannot be republished without prior written consent by HotelExecutive.