How Hotels and Businesses Are Catering to The Next Generation of Business Travelers
By Miguel Diaz Area Director of Sales & Marketing, Wyndham Hotels & Resorts | September 2022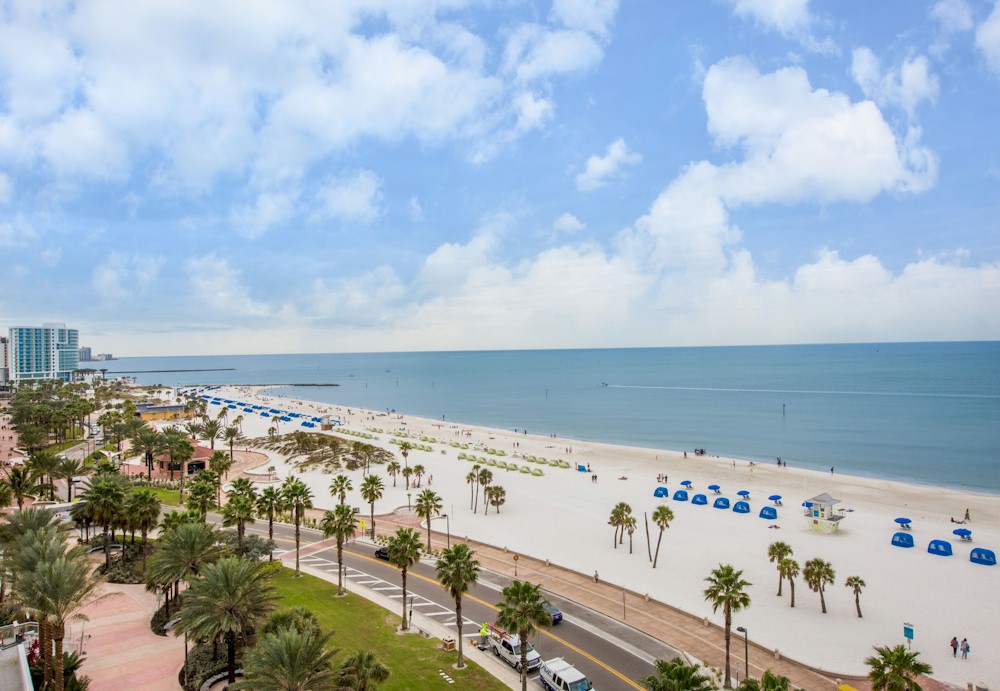 As business travel and conferences continue to pick up momentum following a nearly two-year hiatus, host hotels must be flexible and creative as they strive to meet the needs of 2022's corporate travelers.
Simultaneously, as we enter the third calendar year of the pandemic, many employers are faced with the following question: how do we retain our top talent?
Thanks to Zoom-induced burnout and work/ life boundaries becoming increasingly blurred, many companies are learning that enticing incentives are necessary to keep employees engaged, motivated and frankly, on staff. Among these incentives include travel benefits, which often present employees with the opportunity to extend their stays and weave leisure activities into their business trip itineraries.
It's no longer about the millennial traveler extending a city break following a business trip in London - business travel now takes on many forms. Nadiya Makarenko, Senior Vice President of Travel Edge Network, reports this trend is extending beyond business travelers to include their loved ones. Whether it be an entry-level employee bringing their significant other along to a conference, or a C-Suite executive taking the entire family to a week-long seminar, it's not surprising that business travelers are more inclined than ever to leverage "work perks" by inviting their loved ones to join – particularly those that take place in warm destinations with a wide-range of attractions, like the vibrant Clearwater/ St. Petersburg area.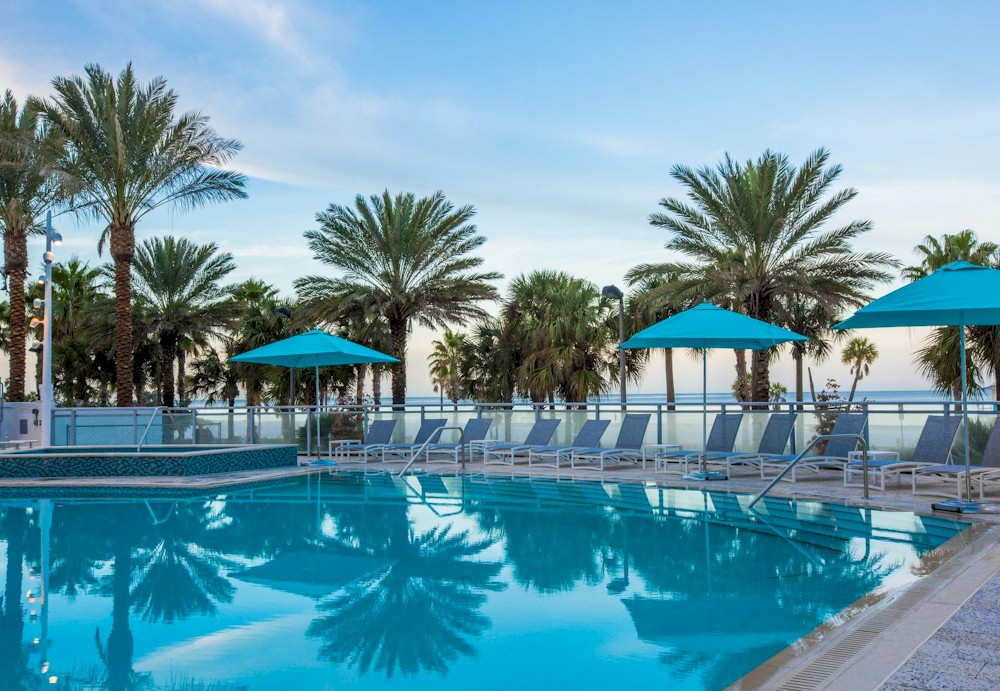 The Pool at Wyndham Grand Clearwater Beach Provides Business Travelers with a Respite
Makarenko also notes that families are especially interested in mixing business with leisure as a way to reconnect after years apart, and now more than ever require varied offerings to meet their new long-stay travel needs. With 343 modern, well-appointed guest rooms, most with terraces and balconies sporting spectacular views of the nearby Intracoastal or the crystal waters of the Gulf of Mexico, Wyndham Grand Clearwater Beach is the ultimate setting for an extended-stay bleisure trip for meeting attendees and their families. Rooms provide the ultimate in relaxation and comfort, with Plush BeWell bedding, high-speed internet access, and 50" HD flat-screen TVs with premium cable. Other amenities include a heated outdoor pool, sauna overlooking the Gulf of Mexico, beach chairs and an umbrella.
Thanks to year-round warm weather, we were able to leverage our location throughout the pandemic by working with meeting planners to create small team building experiences in outdoor settings. Planners are keen to take advantage of outdoor event space as it allows attendees to comfortably spread out and keep a safe social distance, enjoy the fresh air and serene views, and soak in the natural benefits from Florida's sunshine. We also have several event spaces offering terraces, which remain incredibly popular for corporate events.
Our pool deck and the outdoor lanai at our signature four-diamond Asian-fusion restaurant, Ocean Hai allow guests to enjoy the resort in a safe, open-air setting. Another draw for meeting planners is our ballroom, which is the largest in the destination, accommodating gatherings of up to 700 people. Our prime location steps away from one of America's top beaches with sugar-white sand and crystal blue water, and easy access to many outdoor activities including the marina across the street offering boat tours, jet skiing, dinner cruises, and more allow for a variety of outdoor activities to complement any meeting.
Open Air Breeze Way at the Wyndham Grand Clearwater Beach
Maintaining wellness routines is another important pillar of corporate travel. Our Pallavi Luxury Spa is the ideal place to rejuvenate after a day of meetings and we have more corporate groups incorporating these services into their itineraries. Drawing on the healing powers of water and earth, our expert therapists deliver healing and result-oriented treatments for the mind and body. The space features Chroma therapy experience showers, eucalyptus steam rooms, and a luxurious relaxation lounge as well as extended treatment times that allow for guests to fully unwind and immerse in relaxation.
Additionally, we offer Salt Therapy treatments designed to heal the respiratory system, soothe skin conditions, and even balance chakra energies. We recently unveiled a new vitality drink menu, which includes refreshing beverages infused with collagen, adaptogens, and other herbal infusions to support optimal health from the inside out. Groups can book spa services for team building or incentives, and attendees can take advantage of these offerings during their leisure time.
Equipped with a state-of-the-art 24/7 fitness center overlooking the Gulf, attendees often enjoy a morning run or evening stretch to stay active. We offer yoga on our pool deck at select times and planners even have the option to schedule a personal trainer for a customizable group fitness retreat through our partnership with 1Team Fitness. This unique partnership has grown over the last two years as we increase our health and wellness offerings at the resort. 1Team Fitness offers group sessions for all levels and can incorporate everything from kayaking, biking, beach boot camps, HIIT classes, resistance training, cardio blast, boxing, interval training, and more. Adding a one-hour session, half or full-day retreat to a meeting gets attendees re-energized and motivated.
Additional wellness initiatives include a new vegetarian menu at our signature restaurant, Ocean Hai. The global fusion menu features starters, soups and salad and entrees, which include crispy brussel sprouts, Thai coconut soup and crispy tofu lo mein. Plant-based offerings are also available at DocK's Poolside Bar and Grill and our lobby bar, Eskapades, and planners have the option to incorporate these offerings into banquet menus. New for this year, we have added creative mocktails and calming beverages, enhanced with CBD or other adaptogens, as an alternative to alcoholic drinks. Our banquet menus are filled with fresh, local, ingredients, inspired by the Gulf coast that groups can feel good about. Local produce is incorporated into all buffet or plated dinner options. We offer highly customizable options to personalize events and accommodate dietary restrictions and preferences. In the past year, we have expanded our event menus to include more vegetarian, vegan, and gluten-free dishes.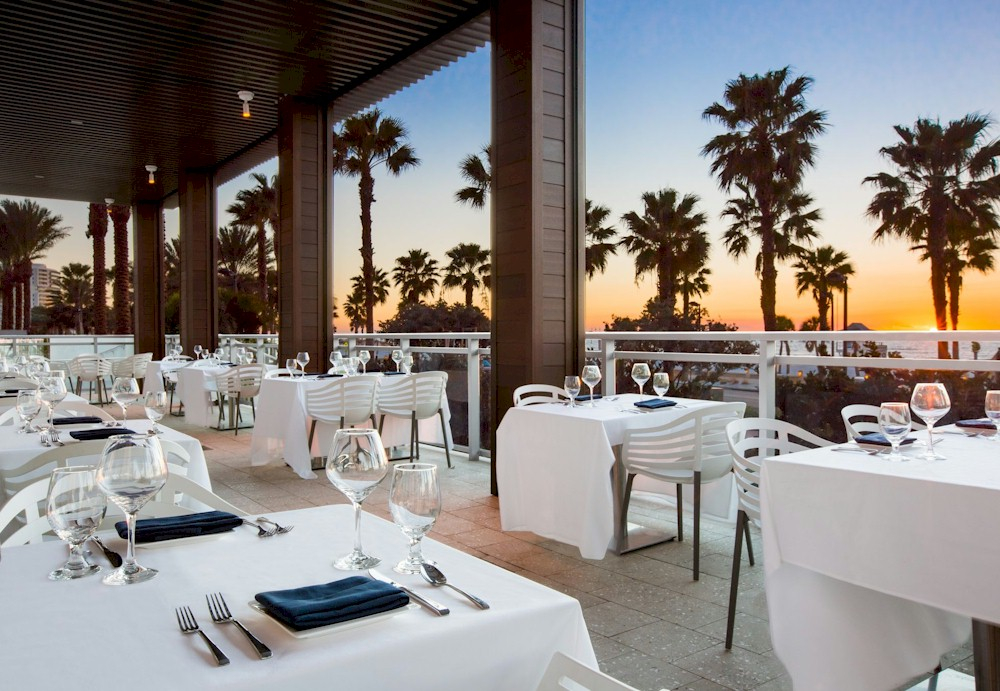 Ocean Hai Offers Al Fresco Dining with Ocean Views
When we first started welcoming groups again in late 2020, we incorporated additional processes into our standard banquet operations to ensure events were safe to attend and participate in. We worked with groups on socially distanced setups, serving buffets, and providing hand sanitizer stations in all meeting rooms as well as individual bottles at each setting in meeting room sets.
As we continue to embrace the "new normal," we are finding groups are comfortable with established banquet processes. On occasion, some programs will request social distancing. For example, a recent group had their annual conference here in May 2022 and asked what we could do for their reception instead of platters of crudite or charcuterie – we accommodated their request by offering individual servings of mini charcuterie boards.
They also requested boxed breakfast meals and that we service buffets. We provided a glove machine for enhanced sanitation. The client was very pleased with the flow and setup. We find that flexibility and personalization helps clients to feel comfortable and confident in booking with us.
We have been able to pivot to incorporate virtual attendees and speakers into the programs as well. Having this option helps planners feel assured booking with us, even if most people feel comfortable attending in person, it allows an alternative to have everyone join in some capacity or if they are unable to travel at the time of the event.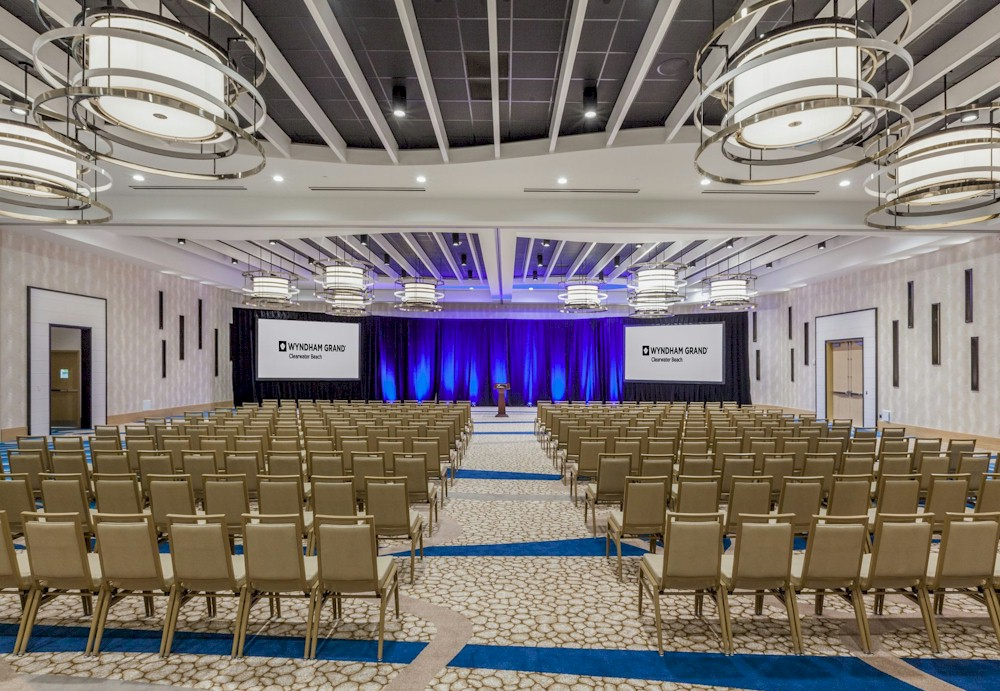 With Space to Accommodate 700 Guests, Wyndham Grand Clearwater Beach Boasts the Destination's Largest Ballroom
Offering engaging team-building and philanthropic experiences is another important element of keeping business travelers engaged. We are proud to partner with the nearby Clearwater Marine Aquarium, whose mission is to rescue marine animals, rehabilitate them from sickness or injury, and release them back into their natural habitats. We often work with meeting planners to coordinate philanthropic activities that support the aquarium's mission, which supports team-building and personal fulfillment.
The Clearwater Marine Aquarium is also a favorite among business travelers visiting the destination with their families. From educational presentations and hands-on animal care experiences to movie screenings and sea life safari boat tours, the aquarium offers a myriad of informative and inspirational experiences sure to keep the entire family entertained.
We encourage business travelers looking for a city ambiance to visit downtown St. Pete. A thirty-minute drive from the resort, the destination has a vibrant art scene and has been named one of the "Best Street Art Cities in the World." From colorful mural art to the acclaimed The Dalí Museum, there's something for every art aficionado to admire. The newly unveiled St. Pete Pier is another destination attraction featuring elevated culinary venues, a hands-on Discovery Center aimed at teaching families about Tampa's ecosystem, a splash pad, and a variety of spaces ideal for picnics and people watching. On the weekends, the Saturday Morning Market, and the Second Saturday ArtWalk draw are popular among residents and visitors alike.
Business travel is back – and business travelers' needs have evolved tremendously since 2019. To stay ahead of the curve and garner meeting planners' attention, hotels must remain diligent in their efforts to adapt their programming and capabilities to meet the needs of the modern business traveler.
Main Image: Situated Steps Away From the Celebrated Clearwater Beach, Wyndham Grand is a Business Traveler's Dream
HotelExecutive retains the copyright to the articles published in the Hotel Business Review. Articles cannot be republished without prior written consent by HotelExecutive.