How A Culture of Creativity Shapes Denver's 'Happy' Hotel
By Lizzie Raudenbush General Manager, The Curtis Hotel | November 2022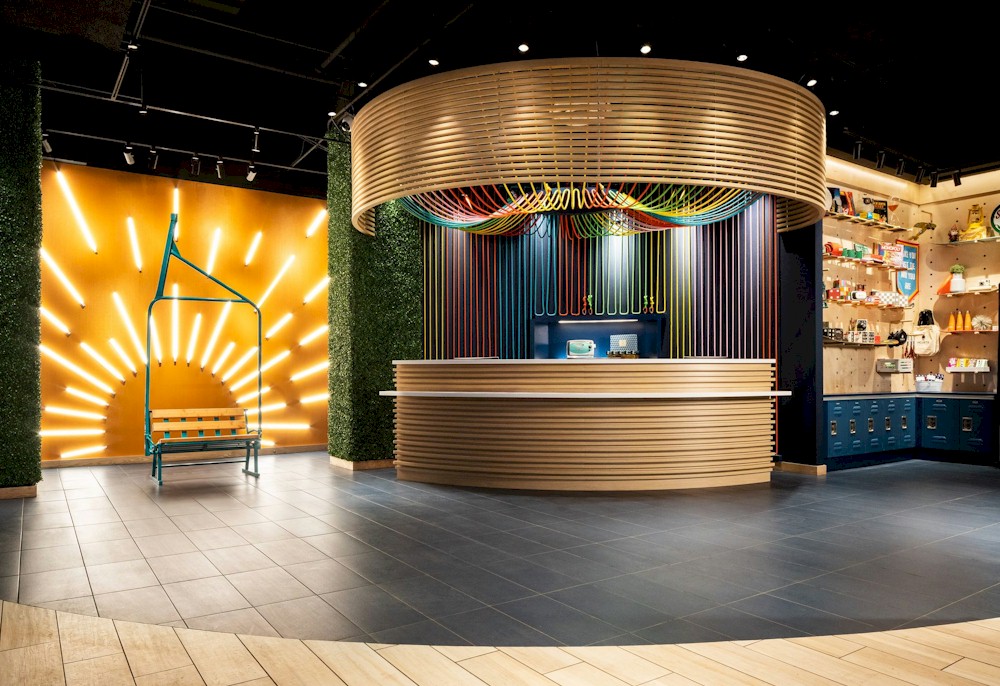 At The Curtis Hotel, we pride ourselves on being iconically happy.
Everything that we do boils down to a spirit of fun, personality and creativity.
I think that being located in the heart of Denver provides a unique buzz to our retro-chic lifestyle hotel that transfers through our 336 rooms and into our entire guest experience.
The Curtis is the passport to Denver's thriving art scene, live sports and downtown attractions. Our guests come from across the country for memorable getaways or from our own backyard for energizing and playful staycations. We want to ensure that The Curtis is a place where everyone feels welcome-whether visiting for fun, business, or something in between!
The best part of my job as Chief Happiness Officer at The Curtis is that I have an opportunity to instill playfulness in everything that we do – we're buttoned down, approachable, funny, inclusive and unpredictable at times – and I wouldn't have it any other way. The air of creativity carries through our many art installations, themed floors, camper parked in the middle of the lobby, and is even apparent when we on-board to the newest members of our Stay Happy squad as they join The Curtis team. I love that my job doesn't look the same each day. No two days are the same and it allows a sense of energy and positivity to continue flowing as we interact with guests and work to make their stay as comfortable and happy as possible. We have guests that travel from far and wide and every walk of life. At each guest's core, however, is a playful spirit and a desire to escape the mundane and unpack the unexpected.
I had a guest recently ask me if we were hiring because it looked like we were having so much fun, and in that moment, I knew that our energy and happiness translated directly into the guest's experience.  It speaks volumes to how The Curtis operates and interacts with guests.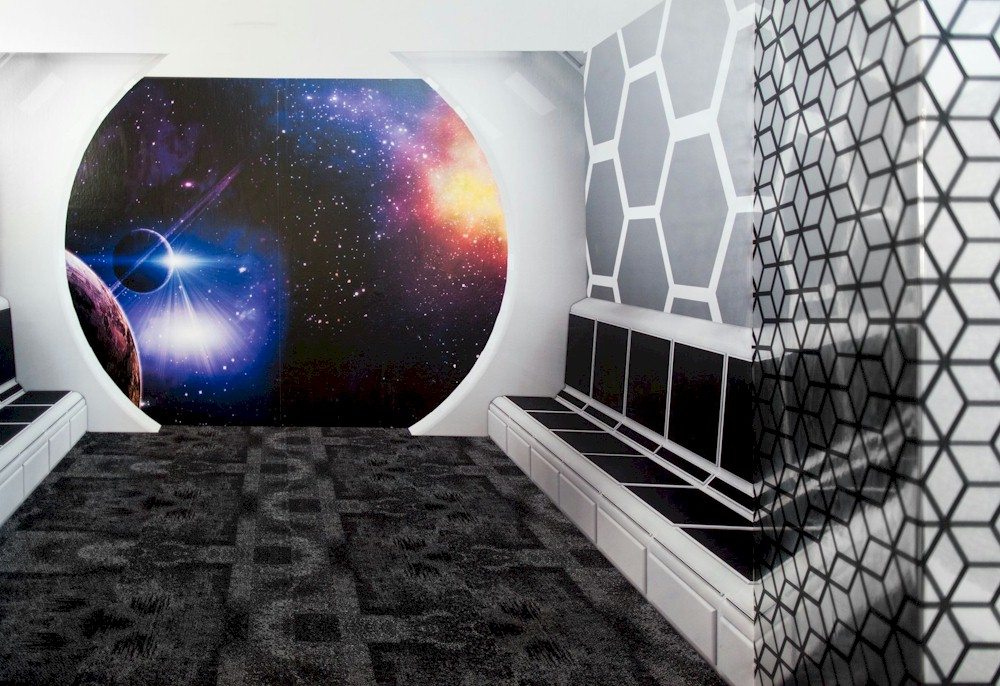 The Eighth Floor of The Curtis Hotel is Sci-Fi themed, with a Star Trek-inspired Hyper-themed room on the floor.
The Art of Travel
As travel continues to regain normal footing following the pandemic, we are seeing an increase in travelers searching for photo worthy and "instagrammable" experiences in addition to a comfortable place to stay with personal touches. Now more than ever, the options of places to stay on vacation are increasing exponentially and at The Curtis, we want to ensure a comfortable and convenient experience while also adding that extra bit of fun. We want to ensure our guests have a memorable and surprisingly incredible experience when they trust us with their vacation or business meeting.
We recently re-imagined The Curtis from within.
In 2019, we partnered with the architectural and design expertise of DLR Group to elevate the overall guest experience and achieve optimal functionality while providing guests with a distinct Curtis experience. The design updates to the lobby emphasize who we are and the joy with which we want guests to encounter our team, their stay and Denver as a whole. Prior to the lobby renovation, we also upgraded the design and practical components in our guest rooms, added flair to shared community spaces, and re-did 6,000 square feet of new indoor and outdoor event and meeting spaces. 
The Curtis was intentionally designed to amplify the overall guest experience with unique, vibrant and sensory design elements. From the interactive and playful lobby experience to the immersive hyper-themed suites and floors portraying iconic movies and television shows, the moment a guest walks into the lobby, they are transported to a pop-culture world with fun surprises in every nook and cranny.
With creative design infused in the bones of the hotel, we worked with some of the best artists local to Denver to create a vibrant, must-visit pop culture destination. Every wall is filled with eclectic artwork, unique sculptural design, and imaginative elements that scream fun.
An important aspect of The Curtis that sets us apart is our unique and robust art collection. Our downtown Denver hotel is home to an eclectic mix of artworks created by local Colorado and nationally renowned artists and we've partnered with primarily Denver-based artists to create unexpected, imaginative, humorous guest room and suite art that reflect each room's unique theme. Guests can enjoy a 42-foot tall sculpture as an ode to a Beatles song, a wall of toy jacks, countless murals and a larger-than-life check in desk.
We've collaborated with experts from Denver Pop Culture Con to the Colorado State University Library's Archives and Special Collections department to round out our collection. The results include bunny-eared sumo wrestlers, Star Trek action figures blown up to larger-than-life proportions, parachuting chocolates, Cher Barbie dolls and classic arcade games. In the Rolling Stones and Kiss suites, you'll even find historic rock and roll photography with Colorado ties.
Through our 13 themed floors and corresponding hyper-themed rooms, guests can choose to surround themselves with the unique art and design that The Curtis offers. Whether that's through a spooky walk through the horror-themed hall on the 13th floor or a stay in the video game suite, a stay at The Curtis Hotel is bound to be an experience that guests will be sure to remember.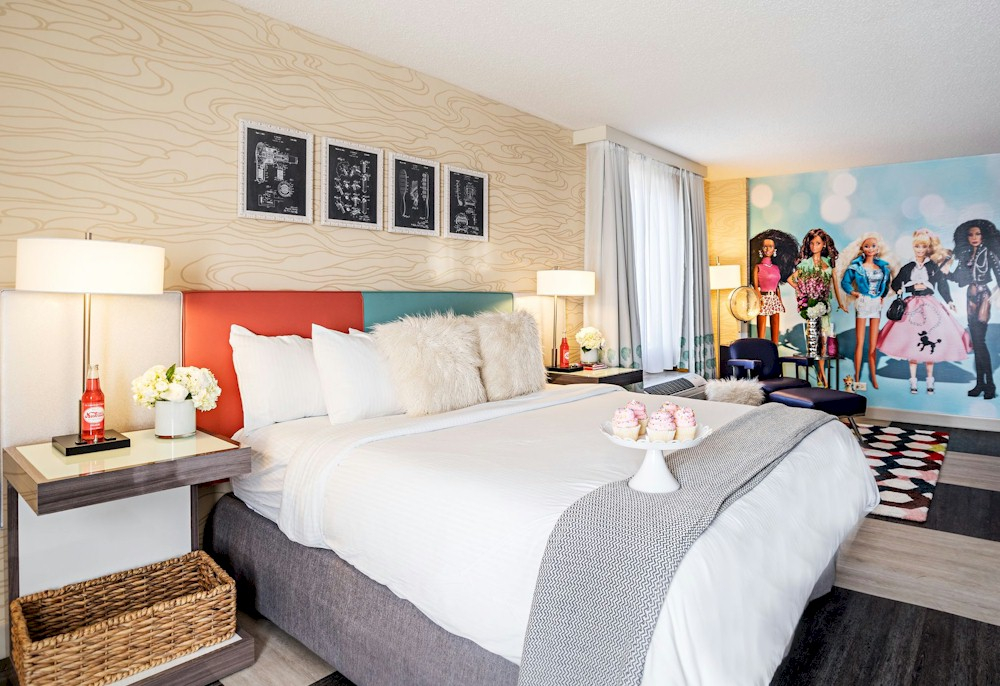 One of The Curtis Hotel's 13 hyper-themed rooms is Barbie-inspired!
Choose Your Own Adventure
To simply put it, The Curtis is unlike any hotel you've ever experienced. Once guests are checked into the property, they'll discover their room on one of our 13 themed floors, each with its own distinct art style, vibe and pop culture-inspired personality. From fun to energetic, nostalgic to just a little creepy, there's truly something for everyone. Whichever floor a guest lands on, they'll discover that "Stay Happy" isn't just our favorite maxim - it's a whole philosophy. 
In addition to our standard room offerings, our hyper-themed rooms are the true showpieces at our property. Whether you get to hang out with Marge Simpson and the Barbie crew, dance the night away in your own private disco pad, or kick back on our Floor of Champions, these interactive accommodations offer a whole new way to stay and play in the Mile High City.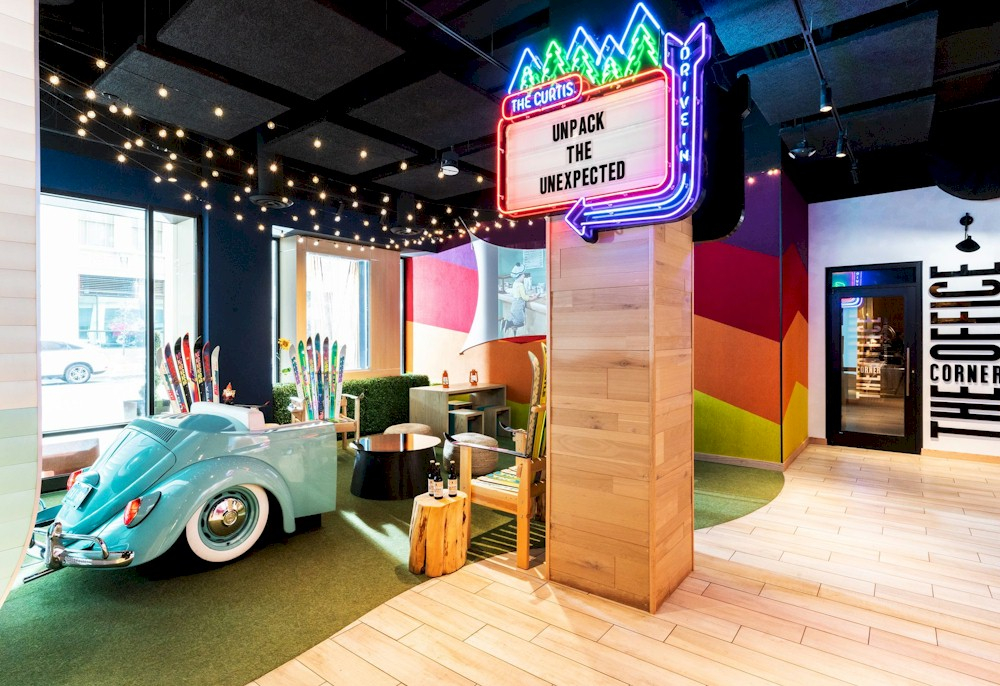 The Curtis Hotel invites guests from far and wide to experience the creativity woven throughout the hotel.
Extra-Special Days
Whether guests are just visiting The Curtis for a night or planning one of life's most memorable moments at our hotel, we want their experience to be one to remember. We offer several venue and event space options to ensure that those big (or small) celebrations are picture-perfect.
We invite guests to host their Denver wedding at downtown's coolest retro pop culture hotel! The Curtis has everything you need to celebrate your special day in signature style and start them in their journey towards wedded bliss. For modern brides seeking a unique downtown Denver wedding venue, it doesn't get any better than our creative event spaces and culinary artistry – all ideally located just across the street from the Denver Performing Arts Complex. Exchange vows outdoors on our Four Square Terrace, offering stunning Rocky Mountain and city views, and then dance the night away in one of our colorful event rooms. Whether they're dreaming of lavish, romantic reception for 100 people or a hip & trendy cocktail party for 300, the dedicated event staff at The Curtis will help design a personalized celebration sure to 'WOW' every guest on the list.
Additionally, we offer several adaptable event spaces for your next party, family reunion, business meeting or conference. We offer a terrace, three ballrooms, breakout room space and a pre-function room. The Curtis' unique design and character will liven up any gathering and make it one to remember!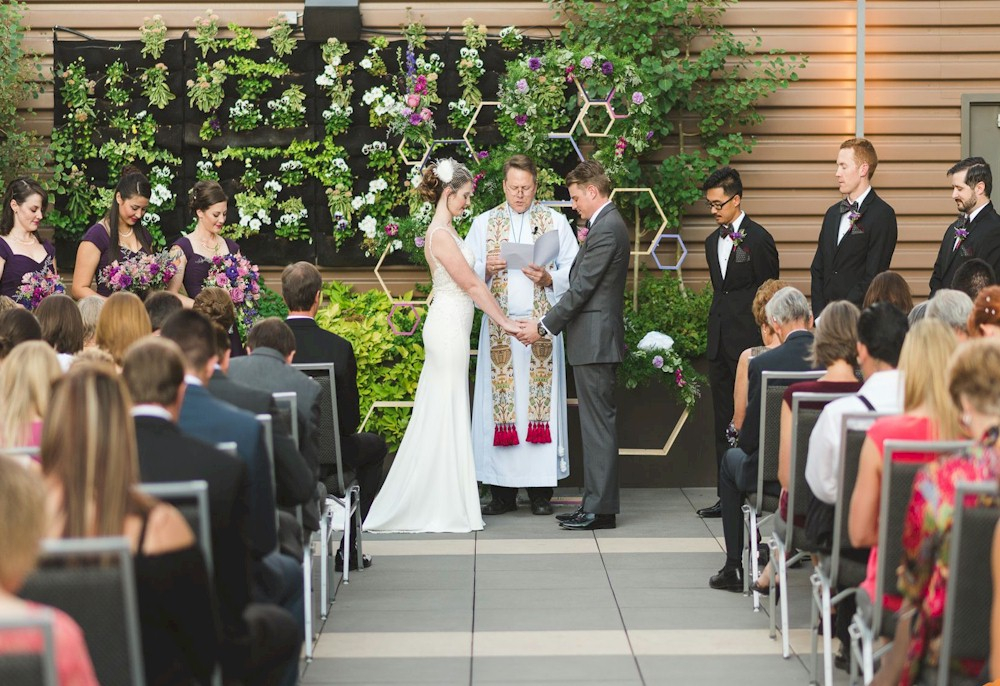 The Future of Hospitality
Looking to next year and beyond, people are longing for a new adventure and to make up for the time they were unable to experience new places and experiences. I believe it is the role of organizations within the hospitality industry to meet travelers in this feeling and go above and beyond to surprise and delight. While there are definitely minor roadblocks that hotels are facing, such as staffing levels and supply chain shortages, I am confident that the hospitality sector as a whole will come back stronger in the next two to three years, surpassing pre-pandemic levels. It is up to us and our hotel teams to continue creating the ultimate guest experience for everyone who walks through our doors.
And, as the world leans more and more digital, there is the mindset that hotels will begin to follow that with virtual check-ins, QR codes and other contactless touch points. I think we have a unique opportunity to continue to personally interact with and make a lasting impression on our guests. Even given the advances in technology, the root of our Stay Happy promise remains the same-to surprise and delight our guests in a way they can't find elsewhere and that keeps them coming back for years to come.
We are so excited for what 2023 will bring for the hospitality sector and for The Curtis Hotel. Each day, more and more possibilities open for us to share the iconic "happy" and creative spirit of our space.
Main Image: The Curtis Hotel shares creativity and fun with guests from the moment they step in the colorful lobby.
HotelExecutive retains the copyright to the articles published in the Hotel Business Review. Articles cannot be republished without prior written consent by HotelExecutive.