The Future of Personalization and Authenticity in Hotel Design
By Hannah Markham Associate & Design Director, Baskervill | November 2022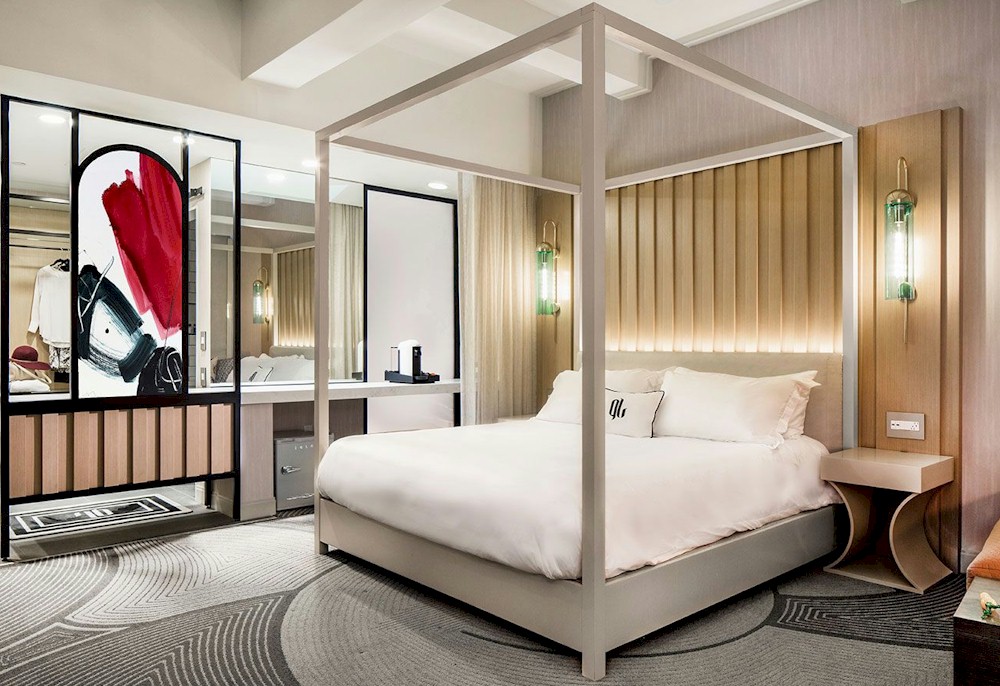 We've all heard the news: travel is back.
But after a long few years limiting the time spent outside of our homes, there's no doubt that the way people are looking to travel has changed.
With the high amounts of travel seen over the summer continuing into the holiday season, one guest staying in a sea of 200 hotel rooms still desires-and deserves-an experience all their own. The good news? Hospitality is an industry of constant transformation, powered by the challenge to keep up with how best to serve others in a rapidly changing world.
Architects and designers are working alongside owners and developers to bridge the gap between exciting and immersive new experiences and the creature comforts guests crave. Since customers are used to having every detail in their home altered specifically for their unique lifestyle, it's time to look at implementing personalization into hotel design for that added level of comfort. This approach will not only allow properties to stand out in a competitive booking market but will inevitably fuel guest loyalty in the long term.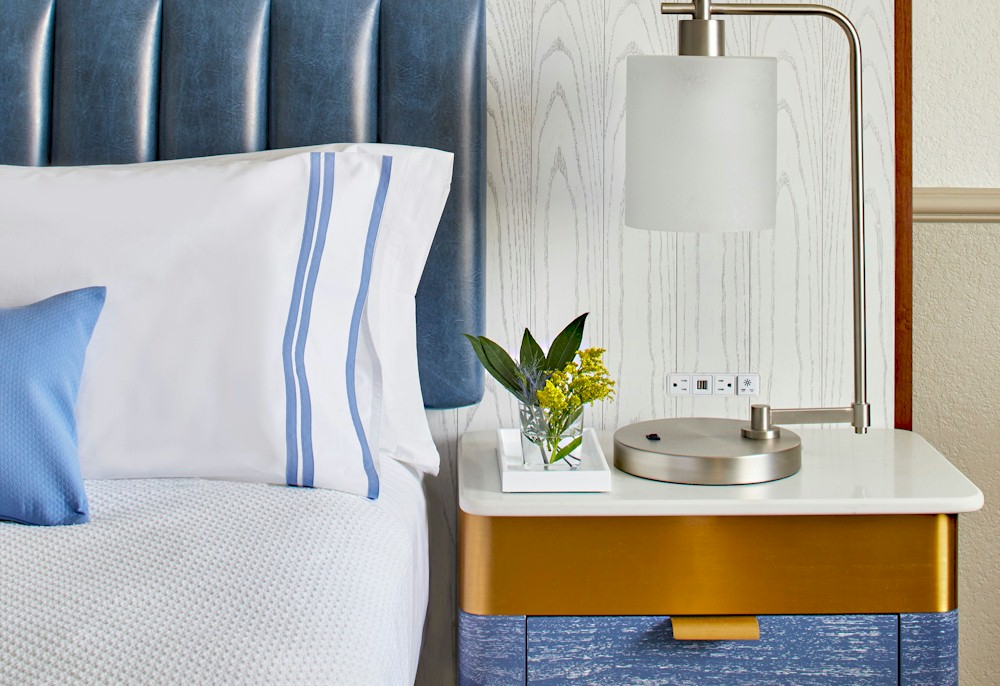 Intricate nautical details celebrate the brand story at Annapolis Waterfront Hotel, Autograph Collection while offering charge-ready portals for any device.
Personalizing to the Customer's Comforts
With modern-day luxuries able to be delivered to our doors, and home essentials as inexpensive and accessible as ever, there's no wonder that we're a houseproud population. And there's no sign of slowing down when it comes to improving our personal spaces. In fact, according to a 2022 study, 55% of Americans made a significant change to their home decor in 2020, with 71% planning to continue home adjustments in the near future. Some of the most coveted interior features respondents want to incorporate in their renovations include smart furniture (34%) and statement art (28%) – all of which are destined to be hand selected to suit the specific aesthetic and functional desires of the person who will use the items most.
With home customization on the rise, travelers are beginning to expect a similar level of comfort in their hotel rooms. But personalizing a hotel stay means more than just greeting your customers by name. Instead, guests desire the ability to fully adapt their space to their unique personal preferences. New technological advancements are being specifically designed to give patrons effortless and intuitive control over their stay to create the elevated 'home away from home' experience guests seek.
Imagine this: you wander back to your hotel room after a day of exploring a new city. When you reach your room, you're greeted with a touchless smart lock guestroom door that unlocks as you approach. After kicking off your shoes and connecting your favorite playlist to the room's speakers via Bluetooth, you signal the electronic door signage to light up red as a 'do not disturb' signal to housekeeping that you're in for the night. Sound nice? The future of hospitality is this, and more.
Inside the guestroom, operable window treatments that open and close with the push of a button at your bedside, immersive smart TVs, smart glass for adjustable privacy, lighting sensors that mimic your circadian rhythms, voice/mobile controls, and integrated sound machines are all purposefully incorporated to craft a truly personalized experience. Some spaces even offer customizable art, where the guest can choose the art on display in their room by way of an interactive screen – meaning visitors can go as far as bringing their favorite paintings on vacation with them. With rooms now thoughtfully considered for flexibility, long gone are the days when you had to hoist your nightstand away from the wall to find a simple duplex outlet.
Personalization opportunities can also be brought to life in smaller, more thoughtful details to soften the edges of the busy tech-forward life we all lead. Tactile details that offer guests the opportunity to unplug can look like something as simple as a tic-tac-toe board inlaid in the flexible work surface, or a balcony planned to accommodate coffee or cocktails and designed to optimize views.
Implementing these types of developments requires an even higher level of collaboration between disciplines during the design process to create an intuitive, immersive-but essentially invisible-experience.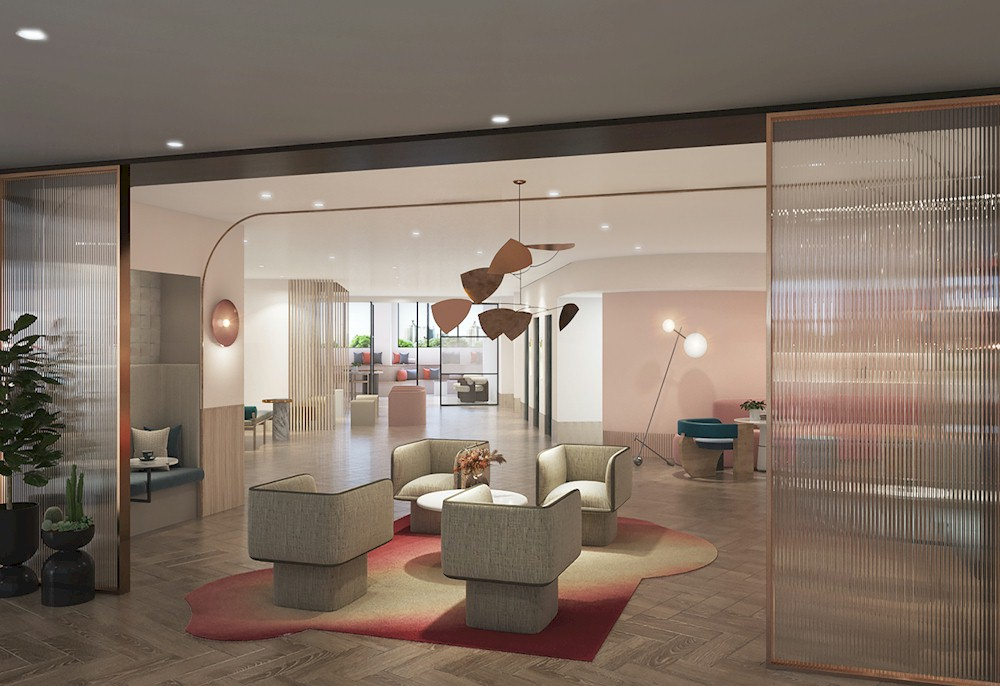 Custom-made furnishings and art from local artists compliment the Scandinavian-inspired design of the lobby at The Ven at Embassy Row, Washington, DC.
Personalizing the Public Space
Public spaces are an extension of the flexibility and intuitive nature of the guestroom, adapting to the guest's desire for more personalized experiences. Contactless check-in is no longer a luxury, but an expectation for many. Communal areas are responsive to the modality of guests' lives – furniture and fixtures need to support remote work, food and beverage service, and socializing all within the same footprint. A successful design transitions a guest seamlessly between the need for privacy and engaging in human connection.
With work more dynamic than ever, travelers are demanding an adaptable remote work experience that offers wireless charging, enhanced audio-visual connections, and ergonomic seating with manageable acoustics just steps away from comfortable furniture configured in conversational seating groups that say, "stay awhile and connect."
To make hotel spaces more attractive for multi-tasking visitors, some brands are integrating new offerings like communal gaming stations, podcast recording studios, and cozy libraries with book sharing. Others have added curated backdrops and moments designed for Instagram, inviting guests to engage with the property in their own way. With updated innovations implemented into every new design, the industry is constantly pivoting to answer the question: what will make guests feel most at home?
During the design process, owners frequently request considerations for amenities that give guests the experience of comfort – whether that be through elevated 'grab and go' food and beverage options or self-service, contactless checkout. But it's the intentionality behind these design decisions that guests digest as a 'personal touch'.
We recently worked on a family resort project where mobile check-in wasn't an option, so we personalized the reception experience by creating a special amenity nearby to entertain children within sight lines while parents/guardians were at the reception pods. Adaptability and personalization go hand-in-hand.
Spas, pools, and fitness centers are also following suit. In the fitness areas, we're seeing simple changes like eliminating the communal televisions to make way for personal device ledges where guests can display their own app-based fitness programs, and the addition of novelty fitness equipment like Peloton bikes, to more niche offerings such as intricately designed meditation pods with calming mood lighting and music set to guests' specific preferences.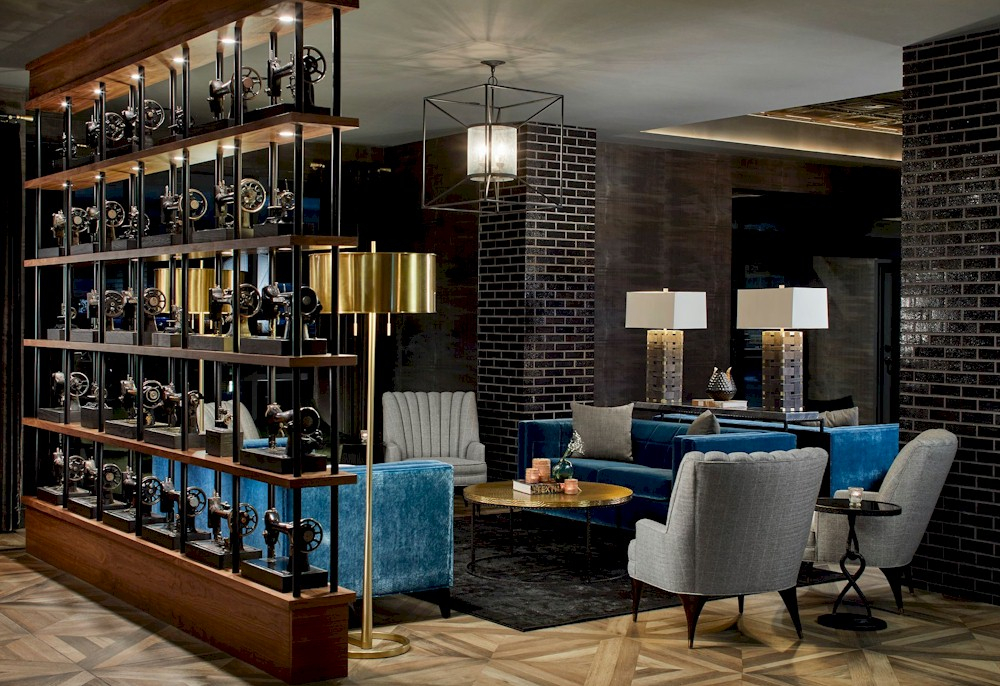 The Cumberland House Hotel celebrates the rich manufacturing tradition of Knoxville, Tennessee with a custom vintage sewing machine art installation.
Personalization on a Hotel-Wide Scale
Opportunities for personalization on an individual customer basis can only get you so far. There is a delicate dance between providing residential comfort and meeting the guest's desire for intrigue and new experiences. It is an expectation that hotels implement a one-of-a-kind feel to their property's brand to stand out from competitors. The key is a perfect marriage of approachability and authenticity to create a distinctive positioning.
Hotel-wide personalization can be brought to life through a unique digital presence that begins at the first interaction. With one project currently in design, we recently created 360° video renderings to help with booking, allowing guests to 'walk around' and interact with the destination's physical space before their feet even touch the ground.
While the booking process is undoubtedly important, as designers we believe the hotel journey doesn't truly begin until the guest walks through the entry and that the personalization of the brand should be felt at every turn. And yes, I mean 'felt' and not 'seen'. It's become increasingly important to brands, designers, and guests that we craft a vernacular design that embodies the surrounding community and showcases the heritage of the neighborhood. In our experience, this is most successful when implemented in subtle ways so that the narrative can unfold to the guest organically and be discovered as they experience various spaces. This sense of place is what makes each hotel stay distinct. An effective and authentic design rooted in local culture can evoke an emotional, lasting response.
It's paramount for architects and designers to realize they are not just designing spaces for customers to engage with at one specific hotel, we're designing spaces for engagement with a brand. We should be asking questions, listening to clients, and creating designs that provoke conversation and create lasting memories. I would argue that owners should be less concerned about trends and feeling 'current' and instead craft a unique, locally inspired narrative within the walls of a hotel that draws the guest in and makes them feel at home. To make that vision come to life, it takes energy and quality control from all disciplines at the onset of a project – architecture, lighting, landscape, interior design, engineering, and service.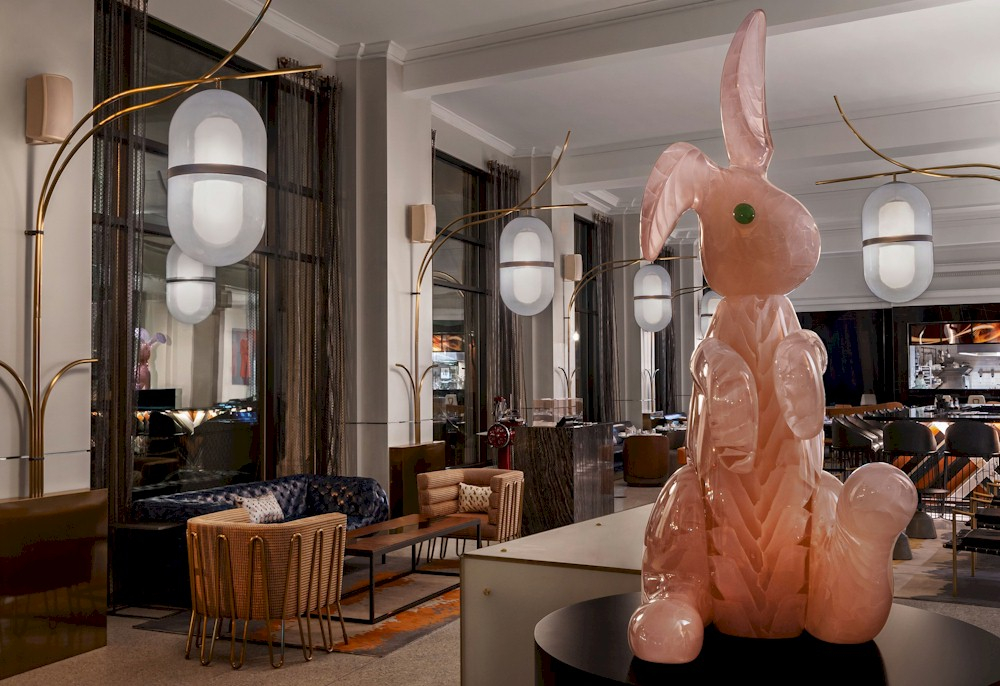 One-of-a-kind art pieces, including this hand-crafted glass bunny, embody the Glass Light Hotel & Gallery's distinctive, art-forward vibe.
As far as what brands are doing to promote this notion of a one-of-a-kind identity, one example I've seen is personalization through an integrated sensory experience, leveraging the emotions tied to music and specific aromas to elevate the guest experience. In perhaps an extreme example of sensory personalization, I recently stayed at one of the Coqui Coqui perfumery and boutique residences in Merida, Mexico. Upon arrival, the concierge toured me around the perfumery and had me hand select scents that would be diffused in my guestroom, placed on the bath shelf as shower products, and used during any spa services I may receive. That attention to detail and the personalization of the choice I got to make to customize my own vacation was one of the many reasons that I resonated with their brand and continue to sing their praises.
The world is moving at a rapid pace, and people's expectations for a personalized experience that meets them where they are evolving alongside it. This elevated level of product and service is contagious, and I believe it will continue to rise throughout the industry for years to come. It's time for the hospitality industry to work hand-in-hand with new customizable designs, trends, and technologies to leave a lasting impression.
HotelExecutive retains the copyright to the articles published in the Hotel Business Review. Articles cannot be republished without prior written consent by HotelExecutive.