Re-Imagined Gathering Spaces That Build Community
By Lisa Chervinsky Lecturer, Cornell Nolan School of Hotel Administration | November 2022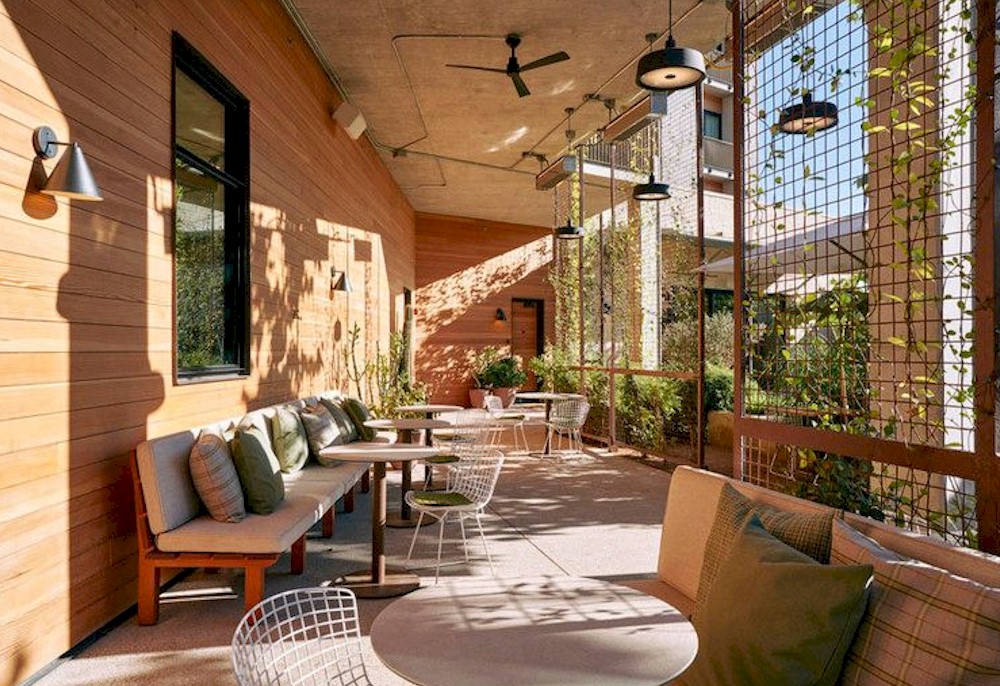 While the pandemic has fundamentally altered our attitudes toward travel, the hospitality industry has continued to adapt and evolve with the guests' needs always in focus.
Covid has brought about a re-centering.
As travelers and industry leaders have had more time to reflect, several issues shaping our world have come to the forefront: climate change, social equity, life-work balance, all of which have an impact on travel and tourism. As the industry repositions itself to meet the needs of today's guests, architects and designers can seize the opportunity to develop inclusive, wellness focused hospitality spaces enabling patrons to gather with others as hotels earn a more significant role in their communities.
There is a growing need for social interaction and connection as office dynamics have shifted and more people are working from home. Hotels are uniquely poised to fill this position as neighborhood town square: a central gathering place for people to meet, work, relax and forge meaningful connections with both travelers and locals alike.
Promoting the concept of "Placemaking" within cities, the Project for Public Spaces notes that what makes a successful destination is having multiple places within it, such as a place to sit, meet, or enjoy a beverage. These layered activities work together to create synergy and a sociable environment where people want to gather. (Project for Public Places, 2018) Of course, these concepts are not new to hospitality since hotel public spaces by nature provide a myriad of complimentary uses including bars and restaurants, lounges, meeting areas, and amenity spaces for fitness and activities.
Capitalizing on their existing attributes, hotels that welcome locals create a more inclusive community driven environment, in line with sustainable development goals, enriching everyone's experience. Locals have the potential to activate the public spaces during the daytime when traveling guests are out and about, by supporting restaurants, inhabiting meeting areas, and utilizing amenity spaces, enabling the hotel to serve as an inclusive "country club" for the neighborhood. Not only does this bring the community together, it's a "value add" for hotel owners and operators as it provides opportunities for new revenue streams. Filling the house when the hotel would otherwise have low occupancy supports food and beverage providing more job opportunities for kitchen staff and allows waitstaff on dayshifts to earn decent tips.