Best Social Media Campaigns and Practices of 2011
By Burns Patterson Executive Vice President, Middleton & Gendron | February 12, 2012
In 2011, hotel brands and individual hotel properties embraced social media platforms as never before. In the process, they learned lessons that will pay dividends in 2012, as the hospitality industry continues to reach out to past and potential guests in innovative ways. This article takes a look back at some inspiring campaigns – large and small – from 2011, and offers hints at new directions for the New Year.
Starwood Hotels and Resorts was among the most ambitious and creative hospitality companies utilizing social media during 2011. The company unveiled campaigns for a variety of brands and for the corporate loyalty program, Starwood Preferred Guest®, across platforms from Facebook to Twitter, from YouTube to Foursquare, and through blogger engagement.
Hospitality companies have had mixed results working with location-based services, such as Foursquare, but Starwood embraced the platform wholeheartedly in 2011, with several campaigns designed to extend awareness and reach for the Starwood Preferred Guest program. In May, the company announced a partnership with Foursquare in which guests could earn Starpoints® and Free Resort Night Awards by checking in via Foursquare with a confirmed reservation at any of more than 1,000 participating Starwood hotels and resorts in nearly 100 countries. Free stay awards were also "hidden" across the hotel collection, to be unlocked daily by one lucky check-in. While neither Starwood nor Foursquare has released final check-in numbers for the program, the hotel company has been pleased enough with the partnership to launch new promotions with Foursquare at the start of 2012. The SPG Facebook page, which also helped to promote the initiative, has grown to more than 70,000 fans. At the close of 2011, Starwood also announced a partnership program with the China-based geo-location service, Jiepang.
Starwood's trendsetting W Hotels brand has been a digital flagship for the company, and did not disappoint in 2011, expanding the social media footprint for its "Fashion Next" program. Fashion Next, curated by W Hotels Worldwide's Fashion Director, Jenne Lombardo, supports and highlights emerging designers during the spring and fall editions of Mercedes Benz Fashion Week in New York. Fashion Next designers also receive support in the months that follow, as they travel to W Hotels around the world for trunk shows. In addition, they design limited-edition clothes and accessories for the W collection.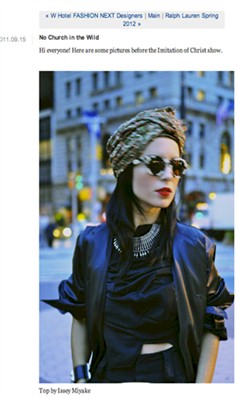 W Hotels "Fashion Next" initiative
(courtesy W Hotels Worldwide)

W brought the Fashion Next program to life online with a blogger ambassador program, in which four leading fashion bloggers received exclusive "all-access" to capture content and behind the scenes information that was shared via blogs, Tweets, YouTube video and Facebook posts. Participating bloggers included Michael Angel, "The Glamourai"; Bibhu Mohaptra, "Couture Snob"; Juan Carlos Obando, "The Clothes Whisperer'; and Nomia, "Aureta's Blog." The results included 3,151, 520 blogger impressions.
Starwood's Aloft Hotels brought its "Live at Aloft, 50 Days of Music" program, which featured 50 bands at 50 Aloft Hotels around the world, to life on Facebook in 2011 with a dedicated tab providing links to download a free song from each band. The initiative garnered more than 3,000 new "likes" for the Aloft Facebook page in the first 10 days of the program alone. Aloft will keep the music pumping in 2012 with its "Turning up The Spotlight" program. Starwood's Element Hotels brand, which has just launched its tenth U.S. hotel, stayed true to its "green" roots with a series of "eco-glossary" posts on Facebook, designed to educate and inspire fans with sustainable practices.