Lessons in Promoting Your Hotel's LEED Certification
By Lawrence Adams Principal, ForrestPerkins | May 12, 2013
The hospitality industry provides an excellent vehicle for educating the traveling public about the benefits of sustainable practices and environmental responsibility. As hotel owners invest in sustainable systems and practices they look for the economic, environmental and societal benefits that derive from their investments and are often rewarded. Savings in energy costs and water bills may be evident on the hotel's financial books but the hotel's contribution to the health of the planet through responsible ecological practices may not always be evident to the guests. Obtaining Leadership in Energy and Environmental Design (LEED) certification is one way that a hotel's responsible eco-friendly investments can be measured and provides an emblem of achievement that is universally recognized. It has been widely demonstrated throughout the industry that LEED certification puts heads in beds and improves a hotel's bottom line.
Yet many hotels that have achieved LEED Silver, Gold or Platinum certification have done so through means and methods that are not physically apparent on the interior or exterior of the building. Sustainable systems such as geothermal energy, concealed rooftop solar collectors, high performance windows, reflective roof materials and use of low-emitting volatile organic compound (VOC) coatings and materials on the interior all represent significant investments, enhance the building's energy savings, contribute to a healthy environment and obtain LEED points in achieving the rating, yet are for the most part invisible to guests.
Many hotel companies advertise their environmental programs and specific sustainable features and LEED certification of their individual hotels though their websites, travel magazines and other means while many other hotels feel it is important to wear their LEED badge on their sleeve by having visible attributes such as solar panels, retention ponds, solar shading, wind generators and other green features as physical evidence of their good deeds. You could say that these hotels are striving to be conspicuously sustainable.
The LEED Platinum certified Proximity Hotel in Greensboro, North Carolina proudly exhibits its 100 rooftop solar collectors that provide 60 percent of its hot water requirements, yet most of the LEED points that won the Platinum certification are not readily apparent to the guests. In successfully promoting its Platinum certification, the hotel provides an Education Center for Sustainable Practices with tours, symposia and outreach programs for guests and visitors to explain the variety of eco-friendly features of the hotel that are not necessarily obvious to the uninformed eye. Such features would include use of salvaged lumber, variable speed kitchen ventilation hoods, geothermal energy, energy efficient elevators, high efficiency plumbing fixtures, use of low-emitting VOC paints, adhesives and carpets and a vegetated rooftop over the restaurant to reduce urban heat island (UHI) effect.
Similarly, the LEED Gold certified Shore Hotel in Santa Monica, California achieved its rating with sustainable systems and operations that are for the most part behind the scenes. Those features include energy efficient HVAC systems, high performance windows, reflective roofing and eco-friendly finishes. To call attention to the investments made in sustainable systems the hotel has a "Green Concierge". Not only does the Green Concierge educate guests on the environmentally sustainable systems and operations of the hotel, but he or she is also a resource for sustainable attractions in the neighborhood such as farmers' markets, eco-friendly stores, holistic spas and health food restaurants.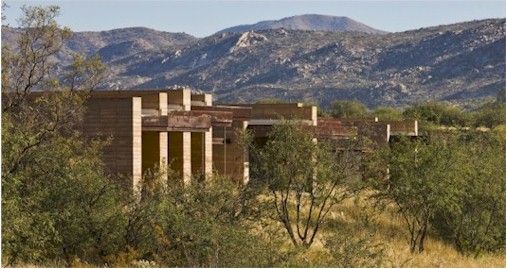 Miraval Arizona Resort & Spa, Tucson. Photograph by Robert Reck
Many hotel guests, especially in the luxury segment, prefer not to have sustainable features flaunted. Having recycled grey-water in the toilet bowl, with its milky appearance and faint odor, is not acceptable to many guests. So it is appropriate that the Proximity Hotel owners maintain that none of the sustainable practices used in the hotel require guests to sacrifice any bit of comfort.