Why Call Centers Are Still Effective
By Wendy Blaney Chief Sales Officer, Atlantis Paradise Island Resort | June 25, 2017
In a world where almost everything is done digitally, it is important to remember how impactful a two-way conversation can be for consumers interested in booking travel. There is no denying that it has become easier and easier to plan trips online, and purchase products almost instantly – Yet there are still many customers who want the personal touch and assurance that they truly understand what it is that they are buying. They want someone to provide direction, answer questions, and give them "insider" information. This is especially true for a dynamic destination like Atlantis where there are an abundance of options. Our guests aren't just interested in a resort, they are seeking a coveted, catered experience.
Unless travelers are extremely familiar with the brand or location, call centers provide the peace of mind that many people require. In fact, we've estimated that 45% of our first-time guests book through our call center. Our travel specialists wear multiple hats as online "support agents" to ensure maximum interaction with consumers. Guests often do research on our website where they can chat digitally with the support agent and ask initial questions. Many of those guests subsequently call the contact center to get additional details and talk through their trip more thoroughly. By cross training our associates, website visitors are afforded high touch customer service from their first interaction, which helps convert those online questions into conversations and ultimately, reservations.
The guest's resort experience begins from the moment that their phone call starts with the reservations team. Your travel specialists are at the front line, and those personalities are leaving a first impression of your brand. Plus they have the ability to shape and mold the travel itinerary, so it requires a thoughtful approach and strong listening skills in order to take the customer's interests and needs to heart. For most, planning a vacation is a multi-layered process where multiple questions will arise. Call centers allow consumers to have all their questions answered while crafting a tailored experience.
Atlantis travel specialists ask callers: where they want to be located on-property, what they want to experience, and what their eating habits are. Understanding the needs of the customer helps us build an experience to match their vision. That is what makes us successful and that is why our conversion rate is so high. For example, if callers tell us that they are price sensitive, our travel specialists will start out pricing them in our most economical room category. Our call center staff has been interacting with travelers for the past twenty years, and our team is highly trained to ask the right probing questions to uncover client preferences and insight. Sometimes we even ask callers what other hotels they have enjoyed so we can gauge what kind of experience they are looking for.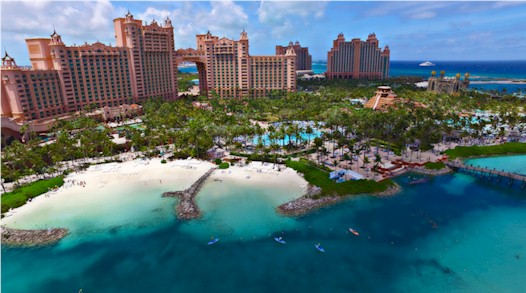 An interesting thing to consider is the emphasis on handle time. While we look at handle time recaps to gauge length of calls, we do not coach agents on handle time or set strict criteria because we never want our customers to feel rushed through the experience, but valued as a potential future guests. Additionally, our agents are not scripted – this allows them to be flexible and cater to each guest. This model does not work for every type of property; downtown business hotels certainly want to coach on talk time and creating efficiencies.