Tuning Out, Tuning In With Himalayan Salt
By Ann Brown Founder, Saltability | July 08, 2018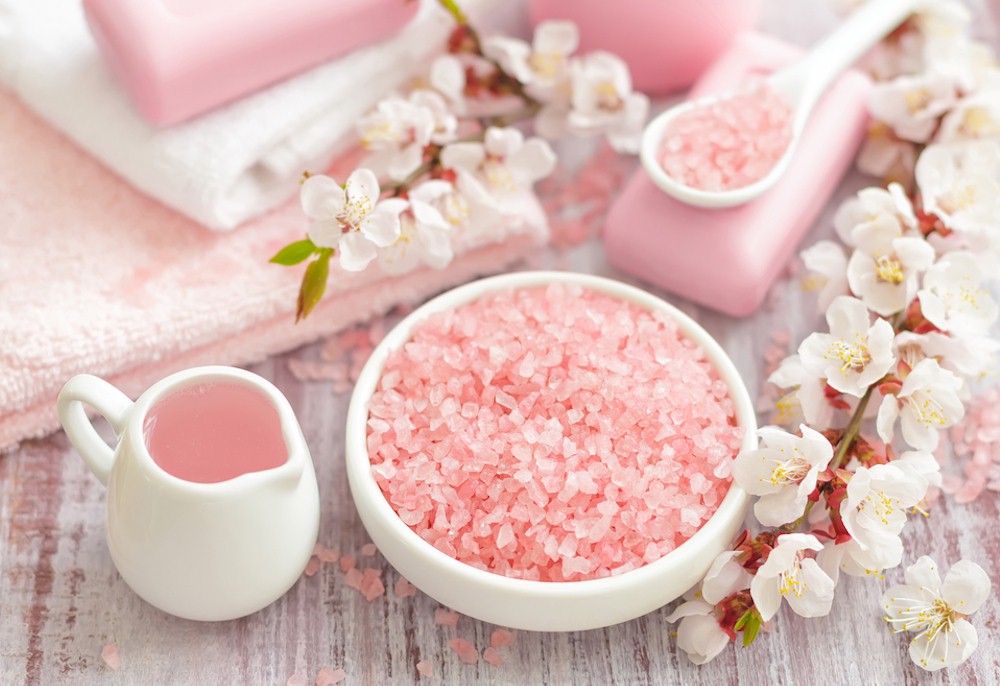 In a world of computers and smartphones and a continual drive toward the next best thing, technology permeates every corner of our day-to-day lives. We're connected in ways we've never been before, which can be wonderful for building community and promoting business on a national and even international scale, but with that constant connection comes high levels of stress — our "plugged-in" lives are not only exhausting us mentally but also physically, as they throw off our bodies' natural frequencies and leave us drained and unbalanced as a result.
Ideally, hotels and spas are places of rest and relaxation, but how do we promote a spa-like atmosphere for guests and travelers who arrive with smartphone in hand and business on the brain? Pure Himalayan salt, with its 84 naturally occurring minerals, is a natural combatant to the negative impact of toxic frequencies we live with every day. By harnessing its healing properties in skillfully designed ways, hotels and spas can create a calming environment that physically counteracts stress and promotes greater health and overall balance.
Why It Works
The earth is surrounded by an electromagnetic belt, which brings with it an electromagnetic field of vibration, known as the Shumann resonance frequency. This frequency is measured at 7.83 Hz (cycles) per second, which is the resonant frequency of the earth. That same 7.83 Hz per second is also the ideal resonant frequency of each of the mammals that live on the earth, including humans.
Without interference, human bodies remain at that ideal resonant frequency, keeping their bodies balanced. However, all of our electronic devices, with their varying wavelengths and resonant frequencies, disrupt the natural, ideal resonant frequency within our bodies. This rings especially true in our homes and offices, where we keep so many of these electronics.
Fortunately, Himalayan salt can naturally rebalance the body by neutralizing the artificial electromagnetic wavelengths that so often surround us. Both chemically and physically, salt is considered a neutral primal element. In its neutral state, salt crystals exhibit the exact same resonant frequency as the earth itself.
Because of its neutral atomic structure, Himalayan salt stones, when used correctly, can help neutralize the artificial frequencies our electronics produce. This keeps us closer to our ideal resonant frequency.
More Than a Trend
Staying on top of the latest services, treatments and products is an essential aspect of working in the spa industry, but the most successful businesses also glean value from knowledge of the past. Himalayan salt has been used for thousands of years as a natural medicine, and it is just as powerful today as it has been for centuries. The 100 percent pure mineral salt has been reported to promote healthy blood sugar and better sleep, act as a detoxifier, promote healthy pH balances in the body, help lower blood pressure, support a healthy respiratory system and more. From ancient times to now, pure Himalayan salt has remained the purest form of sea salt, free from all modern environmental toxins. Although Himalayan salt is almost as old as the earth itself, what's new are the innovative ways hotels and spas are utilizing its properties to further promote healing and well-being among their clientele.
"We incorporate Himalayan salt into massage treatments in addition to having Himalayan salt stone saunas in our locker rooms for all guests to experience the healing benefits pre- or post-treatment or just to disconnect and de-stress in the Himalayan sauna on its own," says William Myers, Regional Director of Spa, North America, Langham Hotels & Resorts, who has been using Himalayan salt at his spa for years, particularly in massage treatments and Himalayan salt stone saunas. "As Chuan Spas are deeply rooted in traditional Chinese medicine, further drawing upon natural ancient healing practices was a natural fit to incorporate Himalayan salt in aspects that make up one's spa journey with us that grounds and balances the meridians, from an in-treatment offering to an experiential sauna in each gender-separate locker room."
Salt Walls
Hotels across the globe use Himalayan salt for services and treatments within a spa environment, but the benefits aren't limited to salt stone massages and exfoliating facials (though those, too, offer a slew of benefits for body and mind). Current trends are moving toward deeper incorporation, with spas seeking ways to further enhance their guests' overall experience by enhancing the environment itself.
Himalayan salt walls, featuring illuminated, hand-carved salt blocks, can be added to your existing sauna to simultaneously boost your spa's aesthetic value as well as guests' health. The gently warmed salt blocks deliver the health benefits spa directors have come to expect (such as stress reduction, energy increases, mood boosts at a biochemical level, etc.), while the beautiful glow of the salt wall creates a calming atmosphere to enhance the sauna experience. Many spa directors describe the wall's visual sense of calmness and how that feeling permeates the overall environment. And it's not just the employees who notice the difference.
"Guests take note of the visual difference to a more typical standard sauna, and our spa concierge staff inform each guest of the wellness benefits reaped when utilizing it, ranging from improving the body's response to allergies, eczema and more," says Myers, who has had multiple Himalayan saunas added to the Langham spas. "Many spa members with us have become daily users of this, incorporating it as an important part of their morning daily routine."
When outfitting your sauna with a Himalayan salt wall, look for the highest-quality walls available, made with 100 percent pure Himalayan crystal salt. These top-notch products will deliver the best results, both physically and aesthetically, and will be installed by knowledgeable, experienced professionals.
Retrofit Saunas
If installing a salt wall doesn't fit into the immediate plans of your spa or hotel, retrofit saunas are a great alternative that utilizes your traditional — and often underutilized — spa by converting it into a detoxifying dry sauna — a clean, pure, bacteria-free environment that detoxifies and replenishes the body. A retrofit kit will typically include a salt brick panel, Himalayan detox foot trays and Himalayan salt chunks, which work together to help remove blocked energy and unwanted toxins. Using the foot trays means clients will sweat more from their hands and feet, which leads to enhanced purification as toxins are removed from the body. In addition to that, guests breathe in the ion-infused air that is released by the gentle warming of the salt blocks.
Again, a reputable seller is key to receiving optimum health benefits. Your product is only as good as its source.
Salt Lamps
The guest experience begins from the moment he or she walks in the door, and small details can make a big impact. While you're planning how and where to implement larger-scale changes such as Himalayan salt walls, consider more immediate changes or additions that can instantly enhance your environment.
Himalayan salt lamps emit a sun-like coloring and release negative ions that purify the air and help with anxiety, sleeplessness and more. Placing one at the front desk and/or in the treatment room not only helps create a calming atmosphere for guests as they arrive but also for your employees who occupy the space throughout the day. It's a welcoming detail and a calming one, too, that will put guests in the right frame of mind even before their treatment begins.
Salt lamps are also great for boosting moods during the long winter months, when lack of exposure to sunlight can lead to the winter blues. A Columbia University study of people with winter and chronic depression found that negative ion generations, such as those from Himalayan salt lamps, "can relieve depression as much as antidepressants." A 2006 study from the New York State Psychiatric Institute also found that high-density ionization can be a helpful alternative to bright light therapy for people with seasonal affective disorder.
Enhanced Well-Being for All
Remember, the more you enhance your hotel and spa with beneficial elements such as Himalayan salt (whether via salt lamps, salt walls or retrofit saunas), the greater the experience you create for guests and therapists alike. At the Langham spas, Myers notes that their Himalayan salt treatments — including everything from facials to saunas — benefit all parties involved.
"Guests enjoy the soothing warmth of the stones as they are placed in key areas to aid in melting restrictive fascia, allowing the therapist to work deeper into the muscles in addition to them gliding over the body," Myers says. "Guests have reported the ability to more quickly get to 'that place,' finding a deeper sense of relaxation in addition to their skin revived in appearance and glowing.
"Equally, therapists enjoy utilizing Himalayan salt to perform treatments," he continues, "as they reap the same benefits as the guests, in addition to minimizing turnaround time as the stones are antimicrobial and easier for them to clean in comparison to traditional stones."
We're living in a golden age of technology, but with every gadget that makes our lives "easier" comes an abundance of stress and overexposure to environmental toxins that zap our energy and leave us yearning for peace. As an industry, it is our job to deliver the rebalancing our clients need and the calm that they crave. Fortunately, Himalayan salt is a solution that's well within our reach. And, amazingly, it's been there all along.
HotelExecutive.com retains the copyright to the articles published in the Hotel Business Review. Articles cannot be republished without prior written consent by HotelExecutive.com.