Biophilia and Social Activation: Designing Amenities That Attract Internet-Savvy Travelers
By Joshua Zinder, AIA Principal, JZA+D | November 17, 2019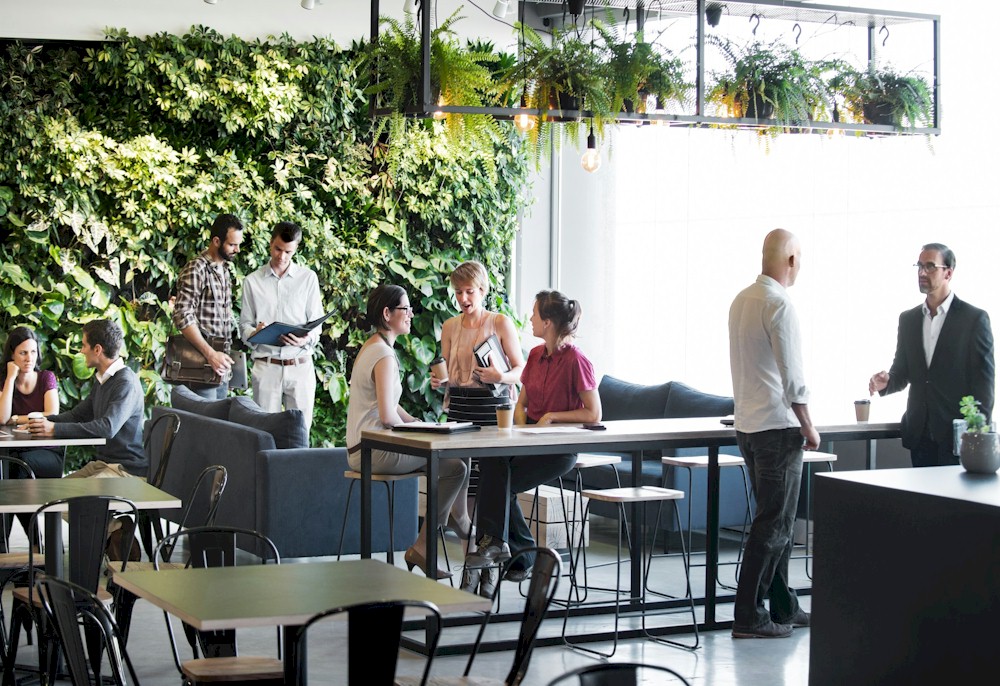 Increasingly we live in a world where people are heads-down focused on their personal devices, posting or commenting on social media. To many this condition is lamentable, but there are unexpected consequences of this trend that demonstrate the resilience of certain innate human desires and motivations.
Consider millennials and post-millennials, the age groups most familiar with and devoted to regular online engagement. Because of their growing economic importance – according to research from Generational Edge millennials will make up 46% of the U.S. workforce by 2020 while post-millennials are already entering college and the workforce – their habits and wants are the subject of considerable discussion and study.
Perhaps counterintuitively, members of these always-online age groups consistently express a desire for more in-person social interaction and for authentic experiences, when asked. For developers these trends are likely familiar, as they have been driving attention to amenity spaces in workplace and corporate office design, residential development, and even in places of worship. Thoughtful approaches to amenities programs deliver a home-away-from-home feel that encourages more frequent and lengthier visits and often creates new, robust revenue streams.
For hotels, shared amenities and public spaces have become essential to establishing one's brand and fostering a sense of place, welcome and community – put simply, fostering engagement within the venue makes for a more fulfilling experience. The owner should consider investing in design strategies that energize and activate amenity spaces to make them memorable, shareable, and even iconic – strategies that put the amenity to work for the hotel brand by creating online buzz and branding the venue as a destination.
Biophilia and Authenticity
On a recent family fishing trip in the Berkshires, we stayed at the Fairfield Inn & Suites in Great Barrington, Mass. The hotel itself is very high-quality, but particularly memorable was the gas fireplace in the lobby lounge. The design incorporated an artful feature in the wall next to the hearth showing the circular cut ends of stacked firewood. To either side of these elements and inset were displays of standing limbs of wood in planters, illuminated from above with recessed lighting. The displays were charming enough and the lounge appointed comfortably in a colorful yet understated contemporary style, but when I brought out my phone to take pictures it was the faux firewood stack that I found myself documenting in photos.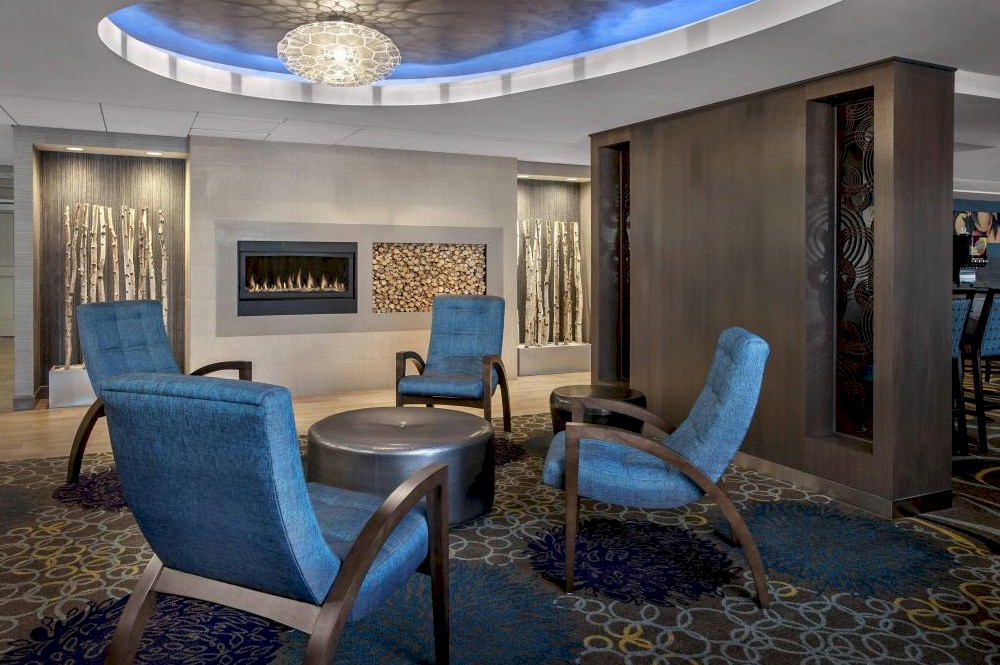 Fairfield Inn & Suites, Great Barrington, Mass. gas fireplace in the lobby lounge

The idea behind biophilia is a simple one – almost a truism – that human beings will tend to respond positively to things that connect them to nature. But in our technological age the power of these connections is surprising, both relaxing and stimulative at the same time. This was certainly the case with the firewood feature in this Berkshires hotel lounge. The visual of the cut wood was soothing, and at the same time made me want to take a photo.
Our integrated design practice looks for opportunities in every project to connect occupants to nature, and many options are surprisingly cost-effective. For example, one company offers "maintenance-free vertical garden installations" - composed of green moss, the installations can live for up to seven years with no watering.
Hospitality projects are particularly apt for introducing biophilic materials, finishes and features, because these elements tend to make a space warmer and more inviting. Combining biophilic design principles with strategies for making venue amenities and public areas into socially activated environments can result in a robust synergy: While attracting guests of all kinds, these spaces will appeal to millennials and post-millennials in particular, who in turn will likely engage on social media platforms to share their experiences.
The opportunity for this synergy evolves from the fact that these age groups are notable for subscribing to certain values, including:
Environmentally sustainable practices

A focus on personal wellbeing
Authenticity
A preference for socially activated environments (i.e. "urban lifestyle")
Incorporating biophilic elements such as stone and wood, plantings and vegetation, figurative forms that evoke flora and fauna, water features, exterior views of trees and landscape, and natural daylight all reinforce the first three of the values above. Drawing a connection to nature suggests to the guest that the space is designed to have a positive environmental impact and to support mental and physical wellness.
At the same time, these materials and features suggest an "authentic" experience, especially if the elements are drawn from the local geology and landscape. The hoped-for synergy emerges when the space is crafted to generate informal or unexpected positive social interactions.
Consider the common space of a commercial office building our firm recently redesigned, for which we drew inspiration from our own hospitality portfolio. The goal of the owner group was to reposition the property as Class A office space in order to improve their prospects for tenant firms. The focus of the project was a vaulted atrium that was underutilized by employees of tenant companies and surprisingly dark in spite of sky lighting overhead.
Our concept for the repositioning added stairs from the first floor to a pedestrian bridge that crossed the space above, while shrinking the massings of columns and structural forms and introducing light-colored finishes to take full advantage of the skylights and make the space feel airier and brighter.
But a significant portion of the project's success stems from integration of biophilic elements. The sights and sounds of a waterfall feature, adjacent to a lounge area with colorful contemporary furnishings, introduce a pleasing connection to nature. (Water features draw people in much as a roaring fire in a fireplace does – people want to experience it.) Just above, a distinctive sculptural wood canopy creates a visual focal point over the pedestrian bridge and stone tiles enhance the feel of the new stairs.
Combined with a new food kiosk (adding a new revenue stream) and public WiFi, the completed design fully activates the space. Employees not only take breaks in this appealing setting but also use the lounge and cafe seating as alternative work areas. The stairs create a circulation point that fosters informal interaction among employees from different companies. The owner group reports higher per-square-foot rental rates even as their tenants report increased overall satisfaction, in large part because their employees voluntarily spend longer hours at work thanks to this attractive amenity space.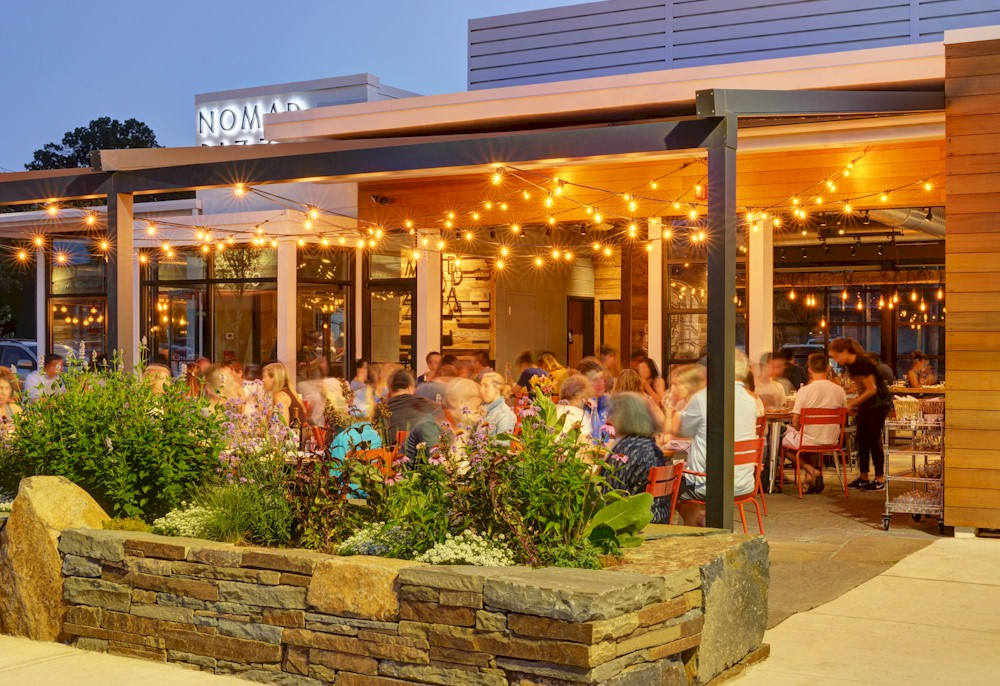 Biophilic elements such as natural wood and stone finish materials at the Nomad Pizza restaurant, Princeton, NJ
The Instagram-able Moment
Hotels owners and brands are already applying these same principles to create places activated by social interaction blended with biophilic elements. In fact, they typically have more opportunities for this type of occupant engagement than most commercial office properties: consider the room that may serve as a breakfast bar in the morning that can become an activity area or even a cocktail bar later in the day.
These are spaces that bring guests out of their rooms to relax, to get work done, to meet new people or to participate in goings-on. Introducing connections to nature can elevates these spaces from merely serviceable to memorable, and even shareable.
Achieving a design that makes guests want to record and share their experience in the moment is particularly valuable, transforming the guest into an unpaid brand representative. Plus, social media has value greater than word-of-mouth because it is a visual medium – the old slide carousel and 8-millimeter home movies from Grand Canyon vacations now potentially reach a global online audience instead of a handful of friends and family members. To elevate an amenity space to a destination and capitalize on this idea, the design strategy should include multiple spaces that create "Instagram-able moments" – places that encourage the guest to snap a selfie and share it online.
The strategy starts with a concept that includes biophilic components to suggest a connection to nature and then integrating elements that activate the space. Food and drink offerings are essential and, depending on the type of venue, things like WiFi, charging and USB ports integrated directly into the furnishings, and a variety of seating and table options contribute to a 'something for everyone' approach that is highly effective in generating informal interactions and social activity. We also recommend considering elements like golf simulators, fitness equipment, or anything that will appeal to the likely visitor.
Last, the space needs to include striking, compelling design features such as artwork or sculptural elements that are conspicuously photographable.
As of this writing we are currently putting the finishing touches on a major renovation project for the three-acre pool deck at a major resort-casino in Las Vegas that follows this recipe, and the results are already generating considerable online sharing activity. Our project team faced several challenges related to installation of five new swimming pools (plus plunge pools for guests in the private cabanas) related to the structurally sensitive location above the resort's casinos and indoor shops, entertainment and dining. The deck's layout locates certain features where the structure can comfortably bear the weight, whether water, palm trees (each with thousands of pounds of soil) or architectural features.
In collaboration with a renowned design studio and a major landscape architecture firm, we were able to meet these challenges and produce a pool deck design that feels luxurious and timeless. The renovated space is also filled with Instagram-able moments. Borrowing from the landscape and architecture of the Neopolitan island of Capri, the concept revolves around the idea of a 'found garden'. Beyond the many palm trees, biophilic elements include walls crafted from limestone with integrated planters, metal trellises for supporting the growth of vines, and accents of garden-inspired green and gold. Over time, the pool deck will become even more lush and restful as the palms reach full height and the vines take over the trellises.
The deck is socially activated in a number of ways, but especially through the entry sequence. Guests enter through an oculus-like arbor then make their way through a series of rooms finished in Venetian stucco and plaster to arrive at the bar at the center of the pool deck, rather than arriving at the amenity's edge. This immediately places the guest in a social environment, energizing the experience. Other ways of socially activating the space include sunbathing decks that extend out into the pools themselves like little peninsulas, and a range of gathering spaces and coves.
The Instagram-able moments are many: the oculus-arbor mentioned above makes for an eminently shareable entry moment. So too does the arrival at the central bar, or the sunbathing decks that appear to float on the surface of the pools. The design team also created a garden cove with a sculptural installation of a pair of large, gilded wings unfurling – guests standing in front of the installation appear to have their own pair of gold wings, inspiring selfies and portraits to be snapped and shared.
Ultimately any application of this strategy should produce a design unique to the property and brand image. But conceived and executed properly, these kinds of engagement-oriented amenities will generate memorable moments, inspire loyalty and repeat visits, and penetrate social media platforms and sites like TripAdvisor, Yelp and others to develop an organic appreciation of the venue as a destination for the next trip.
HotelExecutive retains the copyright to the articles published in the Hotel Business Review. Articles cannot be republished without prior written consent by HotelExecutive.