Applied Research in Hotel Design
By Lawrence Adams Principal, ForrestPerkins | November 22, 2020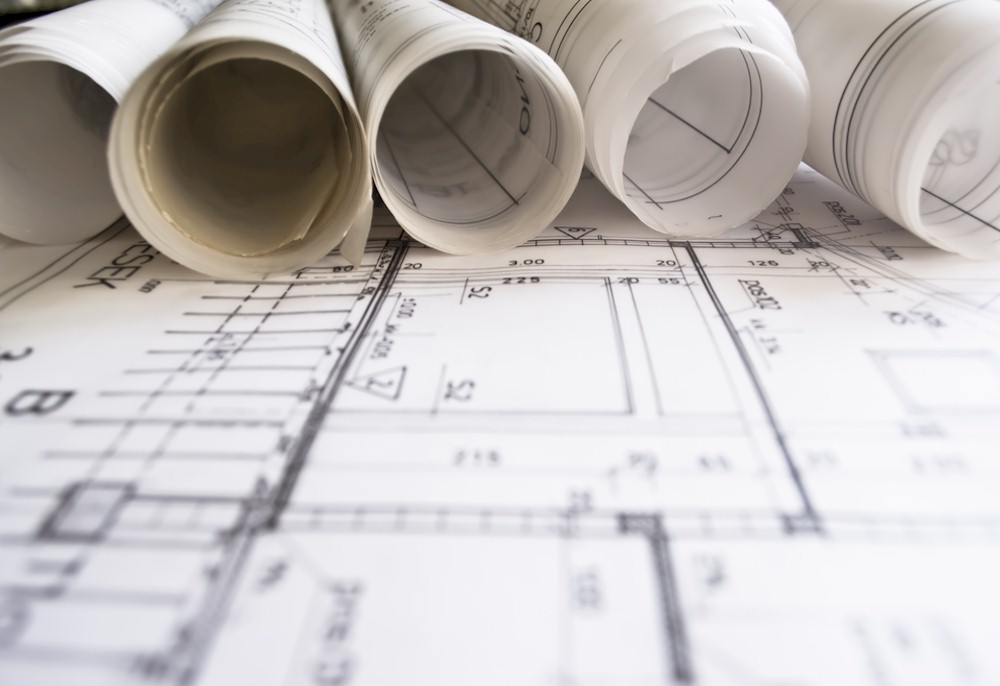 Research in the hospitality industry takes many forms. The recent emphasis on sustainability practices in lodging has yielded a wealth of research on areas such as energy conservation, water management, healthy building systems and materials and other studies to facilitate applications of green building practices.  Enhanced security systems are the subject of research projects to develop systems in hotels to combat global terrorism and other threats to the safety of hotel guests. Life safety systems research has been a subject of great importance to keeping guests safe and secure. 
Smith Travel Research (STR) has been at the forefront of marketing research for many years and has provided hotel companies and developers with essential tools for evaluating the potential performance of hotel projects with its monthly reports containing copious amounts of clear concise data and benchmarks.
Most of the major hotel companies have departments dedicated to researching market forces, branding competition, sustainability systems, security threat detection and life safety methods. The promotion of evidenced based design is a goal that insures successful outcomes in hotel design and development. This article provides three research examples relating to the design of hotels, each using sophisticated research methodology to facilitate positive and actionable results.
Courtyard by Marriott: Designing a Hotel Facility with Consumer-Based Marketing Models
In the early 1980s, in order to address an apparent void in customer satisfaction with its signature parent product, Marriott International set out to invent a new brand to cater to business travelers and to go head to head with Holiday Inn, LaQuinta and other select service brands. The new mid-priced brand was to be designed for business travelers but would also have appeal for the leisure market.  But before launching the new brand Marriott undertook an elaborate research project to determine what attributes customers found missing in the hospitality market and to fine tune a product that would fill the void.
Marriott management led by Marsha Scarborough with marketing research experts, Jerry Wind and Paul Green of The Wharton School, employed a technique called conjoint analysis to determine what attributes its proposed new brand needed to have to capture the business and leisure markets that were missing from its lodging portfolio.  Through an elaborate process of evaluating attribute options, the study produced strategies for selecting target markets, positioning platforms with competition, operational guidelines, facility development and layout and design parameters for a new lodging product.
Cojoint analysis, also referred to as multi-attribute compositional modeling, is a survey-based statistical process aimed at determining a select population's criteria for decision making within a limited array of product attributes. Survey respondents are shown a controlled set of potential product attributes and asked to make choices.  How choices are made are then analyzed to determine what values influenced their decision making. The results can then be used to create market models, estimate market share and determine profitability of a new product design.
To begin its study, the Marriott team asked the question:  What type of hotel facilities and services should Marriott design to attract business travelers (who stay in mid-level hotels or motels six or more times a year) and pleasure travelers (who stay in mid-level hotels or motels two or more times a year). The design of the hotel should also assure good value to customers, minimize cannibalization of other Marriott products and provide a substantial competitive advantage.
In order to establish the "optimal" hotel design to attract business and non-business travelers, Marriott conducted a consumer study that analyzed preferences for seven sets of hotel attributes called "facets" as described in the study:
External factors – building shape, landscape design, pool type and location, hotel size;
Rooms – room size and decor, facility (in terms of physical layout and type of heating and cooling system and type of bathroom), amenities;
Food-related services – type and location of restaurant, room service, vending services and stores, in-room kitchen facilities;
Lounge facilities – location, atmosphere, and type of people (clientele);
Services – including reservations, registration and check-out, limo to airport, bellman, message center, secretarial services, car rental, and maintenance;
Facilities for leisure-time activities – sauna. exercise room, racquetball courts, tennis court. game room, children's playroom and yard; and
Security factors – security guards, smoke detectors, 24-hour video camera, and so forth.
There were 263 mid-level business travelers, 83 high-end business travelers, and 255 non-business travelers that were surveyed in the analysis. Each respondent was paid an average of $35, depending on location, as a monetary incentive.
To begin with, the respondents were given a questionnaire to solicit preferences for a variety of hotel characteristics or attributes. Each respondent was given seven cards coinciding with the seven sets of attributes listed above. Each attribute was given an associated price. For example the "Rooms" card included the attribute of a color TV with in-room movies for $2.50 each. Respondents then rated each amenity-price combination as unacceptable, acceptable or preferred. They were also asked to rank the attributes in each facet for relative importance. After they evaluated all seven facets the total incremental costs were added to a base room price. If the total was higher than the respondent was willing to pay, they then went back and removed attributes to get to an acceptable total room rate.
Next respondents were presented with 5 cards each with combinations of facets and attributes to choose from and each representing a "complete" hotel offering. Each combination was given an associated price. Through this process Marriott was able to determine what attributes respondents preferred given trade-offs between comfort and price.
In analyzing preference for location, respondents were told to allocate 100 points among various location descriptions based on preference. Location descriptions included closeness to business, shopping, sightseeing, night life, restaurants, theaters, airport and major highways.
To develop the room design profile, respondents evaluated the importance of several design factors including room size, quality of decor, type of heating and cooling unit, bath size, bathroom features and type of entertainment in the room. They were also asked to rank the importance of several features including alarm clock, carpeted bathroom, hot tub, king-size bed, plants in the room, remote control TV, operable windows and even X-rated movies on demand.
In selecting a hotel brand name, Marriott asked respondents to rank in order of preference from a list of 11 names, one of which was Courtyard by Marriott. In developing the hotel's brand image, respondents chose from a list that included "a place kids really like," "gives a complete break from usual routine," "gives safe and secure feeling," "has stimulating/exciting atmosphere," "is good for people who do not want to be hassled," "is a good place for people on a budget," "provides a comfortable room for when you are alone," and "has charm and warmth."   A separate task was for respondents to rank descriptions of a number of hotel types, including "a busy, efficient, modern hotel," "a good, no-frills, basic hotel," "an informal, quiet, relaxing hotel with charm and personality," "a casual feeling in a hotel with understated elegance," and "an exciting, action-oriented hotel with spectacular, modern architecture."
The collected data from the results above were then processed using a sophisticated computer analysis to arrive at an optimal amenity-price configuration. Through computer simulation various packages of features and services were evaluated for market attractiveness.
Marriott's developmental and corporate team members who conducted the study with seasoned research consultants provided expert translation of the research results into a final product design that closely coincided with the recommendations of the study.  All of the attributes and services offered by the new Courtyard by Marriott were those that were most highly rated by the respondents. The outcome of this applied research has been one of the most profitable products in the Marriott brand family.
Brand Experience Anatomy in Hotels: An Interpretive Structural Modeling Approach
A study conducted by Imran Khan and Zillur Rahman,  published in 2016 by the Cornell Hospitality Quarterly, sought to identify factors of hotel brand experience (HBE) utilizing an Interpretive Structural Modeling (ISM) approach.   The study also looks to define those factors and the interrelationships among them that result in a pleasurable and superior hotel brand experience leading to repeat bookings and brand loyalty.
Hotel companies know that providing a superior, unique and memorable brand experience to its guests is essential to differentiate its hotel brand from competitor brands. Theoretically factors that could contribute to a superior brand experience might include a visually appealing well-designed environment with warm and welcoming color schemes, a fresh aromatic smell, friendly well-dressed professional staff and a socially engaging environment.
An ISM approach is used to simplify complex systems and create a graphical representation of interactions between system elements. A multilevel structural model is produced to visually represent complex issues and to transform ambiguous or inadequate mental models into a precise hierarchical graphical illustration.
Based on interviews and brainstorming sessions with industry experts and real hotel customers and based on current industry literature, a list of HBE variables was compiled that included the following:
Attractive architectural design
Cleanliness and decor
Dining experience
Efficiency and timeliness of services
Exotic food
Guest-to-guest experience
High-quality chef
Hotel location
Hotel staff professionalism
Hotel website and online disclosure
Human interaction experience
Individual attention
Physical environment experience
Pleasant noise level and indoor temperature
Privacy
Public relations and media reports
Social media
There were several methods of analysis of data derived from the participants in the study, including the Matrix Impact Cross-Reference Multiplication Applied to a Classification (MICMAC) analysis. In the final analysis it was determined that Physical Environment Experience, Dining Experience and Human Interaction Experience were most highly valued in the HBE. Attractive Architectural Design, Guest to Guest Experience and Privacy also rated highly for HBE. Hotel Location, Hotel Website and Social Media were less important. The following diagram illustrates the interrelationships of the 17 variables.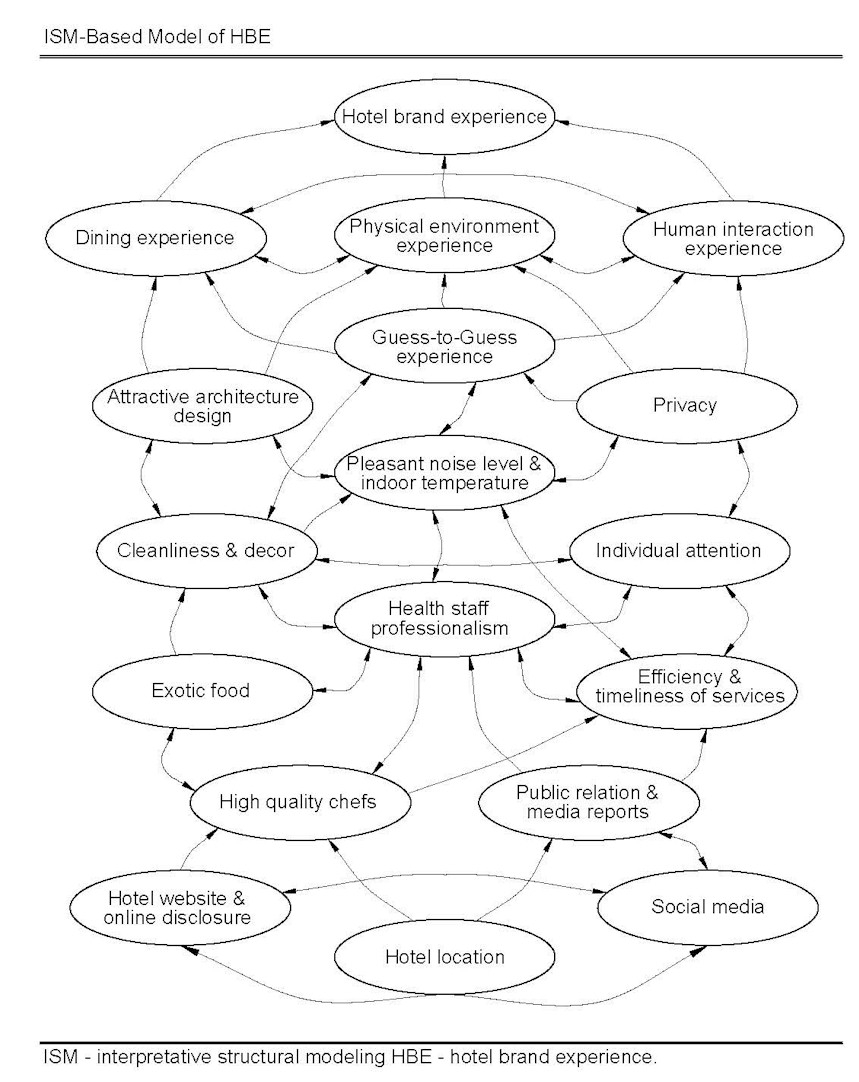 Application of Perception Theory in Hotel Interior Design
A study conducted in 2018 by Hui Yu, Ge Bai and Liang Wu at the School of Architecture, Dalian University, China sought to explore the application of Perception Theory in hotel interior design.  According to the study, perception theory defines the process that forms the relationship of people and environment through sensory, experiential and emotional stimuli. In addition to sounds, color, odors, temperature and tactile sensations, the theory suggests that perception includes subjective factors such as time dimension, cognition, emotion and memory.
In hotel interior design, spatial layout, materials, lighting, color, furniture, ornaments and circulation can all be used to stimulate the active interaction of guests with their immediate environment.  A positive guest experience is of paramount importance in successful hotel design.
The study examines three kinds of perceptual levels: Visual Perception, Space-Time Perception and Logical Perception.  In Visual Perception, the guest experience is most direct as sensory input from elements of shape, color, materials and light in space are translated into a psychological response. Space-Time Perception is defined as the dynamic experience of moving through space and time, so that the choreography of spatial circulation provides kinesthetic and visual information in sequence.  Logical Perception draws from the guest's spiritual and cultural consciousness where the association of environmental features triggers an emotional response and shapes the way guests perceive the hotel design.
After in-depth analysis, the research study concludes that the intersection and interaction of the three levels of perception must be understood to adequately design the interiors of a hotel to optimize the hotel guest experience through visual, space-time and logical associations.
Conclusion
EDRA (Environmental Design Research Association) came into being in the 1960s and has since promoted the idea that impactful practice-based environmental design research provides immense value in the creation of the built environment.  EDRA's mantra is "improving environments through research excellence." EDRA CORE (Certificate of Research Excellence) is a professional certification that "celebrates exceptional design research studies."  Applying the rigorous principles of EDRA CORE to hotel research-based design and development adds tremendous value to our industry and its customers.
The CoVid-19 Pandemic is causing a sea-change in the hospitality industry and will result in a new focus for hotel design research in the years to come (see Post-CoVid-19: The New "Normal" in Hotel Design, Hotel Business Review, by Lawrence Adams). We are likely to see research resulting in advancements in HVAC systems to provide cleaner safer air, touchless technology including facial recognition technology, cleaning protocols and devices to keep guests free of pathogens, brand marketing aimed at post-CoVid attitudes, anti-microbial materials, elevator technology that avoids overcrowding, enhanced security systems, and public space furniture layouts, to name a few.
The WELL Building Institute will continue at the forefront in research to develop rigorous standards in the design of our new normal healthy hotel environments. In the final analysis, research guided responses to the current health crisis will result in lasting improvements to the health and safety of hotels and resort design in keeping guests comfortable, safe and secure while delivering an invigorating and meaningful hospitality experience.
HotelExecutive retains the copyright to the articles published in the Hotel Business Review. Articles cannot be republished without prior written consent by HotelExecutive.