Frugal Innovation & Your Revenue Machine
By Renie Cavallari Founder & Chief Inspirational Officer, Aspire Marketing | October 25, 2020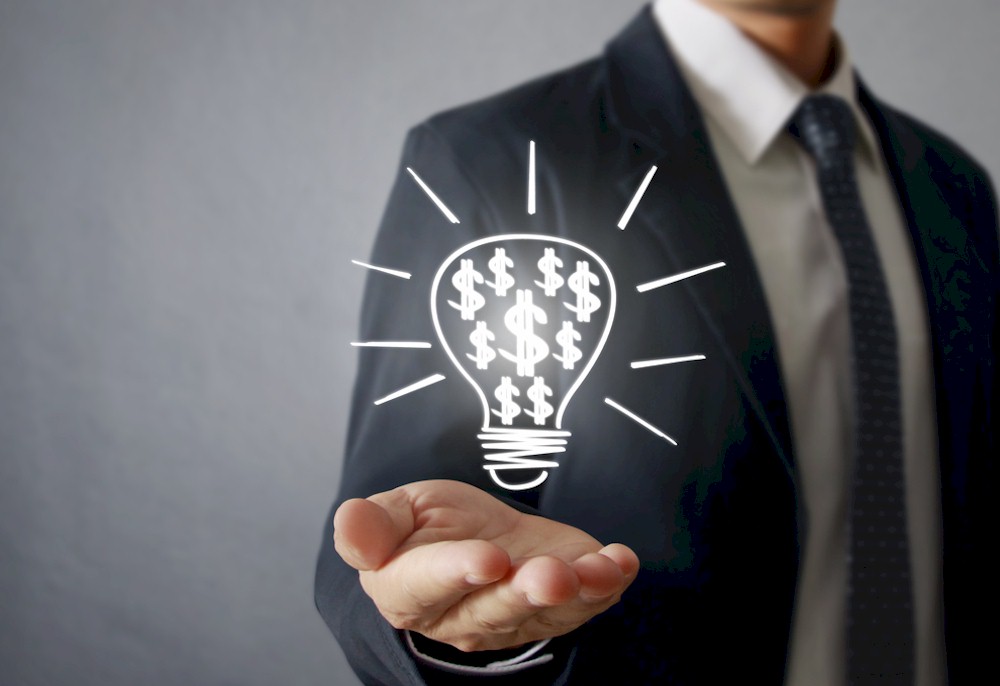 As I sat in a ballroom listening to an expert on Jugaad, the Hindi word used to capture the essence of frugal innovation, my mind soared with possibilities. I had gone to India for two reasons, to learn and to explore.
India is the birthplace of frugal innovation. It wasn't new to me, and yet my experience in India opened my mind in terms of how I looked at frugal innovation and, most notably, how to apply it to create real innovation and opportunities.
I was immediately inspired and became fanatically committed to exploring how this shift of mindset would solve business problems for our clients around the globe.
My centering thought became. "How do we take untapped resources or ones with no obvious value and make them invaluable?"
At this time in our world, frugal innovation is an essential cornerstone for revenue management and optimization. With COVID and the endless craziness of our world, you must look at what you have, what you can re-invent, what you never considered an asset, and what it might become.
Understanding that your customers' problems, challenges, and emotional concerns are different today than a year ago requires you to adjust your business model to reflect how you are solving these new problems and making life easier for them in the process. Little did I know that frugal innovation would become paramount in its application of re-imagining Aspire, my firm of 25 years. Organizations that are waiting for things to come back to "normal" are beginning to see that might be too long of a wait.
Frugal innovation reminds me of the movie Apollo 13. It all began at the Kennedy Space Station on April 11, 1970. Though the initial launch was tricky, things seemed to settle down, and then the unthinkable occurred. An oxygen tank in the service module failed two days into the mission. As the astronauts stood by and identification of Apollo 13's physical reality was confirmed, they came to understand their new reality in a sentence, "gentleman, we just lost the moon," said their leader Jim Lovell, played by Tom Hanks. The lunar landing was aborted in a nanosecond. Things happen…
As you may recall, the control room became chaotic, and Ed Harris' character (Gene Kranz), the NASA Director and Control Room Boss, calls out over all the noise and chaos, and simply states, "quiet down people, quiet down."
As the room silences, Gene defines their new mission.
"We have never lost an American in space, and we sure as hell aren't going to lose one now."
As the action unfolded, these men didn't talk about the extenuating and challenging circumstances. They didn't try to solve the engine problem as that would not help them with their new mission, and they certainly didn't wait and hope for something to change their challenging and unthinkable circumstances.
They got agile, shifted into a new mindset, realigned teams and functions, and began rethinking everything and frugally innovating to ensure the new mission was accomplished.
Apollo 13 is seen as a successful failure, and it taught the space community many lessons that they still utilize today. In the end, it made them stronger and better.
This is the same opportunity that stands in front of you and your teams. Yes, there is a pandemic that is out of your control. New regulations. New expectations. Inconvenience. Ramped feelings of overwhelming fear and a sense of being constantly inundated with bad news has shaken confidence at all levels of your organization. To top it off, that strategic plan you spent endless hours building in 2019 isn't likely worth the paper you printed it on!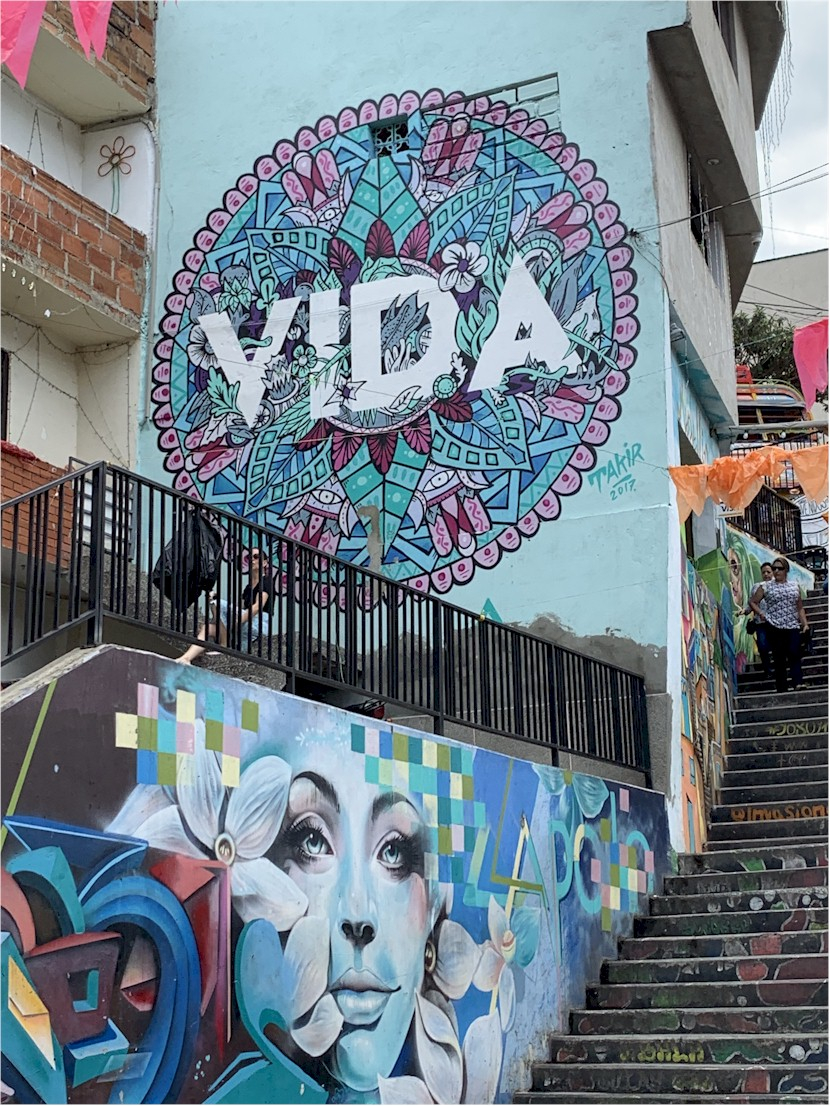 Medellin, Columbia
Frugal Innovation is Around You Everywhere
As I walked through District 13 in Medellin, Columbia, I was stunned. What I knew of this neighborhood I had learned through watching Narcos on Netflix. What once was a dangerous, deadly neighborhood had been transformed into a tourist destination with escalators to take you to the top of their steep mountains. Small shopping wagons lined their narrow streets and served as mini retail outlets. The extraordinary graffiti murals lined the walkways like an outdoor art museum, each piece commissioned to tell the stories of the changed community.
What was once a decaying hopeless neighborhood now had endless visitors where graffiti artists visually transformed this dangerous place into a must-visit destination. I was inspired as I explored the muraled, colorful, and storytelling walls.
Frugal innovation is an active thinking lab that you can in anywhere. It's more scrappy than sophisticated. Yet, it has created things like clay refrigerators to keep fruits and veggies cold even in humid climates and solar-powered lights designed to make clean energy for rural communities. It creates value and solutions using resources that already exist and are likely right in front of you.
Frugal Innovation requires you to put on a different set of glasses, much like a Kaleidoscope. As you look through a different "lens," your solutions are transformed through human imagination, collaboration, and ingenuity.
Frugal Innovation in Action
Eating out while eating in thanks to the many restaurants who have re-worked their dining approach to ensure they still had customers to feed. Who would have thought Nobu take-out and delivery?
Hair salons are selling "color your own hair" kits for pick-up. They helped customers and found a way to make money while closed.
Restaurants are turning parking lots into outdoor dining decorated with muraled walls.
Individuals with sewing machines and clothing companies are selling face masks. Some for necessity as we were in such dire need, and some made them into a fashion statement providing for your style and flair.
Car manufacturers are making ventilators. Yes, under pressure from the government and not only was it right for them to do as a corporate citizen, but it also kept workers employed as car sales plummeted.
Each evening in parts of Italy, great musicians and opera singers took to their balconies to keep the music and its healing ability alive. Bravo!
Drive-in movie theaters are back, and recently I went to a drive-in comedy show.
In South Fork Long Island, they took their art to the streets by doing art installations on lawns, porches, driveways, and garage doors.
Remote training and technology have shifted what is possible in both remote work environments and better solutions than traditional online learning.
Late-night talk shows and Saturday Night Live did their craft from home with some including their kids as part of the show to keep us entertained and help us find some much-needed laughter.
Speakers around the globe are doing virtual keynotes from their homes to the homes of thousands.
Appreciation in new ways as NYC stopped and applauded each evening at 7 pm to say "thank you" to the many health care workers risking their lives to save ours.
Cuba, where you cannot own more than one building, people live upstairs and have opened restaurants, hair salons, and other commerce to expand the local services and leverage the tourists' money.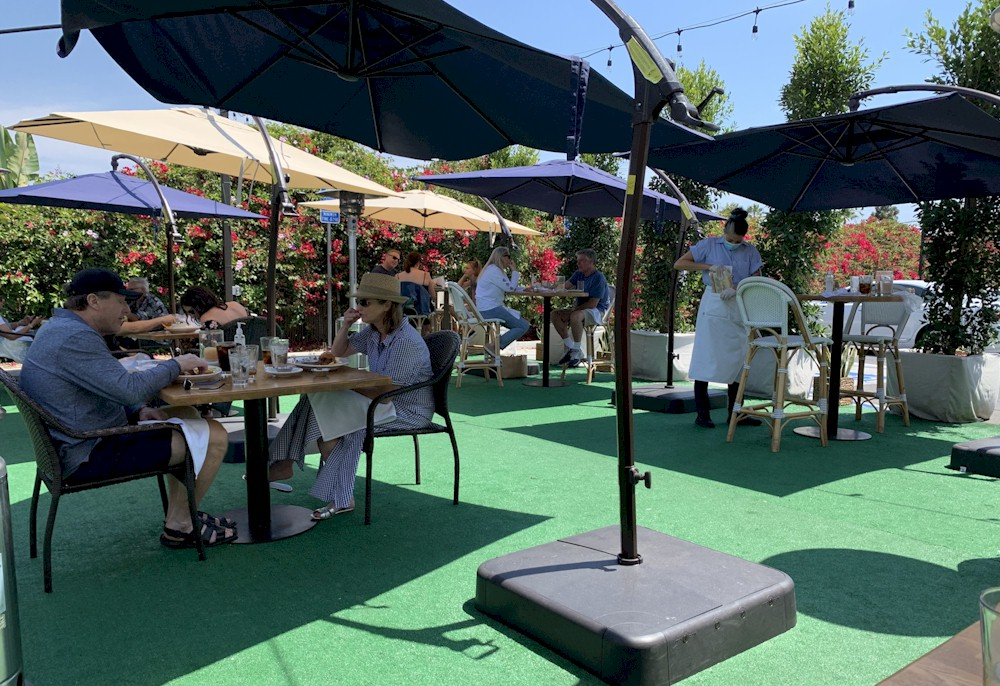 What was once an oil spotted lot, now transformed into seating for 72 at Coastal Kitchen - Dana Point, CA
The Frugal Innovation Revenue Generation Process
1. Attendees
It is best to have 50% of those in the room understand "what works on the ship" and 50% who can look objectively at the ship and not see any limitations. (Outsiders who know you.)
Be sure that you have people in the room that are working closely with customers.
Your best people have the following natural attributes:
Creative
Agile
Collaborative
Open
Curious
2. Understanding & Mindset
It begins with understanding what frugal innovation is and the mindset needed to explore possibilities and uncharted opportunities
Have a fun, eye-opening interactive that helps people become aware of how "in the box" they think. This sets the stage
An excellent pre-workshop assignment is to have everyone look at another business and think about all of the possible revenue opportunities they are overlooking. Focus on pre-existing assets
3. Ground Rules
Meeting Outcome: Revenue Ideation
Avoid defining deliverables. It will limit the creativity and the free flow of frugal innovation. Avoid overly processing the process
No phones, no email, no texting
Computers only for referencing or show and tell ideation
Provide ideation methodology
Define roles and responsibilities
4. Outside Facilitation
It is easiest to have an outsider facilitator to keep you focused
5. Commitment
Frugal innovation can take time. It isn't one and done. In my experience, the best innovation comes with three meetings
Think sprints, day-long thought-leadership, and ideation sessions
6. Focus
Be clear on the customer or economic problem you want to solve
Focus on the what and not the how
Open Your Mind to all That is Possible
Frugal Innovation has five consistent elements in its solutions.
Most solutions come from necessity and adversity versus pure innovation
They can be high tech or low tech
Many are created due to a lack of resources like capital, education, and R&D
They are founded in human creativity and collaboration.
Frugal innovation is a mindset first. Without the mindset, chances of success are limited
Today's world opens up new possibilities to re-invent and re-imagine. If you want to think differently, you must ask different questions.
The same questions give you the same old answers, and they will limit your ability to ideate and innovate.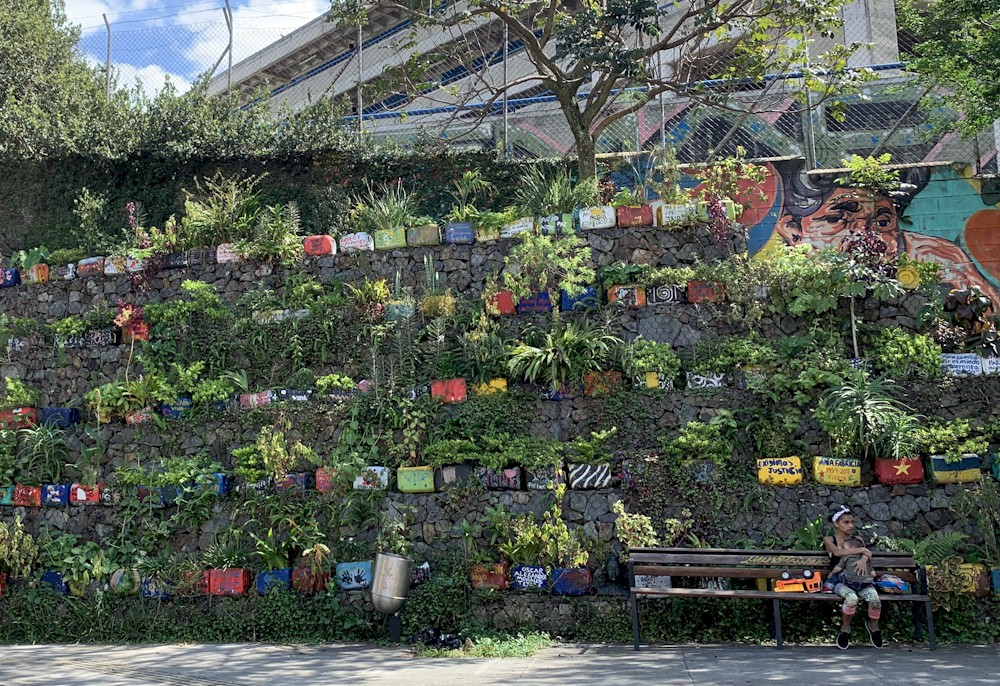 This wall of flowers is there to remind the Medellin community of the many missing people lost during their lawless times. A visually impactful approach to communication innovation
Here are a variety of questions. Make them work for you:
What client problems do you need to solve?
Open your mind, eyes, and ears and walk your entire property and explore through a frugal innovation lens, "what works on your ship?"
What can you re-purpose to drive new revenue streams?
What new experiences can you create that respect social distancing and regulations while also making memories?
What revenue can you capture before arrival?
What resources already exist? How can a mobile phone help? What technology resources do you have that can be re-purposed?
What can you decentralize? Centralized and matrix organizations can appear cheaper, and they usually don't have as much agility.
What can you do with open spaces to drive revenue? How can parking lots be transformed into unique dining spaces with large umbrellas, Astroturf, and murals to inspire the space and the experience?
What can you do differently to make your catering and meeting culinary experience engage guests?
What services can be take-out?
What spaces can provide revenue-generating experiences?
What is truly your signature touch for elopements and small wedding?
What about room service? How can you re-invent it into an authentic experience vs. a necessary evil or last-minute convenience?
What is your new mission? How has your mission changed?
Back in India
As I sat learning about frugal innovation, this was the most important lesson. During an interactive exercise, the speaker challenged us to imagine what a simple water bottle could become. I sat and wrote down eight ideas, and then I stopped feeling like I had "enough." But it was the ideas that I had yet to explore that were actually the best possibilities. It made me reflect. How often do I stop at what I see on the surface or think about what comes to mind and then push no further?
I now drive everyone crazy with my one simple question "What else might be possible?"
There has never been a brighter time to shine. It just requires you to see the light through a different kaleidoscope.
HotelExecutive retains the copyright to the articles published in the Hotel Business Review. Articles cannot be republished without prior written consent by HotelExecutive.