Pandemic Propels Hotel Design Forward
By David Ashen Principal & Founder, dash design | November 15, 2020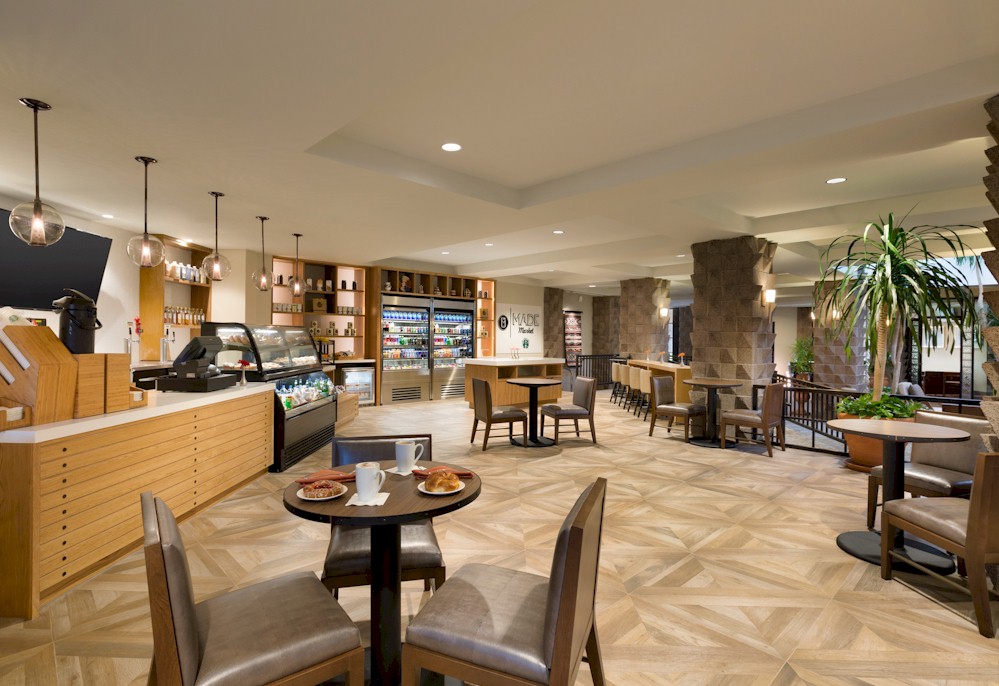 What hasn't COVID-19 changed? Since the pandemic, many industries have been disrupted in ways they never could have imagined at the start of 2020. In fact, statistics from the International Labour Organization (ILO) note that 400 million people worldwide lost full-time jobs due to the fallout from COVID-19. Among the most profoundly impacted industries were education and health services, retail, professional services and the leisure and hospitality sector.
Amanda Weinstein, professor of economics at The University of Akron, said it best when she said, of people-based, service-based industries, "Any job where you have a lot of people interaction and that's not necessary, it just completely got cut."
It's no wonder the hotel industry is in the predicament it's in, walking through the wake of these changes and looking ahead to transformation. When it comes to hotel design, one thing is for sure: we've been forever changed.
A Big Lift
Expect to see significant shifts in meeting spaces within hotels, as these areas are one of the most obvious in need of immediate transformation. Our firm recently finished work at the Sheraton Suites Old Town Alexandria, in Virginia, whereby we helped the brand reimagine a 3,000-square-foot meeting space. Previously, the hotel had a similarly sized indoor pool and a tiny gym and was faced with a dilemma: should they add more meeting space where the pool was or create a state-of-the-art gym? At the time of the discussion, pre-COVID-19, it was a worthwhile debate.
Serendipitously, we opted to modernize and expand the gym, providing more treadmills and spin bikes, and machine and free weight areas, spaced apart, all in a 24-hour, seven-day-a-week facility for travelers who want to keep up on their fitness routines. While we had no idea at the time how wise this was, what I do know is that we'll see more hotels converting and better utilizing banquet spaces, which are not able to be filled as they had in previous years, and catering to the need to exercise without the big groups and crowds that many people are avoiding since the pandemic began.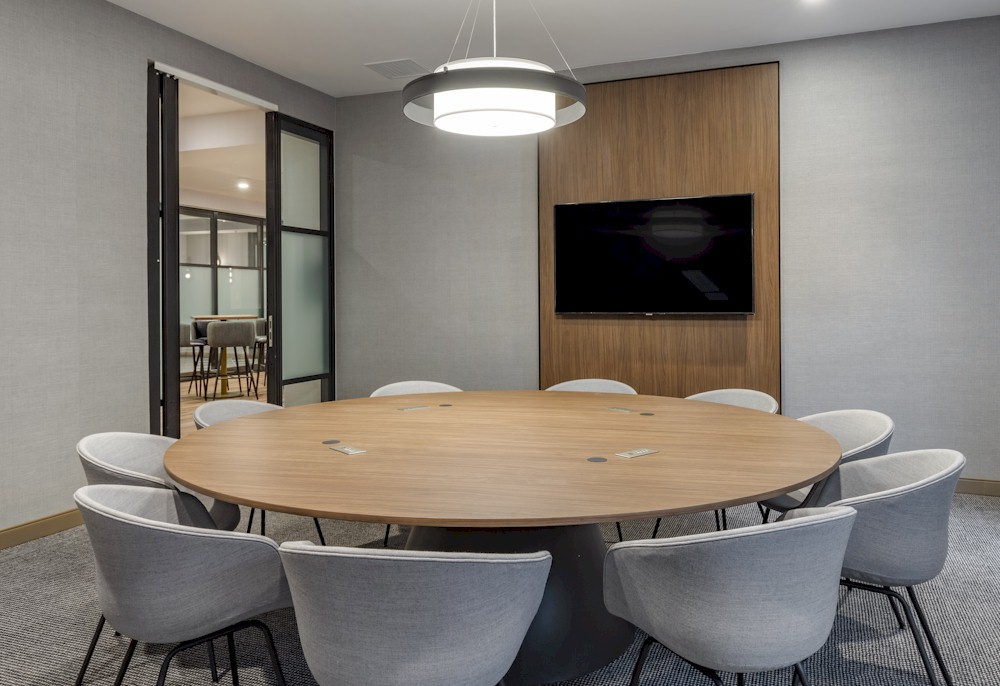 At the Sheraton Suites Old Town Alexandria, in Virginia, studios are open and integrated into the lobby for guest use when not reserved for private meetings, at which time they can be closed off with soundproof glass walls
Meeting of the Minds
Of particular concern are properties that are marketed as big conference hotels, such as those adjacent to convention centers and in major cities like Chicago or New York. With so much uncertainty around when large corporate events – and even large weddings and special occasions – will return, these hotels need to rethink how they are now to proactively position themselves.
I was recently at the Hilton Columbus Downtown, in Columbus, Ohio, a property that positions itself on its website as having "over 32,000 sq. ft. of event space adjacent to the Greater Columbus Convention Center" and an enclosed skybridge leading to it. Fortunately for them, it's also near other exciting attractions such as the Arena District, Short North Arts District and North Market. For hotels positioned just around a convention center, including ones near McCormick Place in Chicago, the largest convention center in North America with over 2.6 million square feet of exhibit space, there is no doubt they will be harder hit. Massive meeting and convention spaces from 30,000 square feet to ones as sizeable as McCormick Place are sitting empty for the long-term.
Restaurants Reimagined
Hotel brands with restaurants on-site also need to find clever work-arounds and companies like ours are gravitating toward flexible designs to make it happen. For hotels with restaurant and lobby spaces next to one another, dining can be expanded into the public space, so long as the layout works, to accommodate the need for greater distancing of diners.
Future restaurant and lobby spaces may look different going forward. Take communal tables, which were all the rage, with patrons enjoying the casual vibe and opportunities for shared experiences and chance encounters. Mingling and mixing are no longer desirable and instead break-apart tables and partitions are being put into place to provide barriers and safety, while still allowing people to see others and get out, particularly when away from home.
Brands like Hilton and its sub-brand DoubleTree, which boasts two grab-and-go food concepts, Herb N' Kitchen and Made Market, are thriving in the post-pandemic world. These concepts do well since they allow people the option to get prepared foods or snacks and then head outdoors, back to their rooms or wherever they feel most comfortable. In a fortunately timed conversion, Hilton in Hartford, Connecticut went from a full-service format to grab-and-go last year, allowing guests in this current environment to feel safe without having to commit to masking up, sitting at a table and being served. I predict we will design more self-serve areas and that these will save the food and beverage revenue for hotels needing to adapt to the times.
Do Not Disturb
The design of hotel rooms and storage spaces are also changing, as many brands are not cleaning on a daily basis anymore. In fact, once a guest checks in, nobody comes to the room, in many scenarios. My first trip since the pandemic began, in May, was to Westin in New Orleans and there I encountered, just outside of the elevator, a table full of towels, soap, shampoo and all the usual amenities to take to my room. While that was a basic solution, designers and hotel brands will begin to build in specific spaces, such as communal pantries, to house the items housekeepers can't come in and replace daily anymore, but that guests still want, such as fresh linens and towels they can easily change out themselves.
Even room entries are changing as more and more people prefer automated check-ins. In recent years, there was a push for keyless check-ins via cellphones, such as the ones used by Hilton and Marriott, but guests were slower to adopt and embrace the trend, which has suddenly become expected. Demand will continue to increase, as will the design of anything that limits people from touching additional items or surfaces. Even if conditions improve or a viable vaccine is released, people don't forget an issue of this magnitude and anything that adds a layer of safety, such as antimicrobial doorknobs or touchless keypads, will be desirable for years, and even decades, to come.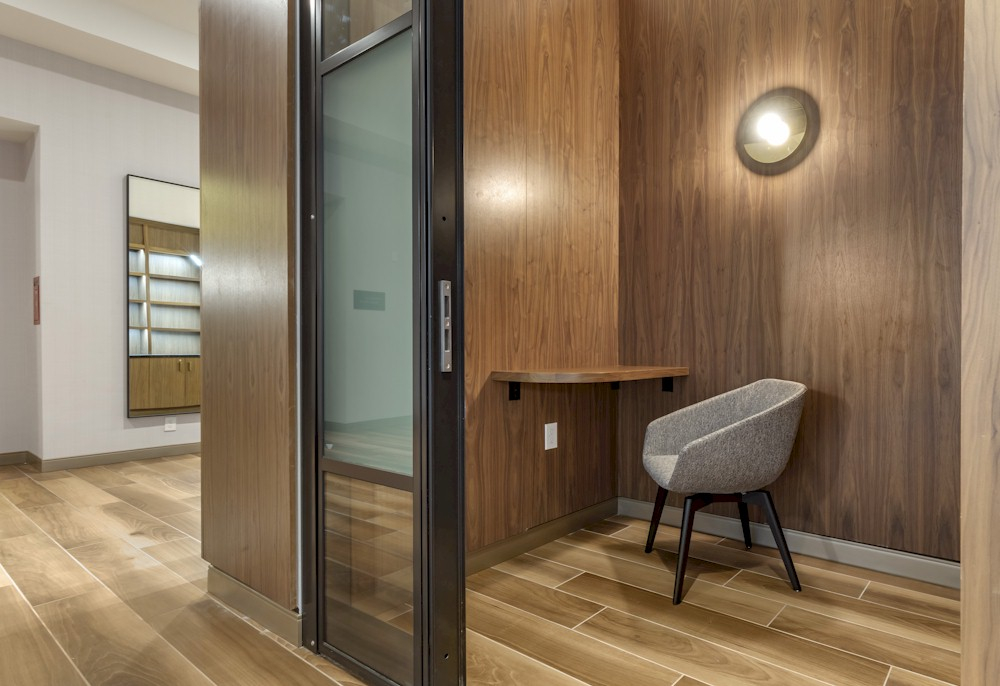 At the Sheraton Suites Old Town Alexandria, in Virginia, booths are located within the lobby area for guests to have privacy for making phone calls or web meetings
Right Sized
While hotels can't design around COVID-19, they can – and need to – design around flexibility and adaptability. The need to build with change in mind existed before, but makes even more sense in today's environment. As part of our renovation of the aforementioned Sheraton in Alexandria, we implemented its new public space program, which includes elements called Studios and Booths. Studios can accommodate meetings of six to a dozen or dozen-and-a-half people, complete with flexible wall systems, just off the hotel's lobby. This concept works perfectly with the Sheraton's setup, which removed its restaurant in place of a spacious lobby and the ability to eat anywhere, which has become part of the experience. Booths are private rooms for one that allow for private calls or a place to do a Zoom conference.
Since the pandemic, the push away from big meeting rooms and a comfort in knowing private booths are spaced appropriately and are being kept clean is at the forefront. Robust ventilation and air movement – and an ability to move air out of the booth to limit suspended particles from the prior occupant, similar to solutions being used in elevators – make these setups attractive.
Additionally, because of the many companies shedding office space, though still desiring connection and out-of-house socialization, demand for small space rentals, including the use of hotel lobbies and bars as meeting spaces, should be planned for. WeWork has capitalized on this alternative to traditional leased spaces and hotels have the chance to reimagine less used areas and to make the most of this trend.
Surface Level
A recent BBC article highlighted surfaces that kill bacteria and viruses, a matter of increasing interest to hotel owners and operators as well. Materials will be a huge consideration in hotel design going forward. Antibacterial and antimicrobial materials, such as copper linoleum, will become favored since these materials oxidize naturally. Products such as Disinfect & Shield, which bond to surfaces and destroy bacteria and viruses on contact, may be more prevalent at hotels, to spray rooms and common areas. UV lighting may also be an option, though it only works if the light hits the surface, so a book that is sneezed on and then placed on a desk will only be hit with the light on the top, not beneath the book. Of course, all of these new products and solutions, some pricey, will have to be measured by hotel owners and operators, with the costs being balanced by the benefits.
These practices will also apply to spa and treatment rooms and communal tubs and steam rooms, which will likely be phased out in favor of more post-pandemic friendly amenities.
Like Home
Business class hotels need to rethink and repurpose the most and many are leaning toward an innovative solution: housing. A month-long stay at a Moxy in New York City, for instance, may be $3,400, cheaper than apartments in prime locations in the city. Converting hotels in urban areas to service apartments and catering to the longer-term stay clientele will be helpful as many families move out of major cities, but need a crash pad, a smart play for many hotels with 30 percent or less occupancy and a great alternative for a little more than $100 a night in some cases.
Hotels set up like Residence Inn, with kitchenettes, may be in greater demand and harder set-ups to replicate in existing hotels, but the addition of even a microwave or small refrigerator will help brands appeal to this market and guests bringing in food to dine without a mess. Flexible tables that can double as desks will also be a design feature that hotels will look to given the "work anywhere" mode the world is in. JPMorgan's recent news – its announcement that its traders, bankers, brokers and research analysts will need to report back to the office by September 21 – and the subsequent similar news from Goldman Sachs means that the families that moved out of the city in favor of green space and less dense populations may become the perfect target market for hotels who are willing to slightly redesign and/or convert rooms into service apartments.
No matter what redesigns happen, the one thing that appears constant for hotels is the need for change.
Photos courtesy of The Procaccianti Group. Main Image: Made Market located at DoubleTree by Hilton Hotel Paradise Valley - Scottsdale by VRX Studios.
HotelExecutive retains the copyright to the articles published in the Hotel Business Review. Articles cannot be republished without prior written consent by HotelExecutive.