Ghosting Hotel Food and Beverage Operations
By Michael Kasavana Emeritus NAMA Endowed Professor in Hospitality Business, The School of Hospitality Business MSU | April 18, 2021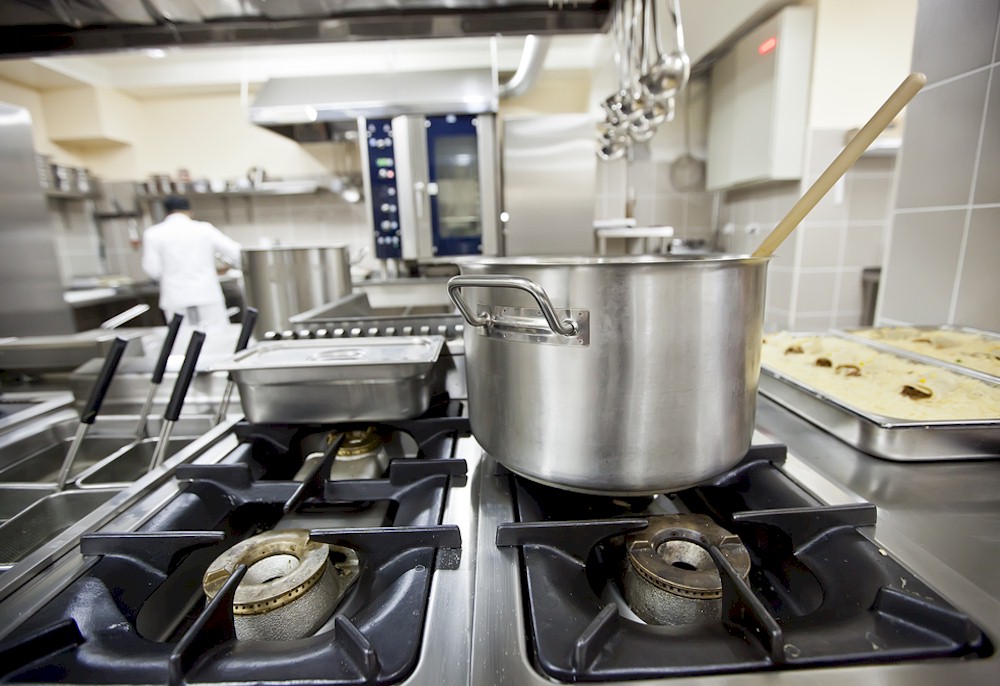 Hotel operators have initiated unique methods to supplement declining pandemic revenues caused by vacant guestrooms and empty dining room tables.
To date, industry survival tactics have included the repurposing of guestrooms for housing the homeless, renting temporary workplace offices, and converting vacant conference spaces into classrooms for remote learning.
The implementation of hotel ghost kitchens and virtual branding opportunities represent additional strategies with potential to extend and diversify food and beverage operations and revenue.
Hotel ghost facilities and virtual branded products represent unique opportunities that deviate from traditional onsite foodservice functionality. Regardless of whether termed a ghost kitchen, cloud kitchen, dark kitchen, or digital kitchen the concept of contracting hotel foodservice to include multiple dining options, be they onsite or offsite, is garnering attention.
NewYorkTimes.com reports ghost kitchens are starting to appear in hotel production areas as the lodging industry seeks to better manage its facilities and recapture lost revenue. Simply stated, underutilized hotel kitchen facilities represent a frequently unexplored opportunity for income.
While some hotel companies have invested in onsite ghost kitchen operations principally, or exclusively, for the possibility of broadened guestroom, dining room, takeout, and delivery service offerings, others may choose to add a virtual branded product as a means of diversification and increased sales. Just as many restaurants have found success using excess kitchen capacity to host virtual brands, for delivery or pickup, hotels may gain a similar advantage.
Alternatively, management may choose to outsource hotel food and beverage services to an external, third-party ghost operation. This option may provide onsite guests additional dining options, including virtually branded products, as well as generate incremental sales. It is important to note that the use of the terms 'ghost' and 'virtual' are based on characteristics related to digital transformation, virtual reality, integrated technology, and data analytics.
Ghost Kitchens
By definition, a ghost kitchen is a commercial production space that has no storefront, counter space, waitstaff, dining room ambiance, or customer seating area. There simply is no restaurant attached to the ghosted operation. From a restaurant perspective, Technomic, Inc. reports the number of eateries supporting ghost kitchens has grown from fifteen percent pre-pandemic to fifty-one percent during the pandemic. Euromonitor, a leading market research firm, projects the worldwide market for ghost kitchens will likely exceed $1 trillion by 2030.
A hotel ghost kitchen can strengthen in-room dining options with the potential to create off-site sales. Hotel ghost kitchens can lower the cost of real estate, refine menu offerings, and align with mobile and online marketing opportunities. A ghost facility can be located on hotel premises thereby unlocking the power of otherwise dormant real estate. An effective hotel ghost kitchen partnership can significantly boost facility utilization while effectively monitoring and controlling costs.
Industry practitioners estimate hotel kitchens are in use about fifteen percent of available time, thereby foregoing potential rental income. A hotel ghost kitchen can also be used to service virtual brands that rely on commercial kitchen equipment for production and give credence to the concept of real estate as a service (RaaS).
A hotel ghost kitchen supports aspects of the food production process, including kitchen layout, equipment, order tracking, staffing, logistics, and fulfillment. The operational goal being to create an enhanced dining experience for both the lodging property and its guests. As fool.com wisely observes, "Restaurants are now renting space in underutilized hotel banquet kitchens. Restaurants are making money by selling food, while hotels are making money by renting their kitchens to restaurants."
While this commentary may be overly enthusiastic, it does provide perspective. A successful hotel ghost kitchen partnership can supplement in-house menu options, provide an opportunity for virtual branded products, and may include smart technology that enables the network to accurately predict preparation, production, packaging, and delivery times.
The hotel ghost kitchen concept isn't entirely new as Butler Hospitality, founded in 2016, is credited as being the first lodging company to streamline in-room dining by providing food and beverage services for multiple hotels from a single neighboring kitchen. Real estate analysts, therealdeal.com, estimates that fewer than five percent of domestic hotels are currently operating ghost kitchens. A number expected to grow significantly in the next few years.
Virtual Brands
The term virtual branding refers to a foodservice menu that is not associated with an actual physical restaurant. Often described as not existing in its own space, a virtual brand primarily exists through mobile app and online marketing for the purpose of fulfilling delivery orders. In other words, a virtual brand exists digitally; without an associated physical facility presence. The number of virtual brands has exploded in recent months as they represent a low-cost way to add revenue from a plug and play technical application using existing equipment and staff.
Virtual brands often share a kitchen facility with other brands or foodservice providers. The implementation of a virtual brand can help reduce the hotel's facility, equipment, food, and labor costs. Several recent industry trend reports note that the decreasing size and number of restaurant dining areas is directly attributable to the evolution of virtual brands and ghost kitchens. These same developments are likely to be attributable to the hotel industry.
A virtual brand can provide the ability to establish business in a marketplace without having to construct and support a prominent physical location. Richard Melman, President of Lettuce Entertain You Enterprises (LEYE) stated in the January 26, 2021 edition of restaurantbusinessonline.com, "Virtual concepts can be even harder to launch than a brick-and-mortar restaurant. The website, branding, and menu have to be flawless to properly communicate the concept to the consumer." In other words, the most critical considerations for foodservice success may be digital, not physical.
Ghost kitchen facilities often support multiple virtual brands that enable ordering from an array of diverse menus, with aggregated settlement being part of order placement. Consider the following virtual brands and their affiliated and ghosted restaurant parents: Smokey Bones and 'The Wing Experience'; Applebee's and 'Cosmic Wings'; Denny's with two virtual brands 'The Burger Den' and 'The Melt Down'; Brinker International (Chili's) and 'It's Just Wings'; TGI Fridays and 'Conviction Chicken'; and Carrabba's Italian Grill and 'Tender Shack'.
Hotel Options
There are at least two popular hotel ghost kitchen and virtual branding formats: hotel hosted and hotel outsourced. The hotel hosted option includes both self-operated and contracted foodservice operations. Hotel outsourced deals with an externally staffed and equipped ghost kitchen that can replace onsite hotel food and beverage services as well as promote mobile app and online sales.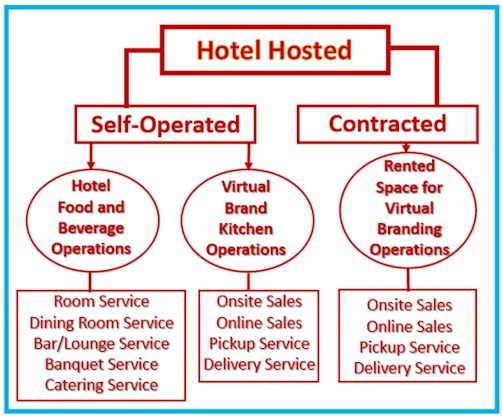 Hosted: Self-Operated
The hotel hosted self-operated model involves traditional hotel food and beverage service aimed at in-house guests. Second is the creation of a virtual brand that is produced by the hotel's staff, in its own onsite facility. In this application, management creates a virtual offering (wings, pizza, burgers, or specialty entrees) for marketing internally (hotel guests) and externally (off-premises customers). Simply stated, the same facility used for the hotel's food and beverage operations are also used to produce the virtual product(s). Despite the fact production takes place in-house, virtual branded products can be marketed on- and off-premises.
Hosted: Contracted
This option involves contracting a portion of the hotel's kitchen to a virtual restaurant brand that provides its own staff to produce and market branded products to hotel guests as well as the local community (often using third-party delivery services). Rental space in support of virtual branding represents a revenue opportunity.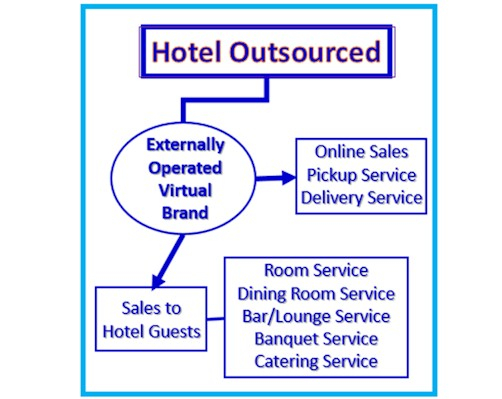 Outsourced
The hotel outsourcing model enables property management to opt to contract with an outside ghost kitchen provider to produce a portion, or all, of the hotel's food and beverage needs. This relationship involves an offsite ghost kitchen, operated by a third-party, to replace or supplement the hotel's services. The outsourced format enables the provider to offer virtual brands for sale to in-house hotel guests as well as off-site customers through a mobile app or online marketplace.
Hotel Examples
Below are a sampling of hotel ghost kitchen and/or virtual brand partnerships.
1. Butler Hospitality
Considered a pioneer in the hotel ghost kitchen evolution is Butler Hospitality. For more than five years, Butler Hospitality has offered an on-demand platform for hotel room service and related dining amenities through its ghost kitchen. The company rents underutilized hotel kitchen facilities as production centers for on- and off-premises ordering.
Butler Hospitality settles in-house guest transactions through normal folio processing by the front office. Published reports indicate that Butler Hospitality receives ninety percent of the food and beverage revenue; with ten percent going to the host hotel. Butler Hospitality, which reportedly partners with Marriott, Choice Hotels, InterContinental, Hilton, and IHG properties, also offers an array of catering services. Utilizing signage and branding on guestroom telephones, door hangers, and menus, customers are not aware ordered meals may be sourced from a kitchen located external to the hotel property.
2. Four Points by Sheraton
The NewYorkTimes.com reported that as a result of pandemic disruption an unusual foodservice relationship emerged between a Four Points hotel and a ghost kitchen operator. To turn the concept of Cutlets Sandwich Shop into a business, its founder rented space at a New York midtown hotel, paying $6,000 a month rent to use the hotel's fully equipped production kitchen. The Times noted that by comparison, the average restaurant brick-and-mortar store typically may require an investment of between $200,000 to more than $1 million.
Within four months of renting the hotel space, the sandwich operation developed a sufficient customer and revenue base to transition to a free-standing location. The hotel rental arrangement was coordinated by Use Kitch, an online commercial kitchen marketplace for shared facilities. Use Kitch estimates nearly half of its kitchen utilizations are located in hotels.
3. Davidson Hotels & Resorts
Davidson hotels has invested in ghost kitchens for the preparation of to-go and delivery meals to meet guest needs. The company supports using its own kitchens and staff to create a virtual guest experience. In addition, underutilized food production assets are being considered for leasing to third-party providers. The company cautions that while suburban hotel markets with dense populations tend to support virtual branding and delivery services, less dense locations may not.
By company defines a branded experience as one involving its existing hotel kitchen equipment, staff, and ingredient inventory. It is important to note that local area residents, in close proximity to a hotel (7–10 mile radius), can be serviced via mobile app or online connectivity.
4. Graduate Hotels
Creating Culinary Communities, or simply C3, is a ghost kitchen company that has contracted with the Graduate Hotels group to install and operate an array of restaurant concepts including: Umami Burger and Krispy Rice under the Graduate Food Hall banner. Graduate Hotels is a collection of more than 30 millennial-focused boutique hotels located in select college towns. Hotel guests can order for dine-in or takeout service. C3 also offers off-premises dining menus for delivery by third-party partners.
In addition to the company supplementing in-room hotel dining and on-site catering, it also streamlines the ordering process and extends the hotel's reach within the local community. C3 also has its sights set on shopping malls as well as restaurants. The arrangement provides Graduate Hotels to operate the banquet and catering spaces while C3's restaurant brands serve in-room dining as well as local area delivery and takeout services. C3 has stated it intends to open two hundred ghost kitchen locations by the end of 2021.
5. Hyatt Loves Local
Hyatt Hotels, which operates more than nine hundred properties worldwide, has stated that the benefit of installing ghost kitchens in several of its hotels is to serve as a support system for small businesses through a partnership program. Reports indicate sixty Hyatt hotels have already agreed to participate. In a unique twist, Hyatt is said to be offering its spaces to small business at no cost. The program adds to the hotels' appeal by expanding food and beverage options while supporting the neighboring economy. The Hyatt ghost kitchen model offers operators the ability to manage and maintain multiple restaurant brands out of a single kitchen, thereby extending variety in guest dining.
Ghost Variations
Variations in hotel ghost kitchens include shared room service, virtual catering, virtual food halls, and restaurant extensions.
1. Shared Room Service
Butler Hospitality, which specializes in the replacement of hotel restaurants, specializes in repurposing a hotel kitchen into a workable facility to service a host property and up to ten nearby hotels. Additionally, hotels needing to have a food and beverage operation to fulfill a brand or star requirement are often able to meet this requirement through a shared service facility. Rather than outsourcing guest dining to third-party delivery services, hotels can benefit from a common commissary operation that brings meals directly to guestrooms with charges posted to the guest's folio.
2. Virtual Catering
Industry news authority Restaurant Dive reported that in 2018, prior to the pandemic, catering sales were on a steep upward trajectory having expanded by more than fifty percent. Since that time, Technomic reports that nearly two-thirds of foodservice operations suspended catering programs due to pandemic disruption. Hotel companies, recognizing an opportunity, are launching catering programs aimed at remote workers.
For example, enabling local businesses the ability to purchase digital vouchers to be sent to remote-workers, or business clients, prior to a scheduled virtual meeting or event (e.g. Zoom, Skype, WebEx, etc.). The vouchers are timestamped and only valid during the specified activity. The vouchers are intended to replace in-person dining opportunities with synchronized meeting and event formats.
3. Virtual Food Hall
While a ghost kitchen is primarily oriented for off-premises dining, virtual food halls support ghost kitchens that allow for indoor dining. In-house, online, and third party ordering platforms can be part of a Virtual Food Hall (VFH). The first VFH opened in New York as the Sous Vide Kitchen in 2017. Over time the term VFH has evolved to more accurately describe the ordering and service styles found in digital space.
In a hotel sponsored VFH, guests order from an array of menus and brands, sometimes as many as eight to ten, using a mobile device or self-order kiosk. As the order is aggregated for production, settlement is secured, and the diner can receive the meal within a matter of minutes. A hotel VFH, allows guests a more convenient way to enjoy items from multiple foodservice concepts in a shared setting.
4. Restaurant Extensions
Similar to hotel kitchen rentals, but in reverse, a recent trend involves restaurants renting kitchen facilities to accommodate ghosted facilities for hotels. The use, or rental, of kitchen space and equipment can lead to creation of a virtual hotel eatery to counteract enhance sales volumes. A restaurant extension may enable hotel dine-in guests to benefit from a provider that functions as if it were located in-house.
Partnership Operations
While ghost kitchens can take a variety of formats, there are some common operating characteristics. To begin, a production location that is owned or contracted by the hotel can be used to support its own foodservice operation as well as contract out their facilities or host a virtual brand. While a majority of ghost kitchens support multiple brands from a single location, thereby enabling onsite guests and off-site customers to order from diverse menus.
From a technical perspective, ghost kitchen software can enable in-house guests to order from multiple menus resulting in a single, aggregated guest check for folio posting. Consider a hotel ghost kitchen rental to a third-party provider that produces a line of virtually branded products. The branded items can be marketed to onsite guests as well as the local, online area marketplace for delivery.
Summary
Declining hotel guestroom occupancies and restricted dining room capacities have led to interest in more efficient physical space utilization, virtual branding, and revenue recovery. Recognition of underutilized hotel food production facilities has led to the escalation of hotel hosted and outsourced ghost kitchens and virtual branding partnerships. Increasing dining options appears to lead to increased revenue and enhanced guest experiences.
HotelExecutive retains the copyright to the articles published in the Hotel Business Review. Articles cannot be republished without prior written consent by HotelExecutive.