US Cities Achieve World Class Status as Foreign Investment Booms
A Comparison of International Investment in US Hotels During Periods of Strong Hotel Operating Performance and a Close Look at Florida
By Kathy Conroy CEO and Director/Partner , HVS Miami | April 12, 2015
In September 2013, my colleague at HVS Miami, Andrew Cohan MAI, published an article entitled "Miami's Leap to Global Gateway Status". In that article, Cohan pointed out several interesting facts denoting Miami's shift to a global or world gateway city. One of the factors noted by Cohan was the movement in the HVS Hotel Valuation Index for Miami - from just above the national average index in 2002 to almost four times the national average index by 2011.
It has been my opinion that another one of the key influences for a United States city to achieve "world city status" has been the willingness of foreign capital to invest in the local real estate. It has been my observation that the successful marketing of United States' cities to foreign travelers as tourist destinations eventually leads to increased foreign investment in both the 'local' real estate and hotel assets within the destination city. And as is typical, most investors want to buy hotels when industry performance is strong.
Thus, I thought it would be interesting to compare how the volume of foreign investment in hotel assets in US cities has changed from the prior strong three-year period in operating performance experienced by the US hotel market during 2006 to 2008, to the most recent three-year performance of 2012 to 2014, which has also been characterized by a strong operating performance.
The tables below recap data collected by Real Capital Analytics (RCA) and highlight the top nine (9) US cities relative to the purchase of hotel assets with foreign capital during the period of 2006 to 2008, as well as the primary origin of said foreign capital.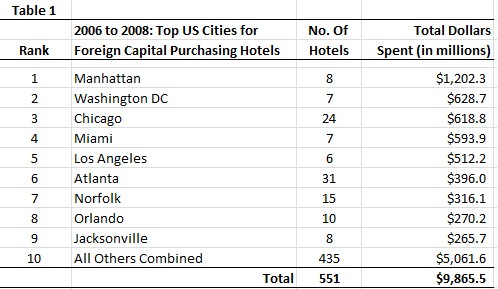 Overall, total foreign capital investment in hotel assets in the United States during the period of 2006 to 2008 amounted to $9.865 billion. Not surprisingly, Manhattan received the most foreign hotel investment, followed by Washington DC, Chicago, Miami, and Los Angeles rounding out the top five. Two other Florida cities, Orlando and Jacksonville also made it in to the top rankings. Interestingly, both Hawaii and San Francisco were missing from those same top rankings. San Francisco, at eight transactions totaling $198.5 million in foreign capital, was just edged out by Jacksonville at eight transactions totaling $265.7 million in foreign capital investment. During the 2006 to 2008 time period, the RCA data indicates foreign investment in Hawaii hotels at less than $20 million.